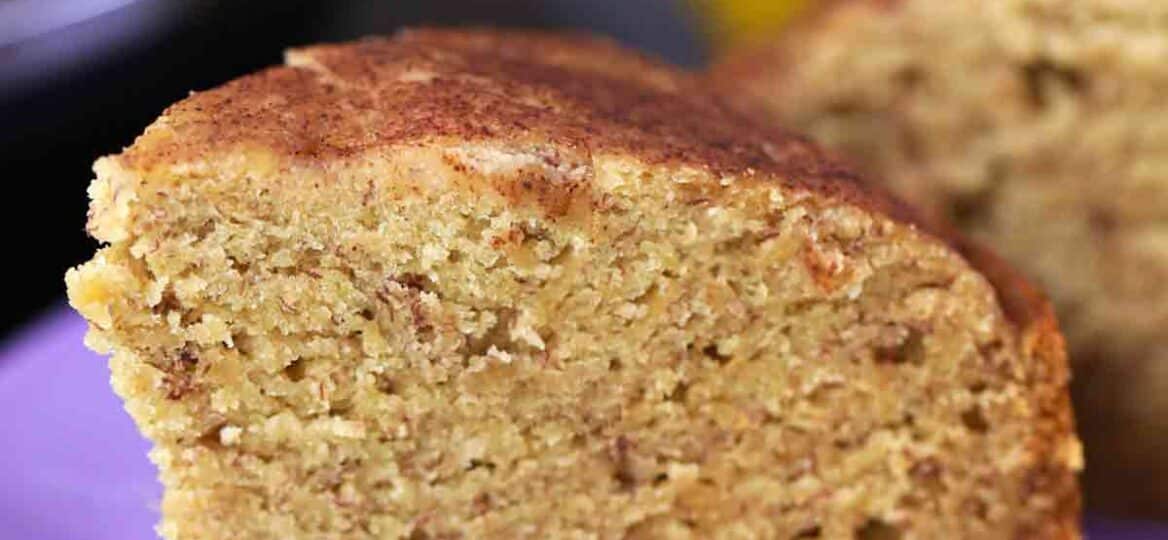 Instant Pot Banana Bread [Video]
Instant Pot Banana Bread is incredibly rich and tender with delicious hints of cinnamon and nutmeg. This loaf stays moist for days, and perfect for customizing with nuts, chocolate, and other tasty ingredients!
We love fruit-based desserts because they always taste so fresh and light. Make sure to try our Strawberry Tiramisu, Basil Blood Orange Pound Cake, and Lemon Poke Cake!
Pressure Cooker Banana Bread Recipe
This Instant Pot Banana Bread is a fool-proof way to make moist and flavorful banana bread. The steam inside the IP means the loaf won't dry out as it cooks. This recipe is just moist and buttery just like the original version, but easier and faster to make.
Furthermore, we're also adding sour cream and brown sugar to ensure a tender and soft crumb. Complementing the natural sweetness of the bananas are cinnamon, vanilla, and nutmeg. The result is a simple, classic banana bread that's as comforting as it gets.
What makes this recipe even better is how customizable it is. For instance, we love adding chocolate, nuts, and even peanut butter to our bread. Feel free to get creative with the mix-ins or try our delicious ideas below!
Ingredients needed:
Bananas: Mash about three ripe pieces.
Wet: For the batter, we're adding equal amounts of oil and butter plus eggs to bind the ingredients.
Dry: We're using regular flour, and for lift, both baking powder and the same amount of baking soda.
Sweeteners: Brown and white sugars add both sweetness and moisture.
Sour cream: This makes the loaf richer and adds moisture as well.
Flavorings: To highlight the banana flavor, we're adding spices, vanilla, and just a bit of salt.
How to make Instant Pot banana bread?
Begin by blending the mashed fruit with the oil and butter, then the sweeteners. Follow this up one egg at a time, then the vanilla and sour cream. Add the dry plus the flavorings.
Spray your push pan, pour the batter in, and use foil to cover it tightly.
Add water to the IP and arrange the pan on your trivet. Cook on High for 55 mins. After that, leave for 20 mins. to naturally release steam and finish by venting the rest. Cool the loaf for 10 mins before taking the loaf out of the pan.
Slice and enjoy!
Recipe variations and substitutions:
Nuts: Add crunch by adding chopped walnuts, cashews, pistachios, almonds, and your favorite nuts! Toast them for extra flavor.
Chocolate: For a chocolatey twist, mix in chocolate chips or chunks. You can also use other flavors like dark, caramel, or white.
Nutella: Pour half the batter into the pan, swirl some Nutella in, and pour the rest of the batter on top.
Peanut butter: Add dollops of your favorite peanut butter on top.
Cinnamon Sugar: Sprinkle cinnamon sugar on top or swirl it in the batter before baking!
Mix in other fruits: For an extra-fruity loaf, mix in chopped strawberries, pineapples, or berries.
What is the best kind of bananas to bake into bread?
Extra ripe is the way to go! The best ones should have dark brown skin and a little mushy inside. They're at their sweetest by this point!
You can speed up that process by freezing the fruit and letting it thaw before using it. You can also do it by placing the fruit in a low oven for about an hour or two until the skin is dark brown and the inside is soft.
How to remove bread from the push pan?
Take a cup or jar (make sure it's sturdy). Place the pan on top and carefully push down to release the loaf. If you sprayed the inside of the pan before baking, it will be easy to release.
What is the difference between banana bread versus loaf?
They refer to the same delicious treat! However, the "loaf" simply specifies the shape of the bread, because it means the banana bread was baked in an elongated loaf pan.
What if my instant pot banana bread is not fully cooked?
Simply give it 5-10 minutes more in the IP. Make sure to tent the foil, so condensation doesn't get in the loaf.
What to serve with banana bread?
We love toasting the slices a bit then slathering them in butter. So good! Make sure to try the following as well:
More bread recipes to try:
Storing instructions:
You can store this at room temperature for up to 3 days as long as it's in an air-tight container.
Alternatively, you can also freeze the loaf. Once it's cool, wrap tightly in cling and foil. Freeze for up to 3 months. To serve, defrost overnight then place on the counter to bring it down to room temp.
Deliciousness to your inbox
Enjoy weekly hand picked recipes and recommendations