Air Fryer Egg Bites Recipe
Air Fryer Egg Bites are the perfect breakfast you can make ahead of time, and have on the go on those hectic mornings. Making egg bites in the air fryer is so easy and fast, that you will wonder why you have never done it before. Full of protein and low in fat, air fryer egg bites will not weigh you down in the morning so you can eat on the go.
Looking for our latest recipes? These Air Fryer Egg Cups are another great way to enjoy eggs but these are made with bread and ham for even more flavor and heartiness. Make this Instant Pot Egg Bites recipe easily with garlic, cheddar cheese, and milk.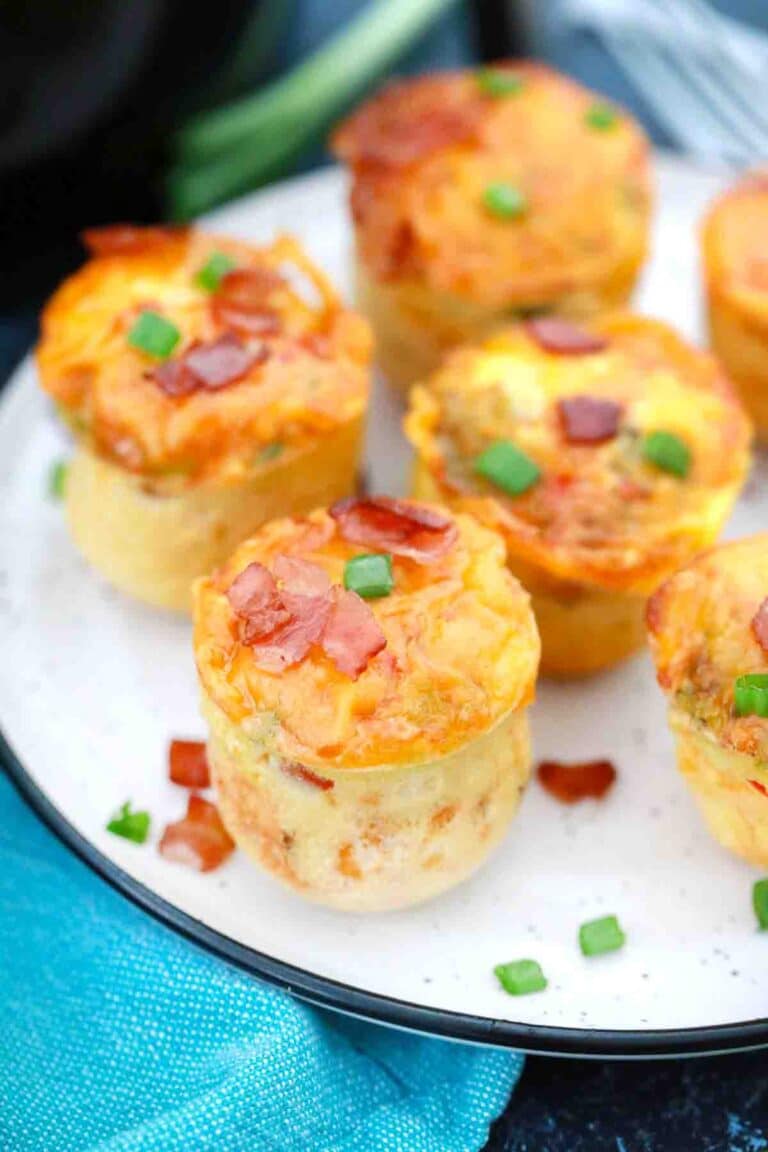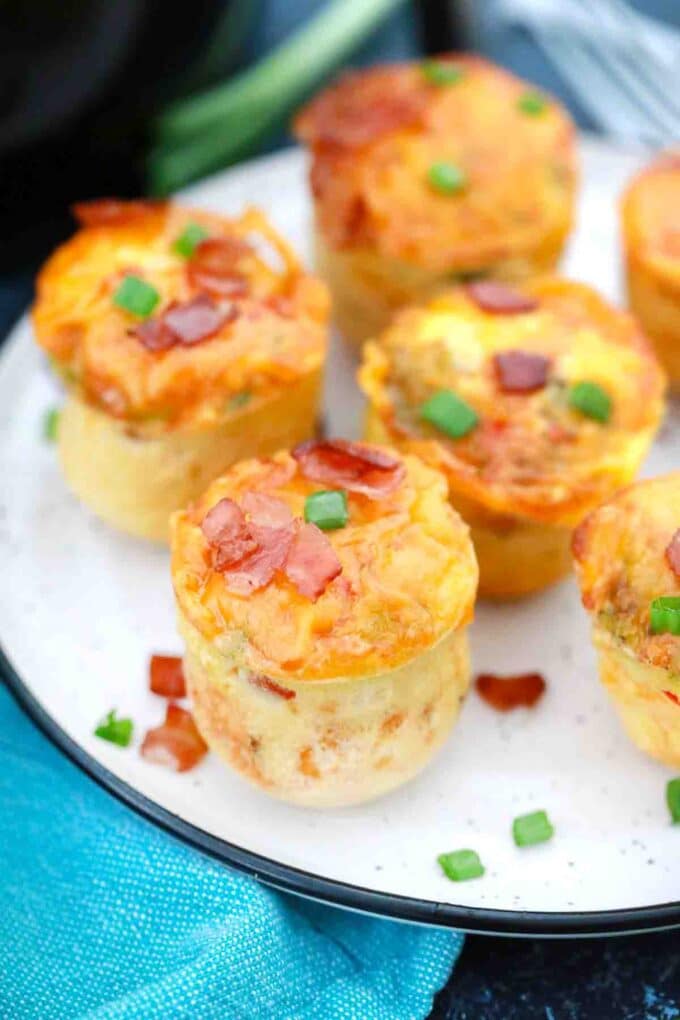 Air fryers have become incredibly popular all over the world because of how fast, easy, and healthy they cook. You may have only noticed them in the past five or six years, but they have been around since 2010.
The very first one was made by Philips and was shown at the 2010 International Show in Berlin although they started working on the design in 2005.
Air fryer egg bites are the best thing that has ever happened to eggs. They are incredibly easy, gluten-free, perfect for a keto diet, and prep time is minimal. You can prepare them as in one of the recipes below or try some of our egg bites recipe variations. If you are looking for more air fryer breakfast recipes, we have plenty.
Try our air fryer chicken and veggies made with chicken breast, zucchini, and balsamic vinegar, or this chicken and broccoli recipe flavored with hoisin sauce, honey, and garlic.
And these bacon-wrapped chicken tenders cook up fast and extra crispy in your air fryer. Seasoned with BBQ sauce, brown sugar, and chili sauce, the entire family will love these so make extras. You can also have these Air Fryer Pork Belly Bites made with brown sugar, sesame seeds, and sesame oil.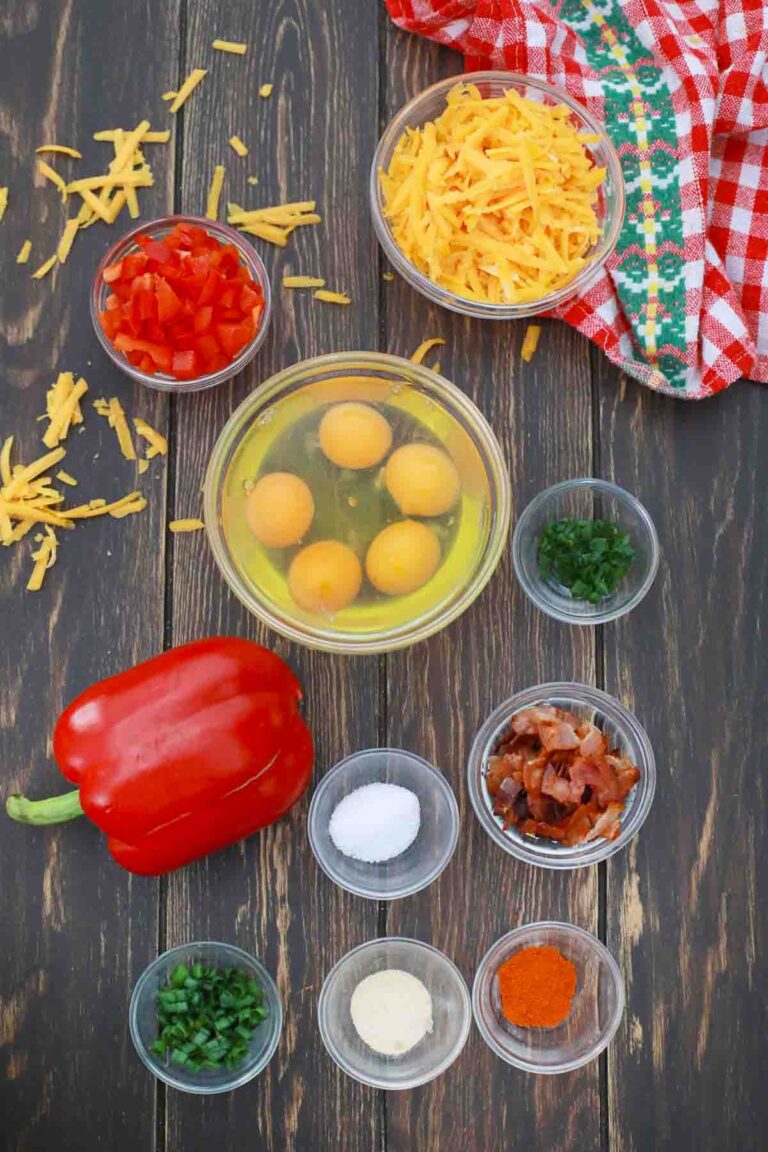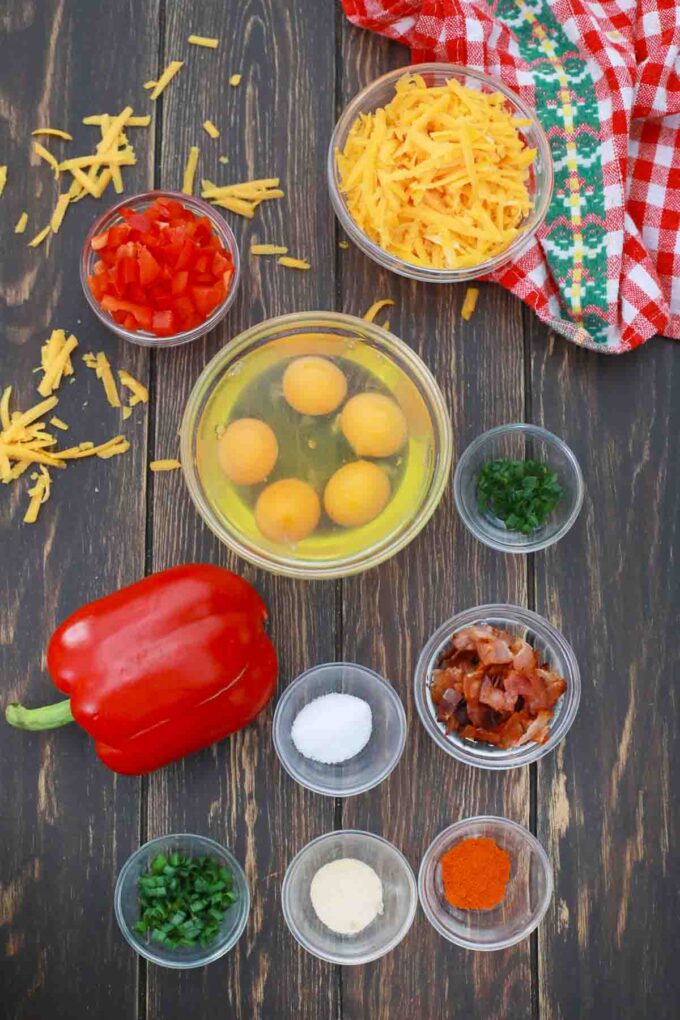 Ingredients needed:
Gather these simple ingredients for this air fryer egg bites recipe that you can make in minutes. When you are ready, scroll to the bottom of the page for the instructions and measurements on our printable recipe card.
Large eggs: At room temperature.
Scallion: White and green parts sliced.
Chopped crispy cooked bacon: Or bacon bits.
Shredded cheddar
Diced red bell peppers
Heavy cream
Smoked paprika
Garlic powder
Kosher salt
Black pepper
Nonstick cooking spray: For the egg mold.
How to make air fryer egg bites from scratch?
Prepare: First, spray the insides of a silicone egg bites mold with non-stick cooking spray or olive oil and preheat your air fryer to 300 degrees F.
Whisk: Then, whisk the garlic powder, paprika, salt, heavy cream, half the cheese, and the eggs in a large bowl.
Fill the mold: Next, separate the egg mixture, scallions, bacon, and bell peppers as evenly as possible into the seven cavities of the mold.
Air fry the eggs: Immediately, put the mold into the basket of your preheated air fryer and cook the eggs for eight minutes.
Add the cheese: Last, sprinkle on the last of the cheese and continue cooking for another six minutes at 300 degrees F. Each of the egg bites should be golden brown and set.
Serve: Finally, remove the mold and let it sit for 10 minutes before removing each egg bite. Serve egg bites while still warm.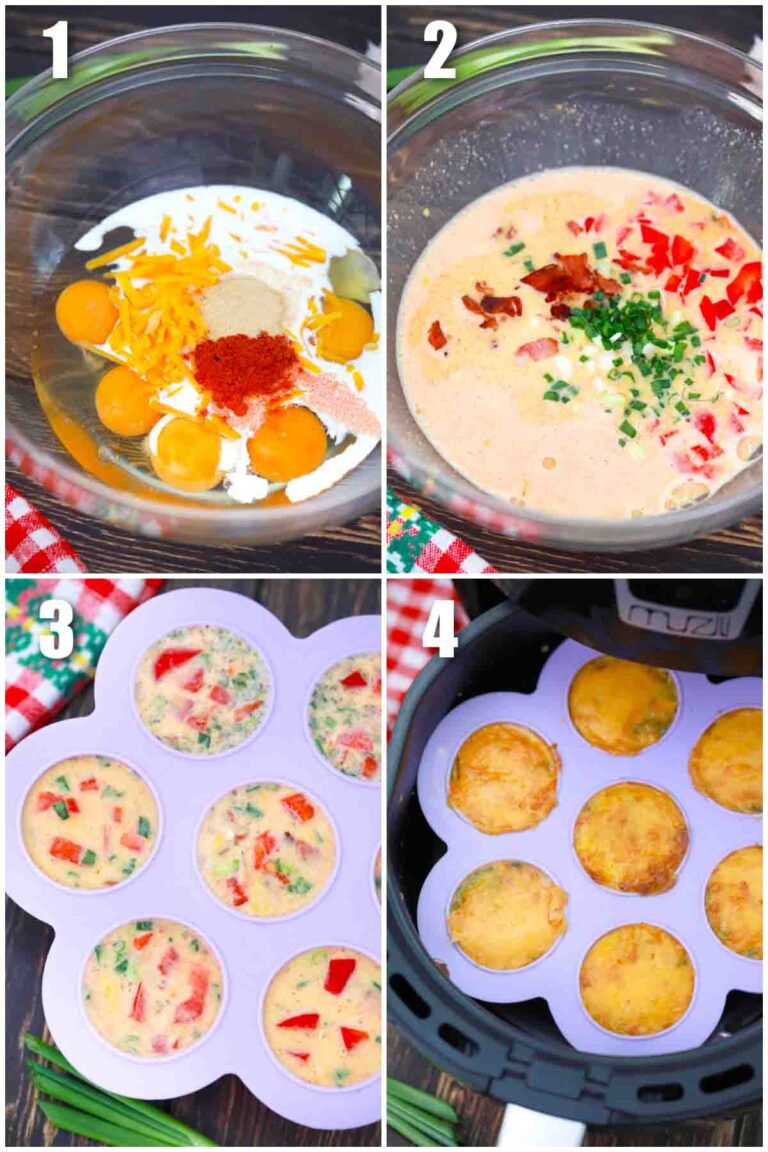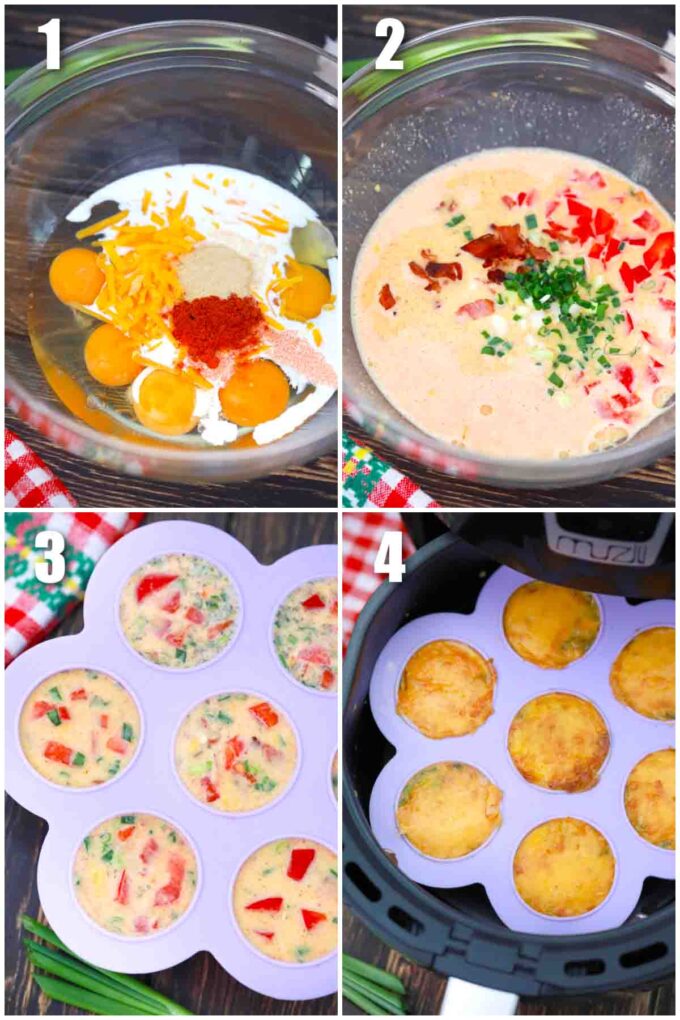 How to make egg bites in the instant pot?
Prep the pot: To begin, add one cup of cold water to your instant pot and prep your egg mold with olive oil.
Make the egg mixture: Then, mix the egg, cream, and seasonings in a large mixing bowl and pour into the cavities of the egg mold, making them as even as possible.
Add the toppings: Next, add the remaining ingredients you want next. You do not have to stir these. The toppings will likely end up at the bottom anyway.
Cover the mold: Now, cover your silicon mold with a lid or aluminum foil and place it on a trivet inside the pot.
Close and cook egg bites: Last, close the pot and pressure cook for eight minutes. Then do a quick release.
Pop and serve: Wait five minutes before popping out the egg bites and serving.
Recipe variations:
Green onion: You can use chopped green onions instead of scallions.
Silicone molds: Try using silicone baking cups instead of silicone egg molds.
Chopped spinach: Toss in some chopped spinach for extra flavor.
Other veggies: Feel free to add your family's favorite fresh veggies like mushrooms, zucchini, kale, asparagus, and broccoli.
More meat: Add in leftovers like chicken, ground beef, or sausage.
More cheese: You can also add more shredded cheese like mozzarella, swiss, feta, and Monterey jack.
Other add-ins: Be creative. Toss in some green chiles, olives, chopped onions, sundried tomatoes, or whatever else you like.
Make them spicy: If you like spicy food, add some red pepper flakes, jalapenos, or cayenne pepper.
Whole eggs: You can use whole eggs or just egg whites, whichever way you prefer them.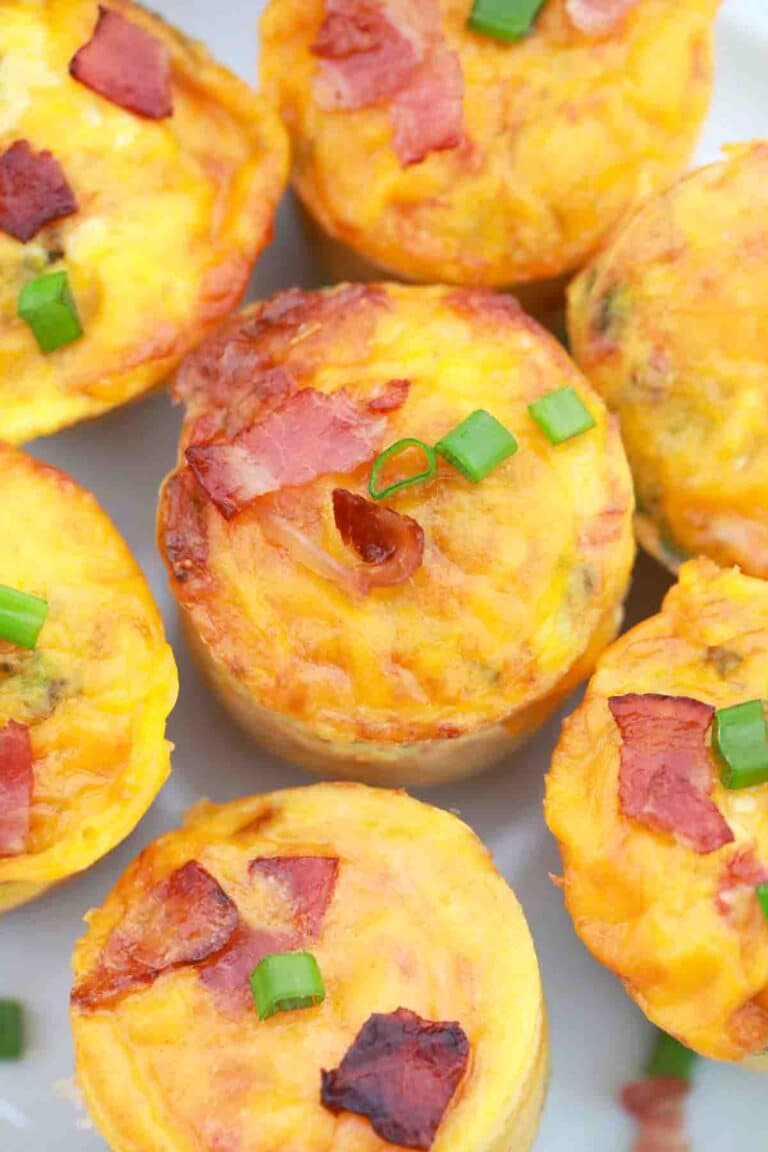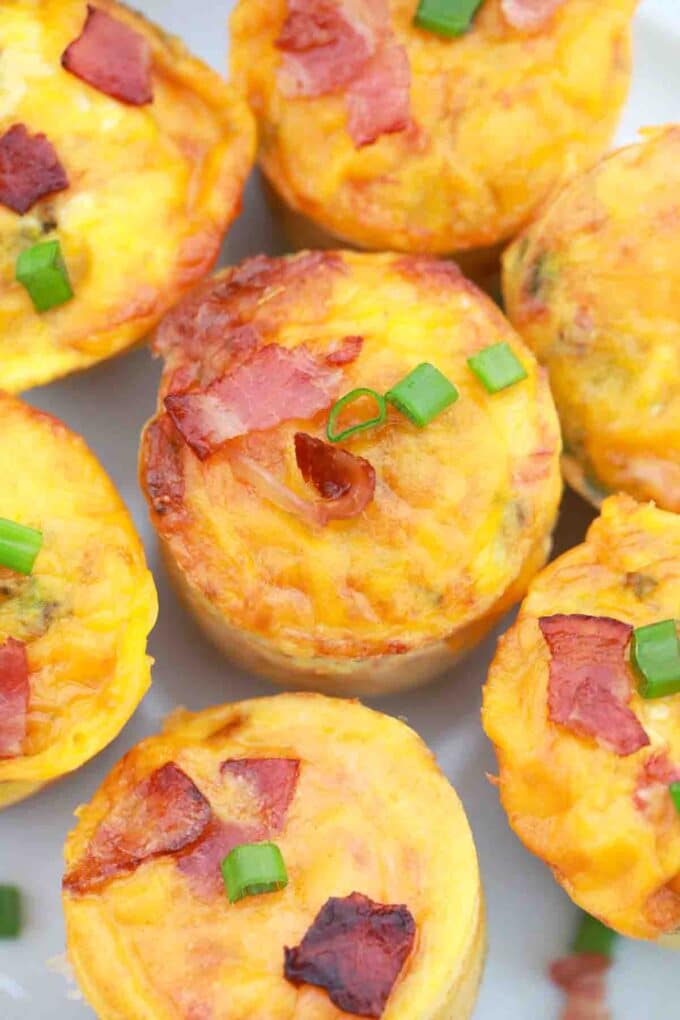 How to serve:
This easy air fryer egg bites recipe is perfect for busy mornings or to prep your meals for the week. They are perfect for school lunches or mid-morning snacks at work. Check out our fun serving suggestions or share some of your own.
Sprinkle some romano, parmesan, or another kind of cheese on top for a more cheesy flavor
These work great for egg muffins. Just toast the muffins and add a couple of these egg bites in the middle. Add more cheese or some salsa. Try our easy recipe for English muffins.
Make a double batch and freeze some in a freezer-safe container or freezer bag for up to three months. You can pop a few out anytime you want a quick healthy breakfast option on busy mornings.
Have a few egg bites left over? Add them to a casserole dish like our tasty sausage breakfast casserole.
You could also use leftovers for breakfast burritos, quiches, or omelets.
Serve with homemade yogurt parfaits or sweet and fluffy banana pancakes.
These also go great with a bowl of oatmeal or cereal.
You could also top with salsa, hot sauce, or hollandaise sauce. Try our delicious recipe for homemade salsa.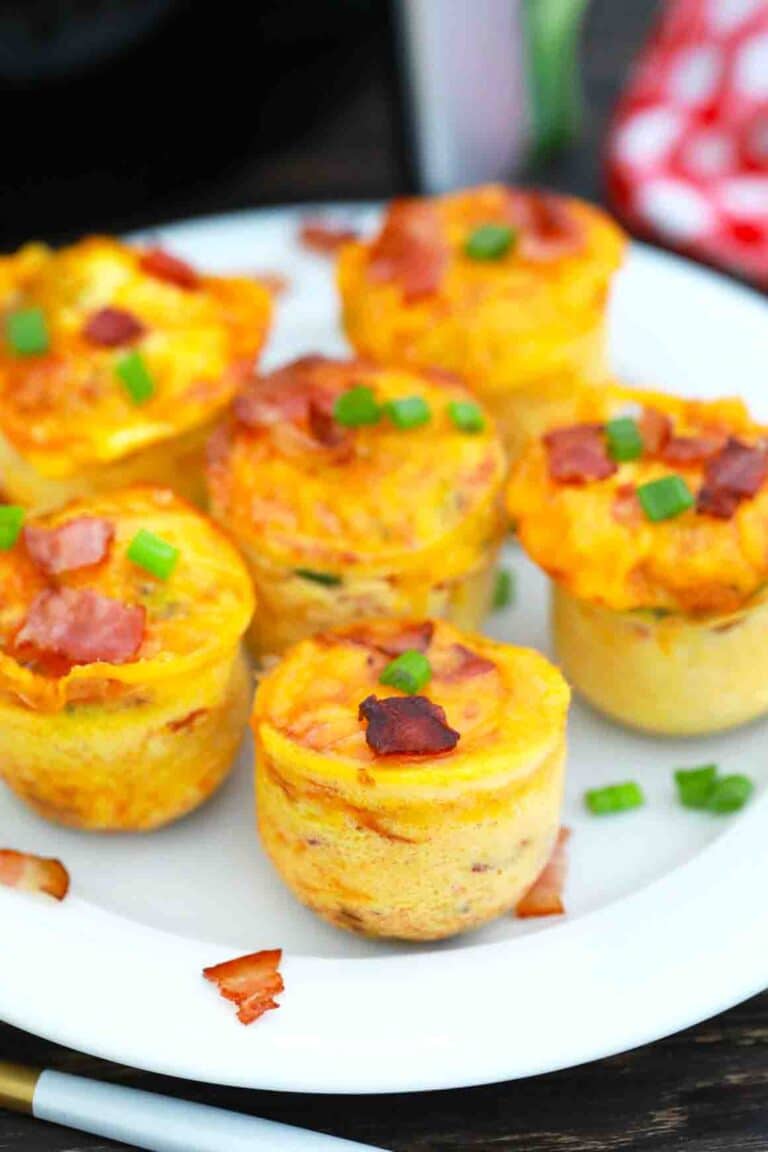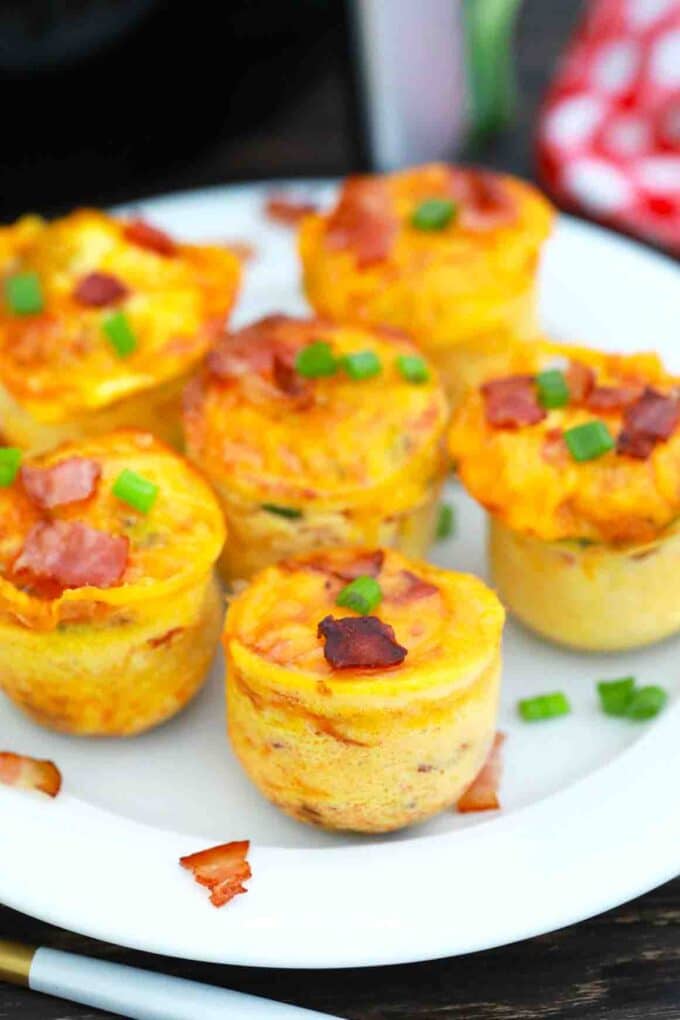 Frequently asked questions
Can you stack silicone egg molds in your air fryer?
Although you can stack your egg molds in an instant pot, doing the same in an air fryer can affect the cook time and effectiveness. The air fryer cooks using airflow so stacking the molds can make some of the eggs not cook well while others may be overcooked.
What if I do not have an egg mold?
There are many substitutions for egg molds. With a smaller style air fryer, you may have to be more creative though. For example, you can use a muffin tin made for the air fryer or use ramekins. You could also try using muffin liners or jar lids to pour your egg mixture in.
Why are my egg bites runny?
If your egg bites are too runny, you probably need to cook them longer. Simply put them back into the air fryer for another minute or two. It may also be due to using a lot of add-ins or wet ingredients like tomatoes or sauce. Save those for after you cook them.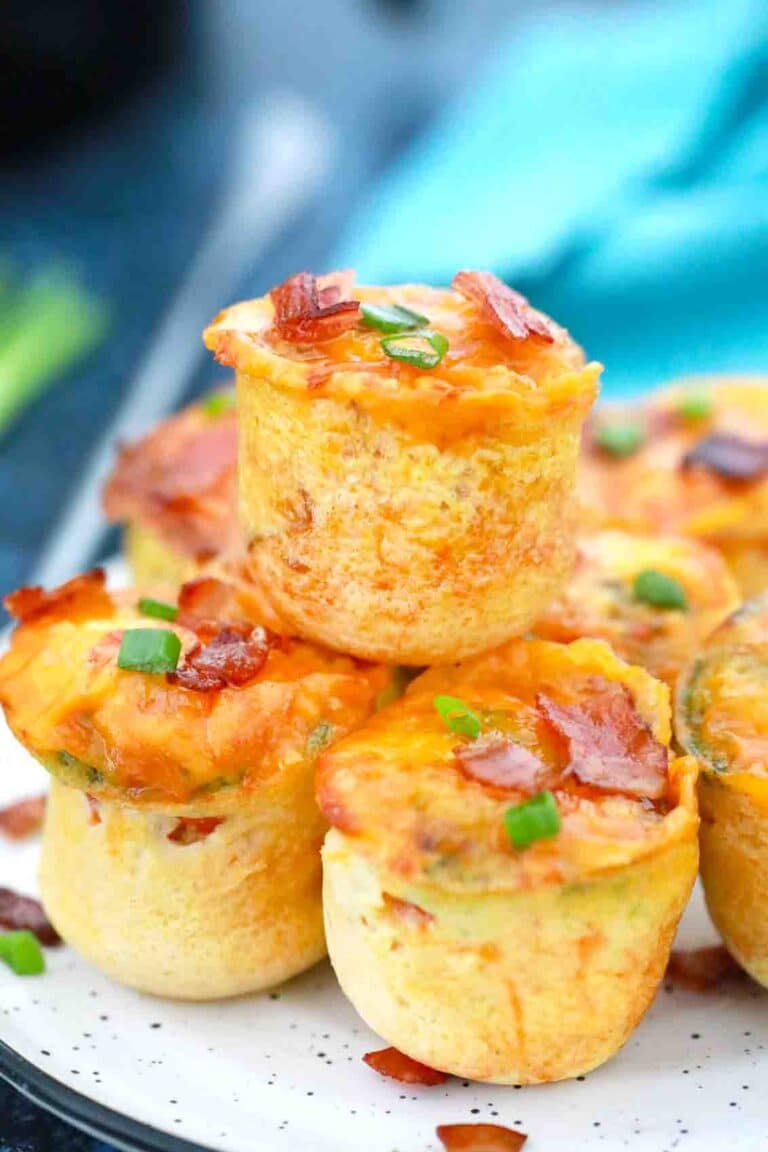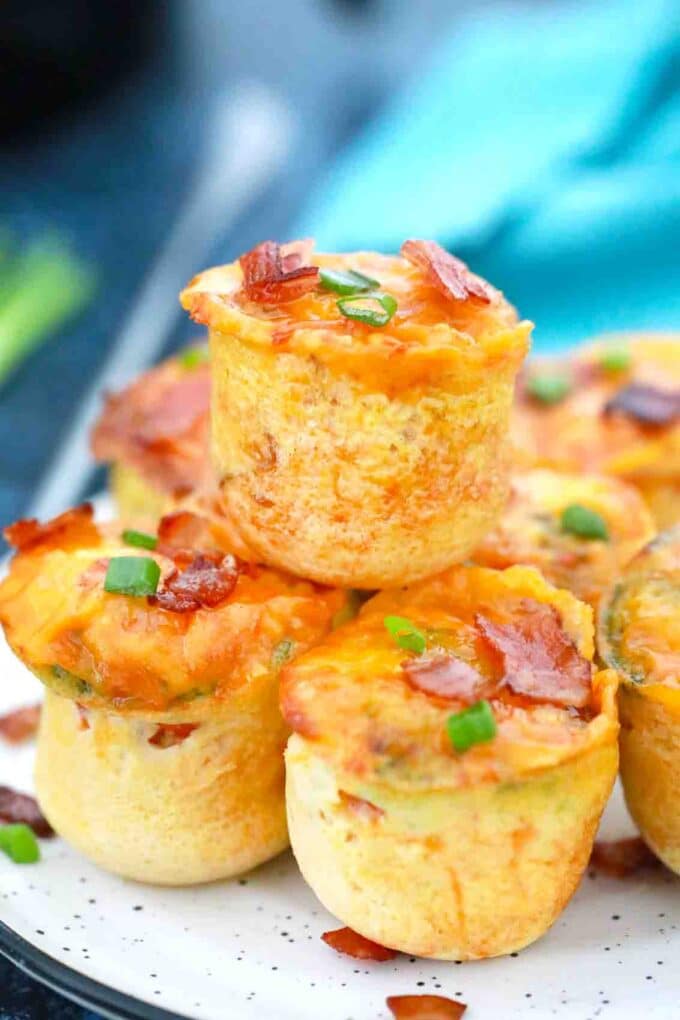 What is the nutrition information in this recipe?
Each keto low-carb egg bite has just 50 calories, only 1 gram of carbs, 4 grams of fat, 2 grams of saturated fat, 95 milligrams of sodium, 55 milligrams of cholesterol, and only 1 gram of trans fat.
On the other hand, you get 4 grams of protein, 1 gram of fiber, 1 gram of iron, 40 milligrams of calcium, 1 milligram of vitamin C, and 160 units of vitamin A.
How to store leftovers:
Store: Store these air fryer egg bites in an airtight container in your refrigerator. They will stay well for several days. Keep them individually wrapped and then in a zippered bag so you can grab a couple for an easy breakfast whenever you want.
Freeze: Before you freeze, wrap air fryer egg bites individually in plastic wrap and then put them in a freezer bag. That way you can just take out what you need anytime you want some.
Reheat: No need to thaw. They can be reheated easily in under a minute in your microwave.
More breakfast recipes:
Cooking tips:
For everything air fryer, check out our air fryer section on our food blog.
All of your ingredients should be at room temperature so your eggs get cooked properly.
Try not to overmix your eggs. They will get too much air and become crumbly.
Cut your veggies and other add-ins small. Egg bites are mini so make sure your veggies are mini as well.
Do not fill the molds to the top. They will rise when cooking.
These are perfect for when you have a lot of leftovers. You can add just about anything to these bites.
Make sure there is plenty of room in the air fryer basket for air circulation.
Whisk the eggs until they are fluffy and yellow for best results.
It is best to use precooked veggies and squeeze out extra moisture.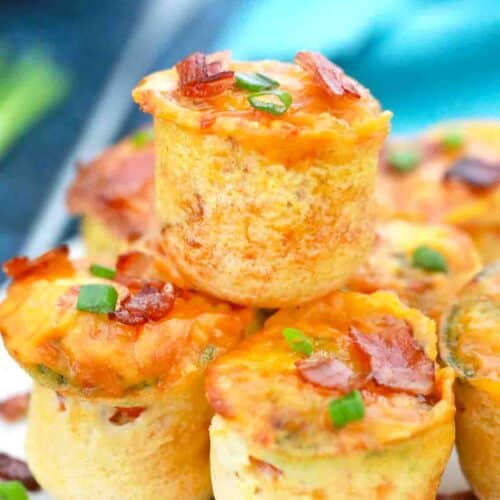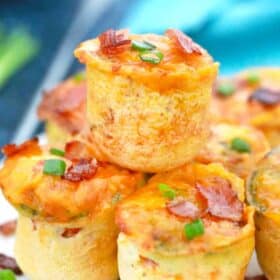 Air Fryer Egg Bites
Air Fryer Egg Bites are the perfect breakfast you can make ahead of time, and have on the go on those hectic mornings.
Save
Share
Print
Pin
Rate
Ingredients
Nonstick cooking spray

(for the mold)

5

large eggs

(room temperature)

1/4

cup

heavy cream

1/2

teaspoon

smoked paprika

1/4

teaspoon

garlic powder

1/2

teaspoon

Kosher salt

(or to taste)

2/3

cup

shredded Cheddar cheese

1/4

cup

red bell peppers

(diced)

1

scallion

(green parts diced)

1/4

cup

chopped crispy cooked bacon

(or ham - substitute with veggies for vegetarian)
Instructions
Use cooking spray to spray the 7 cavities of a silicone mold, and set it aside.

In a large bowl, whisk together the eggs, and after that add half of the cheese, heavy cream, salt, paprika, and garlic powder. Whisk until fully combined.

Divide the egg mixture, the diced bell peppers, bacon, and scallions among the cavities of the mold.

Gently stir the mixture in each cavity with a spoon to combine with the other ingredients.

Transfer the mold to the air fryer basket, set the temperature to 300°F, and cook for 8 minutes.

Sprinkle the remaining cheese on top and continue to cook for 6 more minutes. The tops should be golden brown and the eggs should be set.

Remove the mold from the basket and let it stand for 10 minutes before popping out the egg bites. Serve warm.
Nutrition
Calories:
137
kcal
|
Carbohydrates:
4
g
|
Protein:
10
g
|
Fat:
9
g
|
Saturated Fat:
4
g
|
Polyunsaturated Fat:
2
g
|
Monounsaturated Fat:
3
g
|
Trans Fat:
0.01
g
|
Cholesterol:
129
mg
|
Sodium:
435
mg
|
Potassium:
98
mg
|
Fiber:
1
g
|
Sugar:
1
g
|
Vitamin A:
546
IU
|
Vitamin C:
7
mg
|
Calcium:
115
mg
|
Iron:
1
mg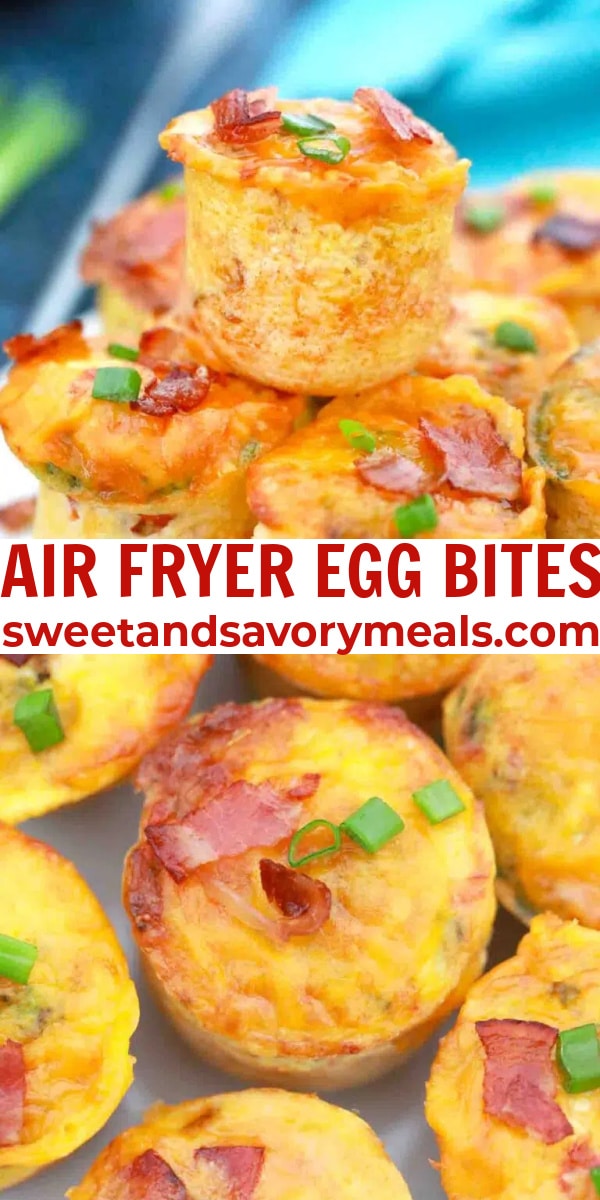 More recipes you might love