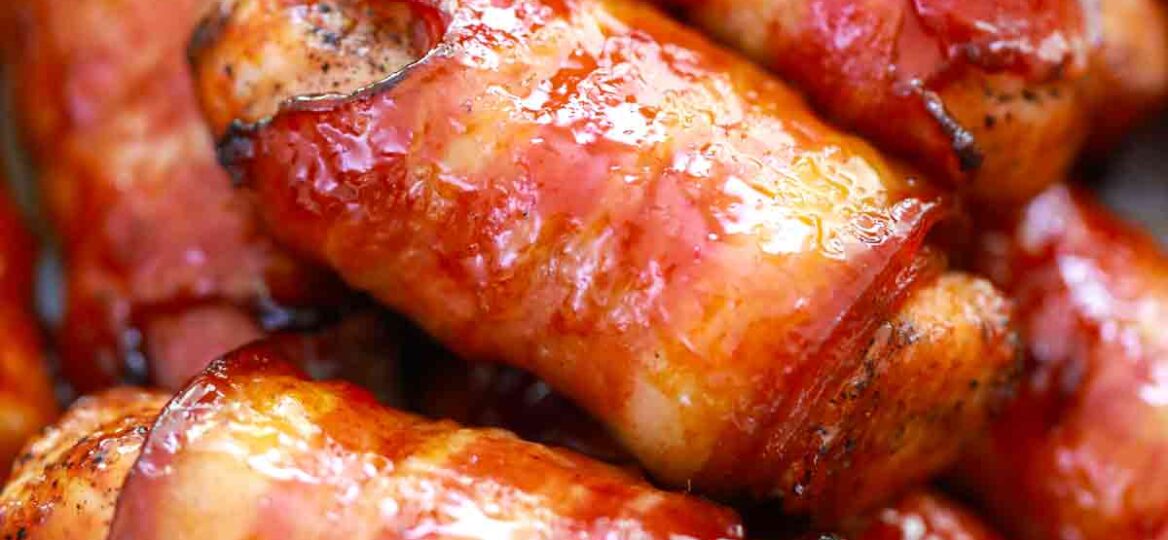 Air Fryer Bacon Wrapped Chicken Tenders [Video]
Air Fryer Bacon Wrapped Chicken Tenders are juicy chicken bites wrapped in crispy bacon and seasoned with brown sugar, sweet chili sauce, and barbecue sauce. The pieces of bacon wrapped around the juicy chicken is the best way to keep the moisture and flavors inside, so it is infused with savory goodness.
If you enjoy this air fryer bacon wrapped chicken recipe, try this easy and delicious Bacon Wrapped Chicken breast recipe made with boneless skinless chicken breasts in the oven. For a crunchy chicken recipe, this Air Fryer Dorito Chicken is amazing. Or skip the chicken breasts and use chicken thighs to make this tangy Air Fryer Lemon Chicken.
Air Fryer Chicken Recipe
The flavor explosion you get from this scrumptious recipe comes from a perfect combination of chili powder, garlic powder, smoked paprika, and brown sugar in the spice mixture rub. And the BBQ sauce mixed with the chili sauce adds to the flavor, making this a family favorite main dish or appetizer
And it will be one of your favorite recipes because of how easy it is. In fact, it is one of the best easy air fryer chicken recipes there are.
Easy air fryer recipes are popular on those busy weeknights. When you have so much to do it is hard to find time to make a delicious dinner for the entire family. So, if you like easy meals and easy recipes (and who doesn't), you will love this one.
Take your delicious bacon wrapped chicken to a whole new level with this recipe. And if you are looking for healthy recipes, this is a lot healthier than frying bacon in a pan.
Ingredients needed:
Our recipe card below has the exact measurements and instructions. But here are the basics:
Raw chicken pieces or chicken tenders: Boneless tenders or breasts cut into strips.
Bacon: 12 pieces of thick bacon cut in half.

Sweet chili sauce: Homemade or store-bought.
Barbecue sauce: Try making your own with this recipe.
For the rub:
Brown sugar: Light or dark are both fine.

Paprika: Smoked paprika gives these a smoky flavor.
Chili powder: Mild or spicy.
Garlic powder: Or use grated fresh garlic cloves.
How do you make air fryer bacon wrapped chicken tenders?
Preheat: First, preheat your air fryer to 390 degrees Fahrenheit for five minutes.
Season: Next, season each tender with kosher salt and black pepper.

Roll: After, wrap each piece of chicken in a piece of bacon.

Mix: Then, combine the rub ingredients in a small bowl.
Toss: Next, toss each bacon-wrapped tender in the rub and place it on a parchment paper covered sheet pan.
Place: Afterward, place chicken in the air fryer basket in a single layer. Make sure they are not touching each other so the slices of bacon do not stick together.
Brush: Also, mix the barbecue sauce and sweet chili sauce together and brush it onto the chicken with a basting brush.
Fry: Finally, cook the delicious bacon covered tender for 5 minutes at 400 degrees Fahrenheit.

Flip: After, flip it and brush it again before cooking it for another 4 – 5 minutes.
Remove: Lastly, remove to a paper towel while you cook the rest. You could also put them in the oven on a wire rack at the lowest temperature to keep them warm.
Recipe variations:
Spice it up: Try using spicy bacon for a bit of heat.

Even hotter: In fact, if you like heat, try adding cayenne pepper to the rub.
Sweeter: For a sweeter dish, add honey or maple syrup to the sauce.
Thicker: Use a thicker slice of bacon for these to make it even meatier.
How to serve:
Serve these warm with your family's favorite kind of dipping sauce. Or try one of these tasty ideas:
This meal goes great with a fresh green salad or this sweet and juicy pear salad.

Use cream cheese as a dip for these tenders.

Serve with air fryer bacon-wrapped asparagus spears.
Toss some cheddar cheese on top of these when they are still hot.

You can also use pepper jack cheese or any other kind of cheese you want.
Another good dip for these is duck sauce or tangy honey mustard sauce.

Or use whatever is your favorite dipping sauce.
Frequently asked questions
Can I use frozen chicken for this recipe?
Yes, you can use frozen chicken tenders or tenderloins for this recipe. However, you will need to add two to three minutes to your cooking time. The time depends on the size of the chicken as well as the type and strength of the air fryer.
Also, be sure to check the internal temperature of the chicken with a meat thermometer before eating. It has to be 165 degrees Fahrenheit.
What is the difference between chicken tenders and chicken breasts?
Although the chicken tender comes from the breast, it is a lot smaller than the breast. They are actually called tenderloins, which are just chicken strips from the muscle along the inside of the chicken breast closest to the bone.
They are oblong and have a white tendon running along the middle of them.
How do I remove the tendon from the tender?
You have probably noticed the white piece of muscle that runs through the chicken tender. This is a tendon, and it makes the tenders a bit more tough to eat. So, we are going to tell you how to remove this annoying piece of muscle.
Grab the end of the tendon with a paper towel. Then, take a fork and hold it upside down and slide the fork down the tendon, separating it from the chicken. That's it. No more tough tenders.
How to store leftovers:
Store: You can store Air Fryer Bacon Wrapped Chicken Tenders leftovers in the fridge in an airtight container for three days.
Freeze: If you are not going to eat them in a few days, freeze each piece individually by wrapping them each in plastic wrap and putting them in a freezer bag. They will stay good for up to three months.
Thaw: Thaw overnight in the fridge for easier reheating.
Reheat: Either reheat them in the air fryer, oven, or microwave.
More Air Fryer Recipes:
Recipe tips:
Alternatively, you can use skinless chicken thighs instead of tenders.
In addition, make this dish healthier by using turkey bacon.

Spray the air fryer basket with olive oil spray so they don't stick.
Use leftovers in this delicious BLT salad recipe.
Air Fryer Bacon Wrapped Chicken Tenders
Ingredients
8

boneless skinless chicken tenders

1

pound

bacon

about 12 slices cut in half

1/4

cup

sweet chili sauce

1/4

cup

bbq sauce
Rub:
2

tablespoons

brown sugar

1

tablespoon

smoked paprika

1/4

teaspoon

chili powder

1

teaspoon

garlic powder
Instructions
Preheat the air fryer to 390 degrees F for 5 minutes.

Season the chicken with salt and pepper.

Roll the bacon around the chicken pieces, wrapping it tightly.

Mix the rub ingredients in a medium bowl and gently toss each bacon-wrapped chicken tender in the mixture and place it on a parchment covered sheet.

Arrange the chicken pieces in one layer in the air fryer basket not touching each other, make sure there is space between them.

Mix the two sauces in a bowl and brush the mixture on top of the chicken.

Air fry for 5 minutes at 400 degrees F.

Flip, brush again with the sauce and air fry for another 4-5 minutes, or until crisp.

Remove to a plate covered with a paper towel while you cook the remaining chicken.

Serve wuth your favorite dipping sauce.
Deliciousness to your inbox
Enjoy weekly hand picked recipes and recommendations