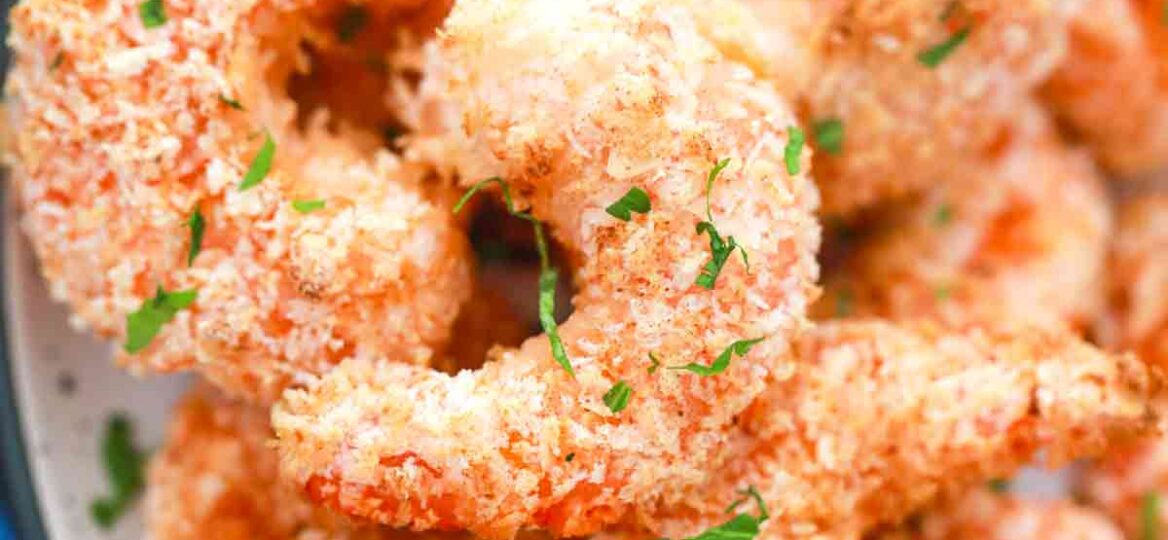 Air Fryer Bang Bang Shrimp [Video]
Air Fryer Bang Bang Shrimp is very crispy on the outside thanks to the flavorful panko coating. Air fried to perfection and served with the famous sweet chili based bang bang sauce.
Using your air fryer for something else? No problem, you can also make it in on the stove with this easy Bang Bang Shrimp recipe. If you and your family are shrimp lovers, try this Air Fryer Shrimp Cakes recipe for a tasty meal or snack. Another outstanding air fryer shrimp recipe is this sweet and crunchy Coconut Shrimp.
Air Fryer Shrimp Recipe
Bang Bang Shrimp is a famous appetizer served at the Bonefish Grill restaurant, but we make it healthier in the air fryer rather than using the deep-fry method. The Bonefish Grill bang bang shrimp is a sweet and spicy dish cooked in just a few minutes and only uses a handful of simple ingredients like milk, breadcrumbs, and a few seasonings.
Air fried bang bang shrimp is sure to be a family favorite whether you serve it for an appetizer, side dish, or the main entrée. The panko breadcrumbs make the shrimp crunchy, but the spices and seasonings make it super flavorful in every bite. This great recipe will quickly become your favorite way of cooking shrimp.
The coating, the spicy flavors make it a delicious appetizer that goes well with so many dishes! The Thai sweet chili sauce makes the spicy sauce so good! This popular appetizer is a dish that the whole family will love!
Follow us on Pinterest for more delicious recipes!
Ingredients needed:
To get the precise instructions, check our recipe card below. But these are the basic ingredients you will be needing:
Raw shrimp: We used the large size.
Cornstarch: For breading.
Milk: Whole milk or you can use 2%, skim, or almond milk.
Panko bread crumbs: For a dryer and flakier consistency.
Seasonings: We used garlic powder, salt, and smoked paprika.
Parsley: For garnish (optional).
Bang bang sauce: For dipping.
How to make air fryer bang bang shrimp recipe?
Clean: First, peel, devein, and clean the shrimp in cold running water and remove the tails.

Mix: Then, mix cornstarch and seasonings in one small bowl, milk in another, and panko in another small mixing bowl.

Coat: Next, coat shrimp by dipping it in the cornstarch mix, then dip it in the milk, and then roll it in panko to coat it. Set on a baking sheet while you do the rest of the shrimp.
Preheat: Once all coated, preheat the fryer to 400 degrees F.

Spray: Before placing shrimp, spray the air fryer basket with cooking spray.
Place: Finally, lay the breaded shrimp in a single layer but do not crowd the basket. Spray the shrimp with oil and cook for five minutes.
Flip: After, flip and spray the other side with oil. Cook for another 2 to 3 minutes until cooked to a golden brown color.

Tip: The cooking time may vary depending on the size of the seafood.
Recipe variations:
Make it spicier: If you want more heat, add cayenne pepper to the seasonings.

Veggies: Or add some chopped green onions, jalapenos, or chilis. Lime zest will also add a nice punch of flavor.
Buttermilk: Another way to prepare this is by switching the milk with buttermilk for a creamier taste.
Eggs: Use eggs for another coating to make it even thicker.
Whole wheat: Alternatively, use whole wheat panko crumbs to make this restaurant favorite easy recipe.
How to serve:
This tasty shrimp can be served alone or on a bed of lettuce with bang bang sauce on the side for dipping. Here are some other awesome serving ideas:
Serve them on top of rice or noodles to make a complete meal or main entrée.

You could also serve them in this instant pot shrimp boil.
Or make bang bang shrimp tacos by wrapping them in tortillas with sides of shredded cheese and hot sauce.

These also go great with juicy air fryer pork tenderloins.

As an alternative skip the bang bang sauce and use your favorite dipping sauce.
Frequently asked questions
What is bang bang sauce made of?
This delicious spicy and sweet sauce is made from hot sauce, sweet Thai chili sauce, and mayonnaise. Another way to make bang bang sauce is with Greek yogurt instead of mayo and sriracha sauce instead of hot sauce. This cuts out lots of fat and calories while keeping it rich and creamy. And add some minced garlic and a spritz of lime for added flavor.
Can I put frozen shrimp in the air fryer?
Yes, frozen shrimp can be cooked in your air fryer with no problem. In fact, it takes less than 10 minutes if you preheat your fryer before cooking. You can spray it with a touch of olive oil or cooking spray or use butter for a buttery crisp outside and tender juicy shrimp inside.
How do I choose the best shrimp?
First, you need to know what size shrimp you want. This typically goes by how many shrimps make a pound. The colossal is 15, the jumbo is 16 to 25, the large is 26 to 40, the medium is 36 to 50, and the small is 51 and over. Just remember, the smaller the number, the larger the shrimp.
You also need to check the smell, making sure it does not smell like ammonia because that means they are spoiled. Also avoid those that are falling apart, slimy, or limp. In addition, if there are black spots on the head, do not buy those. A lot of people just buy frozen shrimp because that has a better chance of being fresh and healthy.
How to store leftovers:
Store: If the crispy shrimp are already coated in sauce, you can store them in the fridge in an airtight container for several days. Otherwise, you can store the sauce separately in a jar in the fridge for up to 10 days.
Freeze: Freeze the leftovers if you do not plan to eat them within three days. Pack them in a freezer bag or wrap with plastic wrap and foil. These will be good for up to 90 days.

Thaw: Thaw in the fridge overnight.
Reheat: Use your oven, microwave, or air fryer to reheat the thawed leftovers.
More great Air Fryer recipes:
Cooking tips:
Be sure to devein the shrimp by peeling off the shell and cutting a slit in the back to remove the black strip.

Make sure you remove the tails as well.
Alternatively, if you are using jumbo shrimp, you can leave the tails on, so you have something to hold while you dip it.

You will know the air fryer temperature is ready if cornstarch sprinkled on it sizzles.
Air Fryer Bang Bang Shrimp
Ingredients
2

pounds

large shrimp

I used about 24

3/4

cup

cornstarch

1/2

cup

whole milk

1

cup

panko breadcrumbs

1/2

teaspoon

garlic powder

1/2

teaspoon

smoked paprika

1/2

teaspoon

salt

cooking oil spray
Bang Bang Sauce:
1/2

cup

mayonnaise

1/4

cup

greek yogurt

1/4

cup

sweet chili sauce

1

teaspoon

Sriracha sauce

or more

2

cloves

garlic

minced

Juice of 1/2 lime

or more to taste
Instructions
In a medium bowl mix the bang bang sauce ingredients, cover, and refrigerate until ready to serve.

Clean, peel, devein and remove the tails from the shrimp.

Place the cornstarch in one shallow bowl, the milk in another. And mix the panko, garlic powder, smoked paprika, and salt in another bowl.

One at a time, coat the shrimp first in cornstarch, then dip in milk, then roll in the panko mixture.

Place on a baking sheet covered with parchment paper.

Preheat air fryer to 400F.

Arrange the coated shrimp in a single layer and do not overcrowd the basket. Cook in batches if needed.

Spray the shrimp lightly with oil.

Air fry for 5 minutes.

Flip, respray with oil. Air fry for another 2-3 minutes until the shrimp is crispy and golden brown.

Remove from the basket and serve with bang bang sauce.