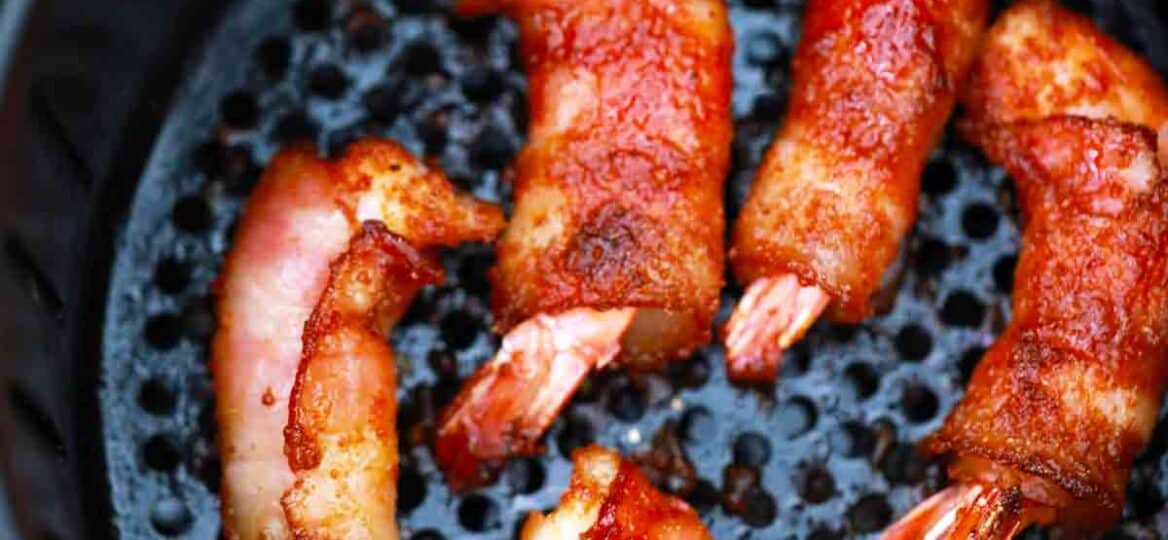 Air Fryer Bacon Wrapped Shrimp [Video]
Air Fryer Bacon Wrapped Shrimp is so buttery and smoky with crispy bacon on the outside and tender juicy shrimp inside. This is the best finger food to serve at a party and it only takes about 10 minutes to cook.
If your air fryer is on the fritz or being used for something else, you can also use this recipe for savory Bacon Wrapped Shrimp in the oven. Or, if you need another side dish, Air Fryer Bacon Wrapped Green Beans are sweet and crunchy as well as easy. For the main entrée, try this Easy Bacon Wrapped Meatloaf.
Easy Air Fryer Shrimp Recipe
If you love bacon and shrimp, why not pair them up and cook them in the air fryer for a quick and tasty dish. Whether you are looking for an appetizer, side dish, or even easy dinner recipes, this is the perfect choice for everyone. And it will probably end up being one of your favorite shrimp recipes. Also, this is definitely one of the best ways to cook it!
Combining the exceptional sweetness of the brown sugar in the rub with the savory flavors of the bacon, garlic, and smoked paprika gives it a burst of goodness in every bite. And you cut out a lot of the calories and fat from cooking the bacon in the oven or broiler.
In addition, this is a simple recipe that makes a great appetizer, especially for super bowl parties. The smoky bacon and the dry rub make these absolutely irresistible. Serve them with your favorite dipping sauce like bbq sauce, blue cheese, or Ranch! For a lighter snack serve them with lemon juice.
Ingredients needed:
Here is a list of what you will need. For the exact directions and measurements, take a look at our recipe card below.
For the shrimp:
Large shrimp: We prefer raw jumbo shrimp, but you can use frozen. If using raw, rinse shrimp first and after that pat dry with paper towels.
Bacon strips: You need 12 pieces of regular bacon cut in half. Thin-cut bacon works best.
Sweet chili sauce: For dipping sauce.
For the rub:
Brown sugar: Light or dark work fine.
Paprika: Smoked paprika gives it a great flavor.
Chili powder: For that spicy kick.
Garlic powder: This is important for the tangy taste.
How to make air fryer bacon wrapped shrimp recipe?
This will become one of your favorite ways to air-fry shrimp. Quickly save it with your other favorite recipes.
Prep: Start by preparing the ingredients and have the bacon slices next to you.
Wrap: First, peel and devein the shrimp and wrap the bacon around the shrimp tightly. Also, leave the tail on so you have something to hang onto.

Chill: Immediately, put the seafood into the fridge to chill for 10 to 15 minutes to help set the bacon onto the shrimp.

Mix: Meanwhile, combine the rub ingredients in a small bowl.
Coat: Next, coat the shrimp with the rub before placing it on parchment paper on a cooking sheet.

Preheat: Also, be sure to preheat the fryer for five minutes so the bacon does not stick.

Fry: Then, place shrimp in the air fryer basket in a single layer and cook for five minutes at 390 degrees F for five minutes. You may have to air fry these in batches, depending on the size of your air fryer.
Flip: Finally, flip them and cook for another five minutes.
Remove: As you cook, place each air fried shrimp on a paper towel until the whole batch is done.

Tip: You could also put them in the oven at the lowest setting to keep them warm as you cook the rest.
Variations and substitutions:
Baking a bunch: Alternatively, this recipe can be done in the oven if you are making a huge batch. Just cook at 425 degrees F for 15 to 20 minutes.

Give it some kick: For a spicier taste, add cayenne pepper to the rub. Or use your favorite seasoning blend.
Make it sweeter: Conversely, adding some granulated sugar to the rub will give these a sweeter taste.

Add more spices: Other spices that would be delicious are onion powder, thyme, and parsley. Cajun seasoning, old bay seasoning works great.
Turkey bacon: Use turkey bacon instead of pork.
How to serve:
Serve this crispy and savory shrimp as an appetizer, side dish, or a main dish with a bowl of chili sauce for dipping:
Frequently asked questions
How do you peel and devein shrimp?
Starting underneath where the legs are attached, use a sharp paring knife to make a shallow cut right down the middle of the back. Then remove the black strip off the back and rinse it under cold water. Peel off the shell but leave the tail piece so you have something to hold onto when dipping them.
How do I preheat my air fryer if it does not have the preheat setting?
Many of the newer and high-end air fryers have a preheat button, which most air fryer recipes call for. But what do you do if yours does not have a preheat setting? Just set it for five minutes at the temperature you are going to be cooking and turn it on.
Can I put aluminum foil in an air fryer?
Using aluminum foil in the air fryer is usually just fine, but you should check your owner's manual first. In general, you can use foil in the bottom of the basket but not in the bottom of the air fryer where the grease goes. And do not cover the basket all the way since it is the air circulation that cooks your food.
There are some things to remember when using foil. Only use foil if you have food sitting on top of it. Otherwise, when you air-fry shrimp, it can be sucked into the heating unit and may start a fire. Also, it is best to avoid using foil when cooking foods with high acidities like vinegar, fruit juice, fruit, tomato juice, and tomatoes.
How to store leftovers:
Store: Air Fryer Bacon Wrapped Shrimp will stay good in the fridge in an airtight container or baggie for up to four days.
Freeze: If you are not going to eat them in a few days, wrap them tightly in plastic wrap, then with foil, or put them in a freezer bag for up to three months.

Thaw: Finally, make sure to plan in advance and thaw in the fridge overnight before reheating.
Reheat: Either reheat them in the microwave, oven, or air fryer.
More easy appetizer recipes:
Recipe tips:
Using frozen shrimp for this recipe is also a great idea. It is easier to wrap with the bacon and still cooks to perfection.

If the bacon will not stay wrapped, use toothpicks or skewers.
Always use a preheated air fryer to make this easy recipe.
Make sure you wrap the piece of bacon tightly around the seafood.
Also, place the wrapped shrimp in the basket of the air fryer seam-side down.
Do not overcrowd the basket or tray when you air-fry shrimp because the fryer cooks with air circulation.

For this recipe, jumbo shrimp was used so you may have to adjust the cooking time if you use smaller ones.
Keep the bacon in the fridge until you are ready, and it will be easier to wrap.
Air fryer Bacon Wrapped Shrimp
Ingredients
1

pound

raw shrimp

peeled with tails on

1

pound

bacon

12 slices cut in half

1

cup

sweet chili sauce
Rub:
2

tablespoons

brown sugar

1

tablespoon

smoked paprika

1/4

teaspoon

chili powder

1

teaspoon

garlic powder
Instructions
Preheat the air fryer at 390 degrees F for 5 minutes while you prep the shrimp.

Cut the bacon slices in half and tightly wrap around each piece of shrimp. Arrange on a cutting board or baking sheet covered with parchment paper.

Chill for 10-15 minutes to set the bacon.

Mix the rub ingredients and gently toss each bacon-wrapped shrimp in the rub and place back on a parchment-covered sheet.

Arrange them in one layer in the air fryer basket and leave space between each piece.

Air Fry for 5 minutes, flip the shrimp, and air fry for another 4-5 minutes.

Remove to a plate with paper towels while you cook the remaining shrimp.
Deliciousness to your inbox
Enjoy weekly hand picked recipes and recommendations