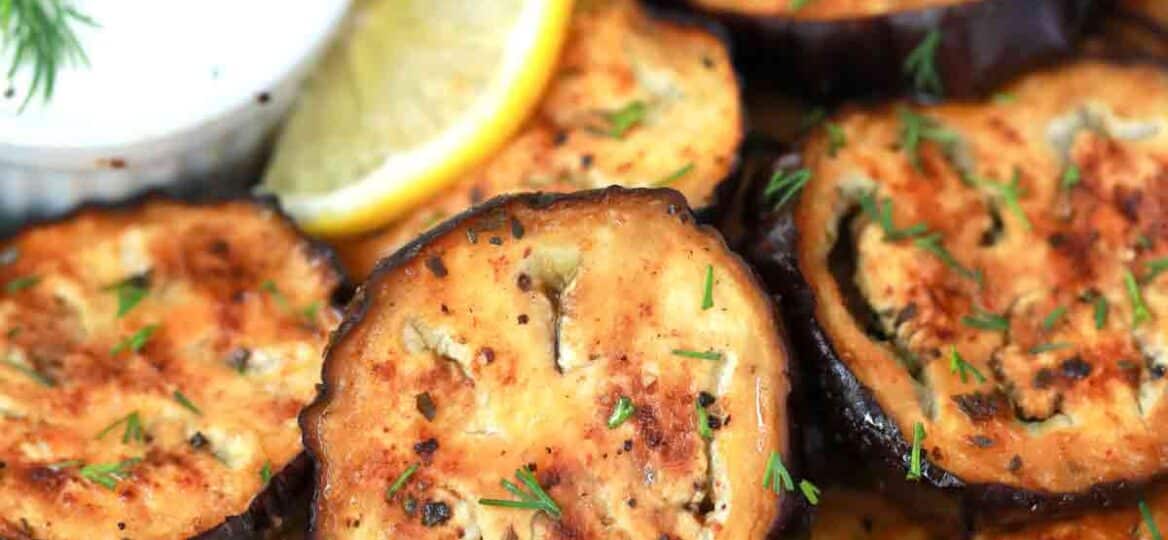 Air Fryer Eggplant [Video]
Air Fryer Eggplant is tossed in soy sauce, lemon juice, and lots of herbs and spices before getting air-fried to golden, crispy perfection. Simple and flavorful, it can be ready in 20 minutes!
Did you know you can "bake" in your air-fryer, too? Give it a try with these Air Fryer Peanut Butter Cookies, Air Fryer Churros, and Air Fryer French Toast!
Air Fryer Eggplant Recipe
Air Fryer Eggplant became an instant favorite the moment we tried it. Not everyone likes this veggie because if you don't cook it right, it ends up mushy and unappetizing, especially if you fry it because it naturally absorbs so much oil.
Instead, air-frying the eggplant gave us a crispy crust while keeping the inside soft and tender. We also coat it with lots of seasonings and spices, so every bite is incredibly flavorful. Dip it into homemade tzatziki sauce for a winning appetizer or side!
Is eggplant healthy?
Yes, it's a very nutritious vegetable. High in fiber but low in calories, it will keep you full while helping with digestion, lowering the risk of heart disease, improved blood sugar control, and even weight loss.
Furthermore, it's also very high in vitamins and minerals. In one serving, you get vitamins B6, K, C, plus potassium, folic acid, magnesium, thiamine, and many more.
What You Need:
Eggplant: Rinsed, sliced evenly into rounds, and salted for 30mins. The process of salting – sprinkling salt on the pieces – pulls out any bitterness from this vegetable. It also eliminates any excess moisture so it crisps up nicely in the air-fryer. Don't forget to pat as dry as you can.
Seasoning sauces: The classic combo of sesame oil and umami-packed soy sauce gives this dish a subtle Asian flair. Finally, a squeeze of fresh lemon juice to brighten things up!
Herbs and spices: To build flavor, we're mixing up garlic powder with smoked paprika, a dash of onion powder plus dried herbs like oregano, parsley, and a nice Italian blend.
How to make Air fryer eggplant
Season. Take your prepared vegetable slices, and mix them up with your seasonings, spices, and dried herbs.
Air-fry. Arrange the seasoned vegetables in a single layer inside the air-fryer basket. Cook at 380F for about 15-20 mins. Flip at the halfway mark, continuing to air-fry until tender and golden-brown.
Serve. Plate up with more lemon, a sprinkle of fresh dill, plus this refreshing tzatziki sauce!
Recipe variations and substitutions:
Cajun: Toss in some homemade Cajun seasoning with a squeeze of lime plus salt and pepper.
Garlic parmesan: Cover in a mix of grated parmesan, garlic powder, and paprika, plus dried Italian herbs.
Crispy: Use the breading technique we use for our Air-fryer Onion Rings. You're going to love that crunchy parmesan-panko crust!
Crispy coconut lime: The crunchy, spiced coconut breading in this Air-fryer Coconut Shrimp will work for this vegetable, too!
Spicy: Add heat with cayenne, chili powder, or dried chili flakes.
Frequently Asked Questions
How to cut eggplant?
After washing it well, set it on your cutting board. Chop off the top, with the stem part. Then, chop off the bottom. From here, you can slice it as needed for your recipe.
Tip: You don't have to peel it for most recipes, because the skin gets incredibly soft once it's cooked.
What type of air fryer is best to use?
Whatever air-fryer you have will work for this recipe. However, different brands and units do vary in wattage, so we suggest checking the veggies from time to time. This way, you're sure they're done to your liking.
What to serve with:
We definitely recommend enjoying this with creamy sauces like tzatziki, chipotle, honey mustard, horseradish, and Yum Yum sauce to balance out the bold seasonings in these delicious eggplant slices.
Storage Instructions:
You'll want to cool these down first before transferring to an air-tight container, so the condensation doesn't make them soggy. Place in the refrigerator, and consume within 2 days or earlier for best texture.
To reheat, pop it into a 400F air-fryer for a few minutes until hot.
More delicious Air Fryer Recipes:
Deliciousness to your inbox
Enjoy weekly hand picked recipes and recommendations