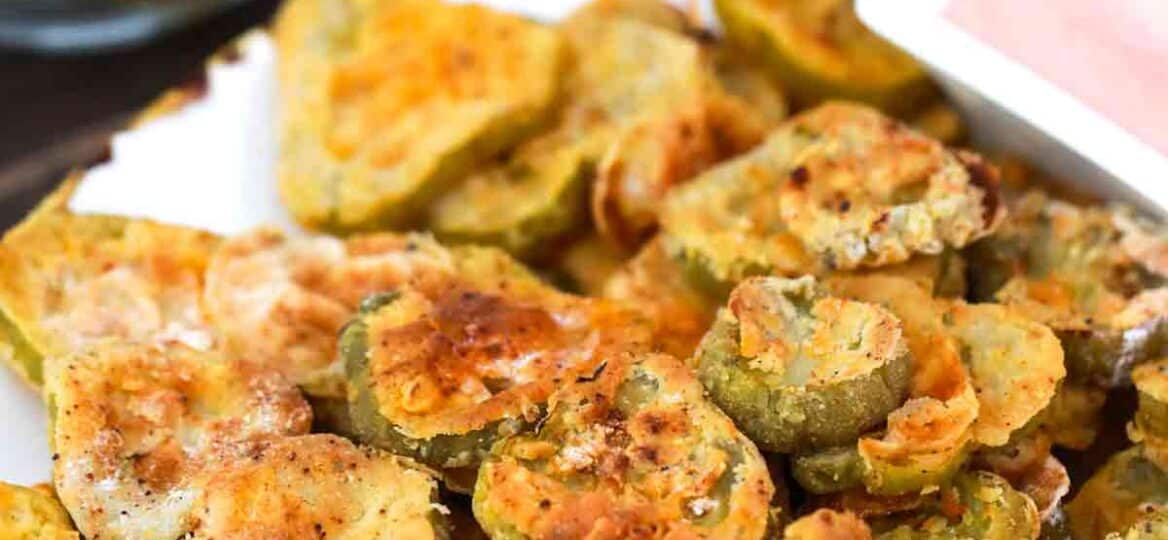 Air Fryer Fried Pickles [Video]
Air Fryer Fried Pickles are covered in a crunchy Cajun-spiced crust and cooked to crispy perfection! No deep-frying and ready in 20 minutes, always a winning appetizer!
These are top-tier appetizers and always a crowd favorite just like our popular Cheesy Jalapeno Ham Sliders, Puff Pastry Cheese Pockets, and Chipotle Chicken Nachos!
Air Fryer Fried Pickles Recipe
Air Fryer Fried Pickles are made with incredibly simple ingredients, but it's so flavorful with wonderful texture. The Cajun-spiced crust is super crunchy but not oily. Inside that delicious crust is the crispy, tart pickle infused with dill. Amazing on their own, but extra tasty with your favorite dip!
Finally, there's lots of room to play with seasonings here. Try a dash of Old Bay, double the cayenne if you like it spicy, or Italian seasonings if you want a stronger herb flavor. Don't forget the ranch on the side!
What are Fried Pickles?
AKA "frickles," it's an old-fashioned Southern appetizer and snack. It features sliced pickles (traditionally dill), which are battered before getting fried until crispy.
What You Need:
Pickles: Use dill for that classic, slightly herby taste. Slice thin.
Flour: Just a thin coating makes these super crispy!
Seasonings: To build flavor, we're combining powdered onion with Cajun spice, garlic powder, a dash of smoked paprika, plus cayenne for a kick.
Olive oil: This will help the flour and flavorings stick to the pickles, and also encourages crisping.
How to make homemade Air Fryer Fried Pickles from scratch
Preheat. Set your air-fryer to 400F.
Mix. Whisk the Cajun spices with the rest of the flavorings and the flour.
Coat. Take your slices, then carefully toss in the Cajun-seasoned flour. Spritz with a light coat of oil.
Air-fry. Arrange them in one layer, then air-fry for 10 mins., flip, then cook for another 5 mins.
Serve. Enjoy immediately with your dip of choice.
Recipe variations:
Different slices: You can cut them into rounds, halves, and spears if you like.
Panko: For a crunchier crust, double-dip them in egg wash, then panko.
Seasonings: Try this with Italian seasoning, simple salt & pepper, some Old Bay, or lemon salt. For some Tex-Mex flair, add a dash of chili and cumin.
Other types of pickles: You can also use the sweet kind if you want it less tart, or the spicy ones if you love the heat.
Frequently Asked Questions
Can you use the AF to cook fried pickles from frozen?
Sure! You'll just need to add a few minutes to the cooking time. No need to defrost— air-fry straight from frozen.
How to prevent soggy Air Fryer Fried Pickles?
First, try patting the slices dry to remove excess moisture. This way, the flour coating stays crisp. In addition, make sure to preheat your air-fryer well, so the coating starts crisping up the moment you shut the lid.
How do you choose pickles for Air Fryer Fried Pickles?
Check the label! The best ones should only have a few ingredients. At most, they should only have the cucumbers themselves, plus the pickling mixture and spices. This way, you get that pure pickle flavor without any preservatives.
How to make homemade Fried Pickles crispy?
You can double-coat with flour, or use a top coating of panko. Follow this technique we use for our air-fried onion rings!
How to serve:
These crunchy bites definitely call for dips! Try our favorites:
How to store leftovers?
Cool the leftovers down first, then place them in a tightly sealed container. This will stay fresh for up to 3 days, but we suggest you finish them earlier.
How to reheat:
Heat up the air fryer to 420F, and cook about 2 minutes on each side or until hot.
Another option is to reheat them in a 400F oven on a rack, so they dry out and crisp up a bit more.
More Recipes You Might Like: