Puff Pastry Cheese Pockets
Puff Pastry Cheese Pockets are flaky, buttery, crispy miniature cheese pockets pies that are a crowd-pleaser appetizer or snack. They are equally delicious when served hot or cold.
I love making easy and delicious appetizers. My other popular one is Bacon Wrapped Shrimp, Honey Lemon Chicken Lettuce Wraps and Avocado Egg Rolls.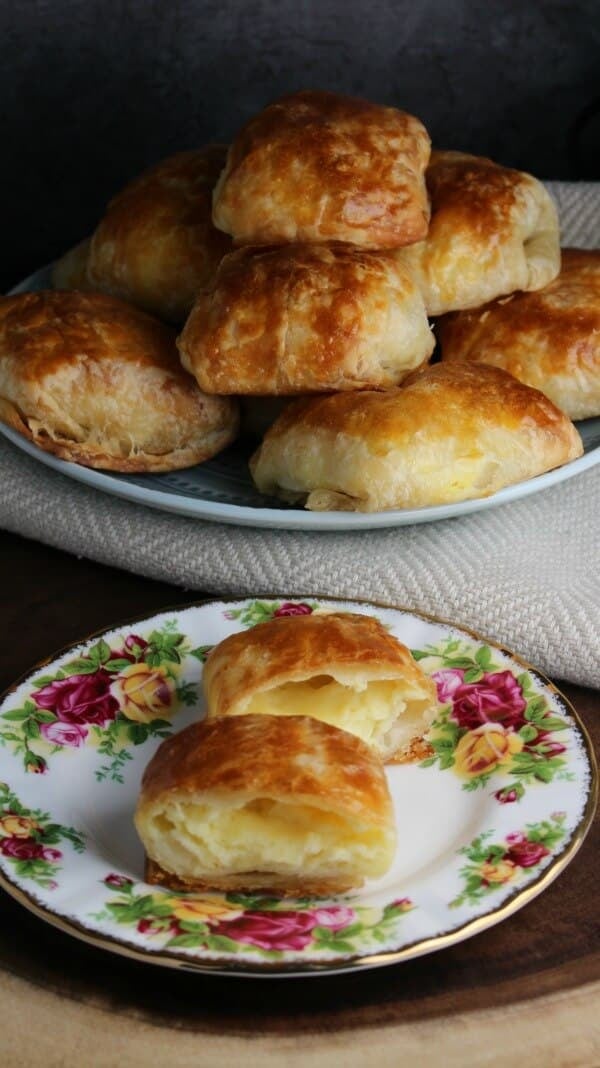 Puff Pastry Cheese Pockets
Puff Pastry Cheese Pockets are made with store-bought puff pastry dough sheets. I decided to go this route to save some time, and the result did not disappoint. They turned out delicious, in almost no time and only one dish to clean!
These are a hit as an appetizer, they can be served hot or cold since both ways are equally delicious. You can play with the cheeses that you like, but I prefer mine with farmer's cheese, sometimes I add a little mozzarella. Goat cheese is very good as well, especially when mixed with a little feta cheese.
These puff pastry cheese pockets look like miniature pies, so buttery and crispy and yes, cheesy! Great as a quick snack, even for breakfast on the go, an appetizer, and my toddler loves them, being tiny enough for him to grab and run. Gotta make that kid get some calcium, and believe me, he loves to get it from these puff pastry cheese pockets. He walks around the house with one in his tiny chubby hands.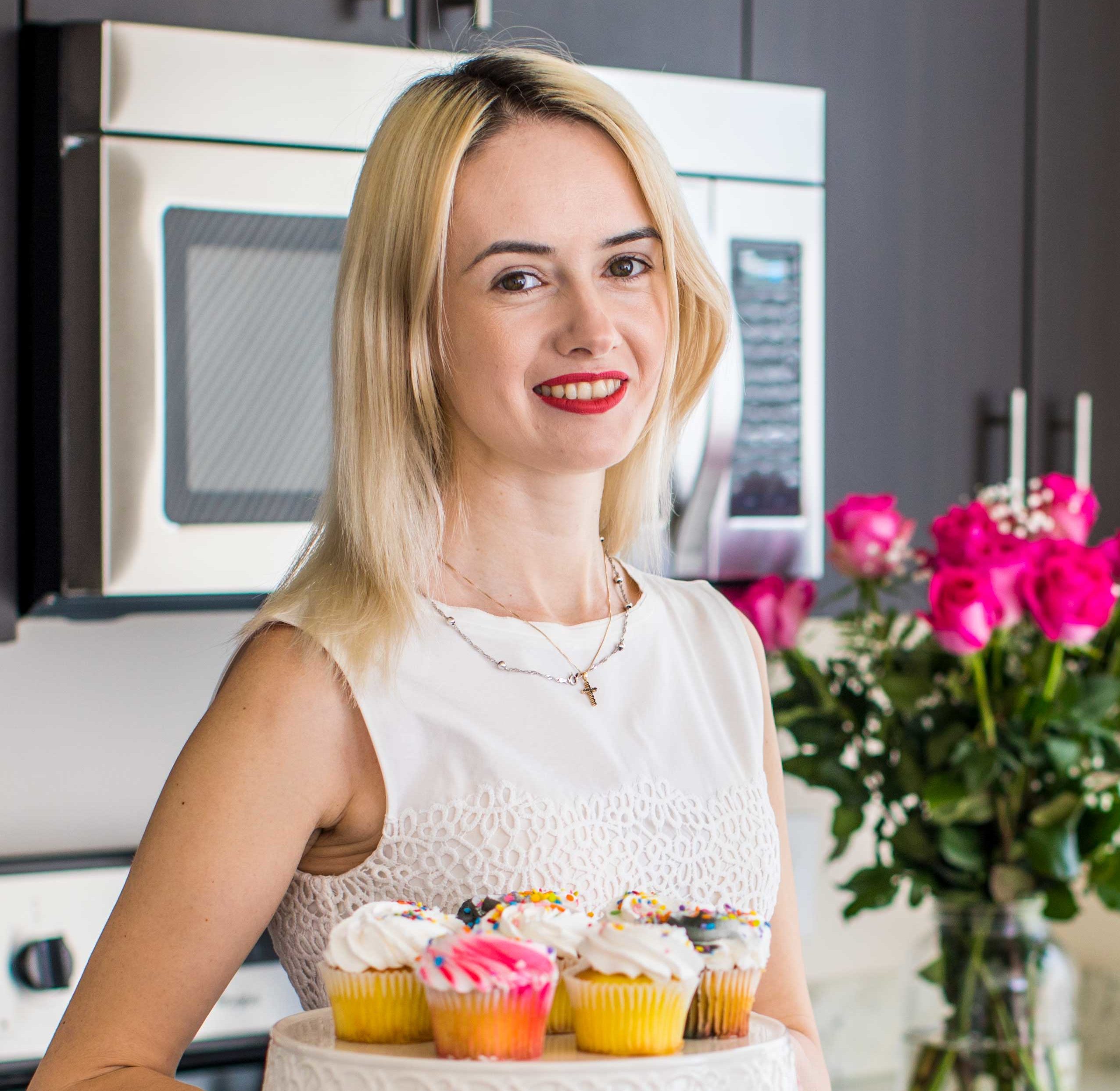 Follow us on Pinterest for more delicious recipes!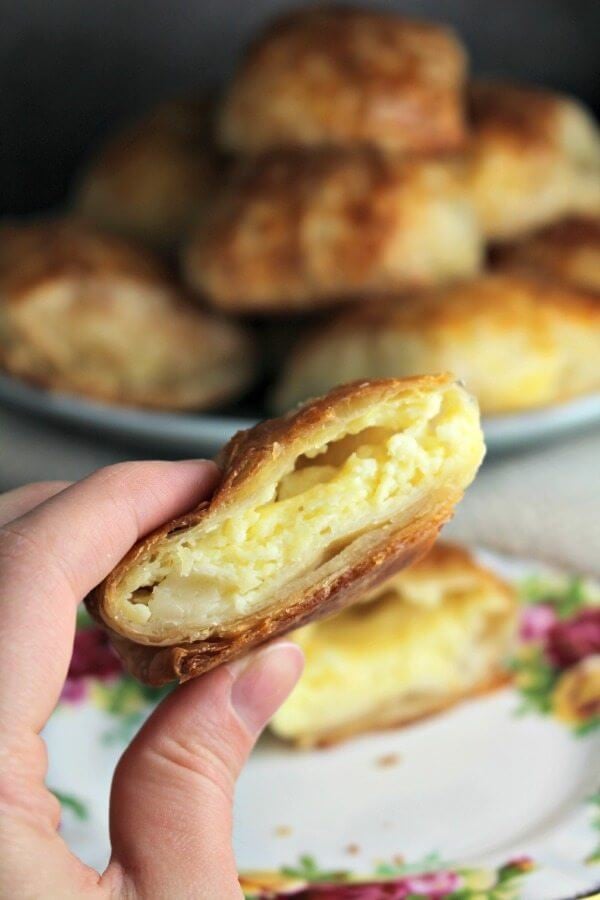 Why You'll Enjoy These Puff Pastry Cheese Pockets Recipe:
They are super easy and quick to make with just a few ingredients.
The puff pastry can also be made with various fillings, such as mashed potatoes, cabbage.
Ingredients are very affordable and easy to find, so it's basically cooking on a budget.
It is perfect for brunch and breakfast or to bake a few for a crowd.
Easy to transport you can take it as a gift to family and friends.
Can I make them with different fillings?
The fillings possibility is endless for puff pastry recipe. You can use:
Potatoes
Cabbage
Sour cherry
Nutella
Apple or apple pie filling
Pumpkin or pumpkin pie filling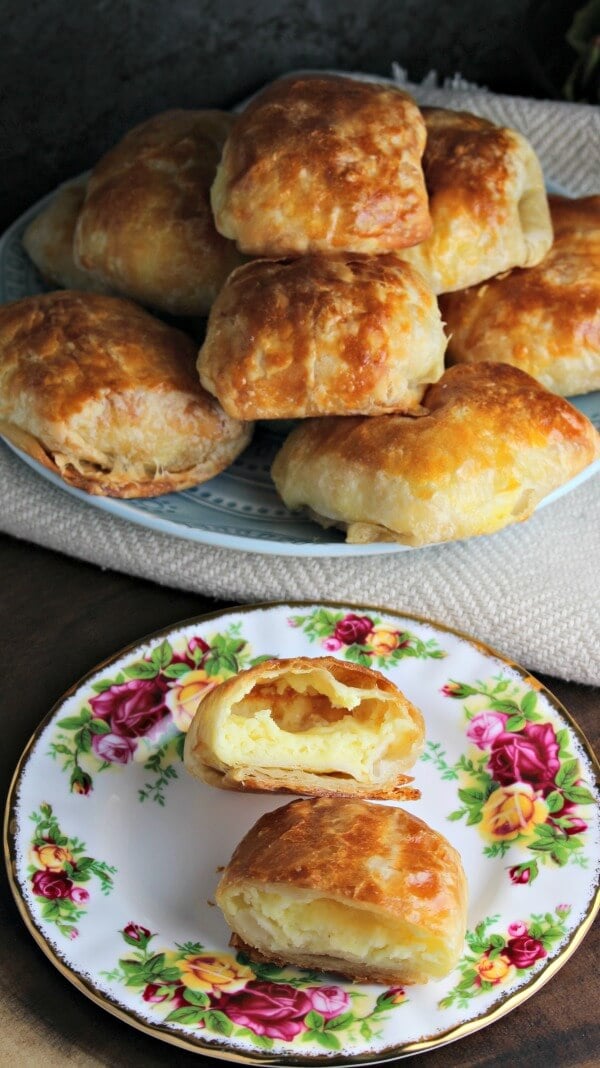 Can I store them?
To store leftovers, use an airtight container, and refrigerate for up to 5 days. You can also wrap them in plastic and store in the counter for about 2 days.
Save Recipe
Puff Pastry Cheese Pockets
Author: Catalina Castravet
Serves: 16 servings
Prep time:

30

minutes
Cook time:

30

minutes
Total time:

1

hr
Ingredients
Puff Pastry Dough Sheets
1 lb. farmer cheese/goat cheese
2 eggs
2 egg yolks
1 stick butter
2 tbsp. flour
3 tbsp. milk
Salt
Pepper
Instructions
Remove Pastry Dough sheets from the refrigerator and let them defrost at room temperature for 20-30 min.
In the meantime, in a medium bowl, using a spatula, mix together the cheese , eggs and milk.
Place the butter in a microwave safe bowl and melt.
Add the butter to the mixture, using a spatula mix until well incorporated. Add the flour and continue mixing.
Season with salt and pepper.
Preheat oven to 350F.
Position the Puff Pastry Dough sheets on a flat working surface and cut in squares (2-3 inches).
Using a spoon, place the mixture (1-2 tbsp.) into the center of the squares. Make sure you have the same amount of squares without the filling, as they will be used to cover the other ones.
After the cheese filling was distributed, take the remaining squares and place on top of the cheese filling, using your fingers to glues the two together, resulting in small cheese pockets.
In a small bowl, whisk together the remaining 2 egg yolks and brush the top of the cheese pockets.
Place in the oven and bake until golden, around 30 min.
Calories: 61 Carbohydrates: 1 Protein: 5 Fat: 3 Saturated Fat: 1 Cholesterol: 54 Sodium: 123 Potassium: 13 Fiber: 0 Sugar: 0 Vitamin A: 65 Calcium: 9 Iron: 0.3
Save Recipe
More recipes you might love