Puff Pastry Cheese Pockets
This post may contain affiliate links. Please read my disclosure policy.
Flaky, buttery, crispy miniature puff pastry cheese pockets pies that are a crowd pleaser appetizer or snack. Equally delicious when served hot or cold.
What are your weaknesses? I probably have too many to disclose here, but the ones that I made peace with are: ice cream – can't ever, ever get enough, would probably have it as my last meal on earth; Creamy potato soup with bacon – yes, this is a weakness, because I can never stop after one bowl, not even two, but I don't talk about "any" potato soup, I particularly love the one that my grandma makes, with potatoes from her garden and fresh herbs that she just picked. That's a meal that just screams comfort to me, it's my favorite childhood meal, I should probably ask her for the recipe and share it as a must try. Another big weakness of mine, is crust! Anything flaky, made with butter, that just melts in your mouth. Exactly like these puff pastry cheese pockets full of goodness: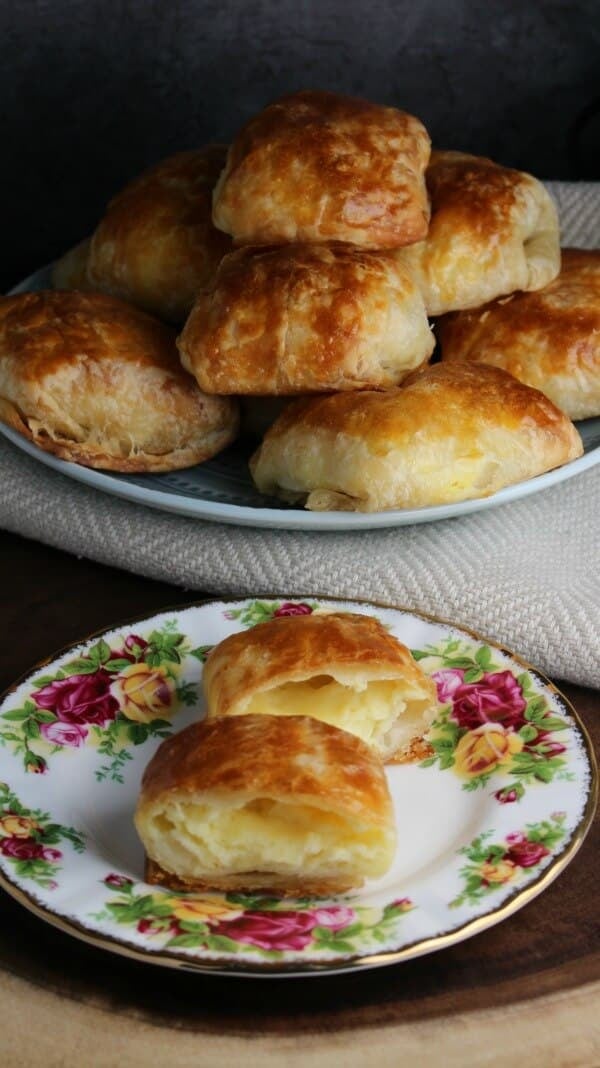 My mom stayed with us for one month and we baked our hearts, I am still trying to shake all the extra calories that were consumed. She is really great at making delicious, fluffy, buttery dough. Unfortunately I don't have the time during the week to bake as much as I want, but still craving these puff pastry cheese pockets that she made us, I decided to take a short cut and recreate them using store bought puff pastry dough sheets. They turned out delicious, in almost no time and only one dish to clean!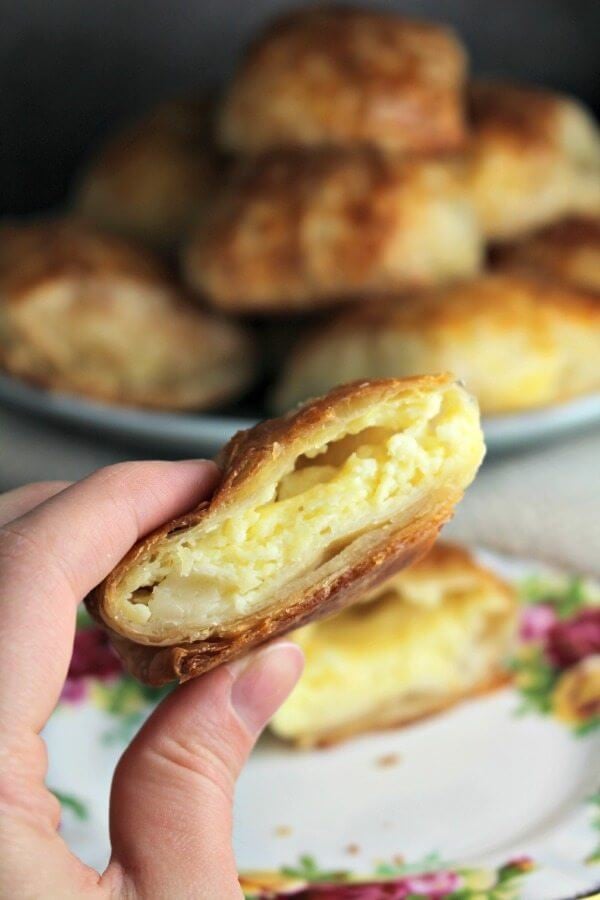 These are a hit as an appetizer, they can be served hot or cold, equally delicious both ways. You can play with the cheeses that you like, I prefer mine with farmer's cheese, sometimes I add a little mozzarella. Goat cheese is very good as well, especially when mixed with a little feta cheese.
These puff pastry cheese pockets look like miniature pies, so buttery and crispy and yes, cheesy! Great as a quick snack, even for breakfast on the go, an appetizer, and my toddler loves them, being tiny enough for him to grab and run. Gotta make that kid get some calcium, and believe me, he loves to get it from these puff pastry cheese pockets. He walks around the house with one in his tiny chubby hands.

MY LATEST VIDEOS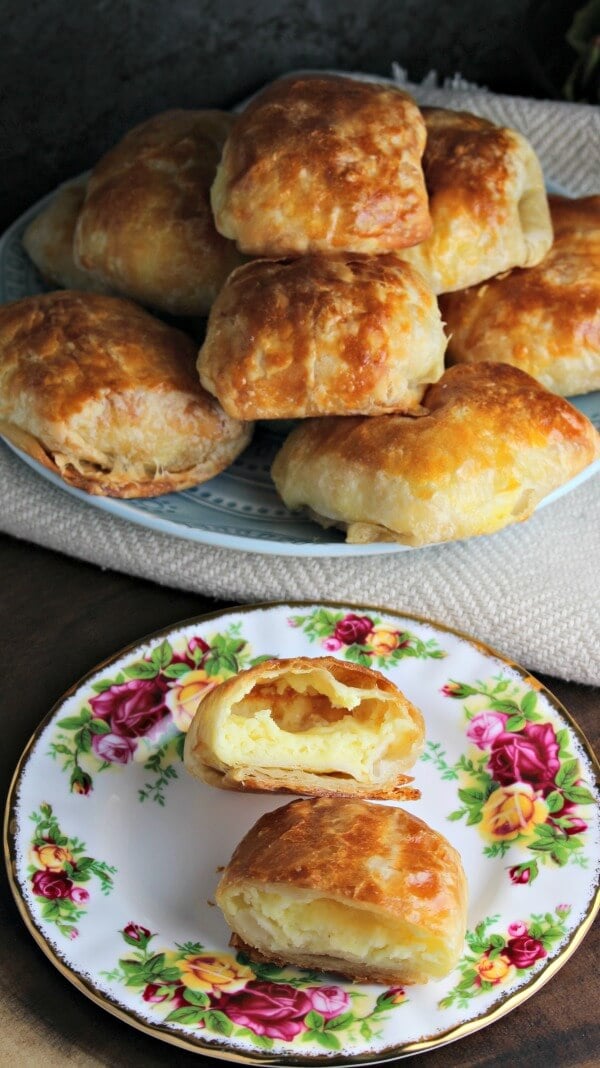 I made peace with this weakness, its too good to try to stay away from so I will a few more puff pastry cheese pockets and call it a day!

Puff Pastry Cheese Pockets
Flaky, buttery, crispy and cheese miniature puff pastry pies that are a crowd pleaser appetizer or snack. Equally delicious when served hot or cold.
Author:
Katalina Kastravet
Ingredients
Pepperidge Farm Puff Pastry Dough Sheets
1 lb. farmer cheese/goat cheese
2 eggs
2 egg yolks
1 stick butter
2 tbsp. flour
3 tbsp. milk
Salt
pepper
Instructions
Remove Pastry Dough sheets from the refrigerator and let them defrost at room temperature for 20-30 min.
In the meantime, in a medium bowl, using a spatula, mix together the cheese , eggs and milk.
Place the butter in a microwave safe bowl and melt.
Add the butter to the mixture, using a spatula mix until well incorporated. Add the flour and continue mixing.
Season with salt and pepper.
Preheat oven to 350F.
Position the Puff Pastry Dough sheets on a flat working surface and cut in squares (2-3 inches).
Using a spoon, place the mixture (1-2 tbsp.) into the center of the squares. Make sure you have the same amount of squares without the filling, as they will be used to cover the other ones.
After the cheese filling was distributed, take the remaining squares and place on top of the cheese filling, using your fingers to glues the two together, resulting in small cheese pockets.
In a small bowl, whisk together the remaining 2 egg yolks and brush the top of the cheese pockets.
Place in the oven and bake until golden, around 30 min.
Notes
It is very important to use high quality Puff Pastry Dough Sheets, do not use filo dough for this recipe as it will not turnout as good.
You can make your own puff pastry, which is more delicious, but also more time consuming.
Different type of cheese can be used: goat, or goat mixed with feta. Farmers cheese mixed with any other cheese that you like.
Peas and Peonies, LLC. owns the copyright on all images and text and does not allow for its original recipes and pictures to be reproduced anywhere other than at this site unless authorization is given. If you enjoyed the recipe and would like to publish it on your own site, please re-write it in your own words, and link back to my site and recipe page. Copying and/or pasting full recipes to social media or personal blogs is strictly prohibited. Sharing this recipe is very much appreciated and encouraged. Read my disclosure and privacy policy. This post may contain affiliate links.