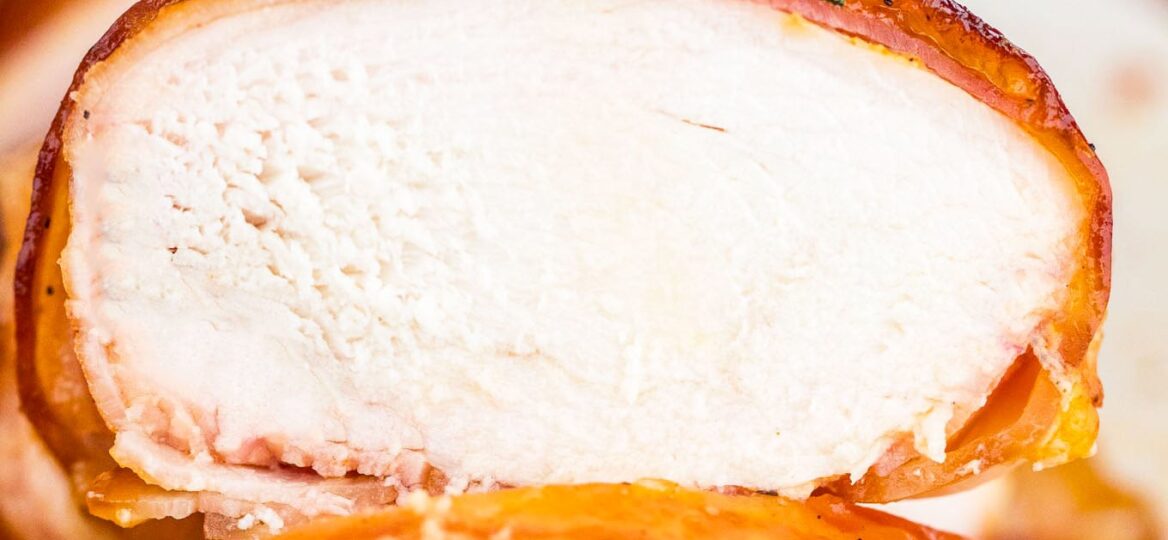 Bacon Wrapped Chicken [video]
Bacon Wrapped Chicken is deliciously crispy on the outside and tender and juicy on the inside. Wrapped in bacon and finished with a brown sugar glaze. It is the perfect family dinner ready in about 45 minutes.
We love an easy chicken dinner that requires little preparation time. This great recipe will quickly become a family favorite that even picky eaters will love. For more bacon-wrapped deliciousness, try this bacon-wrapped jalapeno popper chicken or this bacon-wrapped meatloaf. Serve this easy weeknight dinner with your favorite side dish!
Easy Chicken Recipe
This great recipe is one of those dishes that require little preparation but delivers an amazingly flavorful meal. This is our go-to recipe when it comes to juicy chicken family dinners. We love it so much, that we make it a few times a month.
We use chicken breasts and if you want, you can stuff them with cheese and spices, before wrapping them in bacon and adding the glaze. The combination of bacon and brown sugar is to die for. You can thank me later.
To make this meal you only need a handful of simple ingredients. The meat is super moist on the inside, yet crunchy on the outside. Though it looks like a fancy, restaurant-quality dish, it is surprisingly easy to prepare. Because of that, this dish is one of our favorite dinner meals.
In addition, this recipe makes for a nice potluck or party dish. Just wrap it up, and then easily transport it. Similarly, you can make a larger batch and store it for later, as leftovers are delicious and easily re-heatable.
Follow us on Pinterest for more delicious recipes!
Ingredients needed:
Chicken breasts – we use boneless skinless chicken breasts, but you can make this recipe with chicken thighs as well.
About 12 slices of bacon – we do NOT use thick-cut, as it's harder to wrap around the meat.
Spice mix: A combination of smoked paprika, onion powder, garlic powder, cayenne pepper, black pepper, and salt.
Brown sugar – it is absolutely amazing when caramelized on top of the strips of bacon.
Oil: Either use canola oil or olive oil.
Honey: We like to add honey to the glaze, however, maple syrup works just as fine.
Fresh minced garlic
How to make bacon wrapped chicken breast?
This is one of the easiest and most flavorful chicken breast recipes. Below are the easy steps to follow to make this juicy and tender dish. Also, I have attached the step-by-step recipe video to the recipe card. Please feel free to watch it.
Prep: First, prepare all the ingredients, preheat the oven, and at the same time cover a rimmed baking sheet with aluminum foil or lightly grease a 9×12 baking dish.
Glaze: Next, in a medium bowl mix all the glaze ingredients until fully combined.
Chicken breasts: After that, add the meat to a large mixing bowl with half of the glaze. Rub the glaze well into the meat.
Wrap in bacon: Finally, wrap bacon around the chicken pieces and place them seam side down into the prepared baking dish. And brush the remaining glaze mixture on top. You can sprinkle the top with some additional brown sugar, it will give the meat a nice color.
Bake: After that, bake this delicious dinner in the preheated oven for about 30 minutes or until the meat's internal temperature reaches 165 degrees Fahrenheit. For best results, baste the meat with the juices and bacon grease from the pan from time to time.
Remove from oven: Lastly, once the bacon is perfectly crisp and has a golden brown color remove the baking dish from the oven. We love to make it extra crispy, so we tend to broil it at the end for about 1-2 minutes.
Serve: Let the meat rest for 5-10 minutes before serving with your favorite side dish.
Recipe Variations:
Meat: Make this recipe with chicken tenders, drumsticks, chicken wings, chicken bites, or this blackened chicken.
Air Fryer: As an alternative, cook this dish in the air fryer at 390 degrees for about 20 minutes, turning it halfway.
Cheese: Also, you stuff the chicken with cream cheese, or your favorite cheese, like mozzarella and cheddar cheese.
Veggies: As an option, you can also use veggies to stuff the breasts. Some nice addition would be broccoli florets, bell peppers, spinach, asparagus, or olives.
Skip the bacon: Similarly, if you are not a bacon fan, skip it. Just the glaze on the meat, the cooking time will be the same.
Spicy food: Add some chili powder or hot sauce to the glaze to make it spicier.
Sauces: Also, add some dijon mustard or sticky bbq sauce into the glaze for extra flavor.
Frequently Asked Questions
How to grill it?
First, follow the recipe instructions up to the point of baking, by preparing the glaze and wrapping bacon around the meat.
Prior to grilling thee bacon wrapped chicken breast, ensure your grill is hot and ready. Then, place the bacon-wrapped meat onto the grill and grill for about 7-8 minutes on each side. The bacon should be crisp and the ends of the bacon should be lightly charred when done.
How do you know when chicken is done cooking?
The safest way to check is by using a meat thermometer. Simply, stick the thermometer through the middle of the chicken. The internal temperature should be 165 degrees Fahrenheit or 75 degrees Celsius.
How long to cook chicken wrapped in bacon?
Poultry does not require a lot of cooking time. For this recipe, chicken is cooked at 375°F for about 30 min, plus an additional 2 minutes for broiling. After 30 minutes mark, once you see that the bacon has a nice golden color, it means it is done.
The meat is ready when using a digital meat thermometer inserted in the thickest part of the meat reads 165 degrees Fahrenheit.
How to store leftovers:
Cool it: Before storing it, make sure it is completely cooled.
Refrigerate: Then, transfer it to an airtight container, and place it in the fridge for up to 4 days. Reheat prior to serving.
Freeze: To freeze this recipe, wrap each piece of meat in plastic wrap and after that in foil. Next, for best results, I like to add them to a freezer bag. Freeze for up to 3 months.
Thaw: When ready to serve, plan in advance and transfer the meat from the freezer to the fridge to thaw overnight.
Reheat: For the tasty bacon to be crisp and not rubbery, we recommend reheating this recipe in the oven. The best way is to add the chicken pieces to a baking pan and brush the tops with a bit of the glaze. After that, bake it for 10 minutes at 375 degrees, or until heated thru.
More Chicken Recipes:
Cooking Tips:
Ensure you cut the breast evenly, so they are the same size. This is important to have a uniform cooking process.
You'll want to avoid using thick-cut bacon here, as it will take much longer to cook.
After wrapping in bacon make sure to arrange the pieces in a single layer in the baking dish with the seam side dowm=n.
Also, if the bacon does not stay in place, secure it with some toothpicks. Remove them after cooking.
Easy Bacon Wrapped Chicken
Ingredients
4

chicken breasts boneless

skinless

8-12

slices

bacon

do not use thick-cut
Glaze:
1/4

cup

canola oil

1/3

cup

brown sugar

2

tablespoons

honey

3

cloves

garlic

minced

1

teaspoon

smoked paprika

1/2

teaspoon

garlic powder

1/2

teaspoon

onion powder

1/4

teaspoon

cayenne pepper

1/4

teaspoon

black pepper

1/4

teaspoon

salt
Garnish:
1

tablespoon

chopped parsley
Instructions
Preheat the oven to 375 degrees F.

In a small bowl, mix together all the GLAZE ingredients.

Rub HALF of the glaze mixture all over the chicken breasts.

Wrap each breast in 2-3 slices of bacon. Place the chicken breasts, seam side down in a baking pan.

Top with the remaining glaze mixture.

Bake for 25-30 minutes or until bacon is crispy and chicken is cooked through, basting the meat occasionally with the pan drippings.

If you prefer extra crispy bacon, broil for an additional 1-2 minutes.

Sprinkle with parsley, then serve.