Classic Buckeye Recipe [Video]
This Buckeye recipe is an easy one that yields smooth and silky candies without the need for baking! Perfect for the whole family, serve it on any occasion!
My love for desserts is undeniable! And this candy is simply irresistible. Check out the other dessert recipes that I adore that need no baking like the Keto Chocolate Cheesecake Bites, No-Bake M&M's Pie, and Strawberry Tiramisu!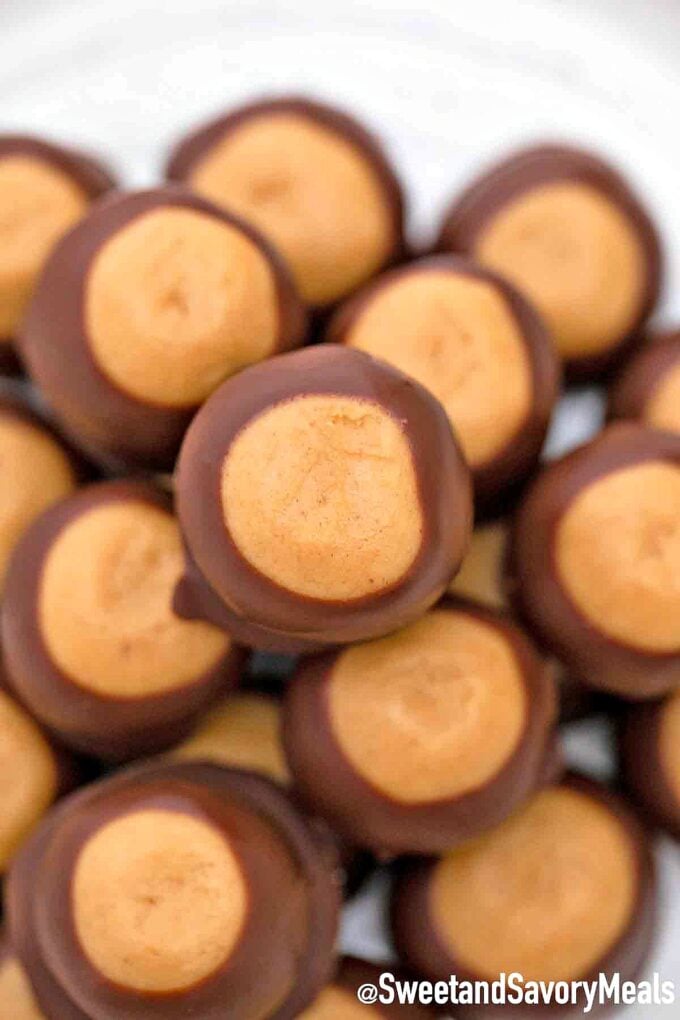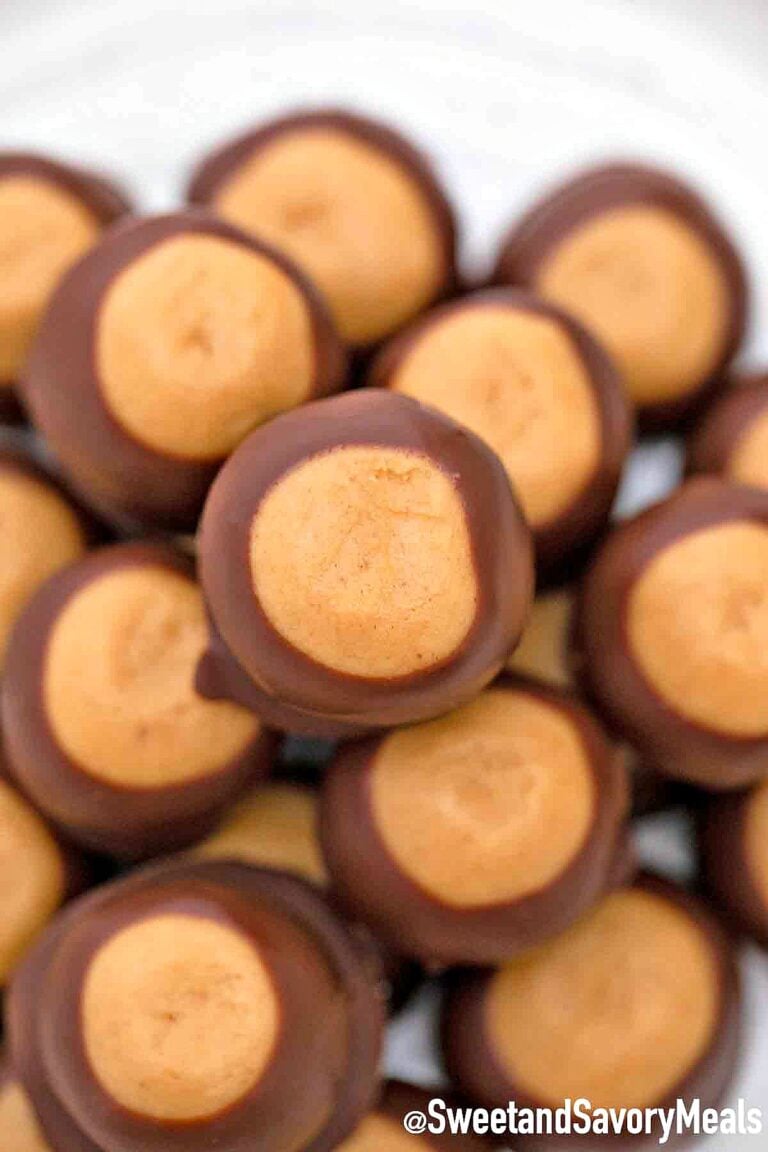 Classic Buckeye Recipe
Buckeyes are so addicting that I can finish a whole batch of this recipe by myself. These little candies sport our favorite peanut butter-chocolate combo which makes them so yummy!
They are fun to make and probably the best part is that they require no baking. I let kids help out, too, which makes this a great holiday bonding experience for the whole family.
I make these candies as holiday giveaways to friends all the time. Some would tease me and say that if I ever sell these to them, they would still buy. They are so good that even adults love these sweets.
I like mine cold, straight from the fridge, this way the peanut butter mixture is a bit harder and so delicious! These cute little treats will remind you of Reese's cups, minus the high price for a bigger batch!
And I always get requests for the recipe and this time, I am sharing this with you all. Make these treats this holiday season!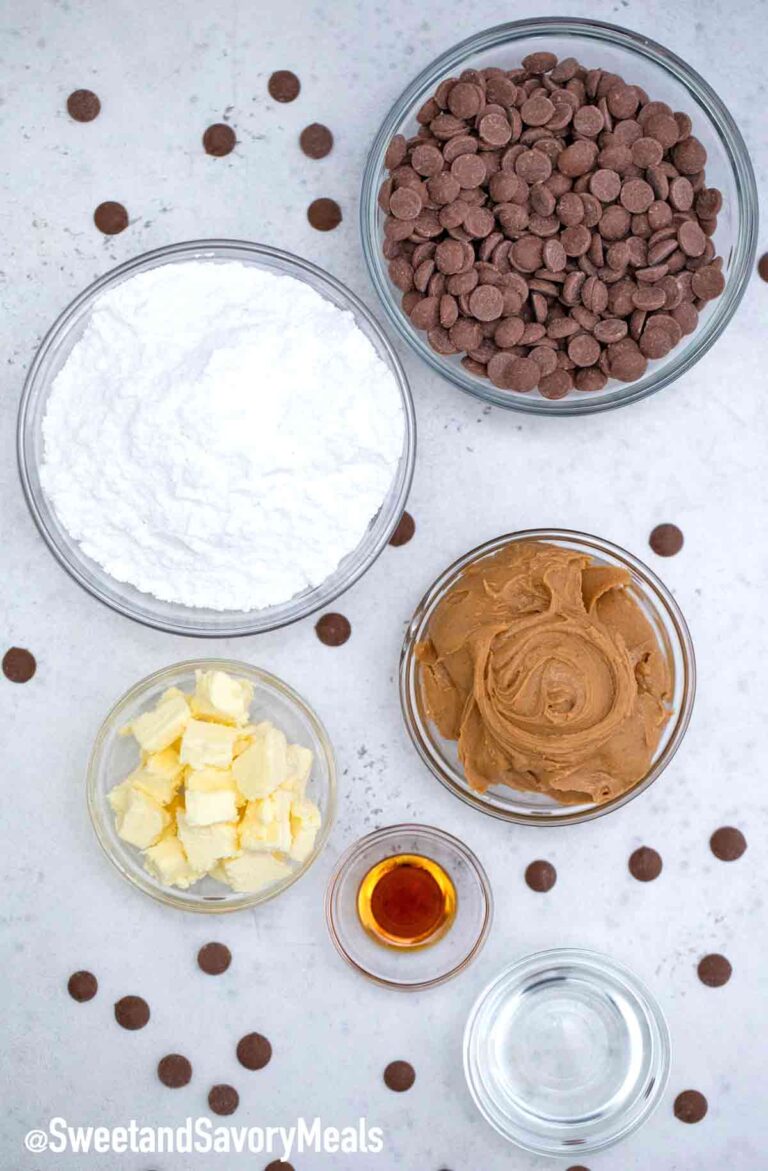 What is a Buckeye?
Peanut butter rolled into balls then dipped into melted chocolate summarizes what Buckeyes are in this recipe.
If you are from Ohio, then, you are all too familiar with the tree. This dessert is inspired by the nut of the buckeye tree after which these candies are named. That nut has a dark brown outer layer with a tan center, like our candies here.
How to make Buckeye
Prepare the tan mixture: In a bowl, combine the wet ingredients and cream them well. Add powdered sugar little by little until the peanut butter mixture becomes tacky, not overly wet nor dry. Put the mixture in the freezer for about 20 minutes to firm up.
Roll: Use a scooper to portion and roll each piece into balls. Stick a toothpick at the center of each ball and put them on a lined tray.
Dip: Put the melted chocolate in a bowl. Then, holding the balls by the toothpick, dip each one in the melted chocolate covering about three-fourths. You can roll each one in a bowl of peanuts while the melted chocolate has not yet set then, place them back on the tray.
Serve: Remove the toothpick and smooth the hole using your finger. Serve and enjoy!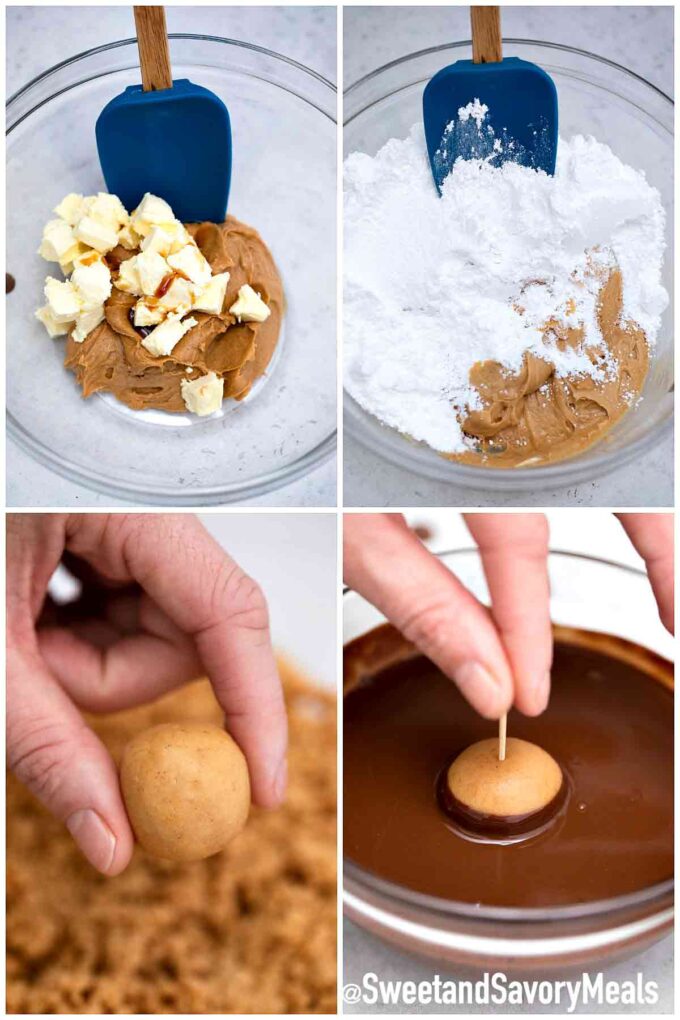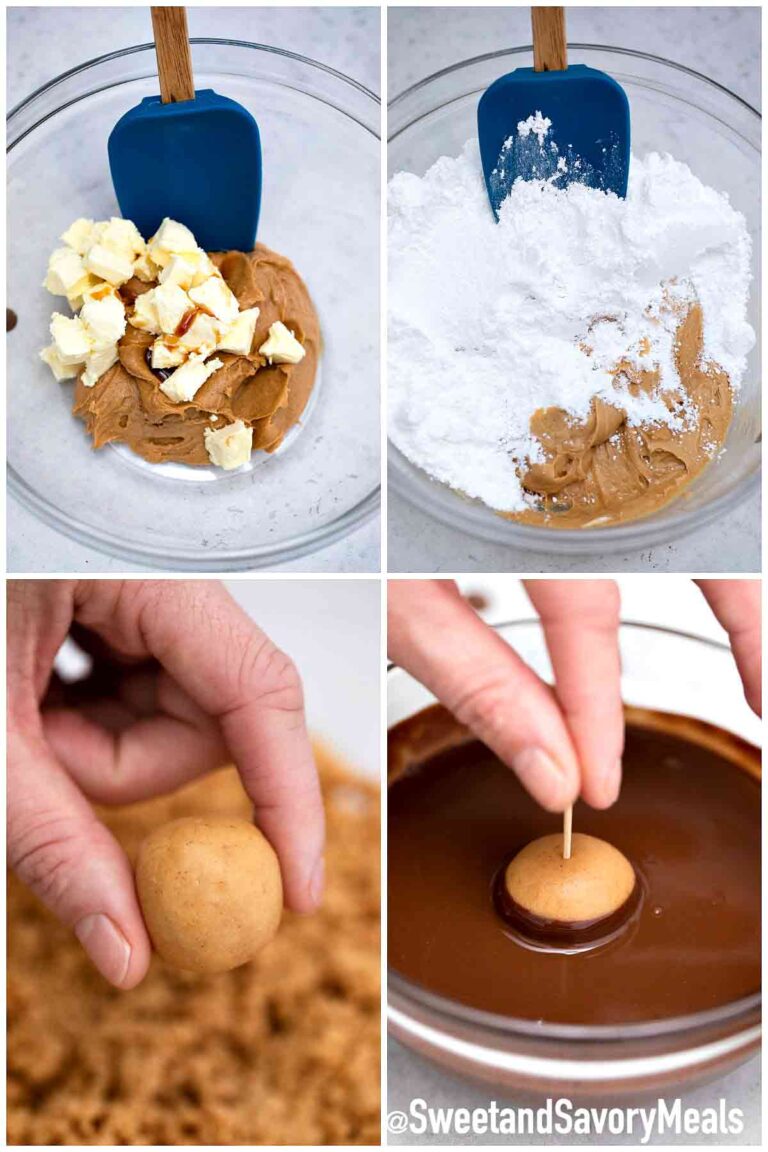 What kind of chocolate is best to use?
There is no strict rule on this but what you need here is something that melts well. Some chocolates have stabilizers that make them maintain their shape, so you want something that has less of that. Or else, long before you finish dipping, your dip has turned solid.
High-quality ones that have high amounts of pure stuff are great choices. When melted, bars turn into a rich pool of chocolaty goodness. But of course, using the chips will not hurt.
Also, you can experiment and make these with white chocolate, or dip them in milk chocolate and top them with a drizzle of white chocolate and a sprinkle of crushed peanuts.
Do Buckeyes need to be refrigerated?
Yes! But that is only my preference and it does not mean that you cannot store them at room temperature or in the freezer. You can store them in many ways.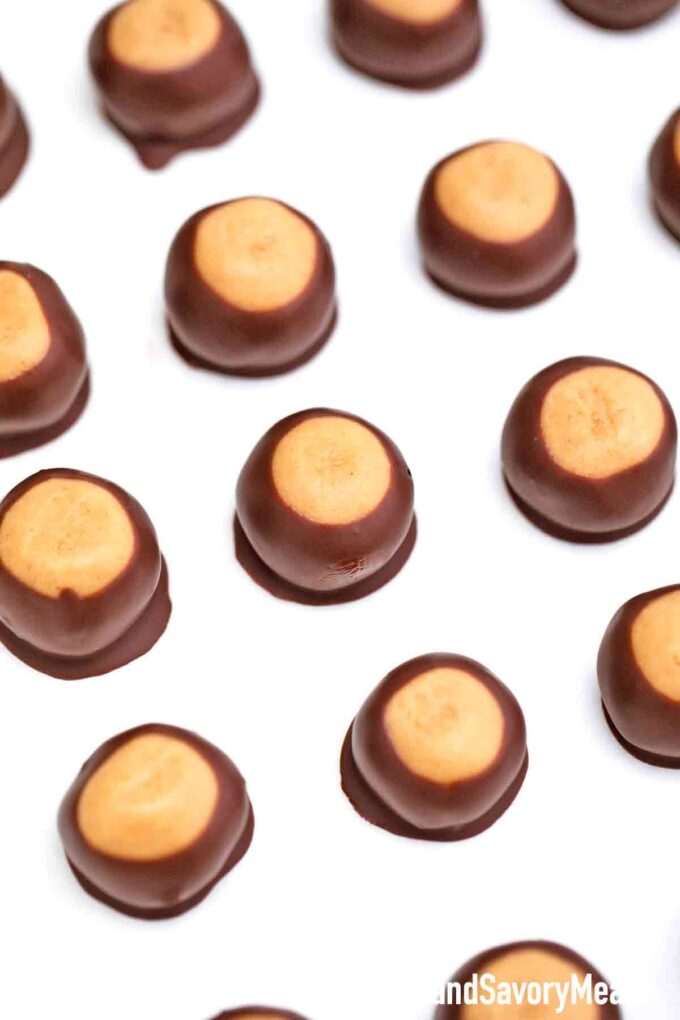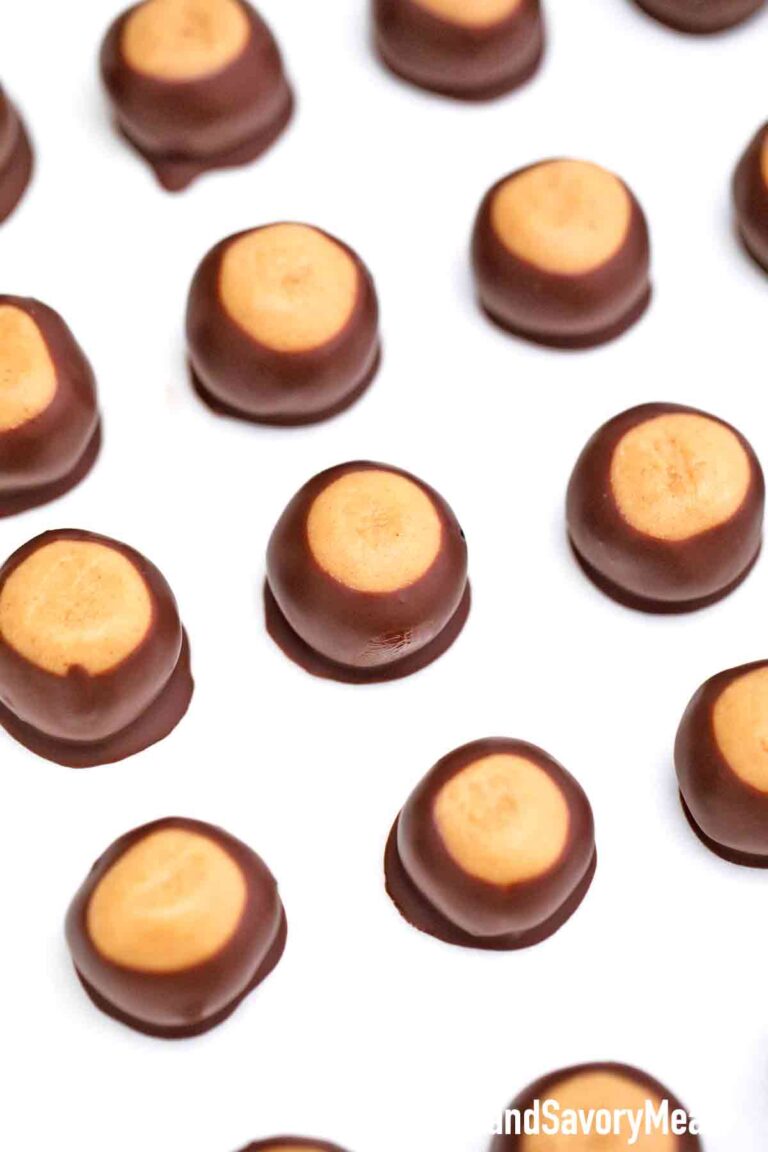 How long do Buckeyes last?
At room temperature kept in an airtight container, they last for a few days. If frozen, they can last for months, even up to a year, with good temperature control. In the fridge, they can last for up to a week.
More Peanut Butter Recipes: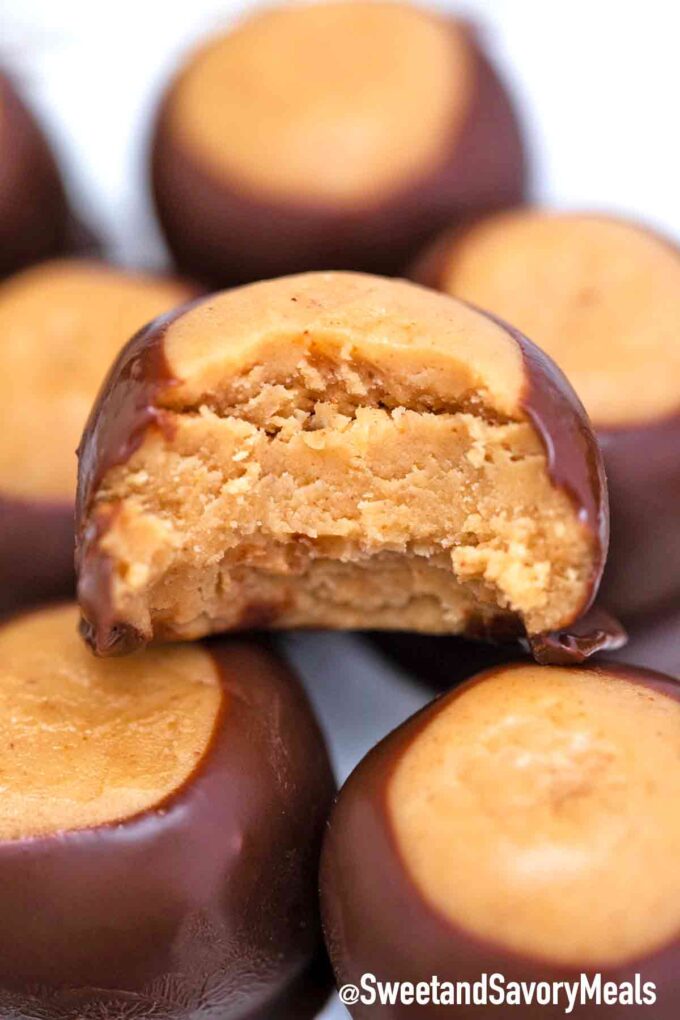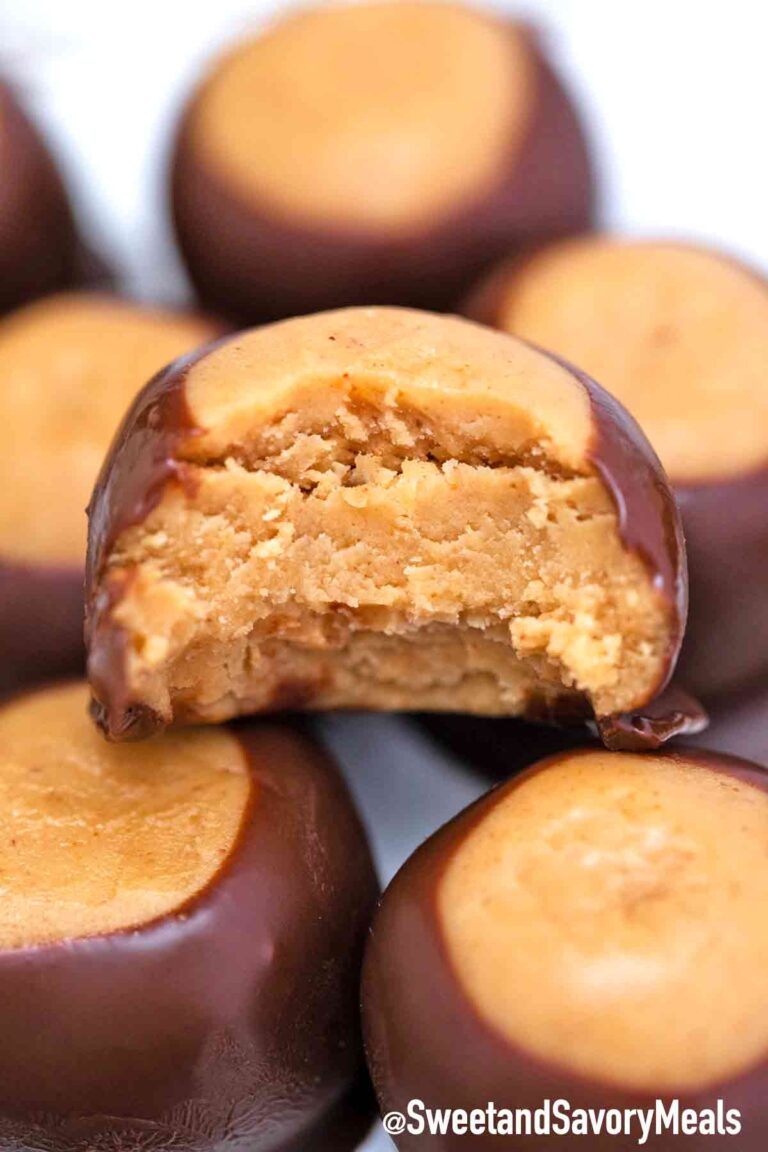 Recipe Tips
When freezing, place them in freezer bags and make sure to squeeze out as much air as you can.
Take them out of the freezer right before you dip them in chocolate. If you let them sit out, the pieces sweat, and the moisture may prevent the chocolate from sticking.
Mixing rice crispies in the ball mixture adds a nice textural contrast.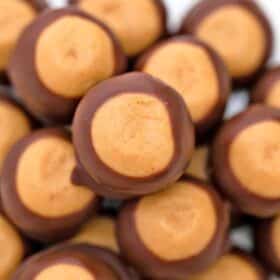 Buckeye Recipe
This Buckeye recipe is an easy one that yields smooth and silky candies without the need for baking!
Save
Share
Print
Pin
Rate
Ingredients
1

cup

peanut butter

(smooth)

5

tablespoons

unsalted butter

2

cups

powdered sugar

1

teaspoon

vanilla extract

2

cups

semisweet chocolate chips

2

tablespoons

coconut oil
Instructions
Add the peanut butter, butter, and vanilla to a large bowl, and using an electric mixer beat them just until combined.

Add powdered sugar and mix on low speed until combined. Scrape down the sides and bottom of the bowl a few times during this step.

Using a small cookie spoon or tablespoon, take about one tablespoon of the peanut butter mixture and roll into balls.

Set them onto a baking sheet covered with parchment paper and chill until firm. At least 20-30 minutes.

Add chocolate and coconut oil to a medium bowl and melt by microwave it for 1 minute, after that stir well, and if needed microwave for another 30 seconds. Stir to combine and set aside to cool to room temperature.

Use a skewer or toothpick to dip a bit more than halfway the peanut butter balls into the chocolate.

Chill to allow the chocolate to firm up and enjoy. Run a small knife or spatula over the tops to hide the holes.
Video
Nutrition
Calories:
248
kcal
|
Carbohydrates:
22
g
|
Protein:
4
g
|
Fat:
17
g
|
Saturated Fat:
8
g
|
Cholesterol:
7
mg
|
Sodium:
72
mg
|
Potassium:
182
mg
|
Fiber:
2
g
|
Sugar:
18
g
|
Vitamin A:
83
IU
|
Calcium:
18
mg
|
Iron:
1
mg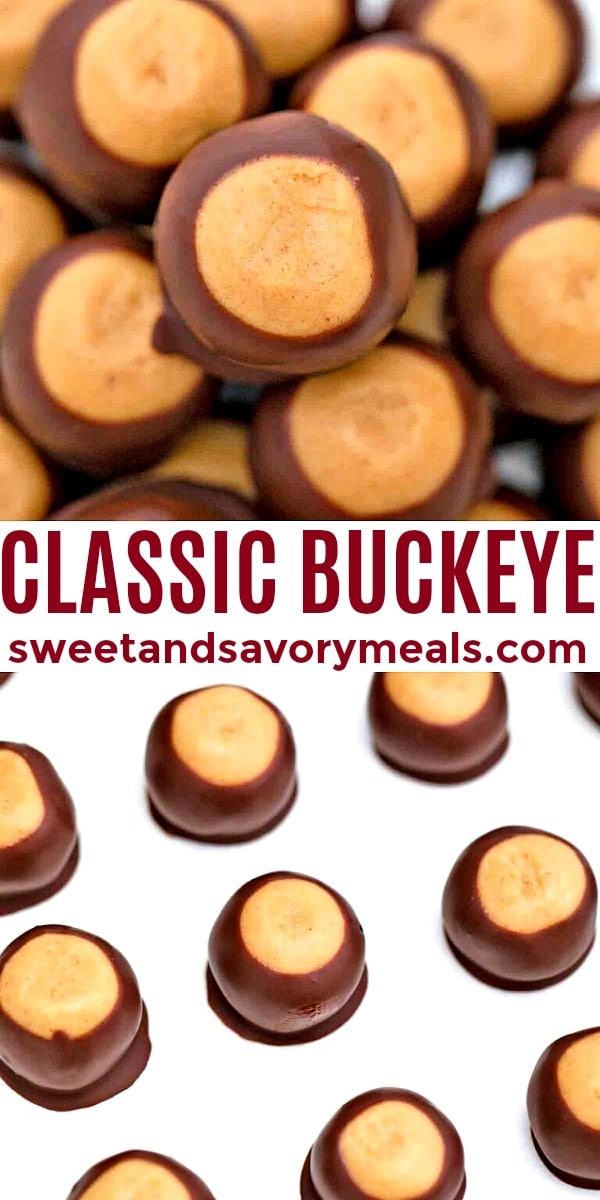 More recipes you might love