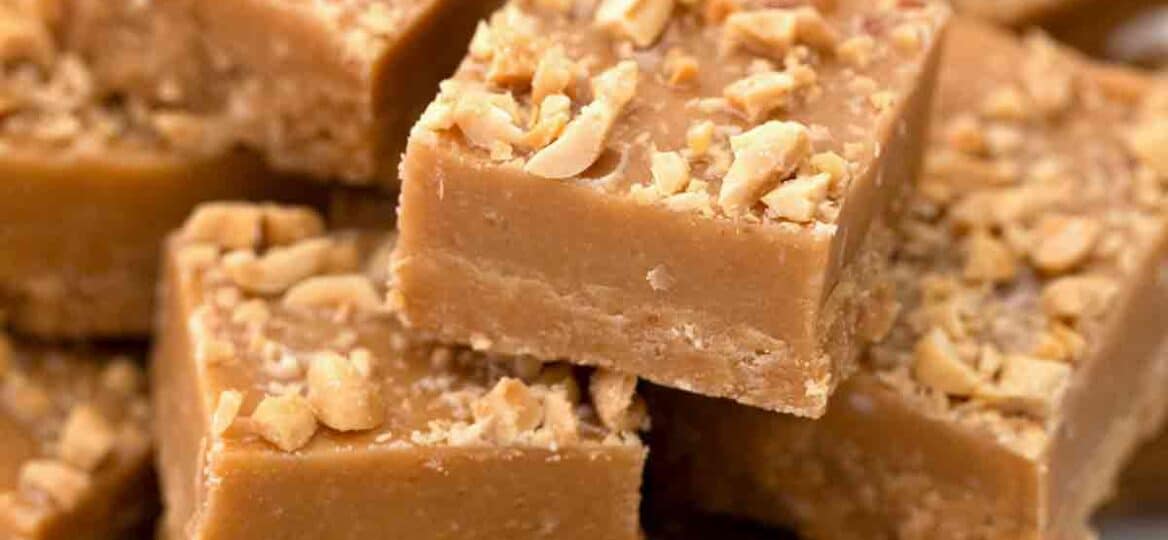 Peanut Butter Fudge Recipe [Video]
Peanut Butter Fudge is the smoothest, creamiest, and easiest fudge ever! Decadent with an over-the-top nutty flavor, it's an addicting snack and a wonderful edible gift.
Sometimes, you just want quick and yummy desserts with no baking or complicated steps. For those days, whip up some Cashew Chocolate Truffles, No Bake Lemon Cheesecake, or Butterscotch Banana Trifle to satisfy those sweet cravings in no time at all!
Creamy Peanut Butter Fudge – 5 Ingredients Only
This Peanut Butter Fudge recipe is pure magic. It is literally ready in no time. In minutes, I have a plate of these sweet, creamy squares on the counter. Before I know it, they're gone!
Our love for peanut butter definitely runs deep in my house. Also, our friends are crazy about these creamy and delicious treats, so I make a huge batch for gifts every year.
Luckily, this is so easy to make and only needs five ingredients. I make mine on the stovetop, but you can also make it in the microwave. Jazz it up if you like! Also, feel free to add chopped Reese's Pieces, swirl in some chocolate, sprinkle some flaky salt or chocolate chips on top, crushed pretzels, use different nuts – go wild! It's such a fun, simple, and delicious treat.
Put this recipe on your Christmas treat list now and skip. With just 5 ingredients and a few minutes, you will have the perfect snack to celebrate during the Christmas holiday!
Peanut butter fudge ingredients:
This dessert is ready in no time, and you only need a few easy to find ingredients. I mean it— FIVE ingredients only! The last one, salt, is completely optional. You will need the following:
Powdered sugar: We use fine, powdered sugar because it easily melts into the mixture and prevents any grittiness.
Brown Sugar: for a deep, caramel flavor.
Butter: Use the best quality you can get because it's a key flavor in this dessert. The fat also prevents the sugar from crystalizing, which results in supreme creaminess. Either salted or unsalted is fine.
Peanut spread: Use chunky or smooth, whatever you prefer.
Pure vanilla extract: That subtle boost of flavor makes a world of difference in this dessert!
Peanuts: Give them a rough chop.
How to make Creamy Peanut Butter Fudge?
Boil the peanut spread, brown sugar and butter. First, let it reach a steady boil while stirring a few times until incorporated. Then, turn off the heat.
Add the sugar. Next, stir in the pure vanilla followed by the sugar.
Allow it to set. Transfer to a parchment or foil-lined dish. Use a spatula to smoothen out the surface. Sprinkle with chopped nuts. Leave it to cool until it sets, around 1 hr.
Cut. Once it's firm, invert into a cutting board. Slice carefully into blocks. Enjoy!
How to Make Microwave Fudge?
You can either skip the oven to make this super easy and simple recipe. To make it in the microwave, follow the steps below:
Melt the peanut butter mixture. Start by microwaving the spread with the butter on high until smooth and completely incorporated. Stir thoroughly every minute. Then, add the vanilla. Lastly, stir in the sugar until completely melted into the mix.
Let it set. Transfer to your pan and use a spatula to smooth out the surface. Sprinkle crushed nuts on top. Let it sit until firm.
Cut. Slice into a block or small squares and enjoy!
What is the best peanut butter to use?
I prefer using the store-bought variety for its consistency. The natural, homemade kind tends to be too oily. It's okay to use it, but dump out the oil or mix very well before starting with the recipe.
Why is my peanut butter fudge crumbly?
First, this might be due because the sugar may not have melted enough into the mix. This will give you a gritty texture instead of smooth.
Another reason is that the butter and spread were not combined properly.
To avoid this, make sure the mixture reaches a boil. If it's not hot enough, the fat content will prevent the two from coming together. Stir very well until you achieve a uniformly smooth mixture.
Storage Instructions:
Store the pieces in a tightly-sealed container and consume within 14 days if kept in the fridge.
To freeze, use a freezer-proof dish. Also, let the fudge completely cool and set after cooking it. Then, freeze for up to 3 months.
More homemade fudge recipes:
Recipe tips and notes:
Use a loaf pan if you like thicker pieces, and an 8×8 if you like them thinner.
Simply double the amounts in the recipe to produce a bigger batch.
Cover the pan with a sheet of parchment paper or foil to prevent sticking.
You can skip the vanilla is not a fan.
I like chilling it for several hours for easier cutting.
Also, for beautiful, straight cuts, clean your knife between every slice.
If adding ingredients like chocolate, do it while the mixture is warm.