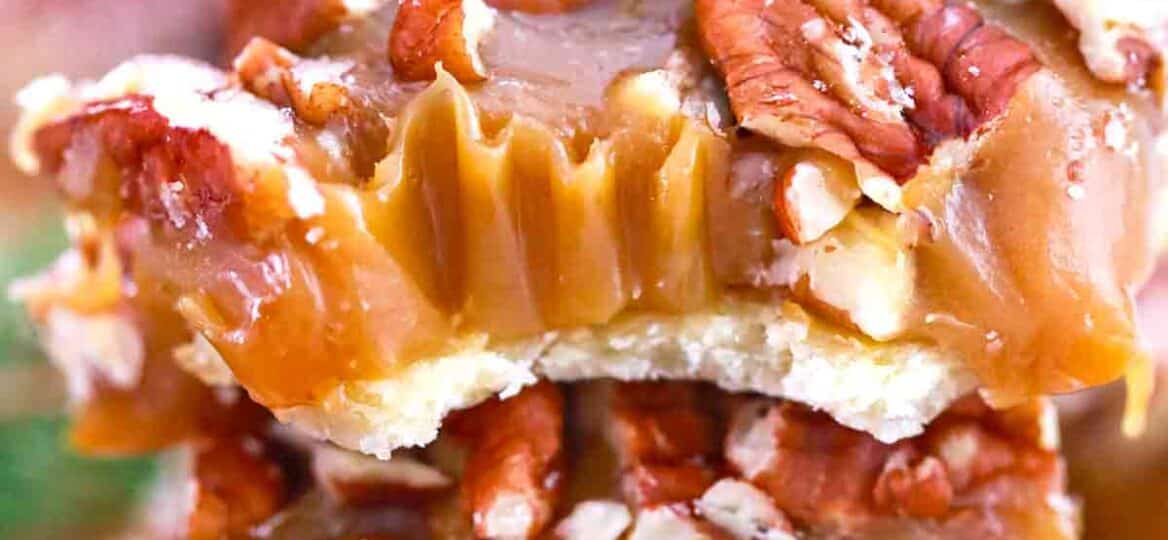 Pecan Pie Fudge is a tasty treat made with pie crust, loaded with white chocolate chips, brown sugar, to resemble the taste of a traditional pecan pie. The crunchy nuts when combined the corn syrup, white chocolate, butter, get a special flavor like no other and melt in your mouth with deliciousness.
Next time you want a sweet treat, try our Chocolate Banana Bread flavored with chocolate chips and cocoa powder. Another great dessert idea the family will enjoy is our Chocolate Chip Cookie Bars you can have done in less than an hour. But if you want a true chocolate masterpiece, our Dream Extreme Oreo Cheesecake is the bomb!
If this is your first time making fudge, you will fall in love with this delectable dessert that actually tastes like small pieces of pecan pie.
With a flaky crust, buttery filling, and crunchy pecans on top, this is one of the best recipes for fudge we have tried. Pecans are a nice healthy snack and they taste so good when added to candies, makes me feel better about indulging some.
This is an easy and delicious treat you can make for the holidays or for any time of year. Adults and kids love it equally, and it's perfect as hostess gifts!
Ingredients needed:
For precise instructions and measurements, you can scroll down to our recipe card below. But here are the main ingredients you will need for this sweet treat:
Unbaked pie crust: Store-bought or homemade are both acceptable.
White chocolate chips: You could use another flavor, but it will look and taste different.
Chopped pecans: Pecan halves are fine too.
Corn syrup: Light or dark will both work.
Brown sugar: Light or dark will also work here.
Evaporated milk: Make sure it is not sweetened condensed milk.
Butter: Room temperature.
Salt: Just a pinch.
Rum extract: Optional.
Molasses: Also optional.
How do you make pecan pie fudge?
Preheat: To begin, heat oven to 400 degrees F and prepare an 8×8 baking pan with foil or parchment paper, and coat lightly with cooking spray.

Cut the crust: First, cut your crust to fit the bottom of the baking pan. Place it in the pan and poke it with a fork all over.
Bake: Then, bake the crust for 10 to 12 minutes or until it is light golden.

Make the fudge: Meanwhile, melt butter, corn syrup, milk, molasses, chocolate chips, and brown sugar in a medium saucepan over medium-high heat.
Stir: Next, constantly stir over low heat until everything is melted and smooth. Remove from heat and stir in the salt and rum extract.
Combine: Last, remove the pie crust and pour the warm fudge over the crust while it is still hot.

Add pecans: Immediately, sprinkle pecans on top of the fudge, pressing them down so they stick.

Serve: Finally, refrigerate for four hours before serving.
Recipe variations:
Microwave: Alternatively, add the fudge ingredients to a medium bowl and melt in the microwave in 30-second bursts until it is smooth.

More extract: Add maple extract for more maple flavor.
Darker chocolate: Use milk or semisweet chips instead of white chips for chocolate fudge pecan pie.
Optional ingredient: Another optional ingredient you can add is peppermint chips or rainbow sprinkles.

Butter: Add 1/2 cup butter instead of evaporated milk for a buttery flavor.
How to serve:
This delicious recipe is perfect for any time of year. Serve as an afterschool snack or a special dessert. Or you can try one of these suggestions:
Add a little hot fudge sauce on top for even more chocolatey goodness.
You may also enjoy a dollop of homemade whipped cream on your pecan fudge.
Also, add more crunchy pecans on top of the whipped cream.
Serve with one of our delicious chocolate pies.
Sprinkle your fudge with powdered sugar for a nice snowy look.
Frequently Asked Questions
Which pie is healthier: pumpkin or pecan?
Unfortunately, traditional pecan pie is notorious for being full of sugar and calories as well as fat.
Just one piece of pie typically has over 500 calories, 30 grams of sugar, and 27 grams of fat. However, it has 72% of your daily value of copper, 32% of your daily value of vitamin B1, and 10% of your daily value of iron.
On the other hand, pumpkin pie has 300 calories, 20 grams of sugar, and 15 grams of fat so it is clearly not as bad as pecan pie.
Also, you can get 91% of your daily value of vitamin A, 6 grams of protein, and 7% of your daily value of iron.
What is the filling in pecan pie made of?
Although there are many versions of pecan pie, the classic recipe has dark corn syrup or maple syrup, eggs, sugar, butter, and vanilla in the sweet, delicious filling. Then, you add the chopped pecans and a 9-inch pie crust.
What is a good substitute for corn syrup?
There are many different things you can use if you do not have corn syrup. One of the most common is maple syrup, which is just about the same thing anyway. =
You can also use one cup sugar dissolved in ¼ cup warm water. Other ideas include honey, molasses, agave, or rice syrup.
How to store leftovers:
Store: If you have any fudge left over, put it in an airtight container and it will stay fresh in the refrigerator for up to five days.
Freeze: For freezing, put the fudge in a freezer bag separated with parchment paper or plastic wrap and it will be good for about four months.
Thaw: Let it come to room temperature by setting it out for several hours or in the fridge overnight.
More fudge recipes:
Cooking tips:
If you use coconut oil, make sure it is refined or it will give your fudge a coconut flavor.
Add a bit of cornstarch slurry to the mix if it does not thicken up enough.
Be sure to pour the hot fudge into the hot pie crust so they can meld properly.

You could also use a pie plate or baking sheet instead of a baking pan.
Pecan Pie Fudge
Ingredients
1

pie crust

store-bought

4

cups

white chocolate chips

2

cups

chopped pecans

1/2

cup

corn syrup

1/2

cup

brown sugar

1/4

cup

evaporated milk

2

tablespoons

butter

1

tablespoon

molasses

optional

1

teaspoon

rum extract

1/4

teaspoon

salt
Instructions
Preheat oven to 400 degrees F.

Line an 8×8 square baking dish with foil and lightly grease it with cooking spray. Seet it aside.

Unroll the pie crust and cut it to fit on the bottom of the prepared baking dish. Place it in the dish and poke it all over with a fork.

Bake the crust for 10 minutes, or until lightly golden.

Meanwhile, in a medium saucepan over medium-high heat, combine the corn syrup, evaporated milk, molasses, white chocolate chips, butter, and brown sugar.

Stir constantly until smooth and fully melted.

Remove from heat, and stir in the rum extract and salt.

Remove the crust from the oven and pour the fudge mixture on top of the crust.

Immediately sprinkle the chopped pecans, and lightly press the nuts into the mixture.

Let it cool to room temperature.

After that, refrigerate for 4-6 hours, or until firm.

Slice into small squares and serve.
Deliciousness to your inbox
Enjoy weekly hand picked recipes and recommendations