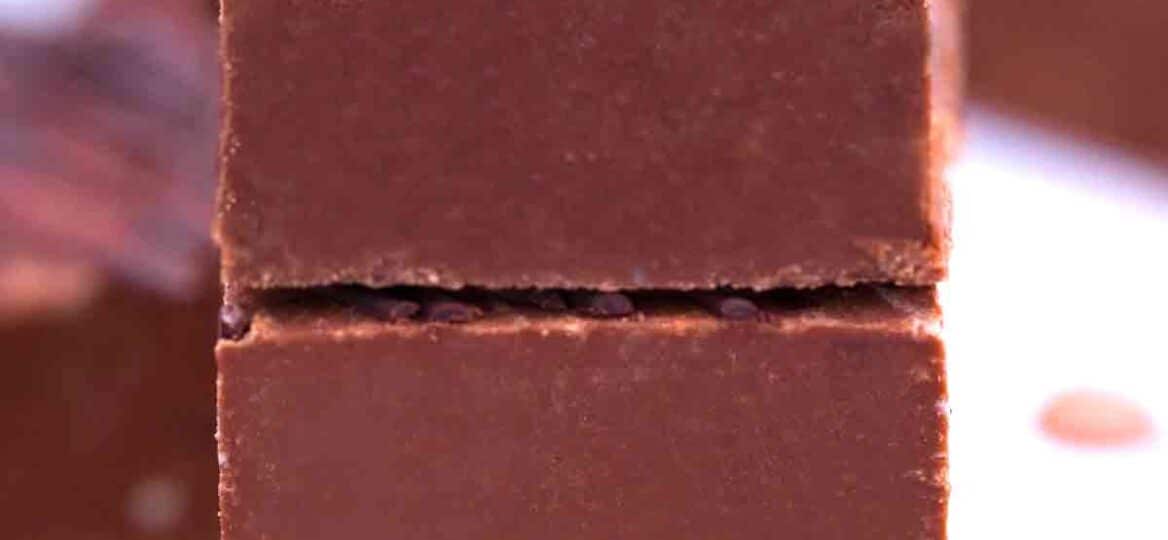 Chocolate Fudge is super chocolatey, creamy, and melts in your mouth with even more chips and sprinkles on top! This classic candy recipe is foolproof and so easy!
I LOVE desserts that don't require turning on the oven! Sometimes, you just need something sweet, stat! For those days, satisfy your sweet tooth with Devil's Food Cake Truffles, Crunchy Peanut Brittle, and No-Bake Strawberry Cheesecake.
No Bake Chocolate Fudge
Chocolate Fudge is one of those desserts that everyone just goes crazy for. My family's faces light up every time they see those sweet squares piled high on a plate! And who can blame them— this candy is so fudgy, buttery rich, and downright bursting with chocolate flavor. My friends and neighbors request it frequently as well!
Unlike traditional recipes that require beating the mixture, I've simplified the process as much as possible. All you need is a microwave. No pots, no open stove, and no candy thermometer needed. Homemade candy has never been this easy!
What is fudge?
It's a type of candy usually cut into cubes, and the basic ingredients are butter, cream or milk, and sugar. It comes in tons of different flavors including fruit, peanut butter, spiced varieties, and more. This confection is soft and sticky with a delightful creaminess that's so addicting.
Are fudge and chocolate the same?
Both are delicious candies, but they're different.
Chocolate is made of sweetened cocoa and sometimes sugar and milk, in an emulsion of cocoa butter. Before it's turned into different confections, the texture is often hard and shell-like.
On the other hand, the latter made of different ingredients, only one of which is chocolate. It also includes condensed milk, flavor extracts, butter, and anything else the recipe calls for. The texture is also soft and creamy.
What do you need to make Chocolate Fudge?
Milk Chocolate: Get the highest quality you can, because it's the main thing you'll taste in this treat! The chips melt easily, but you can get discs or chop up a bar if you wish.
Butter: Use pure unsalted.
Sweetened condensed milk: Because this already has concentrated sweetness, we don't need sugar anymore.

Vanilla extract: Rounds out the flavors! Don't skip this, because, without it, your candy will taste flat.
Toppings: Dark chips for drizzling, plus sprinkles.
How do you make Chocolate Fudge from scratch?
Melt. Start by microwaving the butter to melt it. Add the remaining ingredients, and microwave in 30-second bursts, stirring in between. Continue until you have a fully-melted, smooth mixture.
Set. Pour this carefully in a foil-lined deep 8×8 pan and chill for at least 3 to 4 hrs. until it's firm and perfectly set.
Decorate. Melt your dark chips and drizzle onto the candy surface. Top with sprinkles right after. Slice into cubes and enjoy!
No Bake Chocolate Fudge Recipe Variations:
Add nuts: Use your favorite nuts to add crunch in and on top of the candy! Hazelnuts, almonds, and pistachios are fantastic options.
Rocky road version: Mix in some mini marshmallows and peanuts.
Make it fruity: Stir in some candied cherries, raisins, dried cranberries, and other dried fruits into the mixture before chilling.
Add coconut: Toast some coconut flakes and stir into the candy.
Add liquor: For a grown-up version, stir in some rum or bourbon.
What chocolate is best for fudge?
I prefer milk chocolate or semi-sweet for creaminess, but you can certainly use dark if you like it less sweet. Use high-quality chips or bars.
What does it mean to beat fudge?
Some recipes call for a "beating" step. Old-fashioned recipes typically cooked the candy until it hits a particular temperature, then cooled it down. Then, the mixture is beaten until it's thick and fudgy. It's a fussy process that can end up in crumbly, grainy results or one that fails to set.
There's none of that in this recipe. Once you melt everything together, it's done! No beating required, and a perfect treat every time.
Why is my fudge too runny?
You may not have chilled it long enough, or you used too much butter, milk, or condensed milk. Add more chocolate and allow it to sit for longer until it firms up.
How do you store fudge?
Whether you're storing it at room temp or in the fridge, transfer the slices to an air-tight container first to avoid drying it out. It will last up to a week just sitting out on the cool part of the counter. In the fridge, it'll last up to a month.
How to freeze:
Wrap very tightly in foil, then again in plastic. Place in a tightly-sealed container before freezing. Keep for 6 months or longer.
More Fudge Recipes:
Recipe Tips:
GENTLY melt everything in the microwave. Don't skip the stirring part every 30 seconds to make sure everything is heated evenly.

At least 3 hours will help the candy set, but overnight is highly recommended.

Grease your pan, then cover in parchment or foil so you can lift and remove the chilled candy easily.
Deliciousness to your inbox
Enjoy weekly hand picked recipes and recommendations