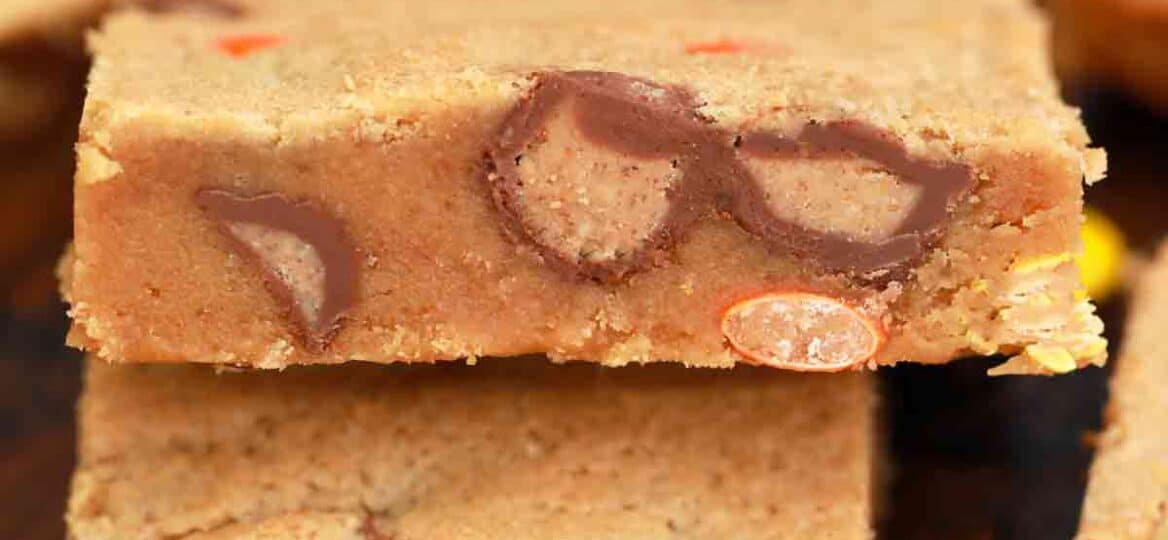 Peanut Butter Blondies Recipe (Video)
Peanut Butter Blondies are full of peanut butter, with a buttery and soft center. They are super easy to make and loved by everyone!
If you like gooey melt-in-your-mouth bars, you should try our popular Chocolate Peanut Butter Brownies and Mousse Brownies.
Chewy Peanut Butter Blondies Recipe
Peanut Butter Blondies are such a classic and amazing dessert. Easy to make, you can never go wrong with it. The addition of brown sugar gives them a caramel flavor that combines so well with the peanut butter.
These blondies are chewy, creamy, dense, and loaded with peanut butter. The recipe calls for creamy peanut butter, mini peanut butter cups, and as well Reese's pieces.
Each bite is filled with a different texture, soft, dense, with a crunch from Reese's pieces, and the nice surprise of the melted mini peanut butter cups.
This dessert can be easily made ahead of time, it is great to take to potlucks, or make a double batch and freeze some for later.
How to Make Peanut Butter Blondies
Prepare the working area: Get the ingredients, make sure they are at room temperature. Preheat the oven to 350F and prepare the baking pan.
Make the Batter: Start by combine melted butter with the sugars, followed by the eggs and vanilla extract After that, add the flour, baking powder, and salt. Fold in Reese's pieces and mini peanut butter cups.
Bake: Transfer the batter into the prepared pan and bake at 350F for 30 minutes. Let cool completely before serving.
Blondie Recipe Variations:
This recipe is easily adjustable and many add-ins are possible and recommended. Here are some of the best variations of this delicious dessert:
Chocolate Chip Blondies: If you are a chocolate lover, add half a cup of chocolate chips to the batter. Then, follow the same cooking steps.
Vegan Blondies: For a vegan version, simply swap the eggs with a chia egg. Similarly, replace the honey with about half a cup of coconut sugar.
Add nuts: For a crunchier texture, add your favorite nuts to them. Pecans, walnuts, almonds, or even pistachios.
Original Chewy Blondie Recipe: If you are looking for the classic recipe, then try our original blondie recipe.
How can you tell when they're cooked?
The best way to check the doneness would be to insert a toothpick once they are baked. If it comes out mostly dry, they are ready. Just remember that they will dry out a bit as they cool.
What's the Difference Between a Brownie and a Blondie?
Both are similar in texture as they are both gooey and chewy. The main difference between the two is that brownies contain cocoa powder, and are more chocolaty in flavor. On the other hand, blondies are more buttery with a hint of vanilla flavor.
Which Peanut Butter is Best for Blondies?
The BEST peanut butter for cookies is always the creamy variety. I would recommend going with Jif or Skippy.
HOW TO STORE AND FREEZE Peanut Butter Blondies?
They can be kept at room temperature in an airtight container for about 5-6 days.
To refrigerate: Use an airtight or sealed container, and then refrigerate for up to 10 days.
To freeze: Wrap the sliced blondies in plastic wrap, and then transfer to an airtight container or freezer bag. Place in the freezer for up to 6 months.
More delicious cookies:
Love cookies? Try these favorites of ours:
Recipe Tips:
As stated above this dessert is easily modifiable. You can add your favorite add-ins, like chopped walnuts, white chocolate chips, etc.
Also, coffee extract or cinnamon can be added to the batter.
I would recommend placing the blondies in the fridge to cool them down faster.
For the topping, you can use some caramel or even sprinkle them with some sea salt on top for a contrast of flavors!
Peanut Butter Blondies Recipe
Ingredients
1

cup

unsalted butter

melted and slightly cooled to room temperature

1

cup

white granulated sugar

1

cup

brown sugar

3/4

cup

creamy peanut butter

2

large eggs

1

egg yolk

1

Tablespoon

pure vanilla extract

2

cups

all-purpose flour

1

teaspoon

baking powder

1

teaspoon

salt

1

cup

Reese's Pieces

1

cup

mini peanut butter cups
Instructions
Preheat oven to 350°F. Lightly grease a 9×13 inch pan with baking spray, and line it with parchment paper, leaving an overhang on the sides to lift the blondies out. Set aside.

In a large bowl, using a hand mixer, whisk the melted butter with white and brown sugar until combined.

Whisk in the peanut butter, the eggs, egg yolk, and vanilla extract. Whisk until fully combined.

Using a spatula fold in the flour, baking powder, and salt. The batter will be very thick. Fold in Reese's Pieces and mini peanut butter cups.

Transfer the batter into the prepared pan and spread it evenly. If you have more Reese's pieces on hand sprinkle some on top.

Bake for 30 minutes, then test the blondies with a toothpick. Insert it into the center of the pan ad if it comes out with wet batter, bake longer, checking every 3 minutes. If there are only a few moist crumbs, the blondies are done. Do NOT overbake as they will taste a little dry if you do!

Remove from the oven and place on a wire rack to cool completely.

Once cooled, lift them out of the pan, cut into bars and serve.

Store leftovers in an airtight container at room temperature for up to 1 week.