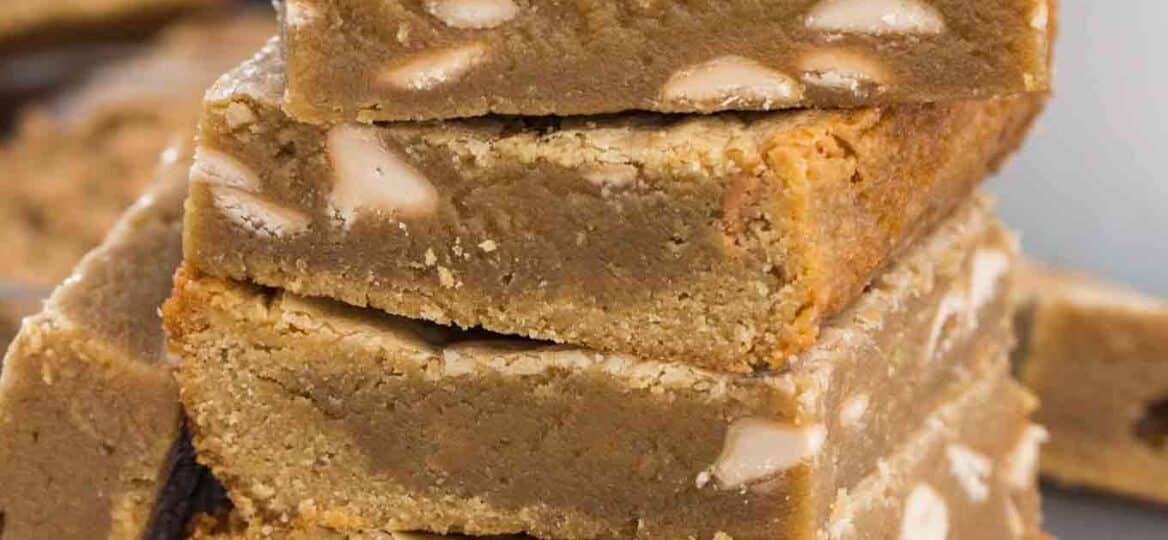 The Ultimate Blondie Recipe [VIDEO]
Best Blondie Recipe to make the gooiest and chewiest blondies. Easy to make in one bowl, these bars are rich, indulgent and flavorful.
Brownie recipes are very popular on this blog, and while I have some amazing ones like these: Oreo Cheesecake Brownies, Chocolate Mousse Brownies, and Coffee Walnut Brownies, it was time for me to add an equally fantastic Blondie recipe.
Homemade Blondie Recipe
Best Blondie recipe does not disappoint! If you are looking for the perfect dessert bars, that are thick and chewy, tender and rich, look no further, this recipe delivers it all, plus more. These treats are incredibly easy to make in one bowl with just a few ingredients, that you probably have on hand.
The secret to the amazing texture is skipping the baking soda and baking powder and adding an extra egg yolk. The blondies end up having the silkiest and luxurious center, that it tastes as half baked. If you love cookie dough and brownies, you are guaranteed to go nuts for these!
Why you'll love these Blondie Bars:
They are rich and chewy, with a beautiful brown sugar flavor.
Made with easy to find ingredients and minimum prep work.
Made in one bowl only!
Easy to transport if you have to take them to a party.
It can be made 1 or 2 days in advance so you don't have to worry about a last-minute dessert.
They freeze well.
Ready in less than an hour from start to finish.
What makes a Blondie a Blondie?
This dessert is basically a blonde brownie, think about it as a sweet dessert that is rich, chewy, gooey, just like a brownie, minus the chocolate.
What are blondies made from?
They are made from flour, brown sugar, butter, eggs, baking powder, and vanilla extract. Blondies usually contain some type of chocolate chips and if desired chopped nuts can be added as well.
What is the difference between a blondie and a brownie?
The main difference is in the ingredients. Blondies rely on the brown sugar and butter for their rich and chewy texture. Classic blondies also have butterscotch chips or flavoring. Brownies, on the other hand, are full of cocoa powder, which blondies have none. They are very chocolaty and the texture resembles more a rich cake.
How long do you bake Blondies for?
The baking time is key when it comes to them. You don't want to over bake them, as you need that chewy, dough-like center. Also, they are usually baked between 25-30 minutes at 350 degrees F.
Blondie Bars Variations:
Chocolate Chip: Simply add one cup of chocolate chips to the batter.
White Chocolate Chip: add one cup of white chocolate chips to the batter.
Caramel: add 1/2 cup of chewy caramels to the batter.
Pecan: add one cup of chopped pecans to the batter.
Walnut: add one cup of chopped walnuts to the batter.
Cranberry Blondies: add one cup of dried cranberries to the batter.
What is brown sugar and how can you make it at home?
You can usually find light or dark brown sugar in most grocery stores. Brown sugar is soft and moist right out of the packaging, with a deep caramel flavor. Brown sugar is nothing but white sugar combined with black molasses. The darker the brown sugar, the more molasses is in the mixture.
How to make light brown sugar: simply combine 1 cup of white granulated sugar with 1 teaspoon of black molasses and stir until fully combined. Then, store in an airtight container.
How to make dark brown sugar: just combine 1 cup of white granulated sugar with 2 teaspoons of black molasses and stir until fully combined. Store in an airtight container.
How to freeze Blondie Bars:
Cool the bars completely and do not glaze them.
Then, fully wrap the bars in plastic food wrap, tightly. After that wrap in aluminum foil or place in freezer bags.
Freeze for up to 3 months. Defrost before serving.
How to thaw them:
Unwrap them from the foil and place them on a plate covered with parchment paper.
Let them stand at room temperature for 3-4 hours.
If not sliced, cut them now into squares or bars. If needed let them stand an hour or two more, until fully thawed.
Transfer to the fridge in an airtight container and store for 3-4 days.
Recipe Tips:
Make sure the eggs are at room temperature.
Also, do not over-mix the ingredients, whisk just until combined, and the batter is smooth and shiny.
Make sure you don't over-bake them, they will become less fudgy if you do, but still delicious.
Before slicing the blondies, make sure they are fully cooled. In addition, clean the knife after each cut.