No Bake Peanut Butter Cookie Dough Cups
This post may contain affiliate links. Please read my disclosure policy.
A three layered no bake dessert these peanut butter cookie dough cups start with melted chocolate, a peanut butter center and all covered in cookie dough.
Happy Friday my friends, we made it, who is doing the TGIF happy dance? Any fun plans for the weekend? Mine will probably be filled with activities. I want to attend a pilates class, hit the pool with the baby, go on some long walks, maybe we will even have time to squeeze a trip to the beach? Also I plan on cooking A LOT! I have so many things on my list, that I don't even know where to start, but this means that we will have a delicious weekend, thats good that I still have one of these peanut butter cookie dough cups in the fridge to start it the right way.

Last weekend when I was shopping for some ingredients for one of the recipes I was working on, I picked some Reese's Cups and it kind of occurred to me that I can make my own, and probably much better, because there is never enough Peanut Butter for me in a Reese's Cup, not even in the King version. Obviously I couldn't make just a regular PB cup, thats too boring, I thought that it would be really cool to combine two of the things that I really love: COOKIE DOUGH and PEANUT BUTTER. Why give up on something, if you can have both of the best words? And this is how these peanut butter cookie dough cups were born.
Now, you see what we have here? Layers and layers of delicious stuff, we start with melted milk chocolate that is topped with a crumbly and creamy peanut butter filling, everything is covered in a blanket of soft and sweet chocolate chip cookie dough. Yes, I added mini chocolate chips to the cookie dough! Isn't all this kind of amazing?

MY LATEST VIDEOS
The children are starting school so soon, the slumber parties are right around the corner and what a better treat to serve them? These peanut butter cookie dough cups aren't just delicious, they are extremely easy to make, no need to turn on your oven, you have to do some measuring, the electric mixer some whisking, the microwave some melting and tada! a beautiful and delicious treat is ready.
I really went heavy on the cookie dough ratio, I didn't want just bites, I love cookie dough so much that I literally eat it with a spoon. The one used in this recipe is obviously eggless, and after refrigeration it hardness a bit and acts as a sweet chocolate chip shell for that centre peanut butter filling.
The first layer of these cups is melted milk chocolate, that is an ode to classic peanut butter cups, but the cookie dough here is actually the star of the show. The mini chocolate chips add a nice crunchy, and by the way, the creamy cookie dough with subtle vanilla flavors pairs so well with the more prominent peanut butter flavor.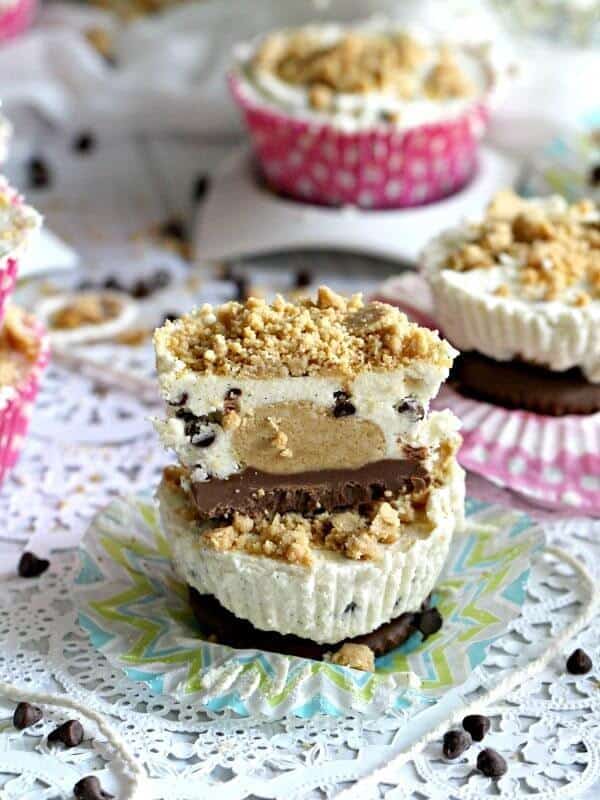 These peanut butter cookie dough no bake cups would be such a fun kitchen adventure for your kids, that can help you assemble them and also sneak some cookie dough when you can't see them.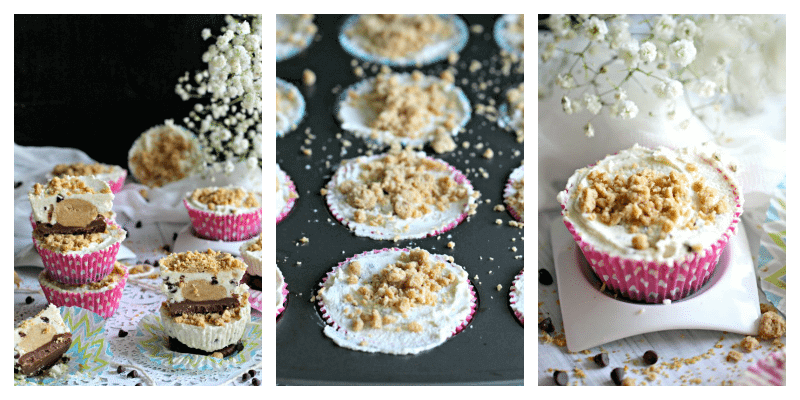 And should I mention that they will be equally loved by adults? I took a few to work and they have disappeared pretty quickly.
Take a closer look, they even have a peanut butter crumble topping!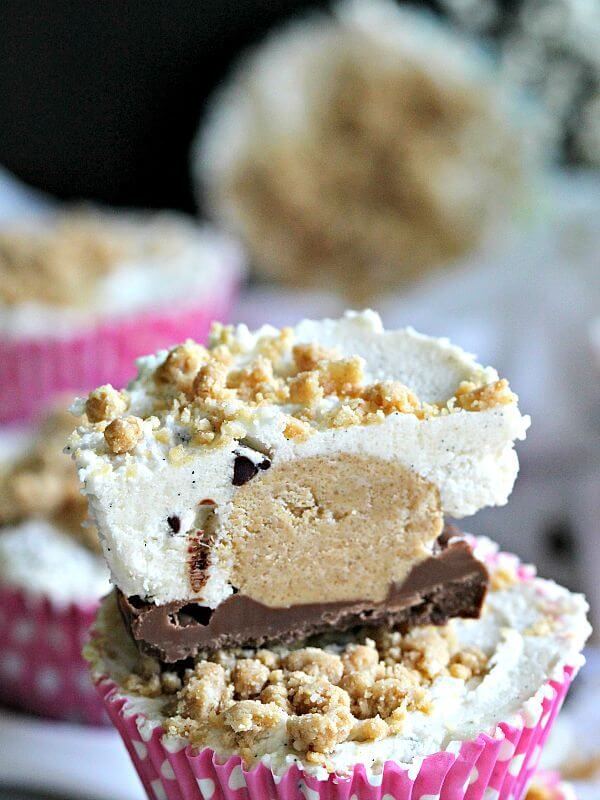 I must confess, after I tried these no bake homemade peanut butter cookie dough cups, I developed a new kind of addiction that regular Reese's cups won't be able to fully fix anymore.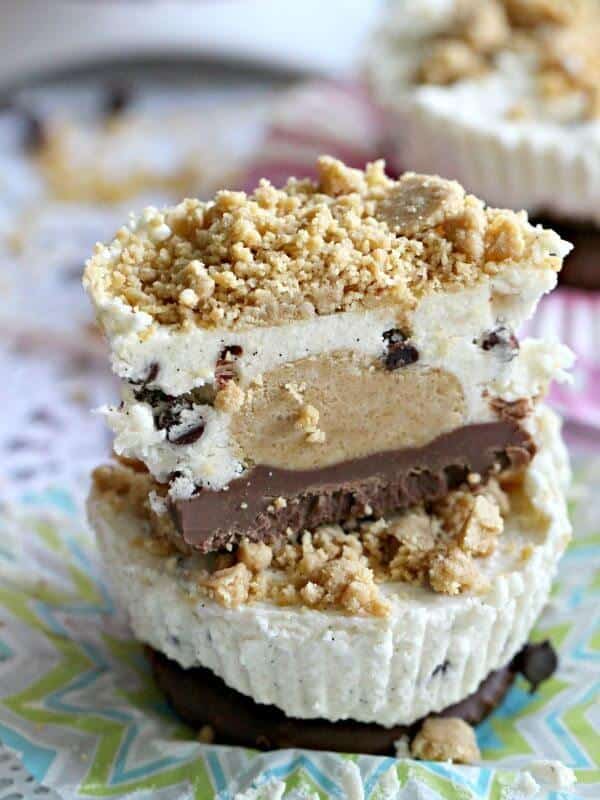 mmm, what are you waiting for? If you love peanut butter, cookie dough and chocolate, these cups are their children, go make some and you won't regret it!

No Bake Peanut Butter Cookie Dough Cups
A three layered no bake dessert these peanut butter cookie dough cups start with melted chocolate, a peanut butter center and all covered in cookie dough.
Author:
Katalina Kastravet
Ingredients
For the chocolate bottom:
16 ounces milk chocolate (chopped) or chocolate chips
¼ cup butter
For the Peanut Butter filling:
1 cup creamy peanut butter
¼ cup unsalted butter
¼ cup granulated sugar
1¼ cups powdered sugar
Cookie Dough:
1½ sticks unsalted butter, room temperature
1 cup granulated white sugar
½ cup packed light brown sugar
¼ teaspoon salt
2 tablespoons heavy cream
1 vanilla bean
1 cup all-purpose flour
1 cup mini chocolate chips
Instructions
Line a mini-muffin tin with paper liners.
In a medium saucepan, combine the peanut butter, butter and sugar over medium heat. Stir constantly until completely melted and starting to bubble. Remove from the heat and add the powdered sugar, ⅓ cup at a time, stir after each addition until completely combined. Set aside and let the mixture cool.
Place chocolate and butter in a microwave safe bowl and melt in the microwave in 30 seconds increments, until completely melted, stirring after each burst.
Using a spoon, scoop a hefty spoon of melted chocolate into the bottom of each muffin liner.
Using a spoon, scoop out the peanut butter mixture, roll into a ball and then flatten it slightly in your palm, place it on top of each chocolate lined muffin cup. The peanut butter shouldn't touch the muffin tin walls. Refrigerate for 30 minutes.
In the bowl of an electric mixer fitted with the wire attachment, combine butter, salt and sugars until soft and creamy, about 2 minutes. Mix in the cream and vanilla seeds. On low speed add the flour and mix until combined. Using a spatula, stir in the chocolate chips. Make sure you scrape the sides of the bowl as needed during this step.
Scoop the cookie dough onto the top of the muffin tin cups, until the tins are full. If the cookie dough sticks to your spoon, wet it in a little cold water. Pat the cookie dough on top in an even layer. Sprinkle any remaining peanut butter mixture or chocolate chips on top.
Refrigerate for at least 5-6 hours or overnight before serving. Store in the fridge as the cookie dough becomes soft if kept too long at room temperature.
Peas and Peonies, LLC. owns the copyright on all images and text and does not allow for its original recipes and pictures to be reproduced anywhere other than at this site unless authorization is given. If you enjoyed the recipe and would like to publish it on your own site, please re-write it in your own words, and link back to my site and recipe page. Copying and/or pasting full recipes to social media or personal blogs is strictly prohibited. Sharing this recipe is very much appreciated and encouraged. Read my disclosure and privacy policy. This post may contain affiliate links.