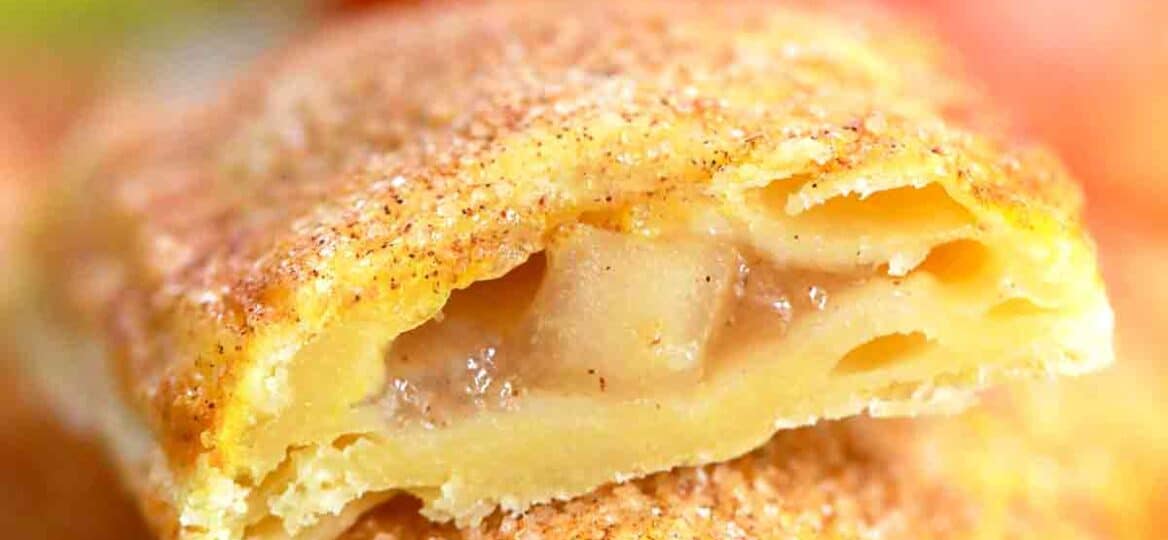 Air Fryer Copycat McDonald's Apple Pies [Video]
Air Fryer Copycat McDonald's Apple Pies taste just like the popular fast-food treat! Pie pockets are stuffed with apple pie filling, then air-fried until crispy and beautifully flaky. Ready in less than 10 minutes!
We love using the air fryer to make healthy versions of traditionally deep-fried treats like these Air Fryer Beignets, Air Fryer Apple Fritters, and Air Fryer Donuts! Equally delicious, but with less guilt and grease!
Air Fried Apple Pies
Air Fryer Copycat McDonald's Apple Pies are our healthy version of the beloved McDonald's dessert with one main difference – no deep-frying! As a result, these pies are much lighter and less greasy than the fast-food version. Instead, we're "baking" them in the air fryer to crisp and brown the crust.
In addition, these take barely any effort to make. You can certainly make the crust and filling from scratch, but for this recipe, we're using pre-made for both which is such a huge timesaver.
If you want to try your hand at making homemade pie crust we reccond this recipe. Our homemade apple pie filling is the best, for this recipe you can cut the apples in tiny pieces so they resemble the famous fast-food classic fiiling!
As a result, the entire recipe can be finished in about 10 minutes! Enjoy these hot apple pies with whipped cream on top, a scoop of your favorite ice cream, and a cup of hot coffee or tea in hand!
Ingredients needed:
Crust: Use your favorite pre-made brand, or make your own.
Filling: Again, you can use pre-made filling, but we highly recommend making it from scratch!
Egg: We're using a beaten egg to brush onto the crust to encourage browning.
Cinnamon sugar: This gives our treats a spice-infused finish.
How to make Air Fryer McDonald's Apple Pies:
Cut. Slice the crust into eight evenly shaped rectangles, sized 3×6 inches.
Fill. Scoop fruit filling into four of the rectangles, top each one with the remaining rectangles, and use a fork to seal the edges by crimping them. Brush the surface of each pie with the beaten egg, then finish by cutting a few slits onto the top of each pie. Finally, give them all a light coating of cinnamon sugar.
Cook. Air fry at 360F for about 5-8 mins., or until the crust is perfectly golden and crispy.
Serve. Enjoy hot!
Frequently Asked Questions
Can you put frozen apple pie in the air fryer?
Yes, you can cook pies straight from frozen in the air-fryer. Just add a few minutes to the cooking time, and there's no need to defrost them first.
Can I fry these?
Yes, you can. Simply deep fry in hot oil until the crust is golden and crispy. However, no need to cut slits into the top of each pie.
Can I make these in the oven?
To bake these in the oven, pop them in for about 20 mins. at 400F.
Can I make them with other fillings?
You definitely can! Use any pie filling you prefer, such as this delicious strawberry flavor. You can also stuff them with chocolate, Nutella, and mix in other ingredients like nuts.
More dessert to try:
How to store and freeze McDonald's Apple pies?
These desserts freeze and store beautifully! Follow the steps below:
Store in the fridge: After they've cooled down, store tightly covered in the fridge for up to three days.
Store frozen: Again, cool them down first, then flash freeze on a baking sheet for an hour or two. You can store them frozen for up to 2 months. When you're ready to enjoy them, thaw overnight first.
These are delicious even when cold, but you can warm them up by baking or air-frying at 370F for about 5 minutes or until piping hot. You can also microwave them for a few seconds to warm them up.
Recipe tips:
Prep them ahead! Assemble each pie as instructed, then wrap it very tightly before chilling it in the fridge for up to two days.
Don't forget to slice a few slits on top of each pie. This allows the steam to escape and prevents the filling from spilling out.
Cinnamon sugar gives these that classic McDonald's taste, but feel free to skip or just use plain sugar on top.
You can deep-fry these as well.
Deliciousness to your inbox
Enjoy weekly hand picked recipes and recommendations