Coconut Cream Tiramisu Individual Trifles
This post may contain affiliate links. Please read my disclosure policy.
A healthier version of tiramisu cake, these coconut cream tiramisu glasses made with honey are dairy free, and make the perfect summer dessert.
How are you my friends? Its Friday night, I hope everyone is laying on the couch eating dessert and watching a good movie. Its been a good week, but I am more excited for the weekend to take our son for pony rides and hit Central Park on Sunday morning before it gets too hot. To keep us refreshed I have these coconut cream tiramisu trifles waiting for us in the fridge.

Apparently this week was a food only on Peas and Peonies, but no complains here, our bellies are full and happy. Since it looks like we have been eating mostly dessert the last few weeks, I decided to whip something healthy. I am still calling it dessert and maybe not healthy by much, but these whipped coconut cream tiramisu trifles are definitely much healthier than your regular cake. Also, there is no added refined sugar to the coconut cream, just some honey for some subtle sweetness. You can substitute the honey with other sugar substitute, like Stevia. There is still sugar in from the ladies fingers, but it definitely helps that we are omitting it in from the cream.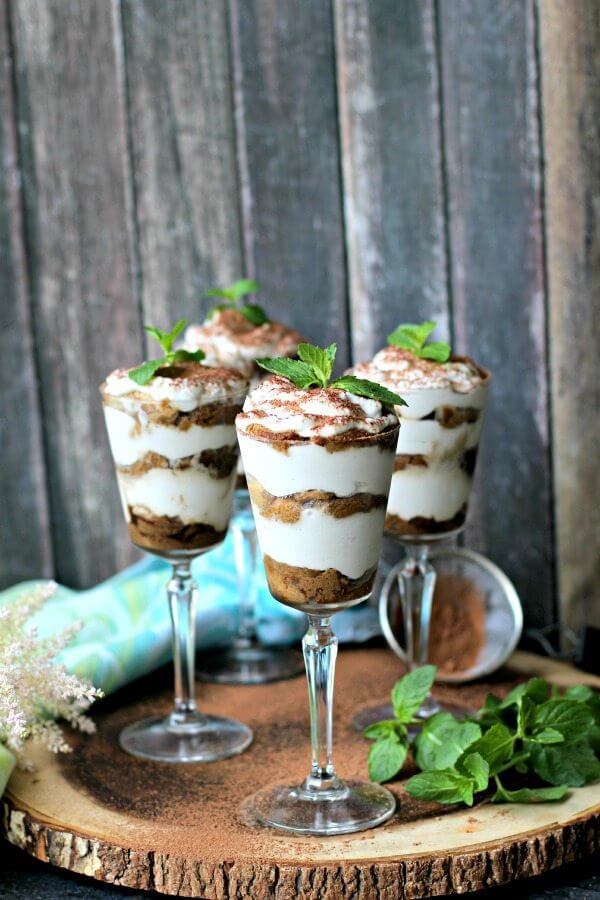 Yes, yes, and I am making a happy dance now, because I had to stop myself from eating the coconut cream before filling these glasses. Let me give you some detail, these are individually portioned tiramisu trifles, layers of soft, soaked in espresso lady fingers, topped with heavenly delicious honey coconut cream. Before any Italian reading these post would turn their noses to the side because of the lack of mascarpone, let me just say that you have to first give the coconut cream tiramisu a try. Its insanely delicious, may I say glorious, because it does taste gloriously!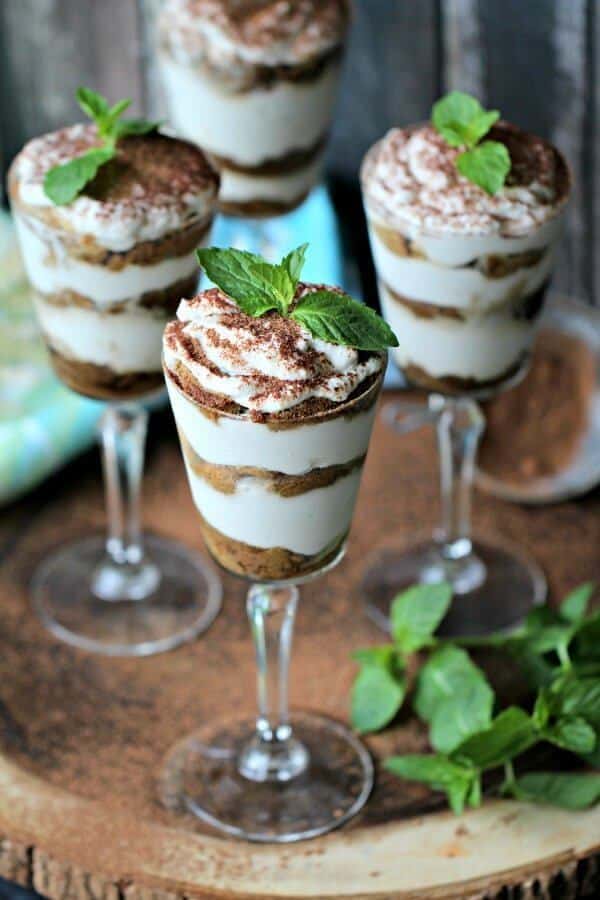 This is my first time making coconut cream, and I feel like I lost so many years living on this earth without knowing how good it is. I was a little skeptical and maybe fearful to try it, but I must say, the hardest part is not to forget to put the coconut cans in the fridge to chill overnight, other than that, the whole process is a breeze: open the can, get the cream, whisk whisk whisk and enjoy!

MY LATEST VIDEOS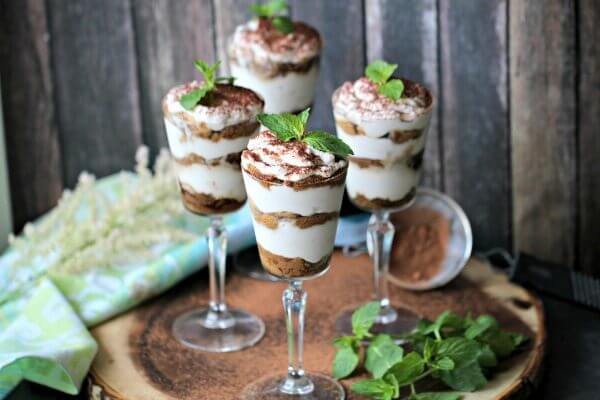 My husband who is a huge, and I mean HUGE tiramisu fan, totally loved these coconut cream tiramisu version. They are best served chilled straight from the fridge, and with some dusted cocoa and fresh mint leaves these make the perfect and very refreshing summer dessert.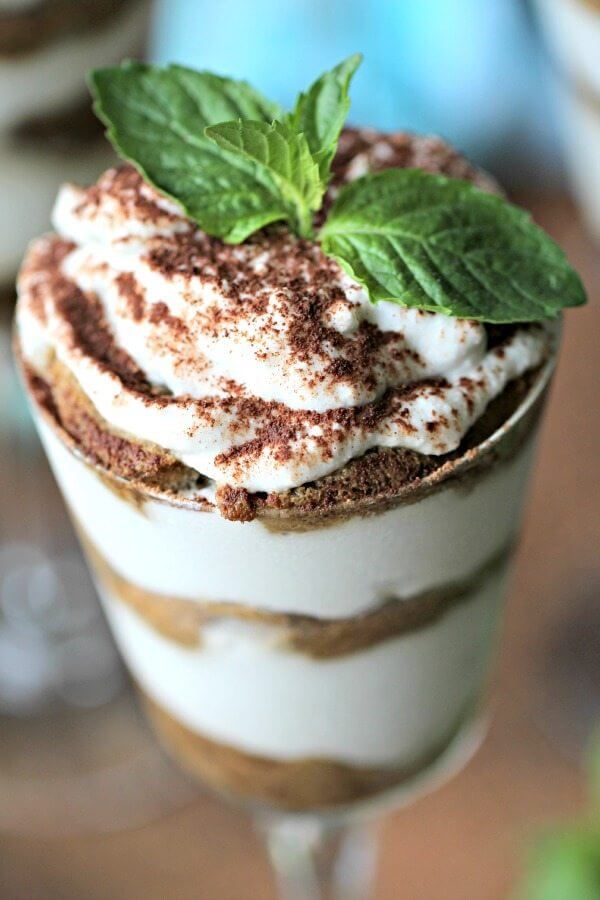 Who can resist? Obviously not me, pass me another glass of coconut cream tiramisu, please!

Coconut Cream Tiramisu Individual Trifles
A healthier version of tiramisu cake, these coconut cream tiramisu glasses made with honey are dairy free, and make the perfect summer dessert.
Author:
Katalina Kastravet
Ingredients
1 cup / 250 ml espresso coffee
15 savoiardi biscuits (fine sponge fingers, ladyfinger)
4 cans of full fat coconut milk (I used Forest Native)
4 tablespoons honey
approx. 1 teaspoon good-quality cocoa powder
fresh mint leaves
Instructions
The day before you want to make the dessert place the coconut milk cans in the fridge overnight, these is a crucial step as the coconut cream has to harden and separate from the coconut water.
When ready to make the coconut cream tiramisu, start by preparing your espresso then leave it to cool. Also, chill a mixing bowl in the fridge.
Lay the Savoiardi sponge biscuits on the bottom of a baking pan and pour the espresso on top of them evenly. I like my sponge fingers to be wet and soft, let them rest for a few minutes to soak all the espresso. Tamp down gently, making sure the biscuits are soaked all over.
Remove the chilled coconut cans from fridge and FLIP them upside down, open the cans and discard the liquid, or you can save it in a jar for smoothies.
Scoop the coconut cream into a slightly chilled mixer bowl and add the honey. Using a hand mixer or an electric one, I used the later fitted with the wire attachment whip the coconut cream until fluffy.
Break the savoiardi biscuits in two and press them in martini or wine glasses to create the first layer. Top with a few spoons of coconut cream. Repeat until the glasses are full, 3 layers of biscuits and 3 layers of cream.
Top with dusted cocoa and fresh mint leaves. Serve chilled.
Peas and Peonies, LLC. owns the copyright on all images and text and does not allow for its original recipes and pictures to be reproduced anywhere other than at this site unless authorization is given. If you enjoyed the recipe and would like to publish it on your own site, please re-write it in your own words, and link back to my site and recipe page. Copying and/or pasting full recipes to social media or personal blogs is strictly prohibited. Sharing this recipe is very much appreciated and encouraged. Read my disclosure and privacy policy. This post may contain affiliate links.