Brownie Trifle with Butterscotch Pudding
This post may contain affiliate links. Please read my disclosure policy.
A decadent and easy to make Brownie Trifle made with butterscotch pudding and topped with fresh pomegranate arils for a pop of color.
Hello Hello, long time no see! I have been busy celebrating Christmas, so I took some time off from blogging for a few days, which now seems like forever! We had a great short holiday in Lake Placid, New York. With a few friends we have rented a cabin in the woods, overseeing the lake and had fun eating good food, sipping tea by the fire place, and watching the little ones unwrapping Christmas gifts. Brownie Trifle with Butterscotch Pudding was our treat of choice!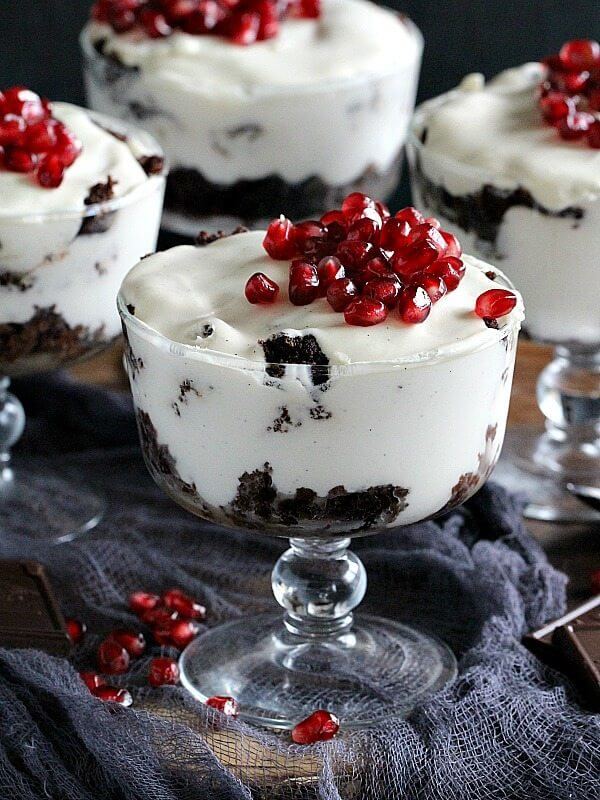 After all this time away I had to share something decadent with you today. I made these Brownie Trifle cups a few weeks ago when I had some friends over. I just loved how easy they were to make the night before, and serve next day at the party.

This brownie trifle is rich and decadent. Layers of gooey chocolaty brownie covered in a blanket of delicious butterscotch pudding. Topped with a handful of pomegranate arils for a pop of color and change of texture.

MY LATEST VIDEOS
This brownie trifle can be prepared in individual serving bowls or in a huge trifle dish, its up to you, but I always like individual sized bowls, they look so pretty on the dessert table. I used my all time favorite, fool proof brownie recipe in this brownie trifle dessert and as always the brownies turned out amazing. The butterscotch pudding is the perfect pairing, with that sweet and unique flavor.
This brownie trifle is perfect for parties, as you can make it one day in advance and just chill it in the fridge until ready to serve. The pomegranate arils are optional, but I like the pop of color they add. You can also top the brownie trifle with shaved almonds or pistachios.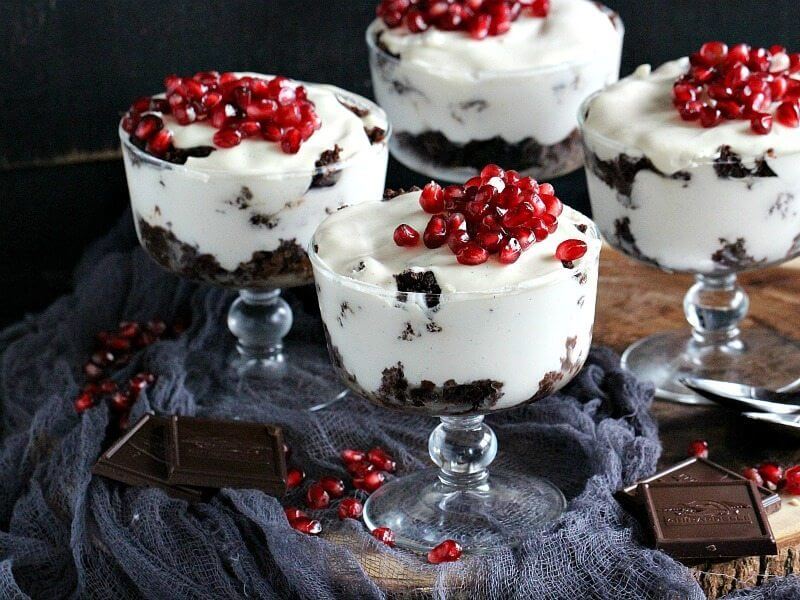 Sweet, dense and decadent, this brownie trifle is the perfect make ahead dessert, I just wish I had some left while I am writing this post.

Brownie Trifle with Butterscotch Pudding
A decadent and easy to make brownie trifle made with butterscotch pudding and topped with fresh pomegranate arils for a pop of color.
Author:
Katalina Kastravet
Ingredients
For the Brownie Layer:
Soft butter, for greasing the pan
4 large eggs
2 cups sugar
8 ounces / 2 sticks melted butter
1¼ cups cocoa, sifted
2 vanilla beans, seeds only
⅓ cup flour, sifted
½ teaspoon kosher salt
Butterscotch Pudding:
12 ounces whipped cream or whipped topping
14 ounces / 1 can sweetened condensed milk
8 ounces cream cheese, softened
2 cups milk
1 box / 5 ounces instant Butterscotch pudding mix
2 vanilla beans, seeds only
1 cup pomegranate arils
Instructions
For the Brownie Layer:
Preheat oven to 300 degrees F.
Place a baking sheet (parchment paper) in an 8-inch pan so it covers the bottom and 2 sides (to facilitate the brownie removal). Butter the pan and set aside.
In a mixer fitted with the wire attachment, beat the eggs at medium speed until fluffy and light yellow, add the sugar and beat until combined. Add remaining ingredients, and mix to combine.
Pour the batter into the pan and bake for 45 minutes. Check for doneness by inserting a toothpick into the center of the pan, it should come out with just a few crumbles attached. I find that 45 minutes for this recipe is perfect timing.
When done, remove from oven and let the brownie cool in the pan for 15 minutes before transferring to a wire rack.
Butterscotch Pudding:
In a large bowl, combine milk and pudding mix, blend well using a hand mixer.
In a different bowl, beat cream cheese and condensed milk until smooth. Using a spatula, manually fold in the whipped topping into the cream cheese mixture. Add the cream cheese mixture and vanilla bean seeds to the pudding mixture and stir until well blended.
Assembling:
Cut the brownie into small pieces.
In a trifle bowl or individual serving glass bowls, place half of the brownies, half of the pudding mixture, top with the remaining brownies, followed by the remaining pudding mixture. Garnish with pomegranate arils. Refrigerate 8 hours before serving.
Peas and Peonies, LLC. owns the copyright on all images and text and does not allow for its original recipes and pictures to be reproduced anywhere other than at this site unless authorization is given. If you enjoyed the recipe and would like to publish it on your own site, please re-write it in your own words, and link back to my site and recipe page. Copying and/or pasting full recipes to social media or personal blogs is strictly prohibited. Sharing this recipe is very much appreciated and encouraged. Read my disclosure and privacy policy. This post may contain affiliate links.