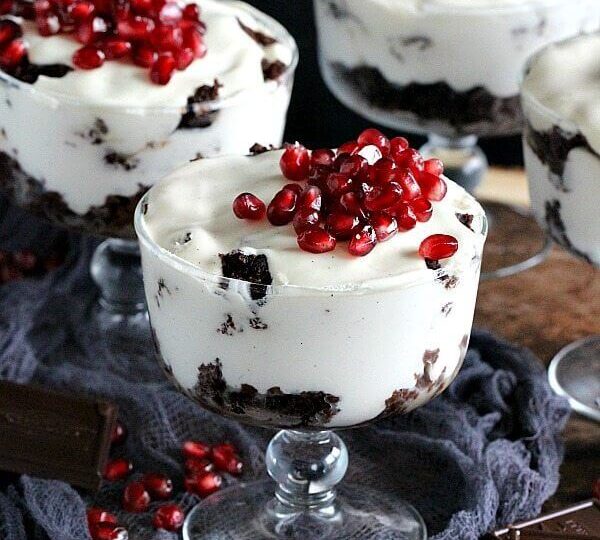 Brownie Trifle with Butterscotch Pudding
Brownie Trifle with Butterscotch Pudding is a decadent and easy to make pudding, topped with fresh pomegranate arils for a pop of color.
Our obsession with trifles started when we made the first Butterscotch Banana Trifle and Coconut Tiramisu Trifles. Just like the other two, this recipe is easy to follow and produces a beautiful and delicious dessert.
Brownie Trifle with Butterscotch Pudding
These brownie trifles are rich and decadent, with layers of gooey chocolaty brownie and covered in a blanket of delicious butterscotch pudding. Topped with a handful of pomegranate arils for a pop of color and change of texture.
These brownie trifles can be prepared in individual serving bowls or in a huge trifle dish, based on your preference. I always like individual sized bowls, as they look so pretty on the dessert table. I used my all time favorite, fool proof brownie recipe in this brownie trifle dessert, because the brownies turned out amazing. The butterscotch pudding is the perfect pairing, with that sweet and unique flavor. The brownie trifles are perfect for parties, as you can make them one day in advance and just chill it in the fridge until ready to serve.
Pin This Brownie Trifle with Butterscotch Pudding Recipe to your Favorite Board
Why You'll Love This Brownie Trifle:
They are rich and chocolaty and are a show stopper dessert.
Easy to find ingredients and minimum prep work is needed.
Perfect for brunch parties and for bigger crowds.
Can be made 1 day in advance so you don't have to worry about a last minute dessert.
Can be served with variation of topping such as shaved almonds, pistachios, blueberries, raspberry.
What is a Trifle desert?
Trifle in English cuisine is a dessert made with fruit, an a layer of finger or brownies and custard. It can be topped with whipped cream.
How long does the Trifle take to set?
Once you cover the brownies with whipped cream, cover the dish with cling film and leave to set in the fridge for about two hours. It is best for trifle to settle for few hours so it absorbs the cream and becomes moister.
Can you store the Trifle?
Leftover trifle can be stored, loosely covered in the fridge, for up to 3 days, after which it will still be edible but the cake will be very soggy and the cream will become looser, soaking up the whipped cream and syrup. Best to eat the trifle within 2-3 days.
Can you freeze the Trifle?
Freezing the trifle is not recommended, as the cream wouldn't freeze well, and upon defrosting it will become watery.