Christmas Light Cupcakes are made with delicious red velvet cake and buttercream frosting with a handful of M&M's for the lights. Not only are they adorable but they are also really good. You only need two dry ingredients and four wet ingredients for this simple recipe.
If you like chocolate, you will love these Easy Mini Oreo Cheesecakes made with cream cheese and sour cream. Or try our recipe for the Best Chocolate Banana Bread with cocoa powder and chocolate chips. For a fruitier dessert, these sweet Strawberry Cupcakes are amazing with real strawberries.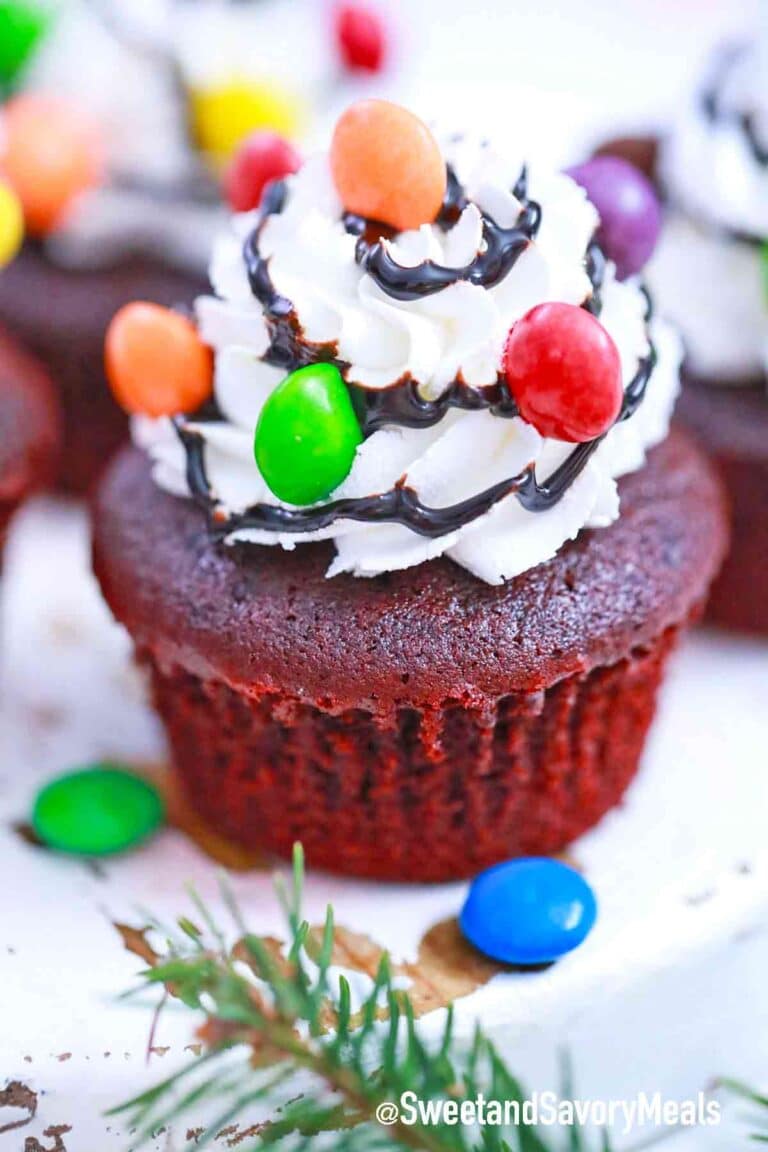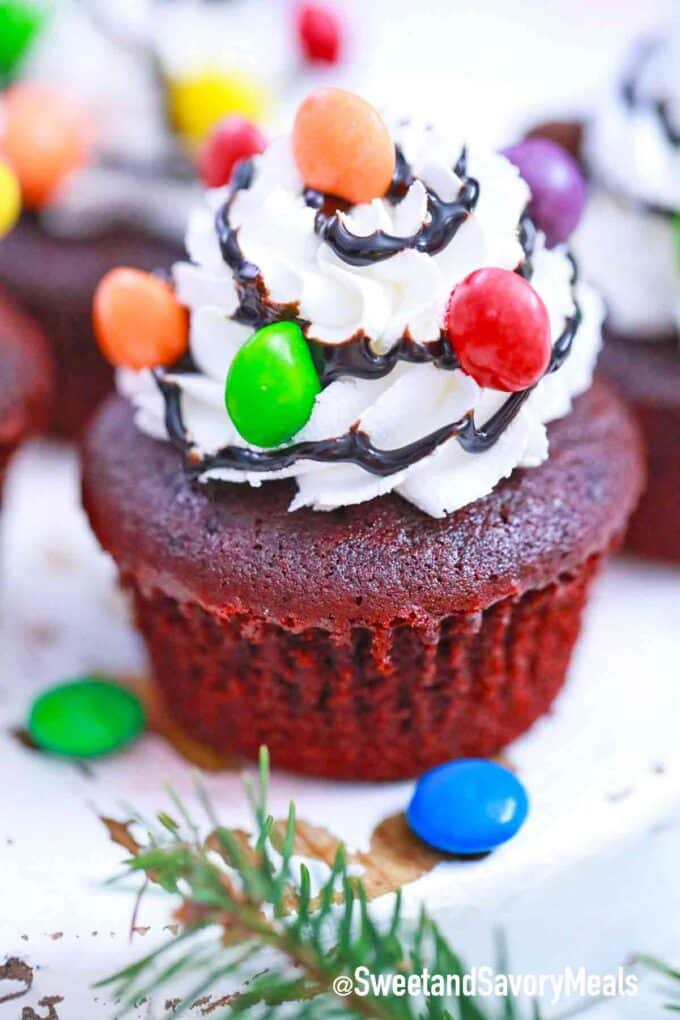 This Christmas season, amaze your family with these spectacular cupcakes with the best vanilla buttercream frosting and fluffy red velvet cake. In fact, it is a great recipe to try with the kids so they can do the decorating.
It is easy and fun to do and may even be better than making Christmas cookies. These can be made with your favorite cake mix and are so easy to decorate. Kids love adding candies that resemble the lights.
As an option, try topping them with green frosting, so they look like a Christmas tree. Use different types of candies as decorations, you can even add a star on top.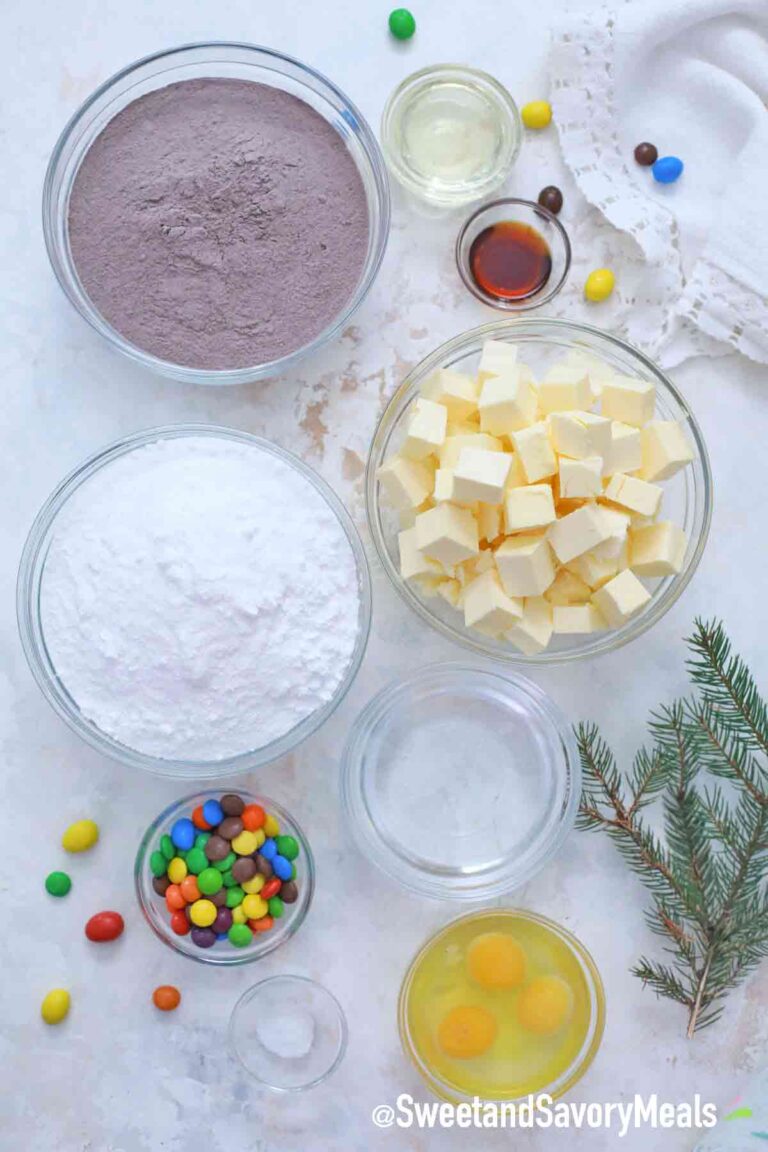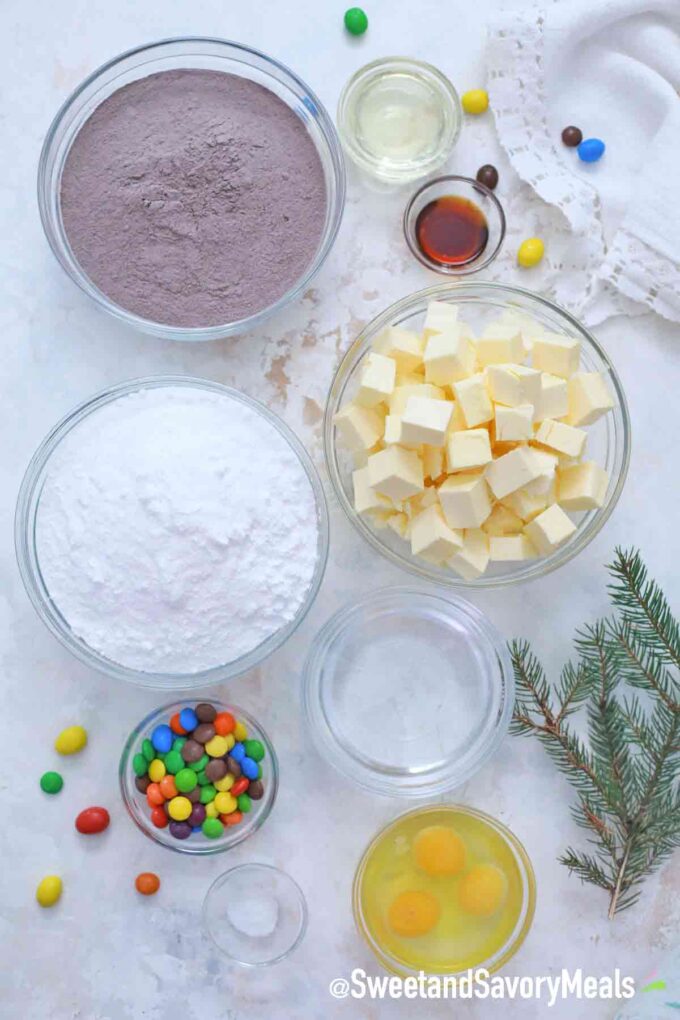 Ingredients needed:
Our detailed steps and measurements for this delicious cupcake recipe are on our recipe card below. But these are the main ingredients you need:
Cupcakes recipe:
Red velvet cake mix: Or you can make your own.

Ingredients on the cake mix instructions: We used water, vegetable oil, and eggs.
Buttercream recipe:
Butter: Unsalted at room temperature.

Confectioner's sugar: Also known as icing sugar.
Vanilla: Pure vanilla extract for best results.
Salt
Black food coloring gel
M&M's: You could also use mini M&M's
How do you make Christmas light cupcakes?
Preheat: To start, preheat your oven to 350 degrees F while you line your cupcake pans with 18 cupcake cases or liners.
Mix: Next, add your cake mix ingredients to the bowl of a stand mixer and beat for three minutes on medium speed. Alternatively, you can use a large bowl and a hand mixer.

Fill: Then, fill the liners about halfway with the batter.

Bake: After, bake the cupcakes for 18 to 22 minutes until they pass the toothpick test.

Make the frosting: First, add the butter to a separate bowl and beat on high speed until it is very smooth and pale. It should only take about 30 seconds or so.

Mix: Immediately, add the sugar one cup at a time, making sure it is completely mixed in before adding the next cup.

Beat: Once it is all mixed in, scrape off the beaters or paddle and the inside of the bowl before adding the salt and vanilla, beating on low for 15 seconds.
High speed: Then, turn it to high speed and beat it until it is light, smooth, and whipped. This typically takes about five minutes. Put the frosting in a piping bag and fit it with a large star tip.

Decorate: Finally, this is the best part. Pipe the white frosting into large swirls on top of the cupcake. Then, use the black frosting in a small icing tube to make a black line around the cupcake. Last, stick each mini M&M vertically into the black lines to make it look like a strand of Christmas lights.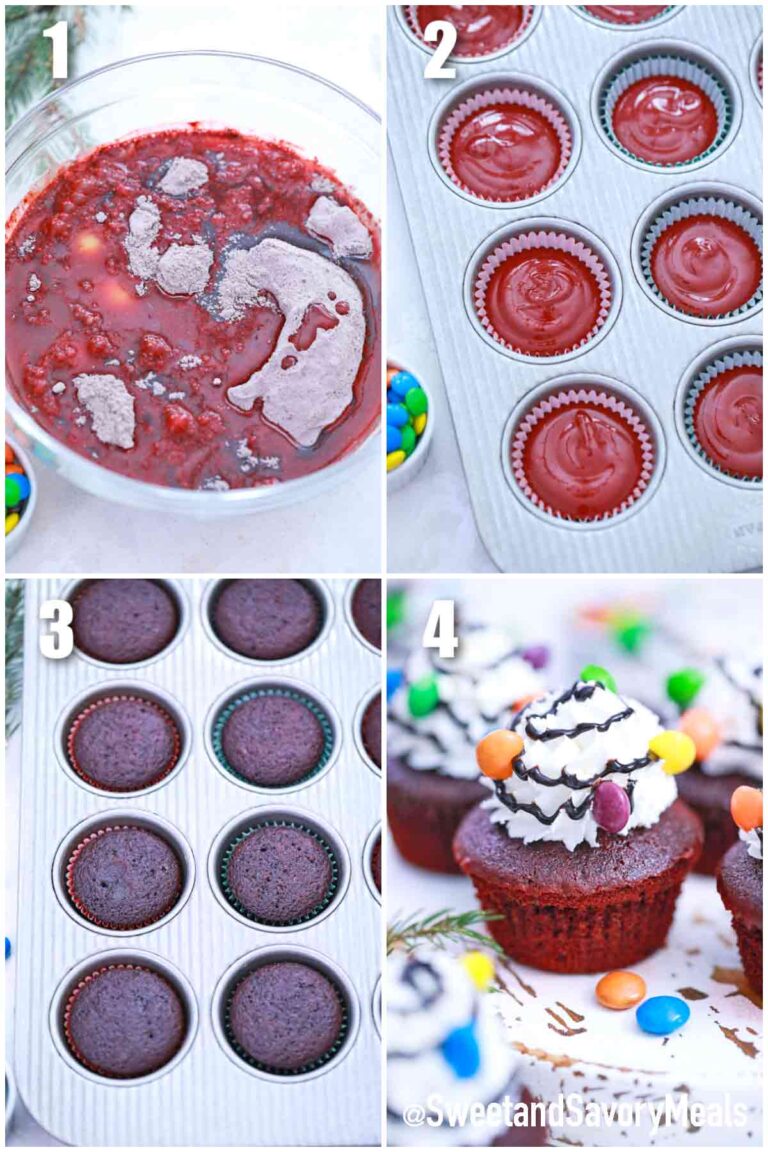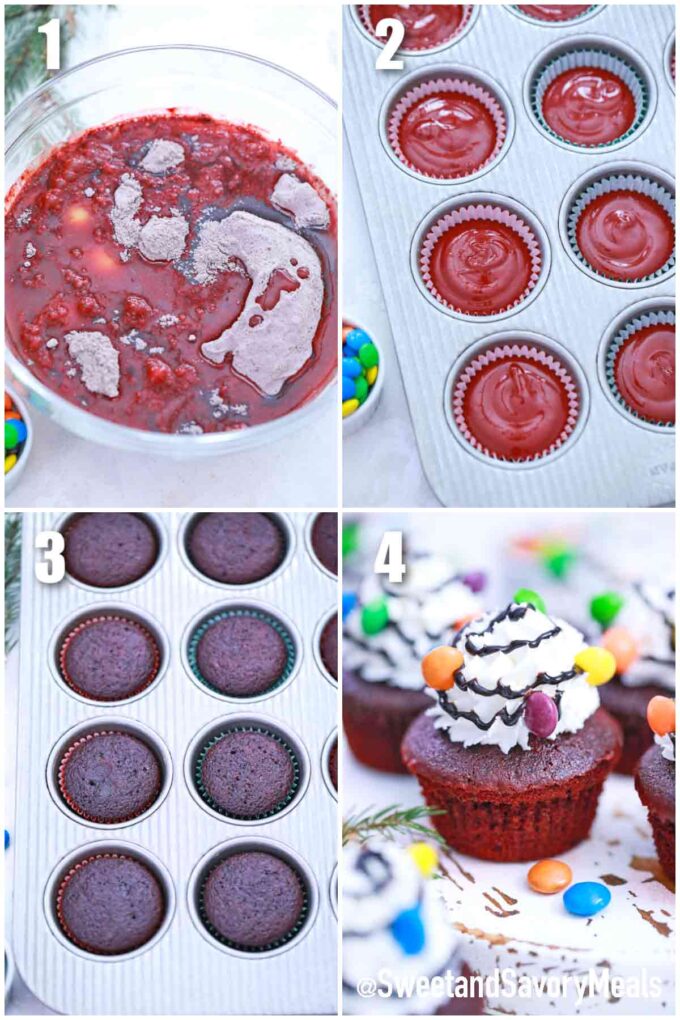 Recipe variations:
Cream cheese frosting: You can also try this recipe for cream cheese frosting.
Other flavors: Alternatively, you could use vanilla or chocolate cupcake mix.

Make gingerbread: Use this gingerbread recipe to make gingerbread cupcakes.

Other extracts: For a different flavor, use orange or lemon extract instead of vanilla.
Pudding: To make your cupcakes even better, add a box of vanilla or chocolate instant pudding mix to the cupcake ingredients.
Tangled lights: Instead of black icing, use a jumble of black licorice on top of the cupcakes and larger colored candies for the lights.
Serious chocolate fans: Your serious chocolate lovers will enjoy a few chocolate beans in the mix.
How to serve:
You can serve these fun cupcakes as a dessert for the holiday season instead of or in addition to Christmas cookies. Or try one of these other ideas:
Serve these holiday treats with a mug of red velvet hot chocolate or white hot chocolate.
To make these cupcakes even more festive, add some silver or gold candy glitter or sprinkles.

For other best Christmas desserts, try our adorable and tasty Grinch cookies or scrumptious gingerbread fudge.

These decorated cupcakes would also make a fantastic addition to holiday bake sales.

Our easy Christmas lights cupcakes taste great with a glass of fruity Christmas punch.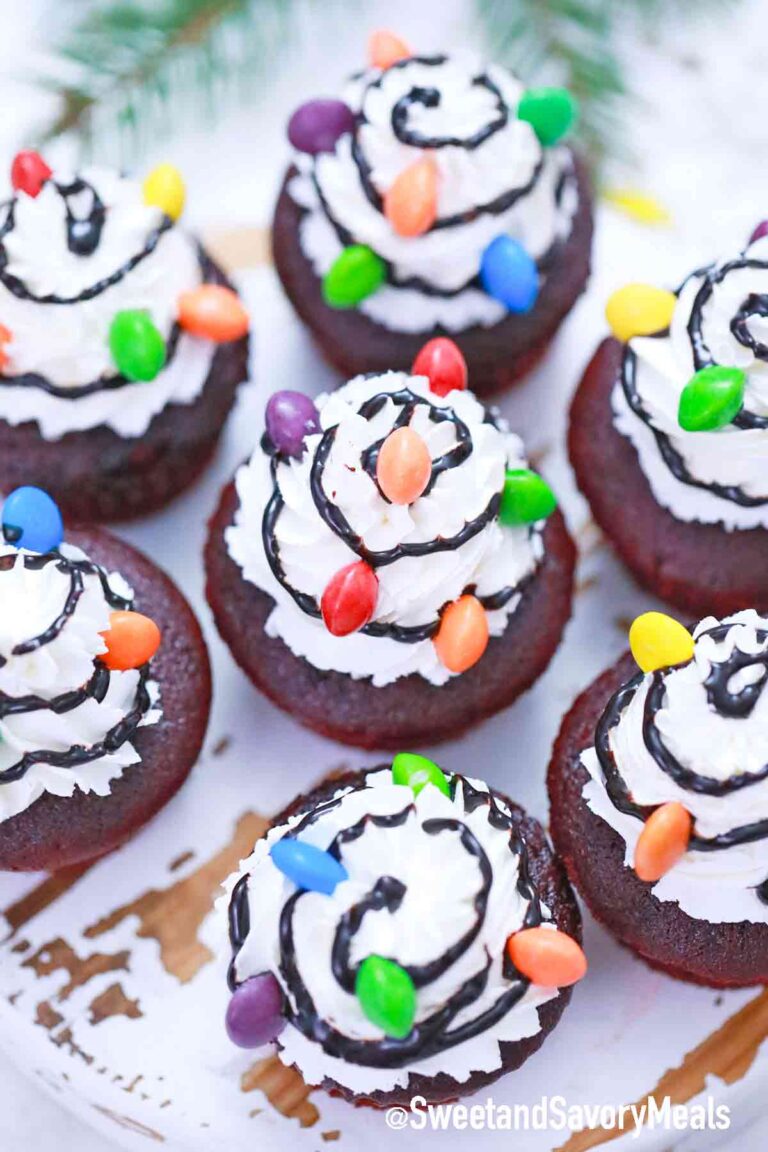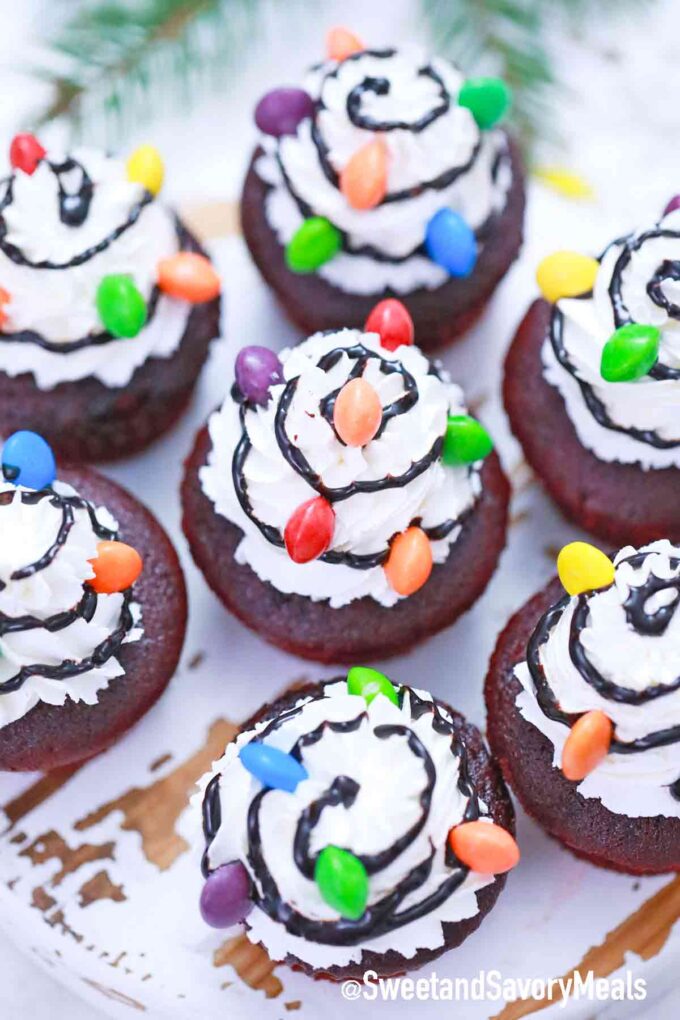 Frequently Asked Questions
Which tip do I use for the frosting?
Wilton 1M is the most commonly used tip for frosting cupcakes because it creates large swirls that look uniform and is almost impossible to mess up.
Other brands may refer to the same tip as a large star tip. The other favorite is the Wilton 2D tip because it is so similar but has a slight curl to it.
What can I use instead of a piping bag?
There are several things you can use for icing your cupcakes. The easiest is the gallon sized freezer bag. Just fill it with frosting and cut off the end.
If you do not have a baggie, you can also use a piece of waxed paper or parchment paper. Cut it into a square and then fold it into a triangle.
Roll into a cone and tape it together before cutting the tip.
How can I make my cupcakes moist?
Some of the simplest things can be the clue to a moist and fluffy cupcake. The first thing is to make sure you are not using too much flour.
The second thing is the type of flour you use. Cake flour is bleached and has more gluten, making your cake moist.
Other ideas include using brown sugar instead of white, using oil instead of butter, or replacing the milk or water with Greek yogurt, heavy cream, or sour cream.
Adding a scoop of mayonnaise may also be the key. And the last tip is to add a box of pudding mix to your batter.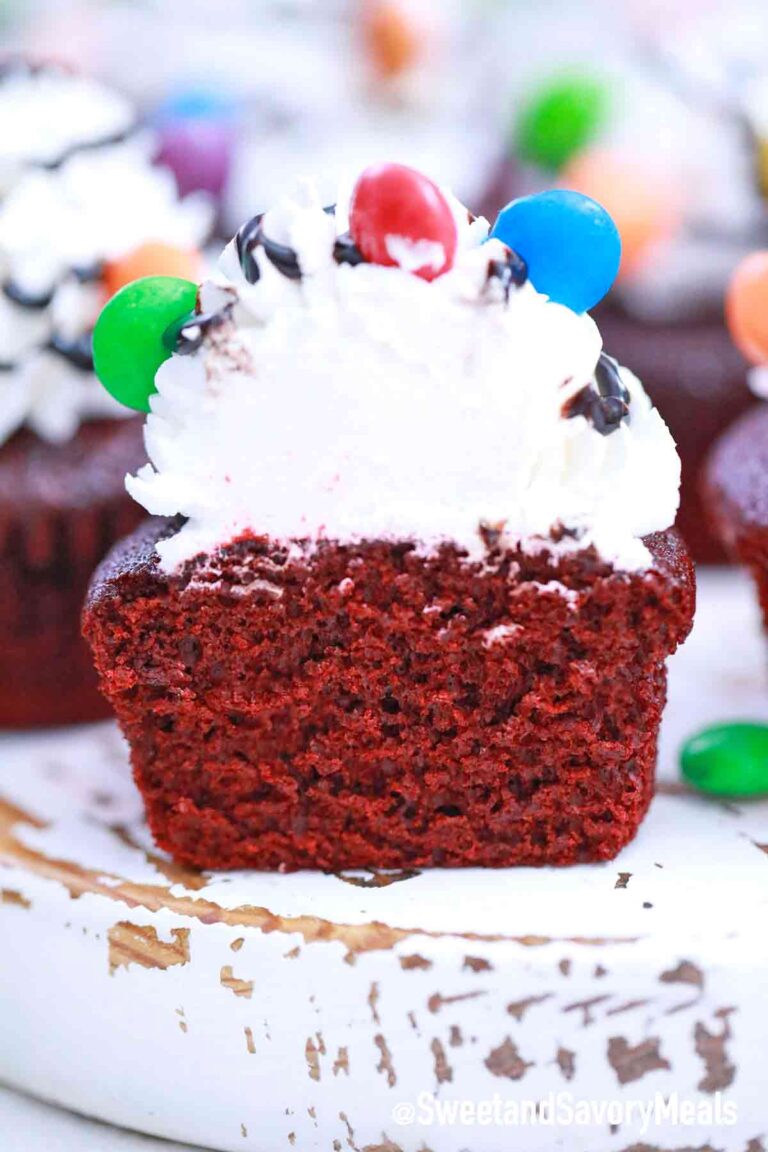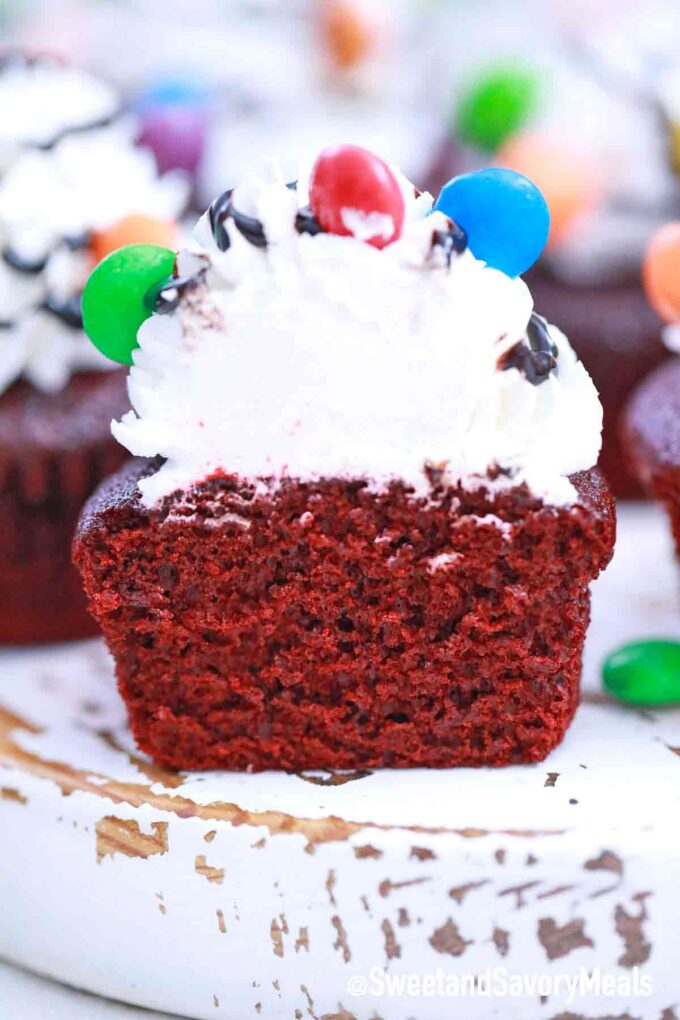 How to store leftovers:
Store: Use an airtight container to store your Christmas cupcakes in the fridge for up to four days.

Freeze: It is best to freeze these adorable cupcakes before they are frosted. If they are already decorated, flash-freeze them by putting the muffin tin with cupcakes in the freezer for an hour or two. Then, you can wrap each one in plastic wrap before putting them in freezer bags or a freezer-safe container.

Thaw: Remember to thaw these in the refrigerator overnight before serving.
More Christmas recipes:
Cooking tips:
Practice with your icing tip before using it for the best results.
Wear plastic gloves to keep your hands from getting dyed by the black icing.

Make sure the ingredients are at room temperature and the oven is preheated.

Once the cupcakes are in the oven, try not to open it for at least 15 minutes.

Make this a super easy recipe by using prepared frosting instead of making your own.
Use a black icing pen pipe for an easy way to make the continuous squiggly line.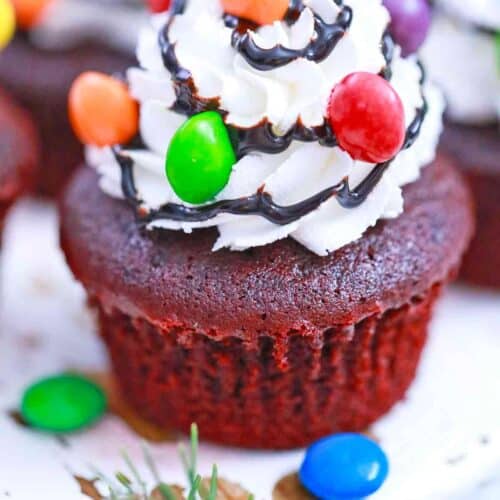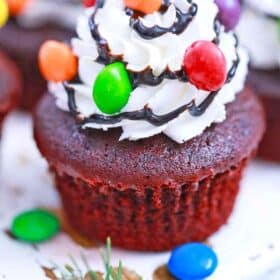 Christmas Light Cupcakes
Christmas Light Cupcakes are made with delicious red velvet cake and buttercream frosting with a handful of M&M's for the lights.
Save
Share
Print
Pin
Rate
Ingredients
Cupcakes:
1

box red velvet cake mix

(plus ingredients on the cake mix box)
Vanilla Buttercream:
3

cups

unsalted butter

(room temperature)

6

cups

powdered sugar

(sifted)

2

teaspoons

vanilla extract

1/4

teaspoon

salt

Black food coloring

M&M's
Instructions
Preheat oven to 350 degrees F. Line two muffin tins with 16-18 paper liners.

Prepare the cupcake batter as per box instructions.

Divide batter evenly between the muffin tin, three-fourths full.

Bake for 18 to 22 minutes, or until a toothpick comes out clean. Let cool completely before adding the frosting.
Vanilla Buttercream:
Add the butter to a large bowl and using a mixer beat it until pale and smooth, about 30 seconds.

Add the sugar one cup at a time and scrape the sides of the bowl from time to time.

Add the vanilla and salt, beat on low speed for 15-20 seconds.

Increase the speed to high and beat the mixture until light and smooth, about 5 minutes. The frosting will look like it is getting really soft, but it will stiffen and increase in volume.

Set aside about a cup, add black food coloring to it, and mix until combined. Add it to a piping bag fitted with a small round tip.

Add the rest of the frosting to a large piping bag fitted with a star or a large round tip, and pipe the buttercream in swirls onto the cupcakes.

Pipe a string around the surface of the frosting using black buttercream or chocolate sauce.

Stick M&Ms vertically into the side of the cupcakes.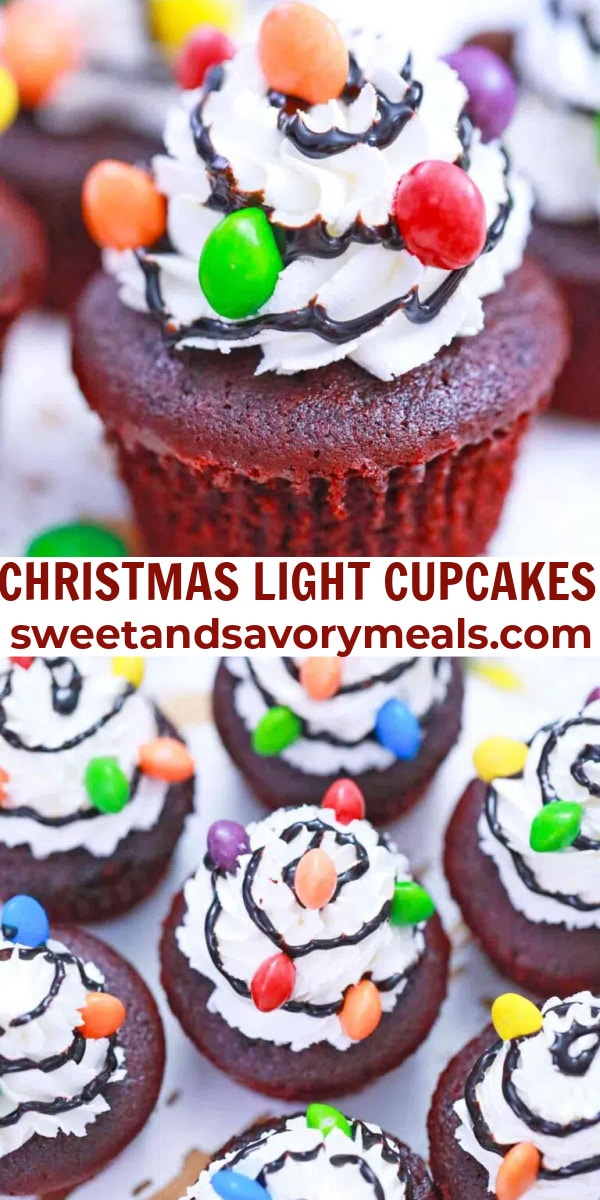 More recipes you might love