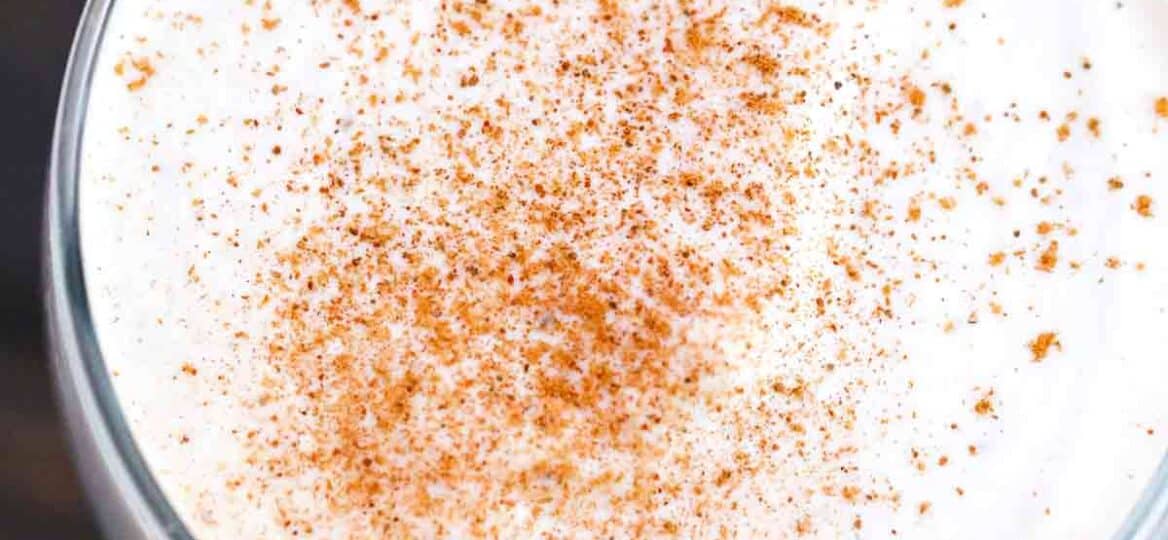 Homemade Eggnog Recipe
Homemade eggnog is made using beaten egg whites or whole eggs, milk, cream, sugar, and warm spices to make it flavorful. Make your own eggnog tradition for your family to enjoy every year. And if you want boozy eggnog, hit the liquor stores before Christmas.
Eggnog fans will love this creamy Eggnog Cheesecake made with rum and cream cheese. For those who do not like this drink, try our Christmas Punch recipe with cranberries, lime, and pomegranate. But you cannot forget the cookies. Here are 25+ Best Christmas Cookies recipes for you to indulge in.
Do not serve your guests commercial eggnogs. Make ours your traditional eggnog recipe. You can really taste the difference! Having your own homemade recipe to pass down to your kids and grandkids is a fantastic Christmas gift too.
Homemade eggnog is a holiday ritual all over the world, not just in the United States. And even George Washington had his own homemade eggnog recipe with strong ale.
This. winter drink is so perfect. for the holiday, making your own you can adjust the flavors as you like. Also, later you can use it to make desserts, pancakes, or waffles!
Follow us on Pinterest for more delicious recipes!
Ingredients needed:
For the step-by-step instructions, scroll down to our handy recipe card. But here are the key ingredients you will need:
Large eggs: Room temperature is best.
Egg yolks: Separated and at room temperature.
Heavy cream: Homemade or store-bought will both work here.
Milk: We used whole milk for best results.
Sugar: Just a half cup sugar.
Vanilla extract
Nutmeg
Salt
How do you make homemade eggnog?
Whisk: To start, whisk the milk and vanilla in a saucepan over medium-low heat, removing it when it starts to simmer.

More whisking: After, using a separate bowl, whisk egg yolks, a pinch of salt, nutmeg, sugar, and eggs for five minutes until it is thick and has stiff peaks.
Add: Immediately add the egg mixture to the milk while continuing to whisk.

Cook: After, put the saucepan back on medium heat and cook for five minutes or until the temperature reaches 165 degrees F.

Add cream: Pour the mixture into a medium bowl and add the cream, stirring it well until it is mixed completely and has a pale yellow and frothy color.

Serve: Refrigerate for about three hours before serving in a mug with a cinnamon stick.
Recipe variations:
Make it Greek: Alternatively, you can use plain or vanilla Greek yogurt instead of heavy cream.
Other kinds of milk: Also, feel free to use coconut milk or whatever type you like best.
Spices: You can also add other spices such as ground cloves, cinnamon, or ginger.
Sugar-free: Use sugar substitute as a sweetener for a sugar-free nog.
Other extracts: Add almond, lemon, or orange instead of vanilla extract to your egg mixture for a different twist.
Extra fiber: Scoop a teaspoon of guar gum in your nog for extra fiber.
How to serve:
Refrigerate for several hours before serving in a wooden mug with a cinnamon stick. You may also like one of these serving ideas:
Mix a bit of coffee in the eggnog base for a caffeinated cup of nog.
For more sweetness, put a scoop of whipped cream or vanilla ice cream on top.

If you are hosting a holiday party, add a candy cane instead of a cinnamon stick.
This drink goes well with mini pecan pie tarts or cranberry orange pork tenderloin.
This nog would also make a fantastic eggnog waffle or pancake batter.
Frequently Asked Questions
Is eggnog safe to drink?
There are many different eggnog recipes around the holiday season and whether you get yours in a grocery store or make your own homemade version, you have to know the facts.
For example, this recipe is safe to drink as long as you are not allergic to dairy or eggs.
If you are worried about the egg mixture, you do not have to be. Cooking it to a temperature of 165 degrees F kills those germs and bacteria that can cause foodborne illnesses.
If you do have some kind of medical condition, you can always substitute the dairy or use an egg substitute.
Is eggnog better served warm or cold?
How you serve your nog really depends on your own preference. If you enjoy it warm like hot chocolate, serve it warm. But many people like it cold, right out of the carton they get at the store.
So, chilling yours after making it not only thickens it up, but it also makes it a delicious cold drink.
What kind of alcohol is used in eggnog?
You can use any kind of alcohol you want in eggnog, or don't use any at all. Many people just leave out the alcohol and use a non-alcoholic rum extract.
To make boozy eggnog, you can use whiskey, cognac, brandy, peppermint schnapps, amaretto, or whatever is your favorite.
How to store leftovers:
Store: Leftovers can be stored in a mason jar or other airtight container in the fridge. It will stay fresh for about three days.

Freeze: If you have a lot leftover, go ahead and freeze it by putting it in a freezer-safe container for up to six months
Thaw: The night before serving, remember to move the frozen nog to the fridge to thaw out.
Reheat: You do not have to reheat it since it tastes great cold. However, if you want it warm, you can reheat large batches in a large bowl in the microwave for a few minutes on the stove in a saucepan on medium heat.
More Christmas drinks:
Cooking tips:
Let your drink chill for a few days for a smoother and thicker flavor.
You could also choose to whisk your egg whites separately until soft peaks form before adding to the milk mixture.
Use an electric mixer to beat your eggs to save time.

For a protein boost, make an egg flip instead. Just mix one raw whole egg with milk, honey, and cinnamon.

Warning: The use of raw eggs can cause salmonella and other foodborne illnesses.
Homemade Eggnog Recipe
Ingredients
4

cups

whole milk

1

tablespoon

vanilla extract

4

eggs

4

egg Yolks

1/2

cup

white sugar

1/4

cup

brown sugar

1 1/2

teaspoon

ground nutmeg

1/4

teaspoon

salt

16

oz

heavy cream
Instructions
Place a medium saucepan over medium-low heat, and whisk together the milk and vanilla until the mixture just begins to simmer. Remove from heat.

In a separate large bowl, using an electric mixer, beat together the eggs, egg yolks, both sugars, nutmeg, and salt for 5 minutes, or until the mixture thickens and becomes frothy.

Slowly pour the egg mixture into the simmered milk, whisking constantly to combine.

Return the saucepan to medium-low heat and whisk constantly for about 5 minutes, or until the mixture reaches 165 degrees F.

Remove from heat and pour in the heavy cream, stirring until well combined. Strain the mixture to ensure there are no lumps.

If you want you can stir in some booze or extracts.

Refrigerate at least 3-4 hours or overnight before serving.