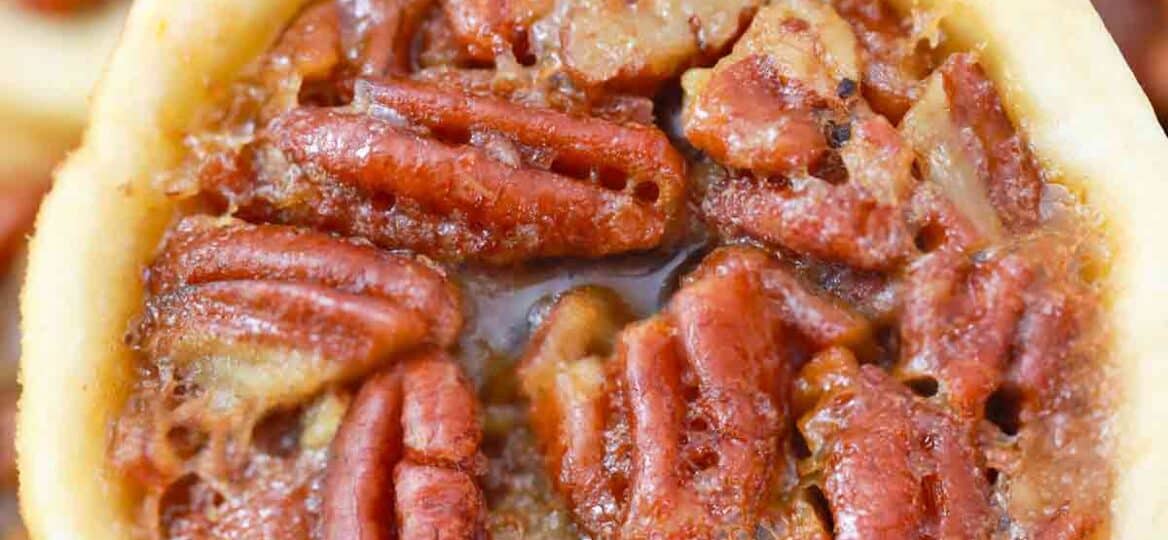 Mini Pecan Pie Tarts are a scrumptious alternative to traditional pecan pies, bite-size pieces that make for the perfect individual dessert option. and will add a delightful difference to your dessert table. It is easy to make using a prepared store-bought crust and you only need a few other ingredients you may already have in the kitchen. Once your family tastes these, it will probably become their favorite holiday treat.
If you are a pecan pie fan, you may like these Pecan Pie Cookies. These shortbread cookies with pecan filling melt in your mouth. For a different holiday dessert, our Instant Pot Pumpkin Pie is delicious and easy. Looking for a unique holiday side dish? Try our savory Sweet Potato Souffle recipe.
There is nothing wrong with traditional pecan pie. In fact, my family loves it and we make it all the time. But these little pies in the mini form are the perfect size for kids and snacks.
The holiday season is a busy time so having these mini tarts out for the little ones is much easier than having to get the pie out and cutting it. And many kids cannot eat an entire slice anyway.
This pecan pie recipe is also delicious, and it has a secret ingredient of bourbon for a rich taste. For an easier pecan dessert, try our simple but scrumptious pecan pie bars. The shortbread crust is so flaky and light. Or you may like our creamy and fluffy pecan pie cheesecake too.
Ingredients needed:
Are you ready to get started? Scroll down to our printable recipe card for detailed measurements and directions. But here are the basics:
Pie crust: Store-bought or homemade are both fine.
Corn syrup: We used light, but you can also use dark corn syrup.
Brown sugar: Dark or light.
Melted butter: Unsalted.
Large egg: Lightly beaten.
Heavy cream: You could also use cream cheese.

Vanilla: Pure vanilla extract.
Pecans: Roughly chopped with a food processor.
How do you make mini pecan pie tarts?
Preheat: To start, preheat your oven to 350 degrees F.

Roll and cut: Meanwhile, use a lightly floured baking sheet to roll out the dough. Then, using a 3-inch cookie cutter, cut out 12 circles.
Tart shells: Next, put each piece into the tart cavities that are greased well. Stretch a bit to make the dough go up the sides of the cavity. You could also use a mini muffin tin.
Chill: Then, put the tart pans in the fridge to chill while you make the filling.
Combine: Meanwhile, in a medium bowl, combine vanilla, cream, egg, melted butter, brown sugar, and corn syrup until combined, and then add in the chopped pecans.

Fill: Finally, put one or two tablespoons into each of the tart or muffin cups without overfilling.

Bake: Last, put the tarts in the preheated oven for about 25 minutes or until the filling is set.

Remove: After they cool for 10 minutes, carefully remove them from the pan and put them on a wire rack to cool.
Recipe variations:
Use frozen: You could also use frozen mini pie crusts or tarts like phyllo shells you can get in the grocery store.,
Use butter: If you want a buttery crust, make your own pie crust with all butter.
Add chocolate: Add a handful of mini chocolate chips to the pecan filling for chocolate lovers.
Less sugar: For a sugar-free treat, use a sugar substitute instead of sugar and sugar-free maple syrup instead of corn syrup.
Add spices: Feel free to add some of your favorite holiday spices like cinnamon and nutmeg.
How to serve:
These tasty mini desserts can be served as a part of your favorite dessert tray during the holidays or any time of the year. Try one of these ideas for serving.
Frequently Asked Questions
What is the pecan pie filling made of?
Although recipes vary, the most common ingredients in pecan pie filling include corn syrup, eggs, sugar, vanilla, and melted unsalted butter.
Some recipes use brown sugar, as well as white sugar and others, add all-purpose flour or cornstarch in the mix. Other options are honey, maple syrup, and molasses.
Why is my pie runny?
Sometimes it happens for no reason at all. You do everything right, but the filling comes out runny anyway. The best thing to do to fix it is to add some cornstarch or flour.
Then, place it in the fridge for several hours and see if it sets. It could be that you did not cook it long enough. Try baking it for a little bit longer next time.
Should I prebake my crust?
With this recipe, you do not have to prebake (or blind bake) because they are mini pies. The main reason you prebake crust is to prevent it from being soggy when making a pecan or pumpkin pie. It is also an easier way to get a flaky crust.
To prebake your pie crust, place a piece of parchment paper or aluminum foil on top of the crust. Then, add some kind of weight like dry beans or rice. After, brush with beaten egg whites and let it dry before filling.
How to store leftovers:
Store: You can store these at room temperature in an airtight container for two days or put them in the fridge where they will stay fresh for up to a week.
Freeze: If you cannot eat them all within a week, go ahead and wrap them in plastic wrap individually and then freeze them in a freezer bag for up to three months.
Thaw: Remember to thaw these in the fridge overnight before serving.
Cooking tips:
If you don't have a food processor, you can put the pecans in a large mixing bowl or large bowl and crush them by hand.

Poke the crusts all over with a fork to keep it from bubbling.

After poking them put the whole pan in the freezer for at least 15 minutes before filling.

Make sure the mini muffin pan is greased well.
Also, do not overfill the mini pecan tarts or they will overflow.
If they do overflow, remove your pies quickly so they do not get stuck to the pan.
Mini Pecan Pie Tarts
Ingredients
1

pie crust store-bought

or homemade

1/4

cup

light corn syrup

1/3

cup

brown sugar

2

tablespoons

unsalted butter

melted

1

egg lightly beaten

2

tablespoons

heavy cream

1/2

teaspoon

vanilla extract

1/3

cup

roughly chopped pecans
Instructions
Preheat oven to 350 degrees F.

On a lightly floured surface, roll the pie dough out into a 12-inch circle.

Using a 3-inch cookie cutter, cut out 12 circles.

Place each circle in a muffin cavity, filling a 12-count muffin pan. Make sure each piece comes up the sides just a little bit, stretch the dough a bit if needed.

Chill the muffin pan in the refrigerator while you make the filling.

In a mixing bowl, mix together the corn syrup, brown sugar, melted butter, egg, cream, and vanilla extract until fully combined.

Stir in the chopped pecans.

Remove the muffin pan from the refrigerator.

Evenly distribute the filling, making sure it does not come up over the edges of the dough.

Bake for about 25-30 minutes or until the filling is set.

Remove from the oven and cool the tarts in the pan for about 10 minutes.

Carefully remove them and transfer them to a wire rack to cool the completely serving.
Deliciousness to your inbox
Enjoy weekly hand picked recipes and recommendations