Eggnog Cheesecake is the perfect treat to have on your holiday table. It is rich, indulging, with a gingersnap crust and topped with the most delicious eggnog whipped cream.
We love making Cheesecakes, and lately, we have hit a home run with many of them. Starting from the New York Cheesecake Recipe, which is a luxurious and creamy cheesecake, to our mega-popular Pumpkin Cheesecake Bars and Pecan Pie Pumpkin Cheesecake.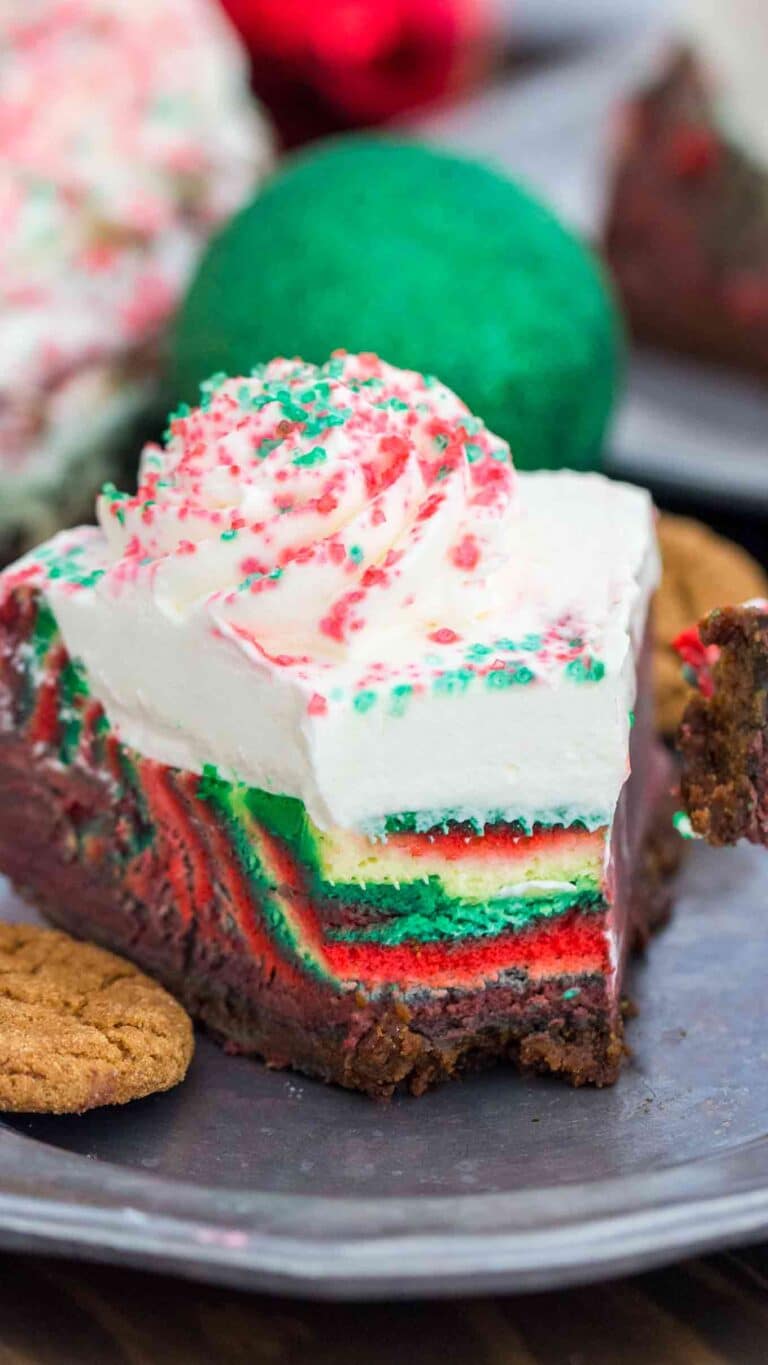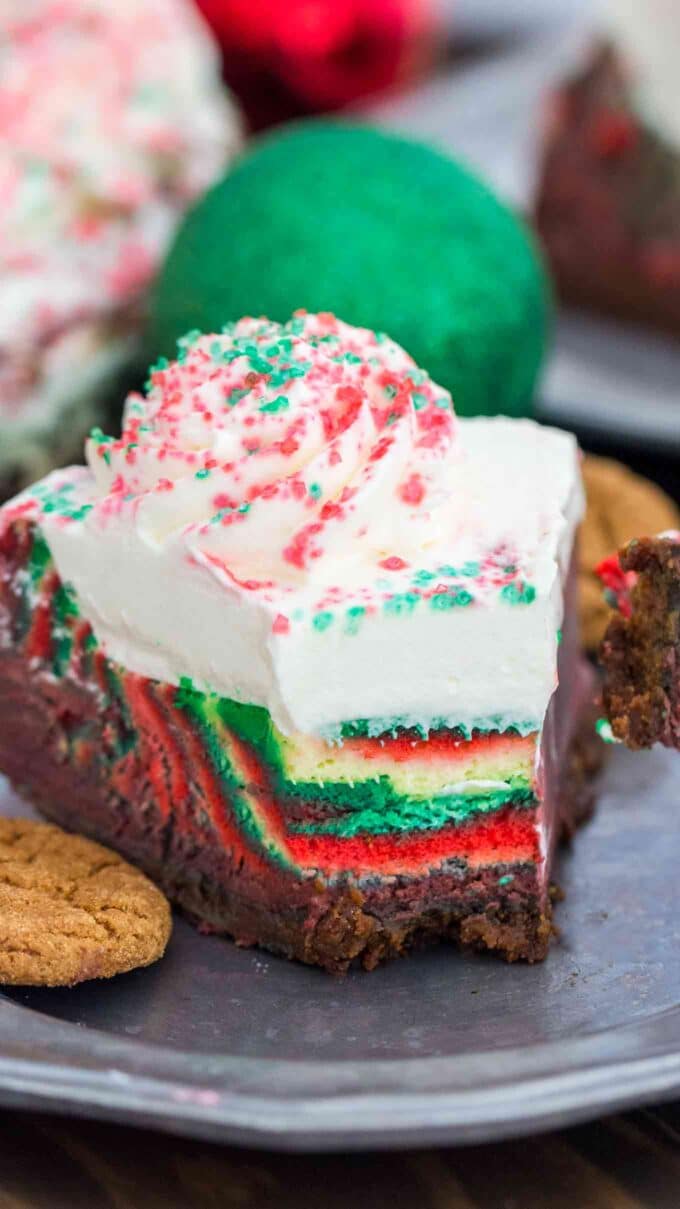 Christmas Eggnog Cheesecake
Eggnog Cheesecake is guaranteed to be a hit during Christmas season with your guests and family. While most people are intimidated by making a cheesecake, I suggest you give this one a try. If you follow the steps, it is fairly easily done, and as a result, you will have the most gorgeous and delicious cheesecake.
This recipe calls for just a handful of ingredients. It uses an easy technique, and with eggnog being the front of a central theme here, it's impossible to make it wrong! You will love the gingersnap cookies crust, which is perfect for the holidays.
The cake is finished off with an eggnog whipped cream topping. It's made with powdered sugar, eggnog, and heavy whipped cream. If you are a cheesecake fan, this Eggnog Cheesecake will be a great addition to your collection.
What do you need to make Eggnog Cheesecake?
Gingersnap Cheesecake Crust:
2 cups ginger snap cookie crumbs
1 stick unsalted butter melted
Eggnog Cheesecake filling:
4 packages 8 ounces each full-fat cream cheese
1 1/2 cups white granulated sugar
1/4 cup all-purpose flour
3 large eggs
1 cup full-fat sour cream
1 cup eggnog
3 tablespoons rum
1/2 teaspoon nutmeg
1 tablespoon vanilla extract
Green gel food coloring
Red gel food coloring
Eggnog Whipped Cream:
2 cups heavy whipping cream, cold
4 tablespoons powdered sugar
4 tablespoons eggnog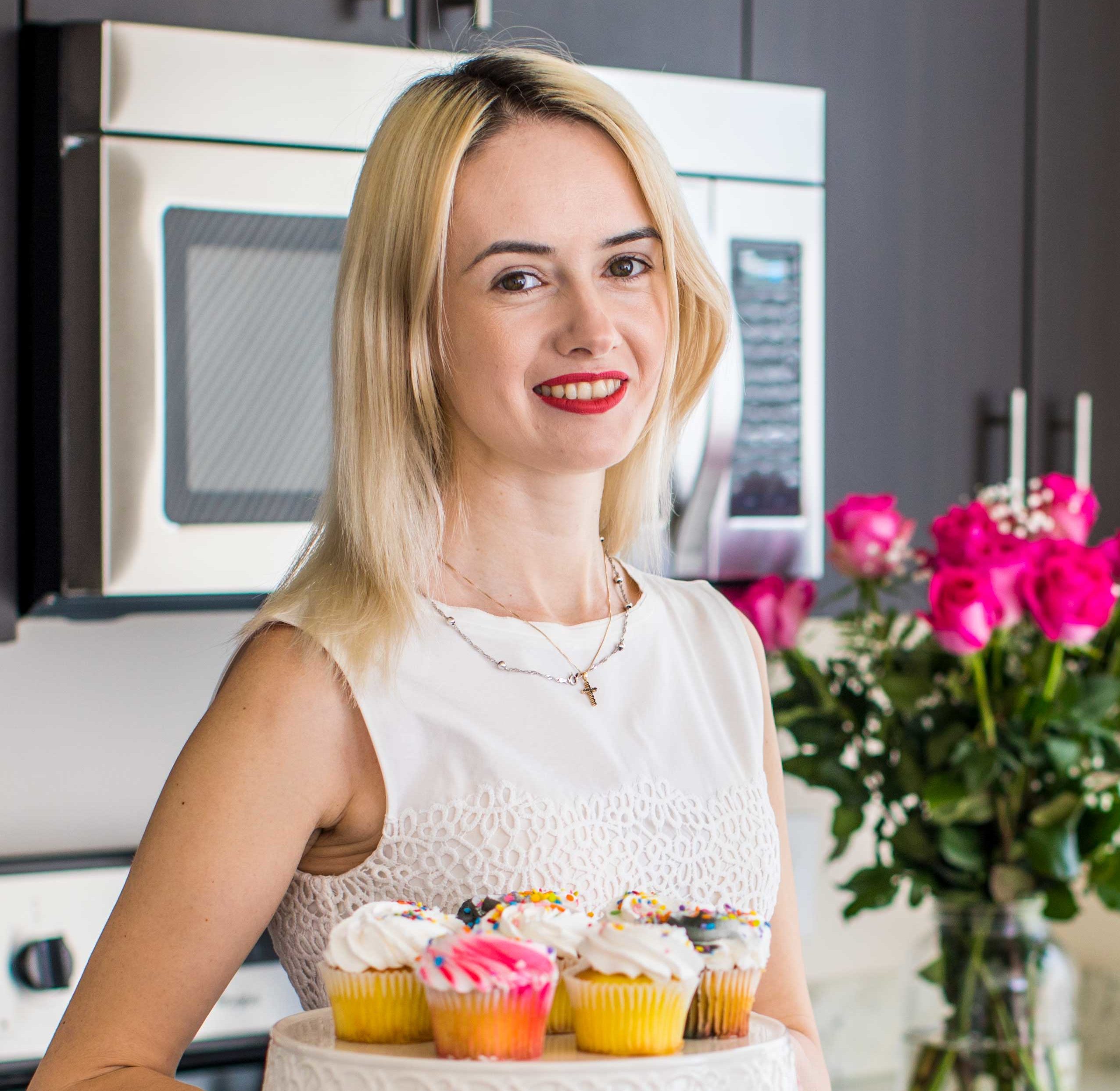 Follow us on Pinterest for more delicious recipes!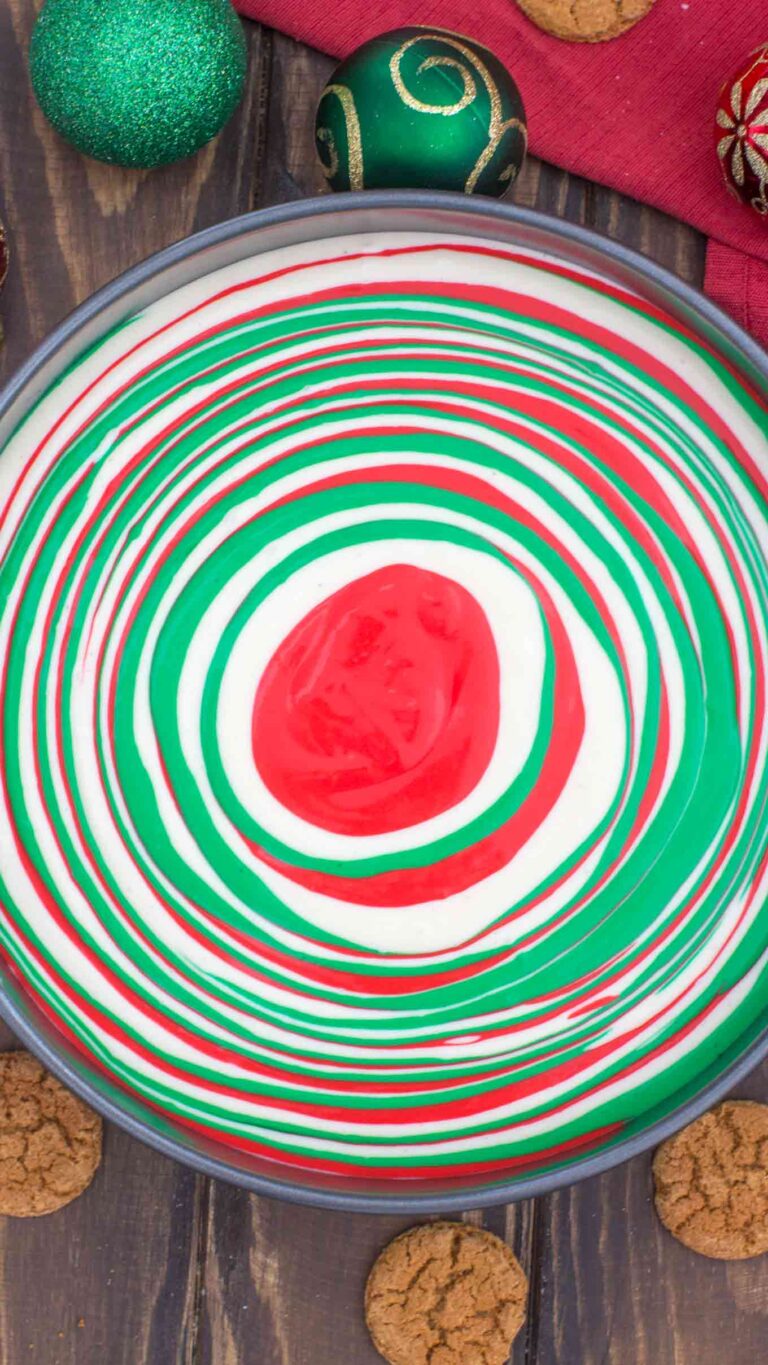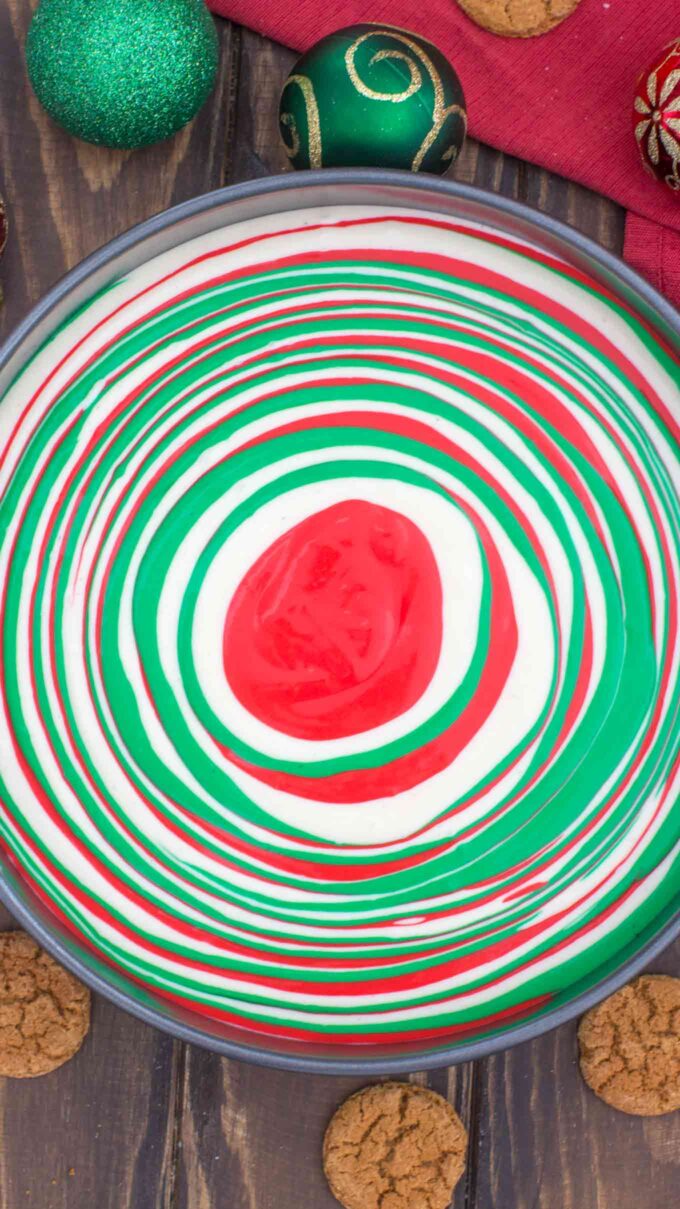 HOW TO PREVENT CRACKS IN THE EGGNOG CHEESECAKE?
First, make sure that all the ingredients are at room temperature and well combined after being mixed.
Also, avoid opening the door oven while baking the cheesecake.
In addition, cooling the cheesecake in the oven, with the door slightly will prevent cracks.
Similarly, if you bake the cheesecake in a water bath, you will avoid cracks.
HOW TO FIX A CRACKED CHEESECAKE?
There are a few easy ways to hide or fix a cracked cheesecake top. Check my detailed Cheesecake post for all the details.
HOW TO KNOW WHEN THE EGGNOG CHEESECAKE IS DONE BAKING?
When the sides are puffed and the center of the cheesecake is just a bit jiggly, the cheesecake is done. The center will firm up during the cooling time, as it will cook from the residual heat.
HOW TO REMOVE THE EGGNOG CHEESECAKE FROM THE SPRINGFORM PAN?
Carefully run a small knife around the edge of the pan, starting all the way up and working your way down.
Also, unbuckle the springform pan and remove the circular band only after the cheesecake has been properly chilled and is cold.
Similarly, run a long, thin spatula between the crust and the pan bottom, and gently slide the cheesecake onto the serving dish.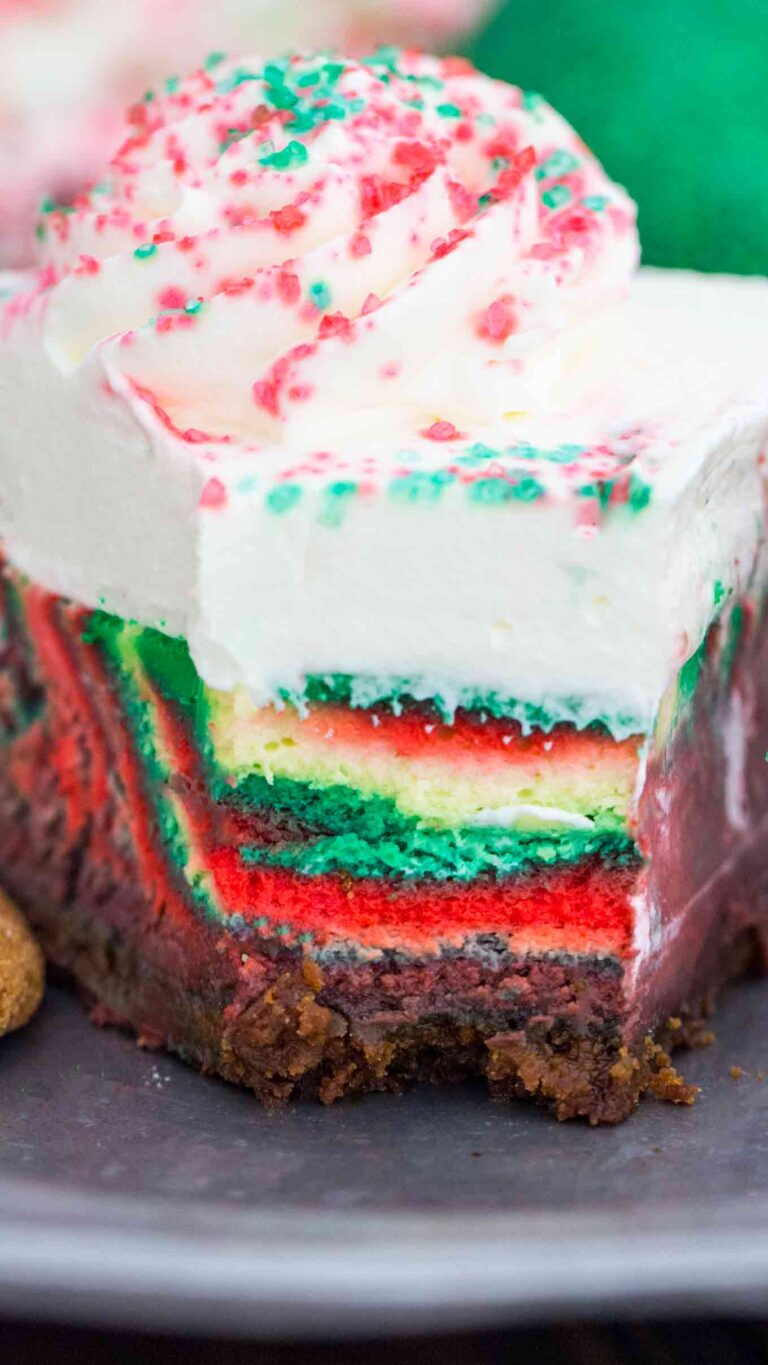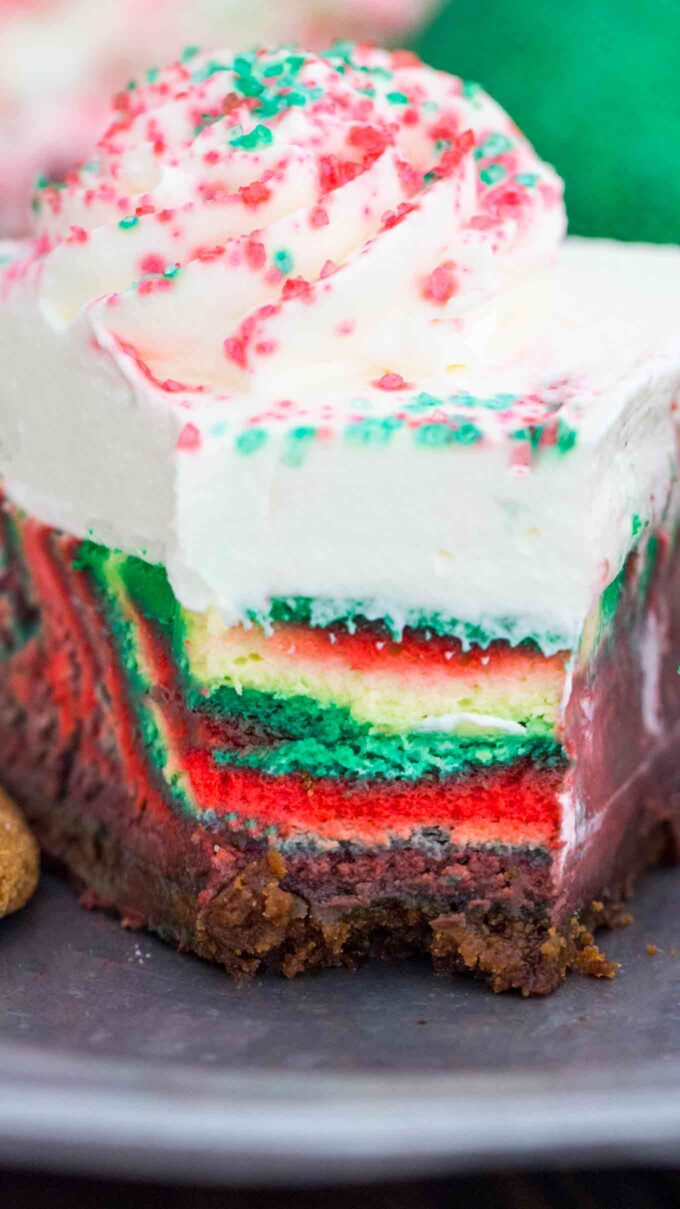 HOW TO FREEZE THE EGGNOG CHEESECAKE?
Preferably, freeze the cheesecake BEFORE you top it with whipped cream.
First, make sure the cheesecake has fully cooled and also was refrigerated for at least 6 hours.
Next, wrap it tightly with aluminum foil and after with plastic freezer wrap. You can also wrap and freeze individual slices.
Properly stored, it will maintain the best quality for about 2 to 3 months.
Thaw overnight in the fridge one day before serving.
Save Recipe
Eggnog Cheesecake
Eggnog Cheesecake is the perfect treat to have on your holiday table. It is rich, indulging, and topped with the most delicious eggnog whipped cream.
Author: Catalina Castravet
Serves: 12 servings
Prep time:

30

minutes
Cook time:

50

minutes
Total time:

1

hr

20

mins
Ingredients
Cheesecake crust:
Cheesecake filling:
Eggnog Whipped Cream:
Instructions
Cheesecake crust:
Cheesecake Filling:
Cheesecake Swirl Optional:
Bake:
Chill:
Eggnog Whipped Cream:
Nutrition information
Calories: 344 Carbohydrates: 45 Protein: 5 Fat: 14 Saturated Fat: 7 Cholesterol: 83 Sodium: 199 Potassium: 180 Fiber: 0 Sugar: 34 Vitamin A: 450 Vitamin C: 0.6 Calcium: 127 Iron: 0.9
Save Recipe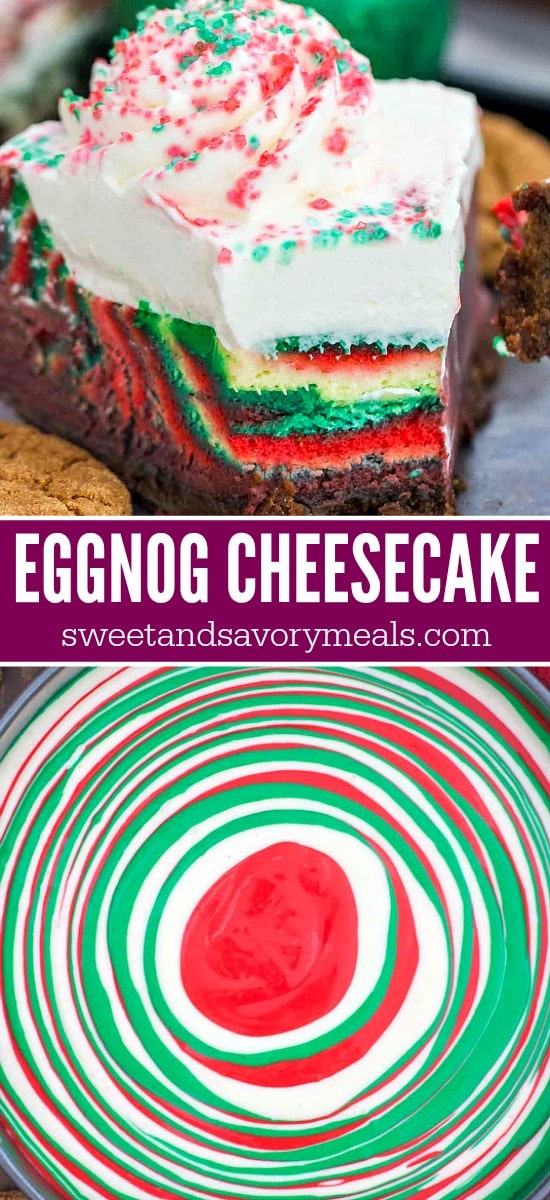 More recipes you might love
Categories: