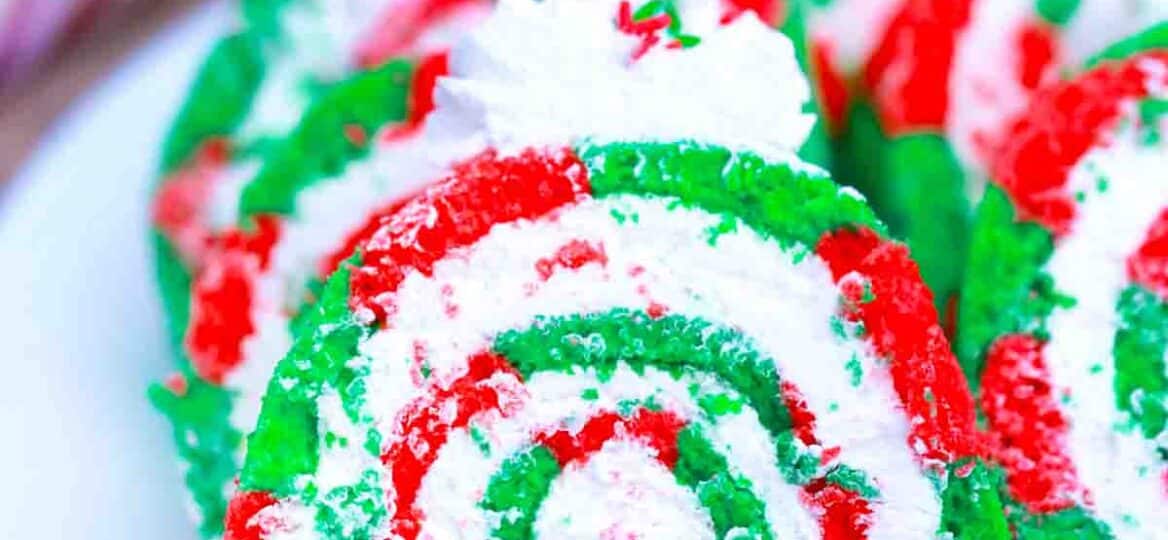 Christmas Cake Roll Recipe [Video]
Christmas Cake Roll is festive and fun as well as delicious using just a handful of basic ingredients to create a colorful holiday dessert. With red and green food coloring, this is the perfect holiday dessert that everyone will love! Even though this cake looks professional and tastes amazing, there is very little prep time involved.
If you like cake rolls, try our Carrot Cake Roll made with shredded carrots, ground walnuts, and a cream cheese filling. Another awesome holiday dessert is this Yule Log Cake with a chocolate ganache filling.
Rolled cakes have been popular for a long time. It started with jelly rolls in a journal called Northern Farmer printed in 1852. It originated in Utica, New York, and was made with sponge cake and jelly.
Although the name has changed from jelly rolls to rolled jelly cakes, and other interesting names, this delicious "Swiss" roll cake did not originate in Switzerland.
This holiday season, make something new. Our Christmas cake roll recipe is perfect for a holiday party or Christmas dinner with the family. No matter how you eat this red and green yule log cake roll, it will be delicious. A rolled cake is so much fun to make and turns any dessert into a special treat.
Looking for other popular recipes for the holidays? Start out with our slow cooker pot roast with red wine that is so tender it falls apart. For a classic side dish, this green bean casserole recipe is outstanding and made with cheddar cheese, french fried onions, and mushroom soup.
Follow us on Pinterest for more delicious recipes!
Ingredients needed:
To make this Christmas cake roll recipe, gather these ingredients before scrolling down to the bottom of the page. There, you will find our recipe card with step-by-step instructions and exact measurements.
Cake ingredients:
Vanilla or white cake mix
Powdered sugar: Or confectioners' sugar for rolling the cake.
Sour cream
Canola oil
Large eggs: At room temperature.
Water
Red food gel coloring
Green food gel coloring
For the whipped cream filling:
Powdered sugar: Or confectioners' sugar.
Whipping cream
Pure vanilla extract
How to make a Christmas cake roll from scratch?
Make the cake:
Preheat: To begin, preheat oven to 350 degrees and line a flat-rimmed 15×10-inch jelly roll pan or baking sheet with parchment paper sprayed with cooking spray.
Beat eggs: In the meantime, beat eggs in a mixing bowl with an electric mixer or stand mixer until it is doubled in volume and very thick. This should take about five minutes at medium-high speed.
Mix the cake batter: Then, slowly add sour cream, cake mix, water, and oil to the bowl and beat for 30 seconds on low speed and then on high speed for one minute.
Color your batter: Now, separate the cake batter into two separate mixing bowls adding green food coloring to one bowl and red to the other. Mix until it is your desired level of color.
Make a pattern: Next, use a piping bag to pipe the batter diagonally into the prepared pan, alternating to make a checkerboard pattern. Gently tap the pan to even out the batter.
Bake the cake: After, bake your cake for eight to 10 minutes or until the cake springs back when you touch it. Then, let the baked cake cool on a wire rack enough to touch but you still want it to be warm.
Remove from the pan: Then, sprinkle powdered sugar on the cake and cover it with a clean kitchen towel. Put a second baking sheet on top of the towel and carefully flip it over to remove the cake from the pan.
Roll cake: Last, remove parchment paper and add powdered sugar to the top before you roll the cake tightly into the towel.
Let it cool: Now, let the cake cool completely for about an hour before you add the filling.
For the filling:
Whip it: While you wait for the cake roll to cool, beat vanilla, powdered sugar, and whipped cream in a large bowl until soft peaks form.
Fill and roll: Then, gently unroll the cake and gently spread the filling on top. Reroll it tightly and refrigerate.
Chill and serve: Finally, after one hour, serve Christmas cake roll with whipped cream roses on top.
How to make an air fryer Christmas cake roll?
Make the cake:
Preheat air fryer: First, preheat your air fryer to 350 degrees F and line two small baking sheets with parchment paper spritzed with non-stick cooking spray. Because air fryers are smaller, you will be making two Christmas roll cakes.
Beat the eggs: Meanwhile, beat the eggs for about five minutes, until they are thick and double in size.
Make the batter: Next, add water, oil, sour cream, and cake mix and beat on low for 30 minutes and then on high for one minute.
Add food coloring: Pour batter into two mixing bowls and add red gel coloring to one and green gel coloring to the other. Mix them until they are thoroughly combined.
Pipe the batter: Now, use two piping bags to pipe the batter diagonally onto a prepared baking sheet. Repeat with the other sheet.
Air fry cake: After, place one pan in the air fryer and cook for five minutes or until it is lightly browned.
Immediately turn cake out: While you wait for the second cake to cook, sprinkle the cooked cake with powdered sugar and cover it with a dish towel. Then place another baking sheet on top and turn the cake over.
Repeat and cool: Finally, remove the parchment paper and dust again with powdered sugar before you roll the cake into the towel. Do the same with the other cake and wait until they are both completely cooled before adding the icing.
For the filling:
Beat into peaks: To make the filling, in a mixing bowl, beat whipping cream, powdered sugar, and vanilla until soft peaks form.
Frost and reroll: When the cake is completely cooled, carefully, unroll it from the towel. Spread on the frosting and reroll it tightly. Do the same with the other cake.
Chill and eat: After, chill the cake roll for at least one hour before serving.
Recipe variations:
Use butter: You can use butter instead of oil for this recipe for a more buttery flavor.
Cream cheese: Use cream cheese to make the filling for an extra creamy Christmas cake roll.
Add a flavor: Try adding a teaspoon of peppermint extract for a peppermint Christmas cake roll. You could also use almond, rum, butter, or cinnamon.
Chocolate: If you are a chocolate lover, use a white chocolate cake mix instead of a white cake mix.
Another cake mix: In fact, you can use any light-colored cake mix like lemon, orange, or yellow.
More chocolate: You can add more chocolate to your cake roll recipe by adding melted chocolate chips to the frosting.
Make it fruity: For a fruity Christmas cake roll, add a teaspoon of lemon, orange, raspberry, or cherry extract to your cake batter.
Peanut butter: Add some peanut butter to your filling
How to serve:
Holiday meals are always special but you can make them even more so with this easy Christmas cake roll recipe. With little prep time and just minutes in the oven, the longest time spent is waiting for it to chill afterward. Feel free to try one of these serving suggestions or share some of your own in the comments below.
Add red and green Christmas sprinkles and other decorations to the icing on top.
A dollop of whipped cream would also be a great topping. Try our easy homemade whipped cream recipe.
Slice and serve frozen for a chilly Christmas cake roll.
Another way to serve is sliced with a scoop of ice cream on top.
Add your own favorite holiday sprinkles or decorations to make your Christmas cake roll even more festive.
When serving, fill the center of each slice with more icing or a bit of cream cheese frosting.
Use a bit of cinnamon and granulated sugar mixed on top for extra sweetness.
You could also drizzle on chocolate or caramel sauce.
Frequently asked questions
How can I make the white cake from scratch?
All you need for this recipe is one cup of white sugar, 1/2 cup butter, two eggs, two teaspoons vanilla, 1.5 cups all-purpose flour, one teaspoon of baking powder, and 1/2 cup of milk.
First, cream the butter and sugar, adding eggs and vanilla one at a time. Combine the flour and baking powder in a separate bowl and then add flour mixture to the wet ingredients. Add milk and stir until it is smooth, and you have your cake batter.
Why do they call these swiss rolls?
You may also hear this dessert called a roulade, cream roll, or roll cake. It is typically made from a light cake filled with cream or frosting and rolled into a log. The origin of the name is not known but we do know it was not invented in Switzerland. Instead, it is thought to have come from somewhere else in Europe.
Why is my cake roll falling apart?
There are a few reasons why this may be happening. First, it could be that your cake was not baked all the way, so it mixes with the filling to make it too wet to roll. Or it may be baked too much, which makes it dry and crumbly. But the most common reason is that you did not roll it while it was still warm. It has to be rolled when it is warm and easy to maneuver.
What are the nutrition facts in this recipe?
Each serving of this delicious Christmas cake roll has 511 calories, 34 milligrams of cholesterol, 142 milligrams of sodium, and 35 grams of fat which includes 14 grams of unsaturated fat, 2 grams of trans fat, and 15 grams of saturated fat.
The carbs are 40 grams, and you will also get 34 grams of sugar. On the other hand, your cake roll has 10 grams of protein, 375 units of vitamin A, and 78 milligrams of calcium.
How to store leftovers:
Store: You can store your leftover Christmas cake roll in an airtight container for up to three days in the refrigerator.
Freeze: To freeze your leftover Christmas cake roll, wrap it in plastic wrap and then in aluminum foil before putting it into a freezer bag. It will stay fresh in the freezer for several months.
Thaw: Don't forget to thaw your cake overnight before serving it for the best results.
Reheat: This cake is best eaten chilled.
More Christmas recipes:
Baking tips:
Make sure your eggs are at room temperature.
Also, be sure to use enough powdered sugar so your cake roll will not stick to the towel.
Leave about a half inch of space at each end so the filling will not squeeze out the ends.
Have your kitchen towel ready for when your cake roll comes out of the oven.
You do not need piping bags for this. Instead, use two large freezer bags. Add the red batter to one and the green to the other. Then cut a small hole in the corner and you can squeeze it out just like a professional.
You can use heavy cream instead of whipping cream if that is all you have.
If you want a fluffier cake, use egg whites and beat until stiff peaks form before adding them to the prepared batter.
When you chill the cake roll, wrap it in plastic wrap to keep it together.
If you do not have holiday sprinkles, you can use any kind of rainbow sprinkles or other decorations.
Christmas Cake Roll
Ingredients
Cake:
1

box

vanilla cake mix

or white cake mix

6

eggs

room temperature

1/4

cup

water

1/4

cup

canola oil

1/4

cup

sour cream

A few drops of red gel food coloring

A few drops of green gel food coloring

powdered sugar

for rolling cake
Filling:
1 1/3

cup

whipping cream

1/4

cup

powdered sugar

1

teaspoon

vanilla extract
Instructions
Preheat oven to 350 degrees F.

Line a 15 x 10 flat-rimmed baking sheet with parchment paper and set it aside.

In a large mixing bowl, use a mixer to beat the eggs until doubled in volume. This will take about 4-5 minutes.

Next, on low speed whisk in the cake mix, oil, sour cream, and water. Beat on low for about 30 seconds, then, on high for 1 minute.

Divide batter equally into two separate bowls.

Add red food coloring to one bowl, and green food coloring to the second, and mix until colored to the desired intensity.

Transfer the batter to two piping bags.Pipe the batter diagonally onto the prepared pan, alternating colors to create a pattern, see the process shot.

Bake the cake in the preheated oven for 8-10 minutes or until the cake springs back when touched.

Remove from oven and let the cake cool just for 5 minutes. It still needs to be warm when you roll it.

Dust the top of the cake with powdered sugar and cover it with a clean dish towel.

Place a second baking sheet on top of the dish towel, and flip the cake over.

Take off the parchment paper from the top of the cake and dust the cake with powdered sugar.

Using the underneath towel, roll the cake gently into a log.

Let the cake cool for 30 minutes to an hour before adding the filling.
Filling:
In a large mixing bowl, beat whipping cream, powdered sugar, and vanilla until soft peaks form.

Carefully, unroll the cake from the towel and spread the frosting 1 inch from the sides of the cake. Then, re-roll it tightly.

Refrigerate the cake for 1 hour before slicing and serving.