Christmas Wreath Cookies are a no-bake treat, that is sweet, crunchy, and perfectly festive for the holiday cookie tray. You only need a handful of ingredients including corn flakes, butter, marshmallows, vanilla, and food coloring. Then add a few red candies for decoration and you have these adorable wreath cookies.
An even easier cookie to make is these cute and tasty three-ingredient Reindeer Nose Treats with Rolos, pretzels, and M&M's. These Oreo Christmas Ornaments are also easy to make and everyone will love these! But you cannot forget the Christmas Sugar Cookies. Decorating these fun shapes are a family tradition.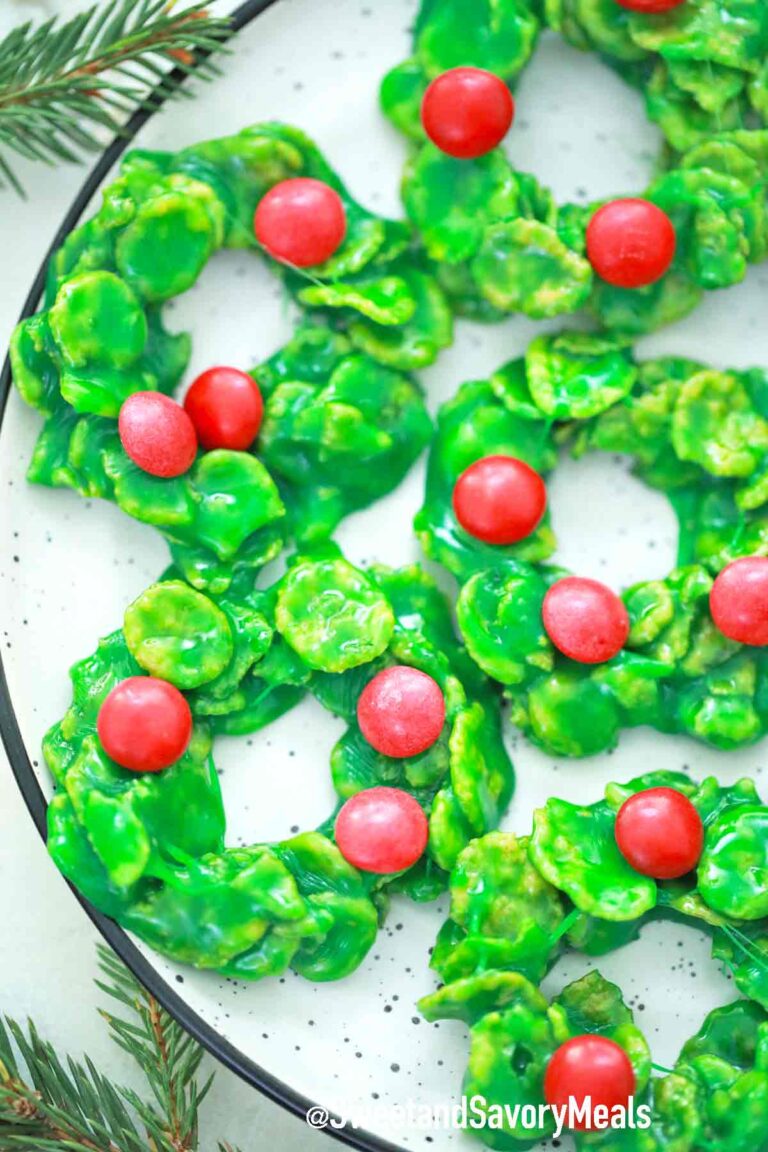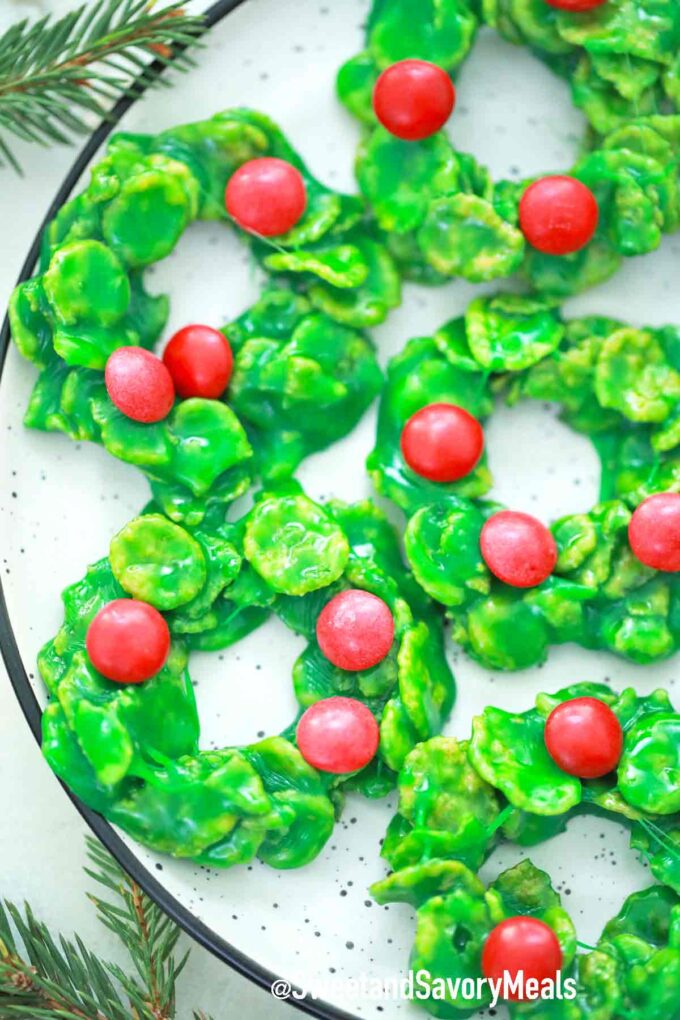 Our easy recipe for cornflake Christmas wreaths only takes minutes and does not require any baking at all. This is a fun way to spend time with the kids or grandkids and start a new tradition.
They can do the mixing and the shaping since kids do not mind getting their hands all sticky. In fact, they will probably think that is the best part. These make a delightful addition to your holiday table and will surely become one of your family's favorite holiday treats
These may be the healthiest dessert on the holiday cookie tray this year. They only have 117 calories and 9 grams of sugar and are a good source of your daily values of vitamin A, niacin, vitamin B, and vitamin C. You can make them even healthier by using applesauce or Greek yogurt instead of butter.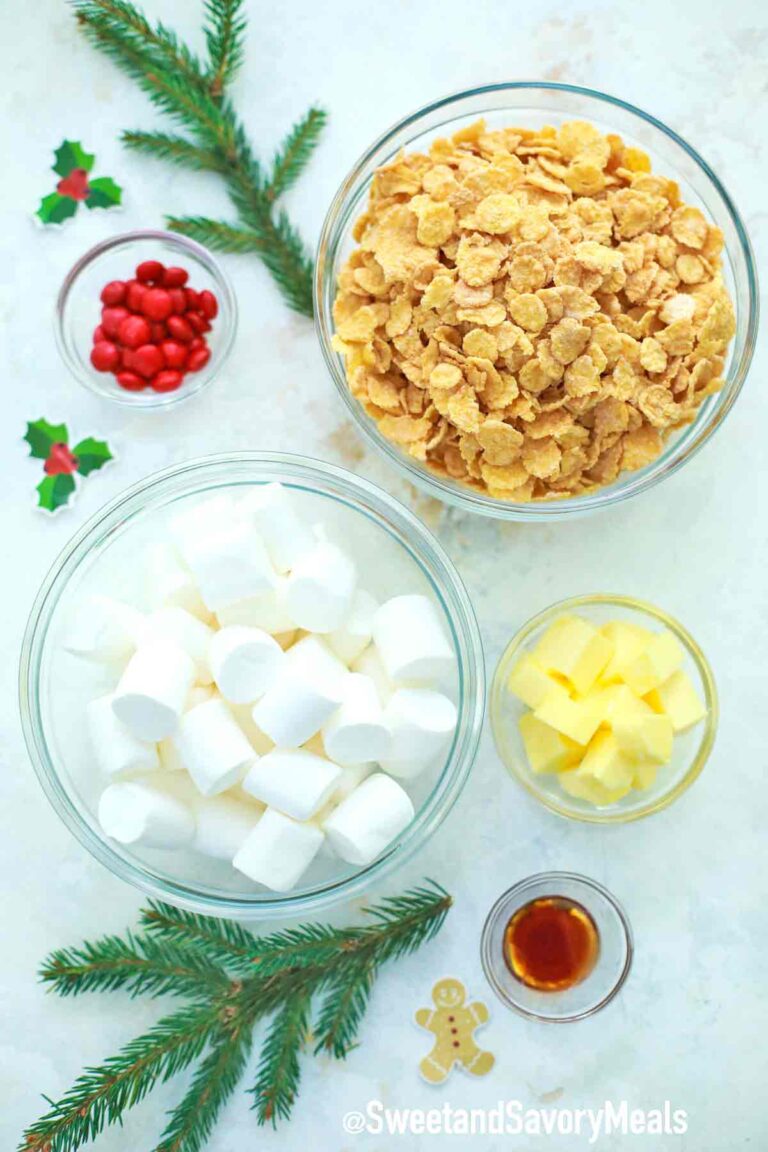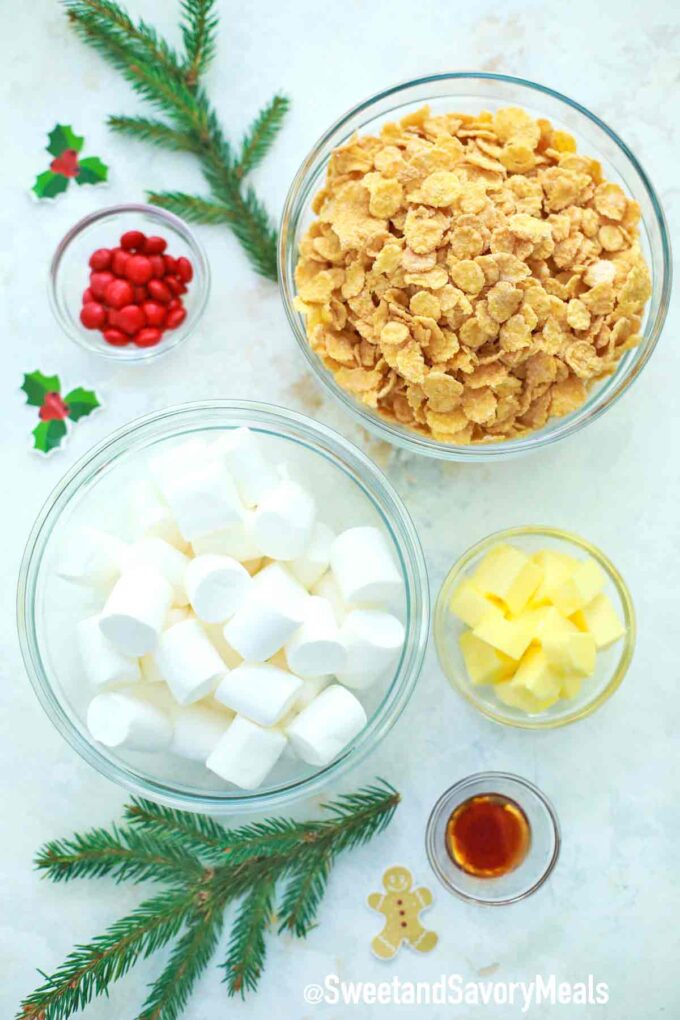 Ingredients needed:
Keep going to get to our recipe card at the bottom of the page. All you need for these Christmas treats are some simple ingredients that you may already be able to find in your kitchen.
Mini marshmallows: You could also use large marshmallows.
Cornflake cereal: Generic or name brand are both fine.
Butter: Unsalted at room temperature.
Food coloring: All you need is the green color.
Vanilla: Pure vanilla extract is best.
Red Hot Candies: Or some other small red candies.
How do you make Christmas wreath cookies?
Prepare: First, take a piece of greased wax paper and put it on a baking sheet or cookie sheet.

Melt: Then, put ½ cup butter and marshmallows in a microwave-safe dish and cook on high for two minutes.

Stir: After two minutes, stir and put them back into the microwave for two more minutes until the marshmallow melts.

Color: Immediately, add the vanilla extract and food coloring to the mix, and then add the cornflakes. Stir gently so you do not crunch up the flakes.
Shape: Next, scoop a spoonful of the mix onto the wax paper and shape them into little green wreaths.
Decorate: Quickly, add three red hots to the wreath for decoration.

Set: Finally, let the cookies rest until they cool to room temperature, so they are set before serving or storing them.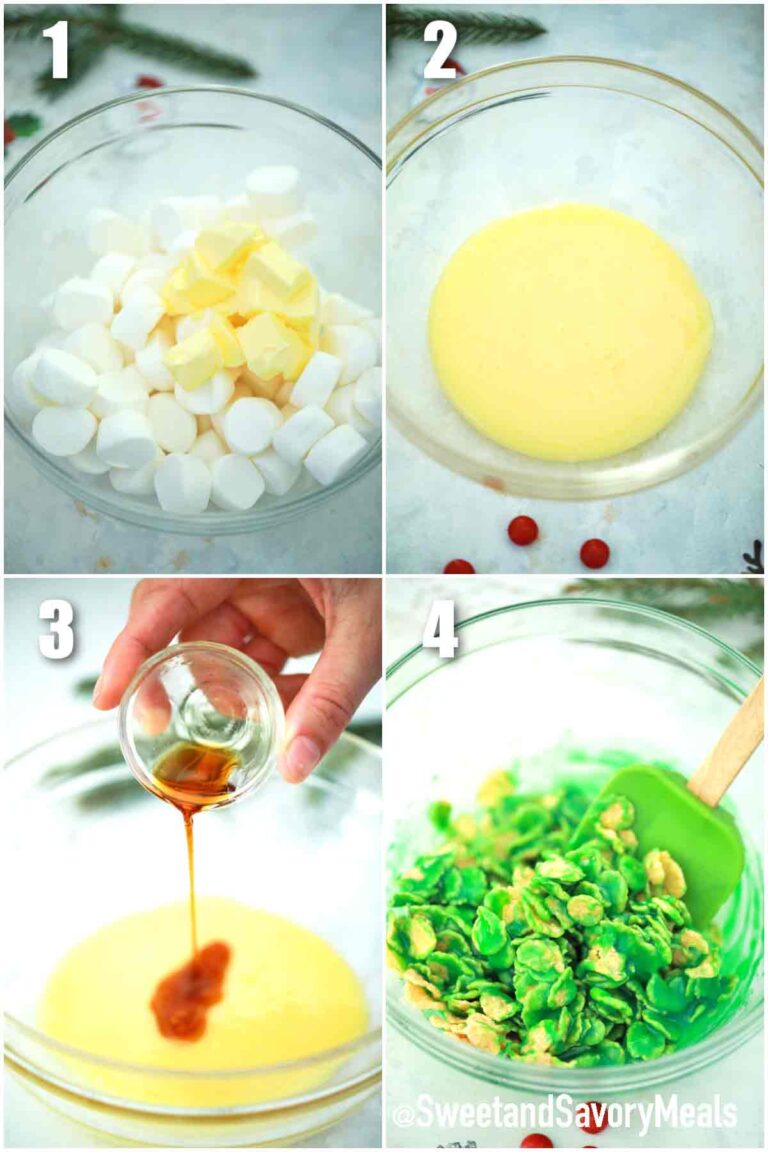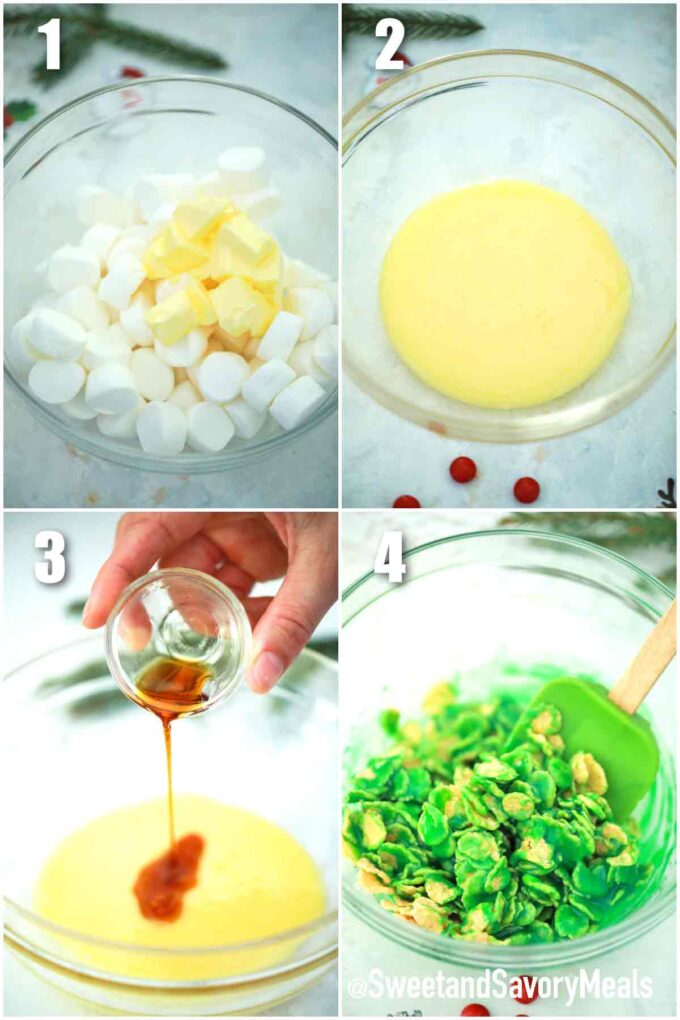 Recipe variations:
Use other candy: You can use red M&M's, skittles, or some other red candy instead of red hots.

Add a bow: Another cute decoration is to make a bow or ribbons from red licorice.

Add other flavors: Alternatively, you could add almond, orange, or raspberry extract for a different flavor. They even have apple, apricot, and banana flavors.
Stovetop: You can also make these on the stovetop. Put the butter and marshmallows into a large pot and cook them over medium heat for one minute and then low heat until the marshmallows are melted. Then, add the cornflakes cereal, food coloring, and vanilla.
How to serve:
These can be served on a Christmas cookie plate with all the other holiday season treats or you can just eat them as you like. Cornflake Christmas wreath cookies are really great after-school snacks for the kids too. But here are some other ideas: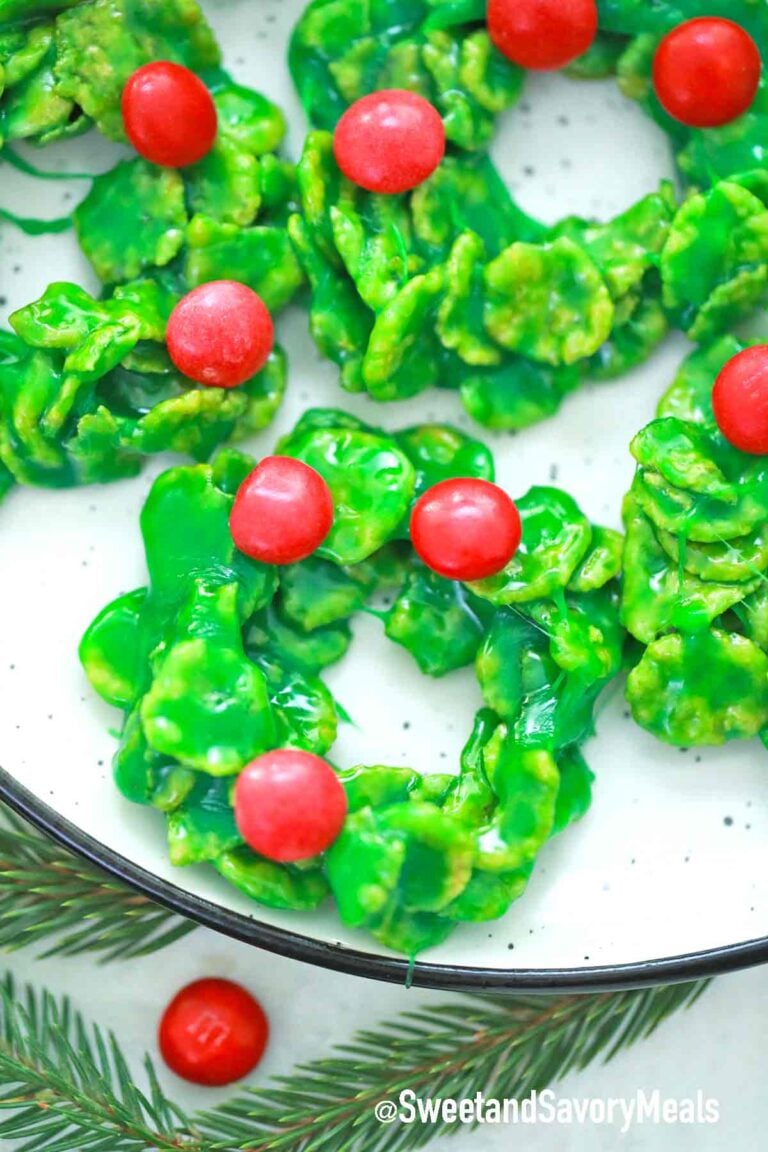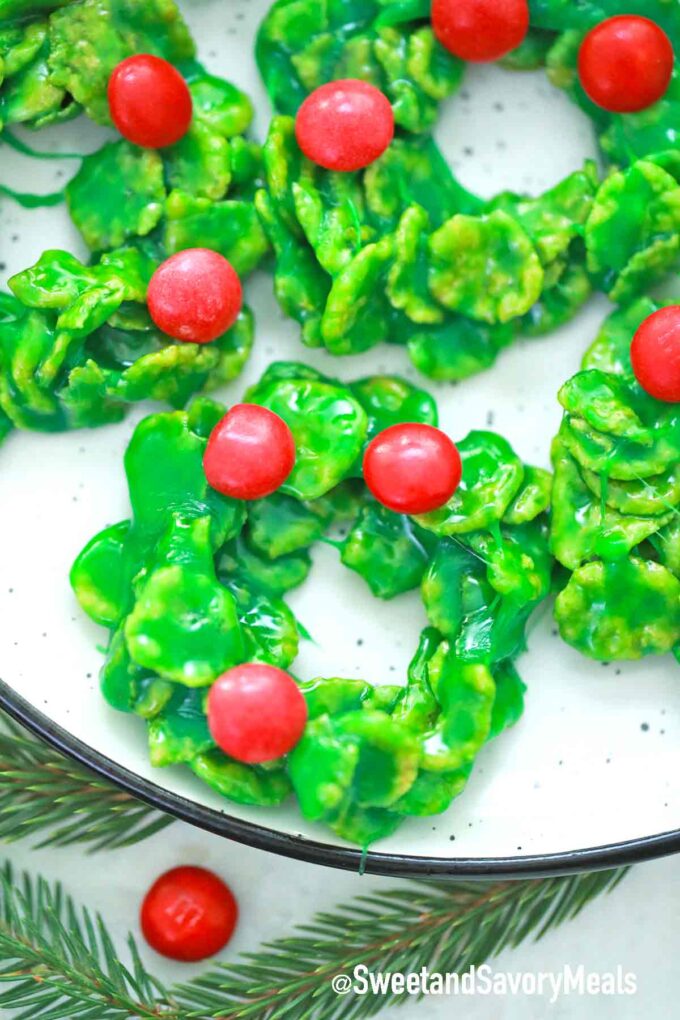 Frequently Asked Questions
Can I substitute Rice Krispies for corn flakes?
In many recipes, using Rice Krispies instead of corn flakes will work just fine. They are both similar in consistency and crunchiness. However, with this recipe for cornflake wreaths, it may not look as authentic.
To make these no-bake Christmas Wreath Cookies try using Frosted Flakes or bran flakes instead. In fact, even crushed potato chips may work well in this recipe.
Why are my cookies so gooey?
You may have used too many melted marshmallows or too much butter. If they are so gooey that you cannot make them into a wreath shape or they will not stay together at all, you can try putting them in the refrigerator for an hour or so.
Also, try adding more cereal, as you may have used a higher ratio of wet to dry ingredients.
Is there an easier way to shape these cookies?
If you are using your hands, grease your fingers with butter or cooking oil first. Or try using a round cookie cutter or biscuit maker. Just spray it with cooking spray to the cornflake mixture does not stick and use the end of a wooden spoon or your finger to put a hole in the middle.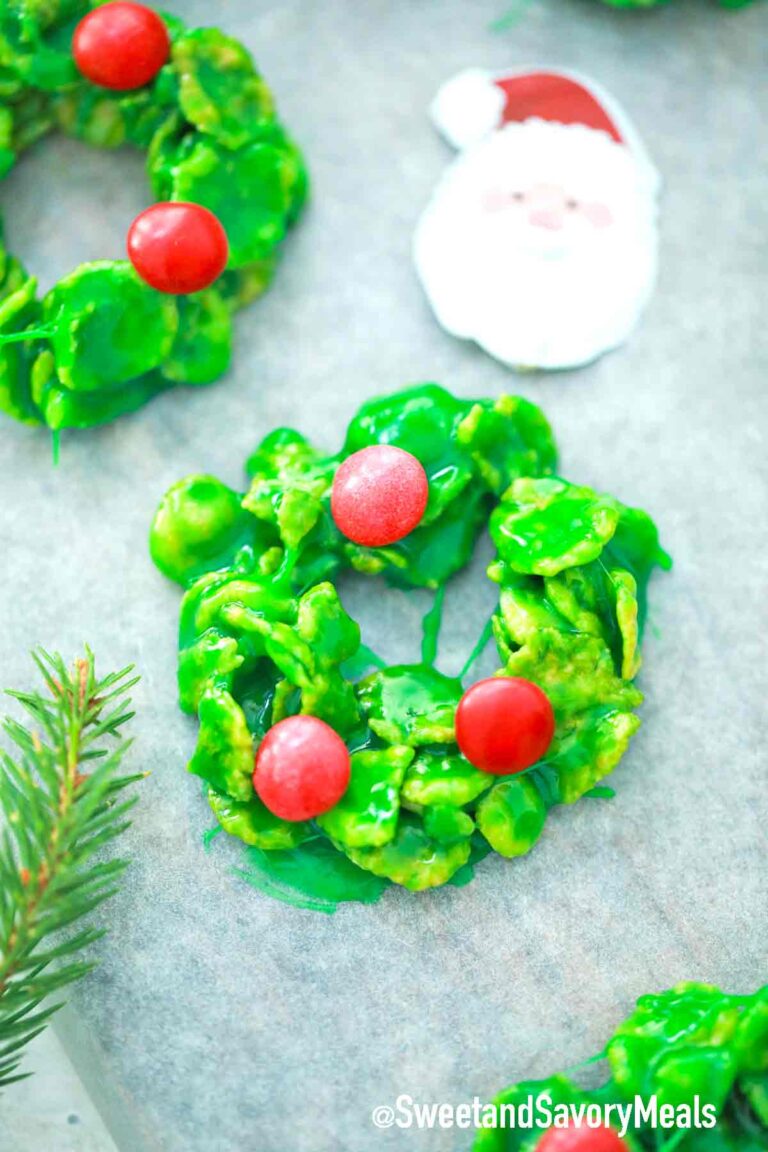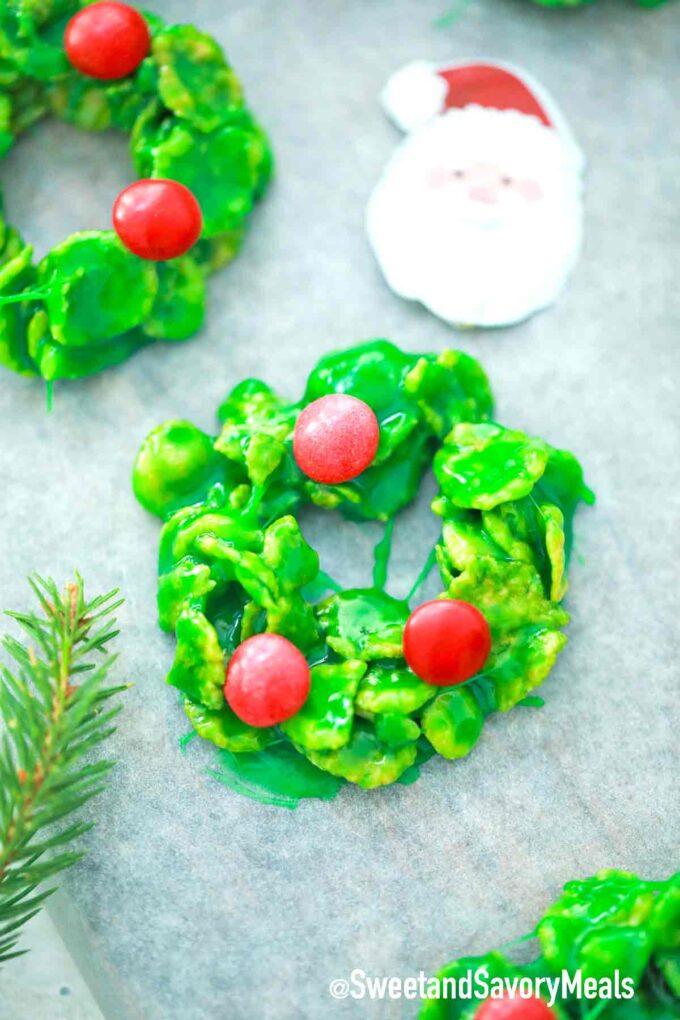 How to store leftovers:
Store: Storing these festive treats is easy. All you have to do is put them in an airtight container. Just remember to put parchment or wax paper between them so they do not stick together. They will last for five days in the fridge.

Freeze: Similar to rice Krispie treats, these no-bake Christmas cookies can be frozen for up to six weeks. All you have to do is wrap each one in plastic wrap before storing them in a freezer bag or other airtight container.
Thaw: Be sure to let them come to room temperature before trying to eat them.
More Christmas recipes:
Cooking tips:
Whatever decorations you want to use, do it while they are still hot, or they won't stick.

Alternatively, you can use a tiny spot of frosting or marshmallow cream to make them stick.
Place parchment paper or wax paper between cookies when stacking or storing them.
Small marshmallows melt faster than large ones.
You could also try using marshmallow cream. One whole 7-ounce jar equals 40 large marshmallows or 4 cups of mini marshmallows.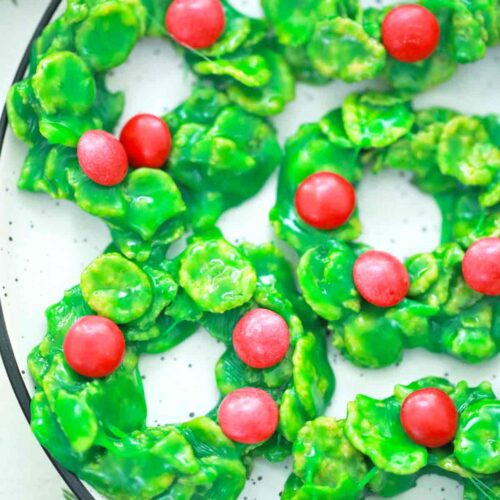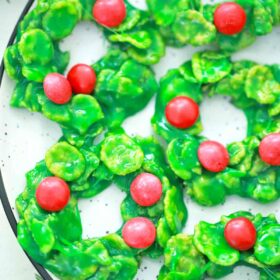 Christmas Wreath Cookies
Christmas Wreath Cookies are a no-bake treat, that is sweet, crunchy, and perfectly festive for the holiday cookie tray.
Save
Share
Print
Pin
Rate
Ingredients
1/2

cup

unsalted butter

4

cups

mini marshmallows

1/2

teaspoon

vanilla extract

4

cups

cornflakes cereal

Green gel food coloring

(a few drops)

1

package mini red candies

(like M&M's)
Instructions
Cover a cookie sheet with greased wax paper and set aside.

Add the marshmallows and butter to a large microwave-safe dish. Microwave for 2 minutes, after that stir and microwave for 1-2 more minutes. Stir until fully melted.

Working quickly add a few drops of green gel food coloring and the vanilla extract. Stir and see if you like the shade of green, if needed add more gel food coloring.

Add the cornflakes and stir until evenly coated.

Using an ice cream scoop, take spoonfuls of the mixture and drop them in clumps onto the wax paper.

Lightly grease your fingers, lightly press each clump and form a hole in the center of each one using your fingers.

Immediately add 3 red candies to each wreath.

Let the treats cool and set before transferring them to a storage container.

In the container arrange them in layers and place waxed paper between each layer.
Nutrition
Calories:
232
kcal
|
Carbohydrates:
32
g
|
Protein:
2
g
|
Fat:
12
g
|
Saturated Fat:
7
g
|
Polyunsaturated Fat:
1
g
|
Monounsaturated Fat:
3
g
|
Trans Fat:
1
g
|
Cholesterol:
31
mg
|
Sodium:
223
mg
|
Potassium:
29
mg
|
Fiber:
1
g
|
Sugar:
16
g
|
Vitamin A:
605
IU
|
Vitamin C:
3
mg
|
Calcium:
5
mg
|
Iron:
4
mg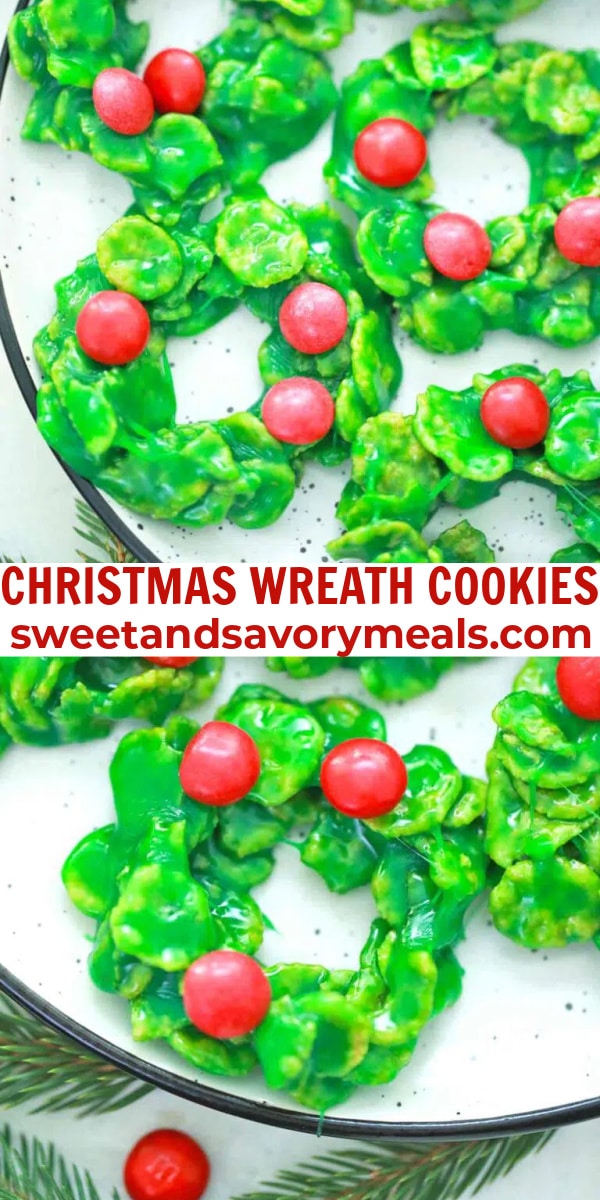 More recipes you might love