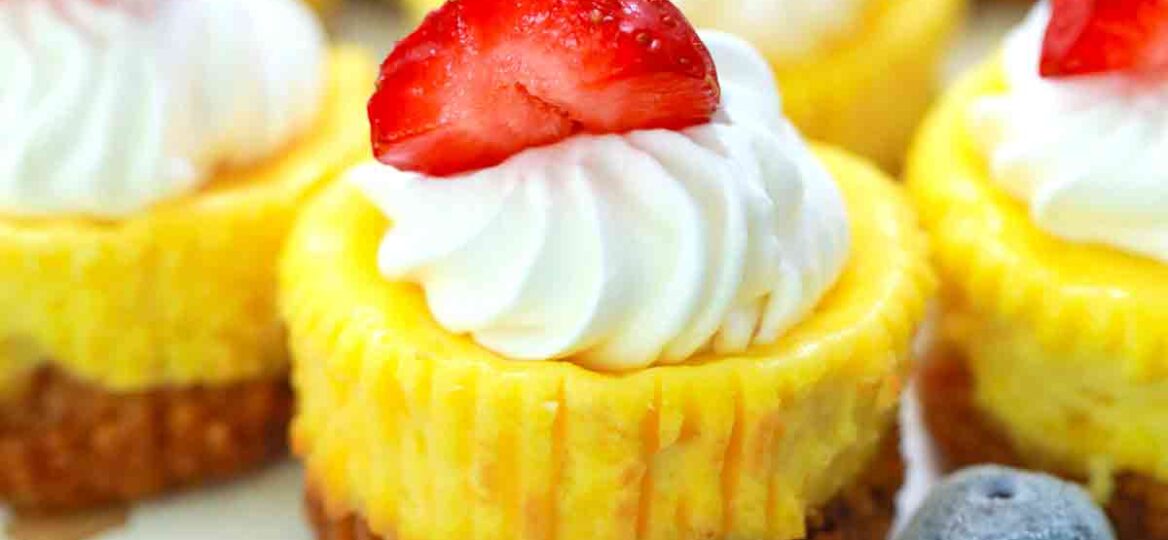 Mini Cheesecakes Recipe [Video]
Mini Cheesecakes are a dreamy, creamy dessert with a buttery graham crust. Top with fluffy whip cream and fresh fruit for an elegant dessert that's impossibly simple to make!
We have no-bake versions, too! Our No-Bake Lemon Cheesecake, No-Bake Peach Cheesecake, and No-Bake Gingerbread Cheesecake will satisfy those cravings without requiring you to fire up the oven.
New York Style Mini Cheesecakes
Mini Cheesecakes are always a big hit, no matter who's at the table or what occasion it is! Everyone loves this creamy dessert, especially when crowned with whipped cream plus other sweet toppings like chocolate, fruits, and nuts.
We like how it comes in individual portions, so it's easy to finish without being too heavy. It makes it easy to plan ahead if you're making it for the company, too.
These desserts are really good for making ahead because they freeze beautifully. Make a full batch, then stash the rest so you always have something to pull out when you're in the mood for a sweet treat.
Finally, you can customize them to fit the occasion. Serving them for Christmas? Top with cinnamon whip plus white chocolate shavings and crushed candy canes. For Halloween, decorate them with candies and spooky faces. You can also create a cheesecake buffet so everyone can make their own version with their favorite toppings!
What's different from a New York cheesecake versus the regular kind?
The New York kind is very dense because it has more cream cheese than most recipes. The regular ones typically have a thinner batter due to the sour cream and heavy cream, so they're typically lighter.
How do you make the best homemade mini cheesecakes
Prep the crust. To the Grahams, add the spices, sugar, and all the melted butter. Then, mix well until everything is moist. After this, press a tbsp. of crust into each muffin hole, firmly pressing down. Finally, bake this for about 5 mins., and let cool.
Prep the batter. First, beat the sour cream into the cheese. After that, add the cornstarch, flavorings, extracts, and sugar. Finally, beat your fresh eggs in until you have a smooth mixture.
Scoop. Fill each muffin hole, until the cups are almost full.
Bake. In a 325F oven, bake for about 16 to 20 mins. until set in the centers. Cool on the counter, and finish by chilling in the fridge for at least 3 hrs. to overnight.
Serve. Enjoy cold with a topping of whipped cream and sliced fresh strawberries.
Recipe variations and substitutions:
Sour cream alternative: Use plain Greek or regular yogurt.
Another citrus: Switch up the tang by using lime, orange, or less tart Meyer lemons.
Different crust: Use your favorite biscuits! Try crushed chocolate cookies (like Oreos), gingersnaps, etc.
Chocolate: Melt some chocolate and mix through the batter. You can also mix in some chocolate chips or chocolate chunks.
Fruit swirl: Get your favorite thick jam and dollop on top, or swirl through the batter before baking.

Nutella: Dollop on top, or place a tsp of Nutella in the middle.
Frequently Asked Questions
How do you know when they are done?
Mini cheesecakes get done much quicker than traditional ones, so it's important to keep an eye on the cooking times. They're done when you see the edges starting to turn brown, and the middles are set and not too jiggly anymore.
How do you avoid sinking when making homemade mini cheesecakes:
First, make sure the oven is at the right temperature, so the batter starts cooking the moment you place it inside. Then, DON'T OPEN THE OVEN until the cooking time is nearly done. That rush of cold air will make the temperature drop, which can cause the middle to sink.
Finally, don't overmix, or you will incorporate too much air into the batter, which will cause the center to collapse as it's released.
Best cheesecake toppings:
Fruit jams like peach, strawberry, and plum
Blueberry sauce
Strawberry, apple, or pumpkin pie filling
Caramel sauce or chocolate sauce
Dulce de leche
Whip cream
Cream cheese frosting
Assorted fresh fruits
A dusting of icing sugar
How to store and freeze homemade mini cheesecake?
These are really good for making ahead, so you always have a nice dessert waiting for you when the craving hits or you have unexpected company. Follow these steps:
Fridge: Chill in a covered, air-tight container for up to 4 days.
Freezer: Flash freeze the individual cups on a baking sheet for a couple of hours, then place in a Ziploc. To enjoy, defrost overnight and eat chilled.
More cheesecake recipes to try:
Recipe tips:
To prevent sinking middles, don't open the oven door halfway through.
Leave your ingredients on the counter in order to bring them to room temperature. This allows them to incorporate better and faster, which also helps you avoid mixing them too much.
Use BLOCK cream cheese, not spreadable, or your dessert won't have the correct structure and very likely won't set.
Deliciousness to your inbox
Enjoy weekly hand picked recipes and recommendations