Vegan Carrot Halwa Pistachio Trifle
Last updated on June 18th, 2021 at 04:11 pm
Vegan Carrot Halwa Pistachio Trifle features layers of vegan carrot halwa, pistachios and coconut whipped cream. It makes for a healthy, yet indulgent dessert or snack.
I love making puffy and delicious Trifles like our popular Brownie Trifle, Butternut Squash Trifle and Butterscotch Banana Trifle.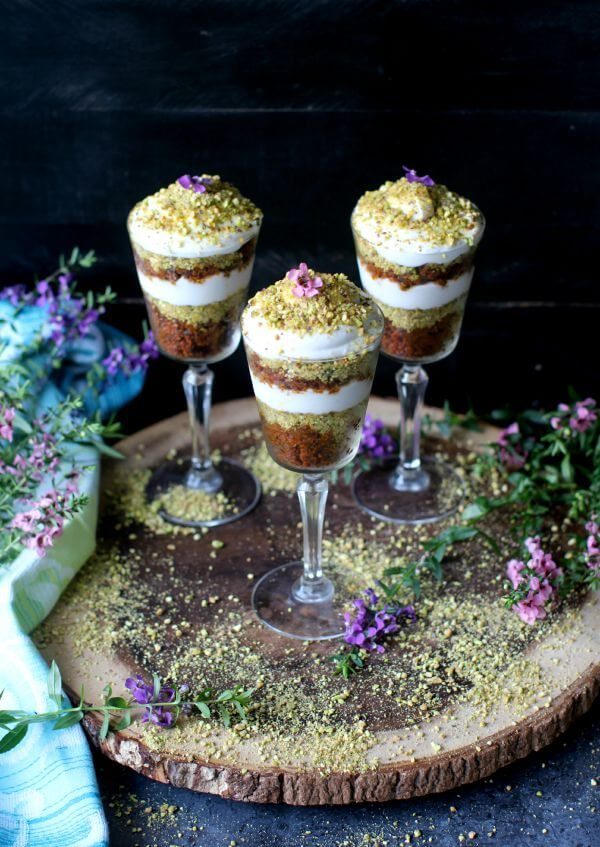 Vegan Carrot Halwa Pistachio Trifle
This Vegan Carrot Halwa Trifle is a take on the classic Indian Carrot Halwa or otherwise called Gajar Ka Halwa. Vegan carrot halwa is a sweet dessert that has the consistency of a pudding and according to Wikipedia its very popular in India and Pakistan. I obviously added my own twist to this delicious dessert and made it a trifle.
I love carrot souffle, and I love carrot cake, and for the record, I like raw carrots, so I knew that incorporating vegan carrot halwa into my dessert concoction will be a winner. As you can see, I was influenced here by Indian, Pakistani and Turkish cuisine. After I decided to use cardamom spiced vegan carrot halwa as the main star of my dessert, I knew I wanted to make a trifle.
The vegan carrot halwa was made with coconut oil and creamy vanilla coconut yogurt. It has a very smooth, soft texture, almost like eating a carrot souffle. It feels rich, while its still on the healthy side of the spectrum. I added some sugar, that is where I made my compromise, but you can totally go for a sugar substitute if you want a sugar-free version. The vegan carrot halwa is spiced with a little cardamom, to add that aroma that is so traditional for this Indian dessert.
Pin This Vegan Carrot Halwa Pistachio Trifle Recipe to your Favorite Board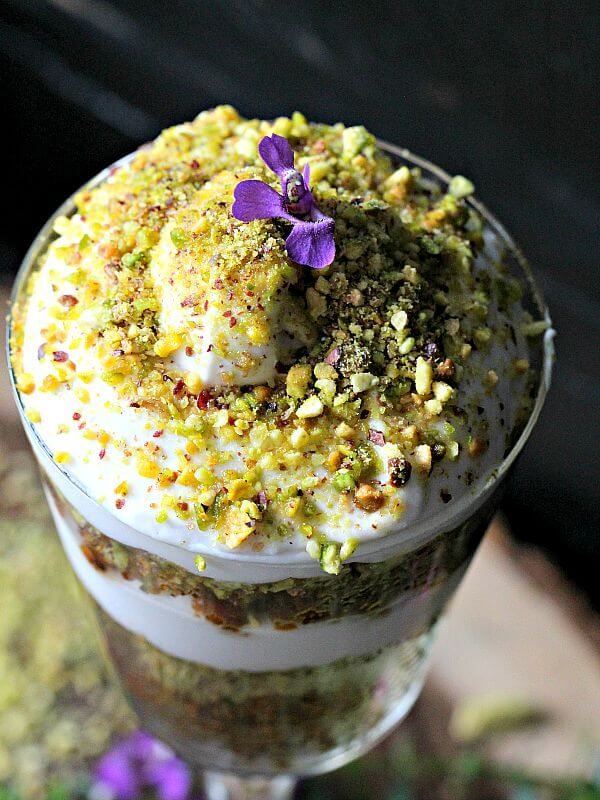 Why You'll Love These Vegan Carrot Halwa Pistachio Trifles:
They are puffy, pretty and delicious, and are a show stopper dessert.
They are vegan and a healthy alternative dessert.
Easy to find ingredients and minimum prep work is needed.
Perfect for brunch parties and for bigger crowds.
Can be made 1 day in advance so you don't have to worry about a last minute dessert.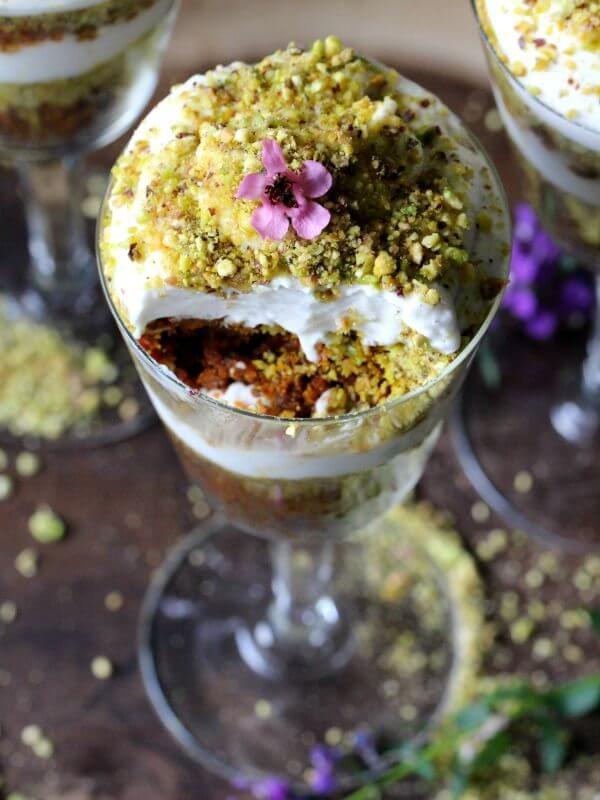 What is a Trifle desert?
Trifle in English cuisine is a dessert made with fruit, an a layer of finger or brownies and custard. It can be topped with whipped cream.
How long does the Trifle take to set?
Once you cover the lady finger with cream, cover the dish with cling film and leave to set in the fridge for about two hours. It is best for trifle to settle for few hours so it absorbs the cream and becomes moister.
Can you store the Trifle?
Leftover trifle can be stored, loosely covered in the fridge, for up to 3 days, after which it will still be edible but the cake will be very soggy and the cream will become looser, soaking up the cream and syrup. Best to eat the trifle within 2-3 days.
Can you freeze the Trifle?
Freezing the trifle is not recommended, as the cream wouldn't freeze well, and upon defrosting it will become watery.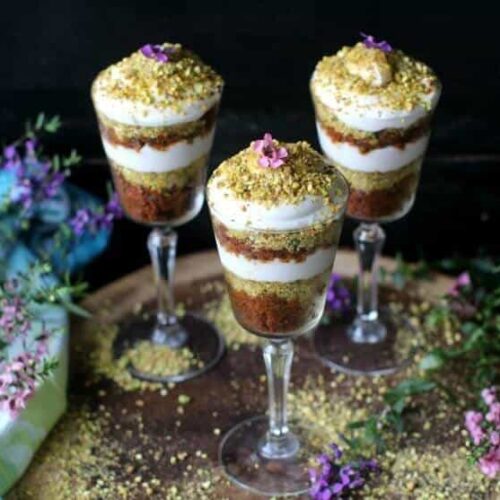 Vegan Carrot Halwa Pistachio Trifle
Vegan Carrot Halwa Pistachio Trifle features layers of vegan carrot halwa, pistachios and coconut whipped cream. It makes for a healthy, yet indulgent dessert or snack.
Save
Share
Print
Pin
Rate
Ingredients
1

lb

carrots

5

tablespoons

coconut oil

1/2

cup

granulated sugar

(12 packets of Stevia SweatLeaf for a sugar free version, adjust to your own taste)

4

ounces

vegan coconut vanilla yogurt

(or greek yogurt for vegetarian version)

1/2

teaspoon

cardamom

1/2

cup

ground pistachios

2

cans of full fat coconut milk

(I used Forest Native)

2

tablespoons

maple syrup

(for vegan version or honey (2 packets of Stevia SweetLeaf for a sugar free version))
Instructions
Carrot Halwa:
In the kitchen sink, wash and peel the carrots.

Cut them into rondelles and add to the food processor. Alternate between the chop and grind function until the carrots are finely processed.

In a large hot skillet over medium heat add the coconut oil and cardamom, cook for 1 minute and add the carrots and cook for 10 minutes, stirring from time to time.

Add the sugar to the skillet, stir and cook until the carrots are starting to turn brownish and all the liquid is almost absorbed, about 10-15 minutes.

When the mixture has started to thicken adds the yogurt, stir and continue to cook until the mixture is almost dry, about 15-20 minutes. The carrot halwa is ready when the mixture becomes soft, sticky and no liquid should be seen.

When the mixture has almost dried, remove from the stove and let it cool at room temperature.
Coconut Whipped Cream:
The day before you want to make the dessert place the coconut milk cans in the fridge overnight, these is a crucial step as the coconut cream has to harden and separate from the coconut water.

Place the bowl of an electric mixer and the wire attachment in the fridge for 15-20 minutes before whisking.

Remove the chilled coconut cans from fridge and FLIP them upside down, open the cans and discard the liquid, or you can save it in a jar for smoothies.

Scoop the coconut cream into the chilled mixer bowl and add the maple syrup (for vegan version) or honey. Using a hand mixer or an electric one, I used the later fitted with the wire attachment whip the coconut cream until fluffy.
Trifle:
Prepare 3 tall glasses, add a few scoops of the vegan carrot halwa mixture and press it a little down, top with ground pistachios and with coconut cream. Repeat until the glasses are full.

The carrot halwa trifle must be stored in the refrigerator and will stay good for 3-4 days.
Nutrition
Calories:
288
kcal
|
Carbohydrates:
33
g
|
Protein:
3
g
|
Fat:
16
g
|
Saturated Fat:
10
g
|
Cholesterol:
0
mg
|
Sodium:
65
mg
|
Potassium:
403
mg
|
Fiber:
3
g
|
Sugar:
27
g
|
Vitamin A:
12670
IU
|
Vitamin C:
5.2
mg
|
Calcium:
75
mg
|
Iron:
0.6
mg
More recipes you might love