Vegan Carrot Halwa Pistachio Trifle
This post may contain affiliate links. Please read my disclosure policy.
This stunning trifle features layers of vegan carrot halwa, pistachios and coconut whipped cream. It makes for a healthy yet indulgent dessert or snack.
Guys, do I have for you an amazing recipe at the end of the work week! This vegan carrot halwa trifle is a take on the classic Indian carrot halwa or otherwise called gajar ka halwa. Vegan carrot halwa is a sweet dessert that has the consistency of a pudding and according to wikipedia its very popular in India and Pakistan. I obviously added my own twist to this delicious dessert and made it a trifle.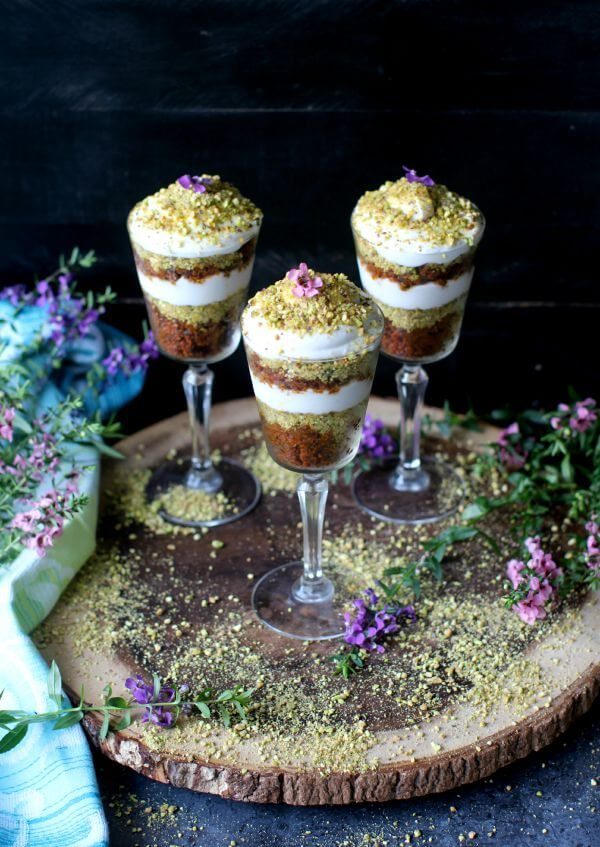 I have said it many times here on the blog that I like eating dessert for breakfast sometimes. While starting your day with a sweet bite from time to time (read a few times a week), may sound delicious, that doesn't equal healthy. I started brainstorming dessert ideas that can serve as a sweet treat, but would also pass the test of a healthy yet indulgent breakfast. I realized that vegan carrot halwa is the perfect dessert that I can make healthier and still retain all the deliciousness.

I love carrot soufflé, and I love carrot cake, and for the record I like raw carrots, so I knew that incorporating vegan carrot halwa into my dessert concoction will be a winner. As you can see, I was influenced here by Indian, Pakistani and Turkish cuisine. After I decided to use cardamom spiced vegan carrot halwa as the main star of my dessert, I knew I wanted to make a trifle.

MY LATEST VIDEOS
I must say that I am a huge trifle fan, they are always so fun to eat and create. Anyone can make it, and anyone can make it look beautiful. In retrospect to cakes, with trifles you don't need to have baking skills or cake decorating skills. Also, the flavor combos have no limits, and when served in individual glasses, that makes for some good portion control.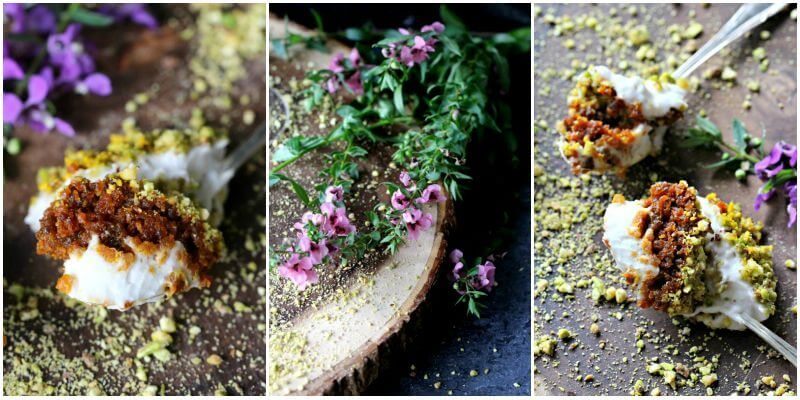 The vegan carrot halwa was made with coconut oil and creamy vanilla coconut yogurt. It has a very smooth, soft texture, almost like eating a carrot soufflé. It feels rich, while its still on the healthy side of the spectrum. I added some sugar, thats where I made my compromise, but you can totally go for a sugar substitute if you want a sugar-free version. The vegan carrot halwa is spiced with a little cardamom, to add that aroma that is so traditional for this Indian dessert.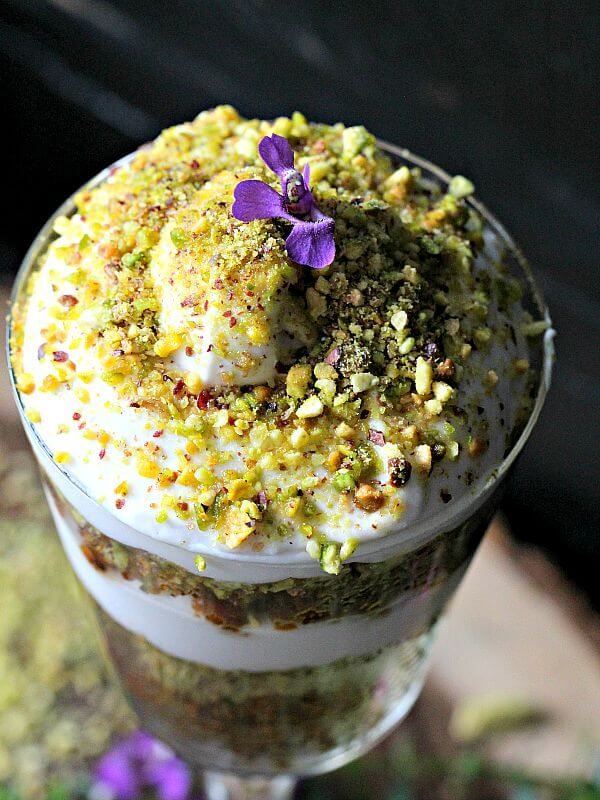 The layer of vegan carrot halva is topped with a layer of ground pistachios, their distinctive flavor and color adds some brightness and richness to the dessert. A nutty flavor and crunchy texture is so welcomed and balances the soft halwa layer. Also, the pistachios pack some protein and healthy fats which are perfect to start your day and keep you satisfied.
Lastly, we have a third layer involved of airy, fluffy and creamy whipped coconut cream, that has been slightly sweetened with a touch of honey. This layer is the one that ties this trifle together. The mild smooth tropical cream, the sticky and aromatic vegan carrot halwa and the crunchy pistachios all work together in harmony to create an irresistible combination of flavors, textures and aromas.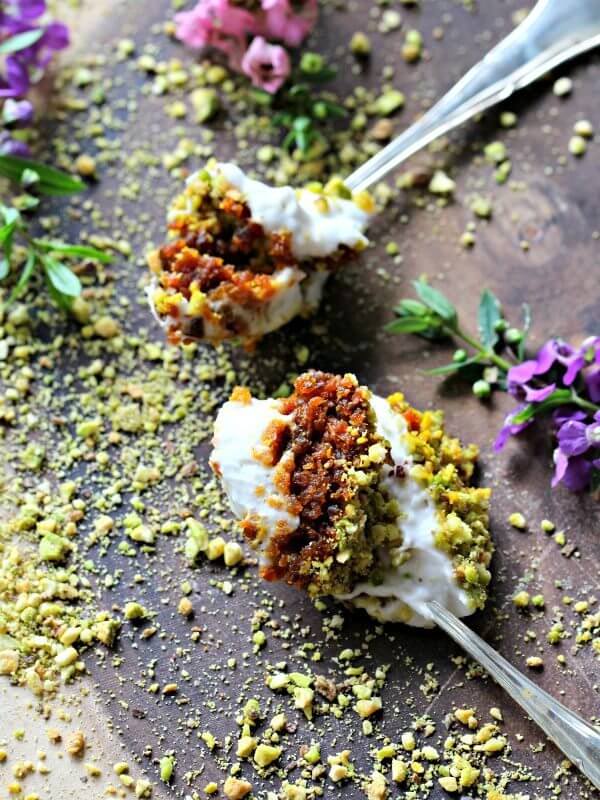 You won't even suspect or realize that this is a vegan and healthy dessert, now I eat my sweets for breakfast with peace of mind. This vegan carrot halwa trifle is a stunning dessert, that will leave your guest impressed, yet its so easy to make. If you are looking for a healthy, sweet and indulgent snack, breakfast or dessert, that instead of a sugar crush it will actually nourish your body and give you energy, this is the dessert you have to try. Easy, vegan, no bake, just a little time by the stove and you can have this in your fridge to snack on.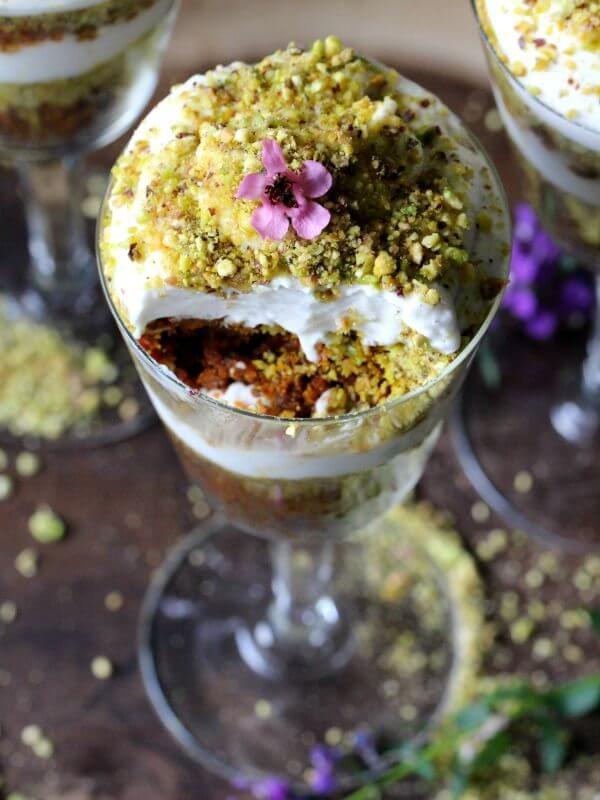 Now that I made this vegan carrot halwa, I will always try to have some on hand, it's really good to tame a sweet tooth and also I feel good serving my son, and my whole family a healthy dessert. They will lick their glasses clean!

Vegan Carrot Halwa Coconut Cream Pistachio Trifle
This stunning trifle features layers of vegan carrot halwa, pistachios and coconut whipped cream. It makes for a healthy yet indulgent dessert or snack.
Author:
Katalina Kastravet
Ingredients
1 lb carrots
5 tablespoons coconut oil
½ cup granulated sugar (12 packets of Stevia SweatLeaf for a sugar free version, adjust to your own taste)
4 ounces vegan coconut vanilla yogurt (or greek yogurt for vegetarian version)
½ teaspoon cardamom
½ cup ground pistachios
2 cans of full fat coconut milk (I used Forest Native)
2 tablespoons maple syrup (for vegan version) or honey (2 packets of Stevia SweetLeaf for a sugar free version)
Instructions
Carrot Halwa:
In the kitchen sink, wash and peel the carrots.
Cut them into rondelles and add to the food processor. Alternate between the chop and grind function until the carrots are finely processed.
In a large hot skillet over medium heat add the coconut oil and cardamon, cook for 1 minute and add the carrots and cook for 10 minutes, stiring from time to time.
Add the sugar to the skillet, stir and cook until the carrots are starting to turn brownish and all the liquid is almost absorbed, about 10-15 minutes.
When the mixture has started to thicken add the yogurt, stir and continue to cook until the mixture is almost dry, about 15-20 minutes. The carrot halwa is ready when the mixture becomes soft, sticky and no liquid should be seen.
When the mixture has almost dried, remove from the stove and let it cool at room temperature.
Coconut Whipped Cream:
The day before you want to make the dessert place the coconut milk cans in the fridge overnight, these is a crucial step as the coconut cream has to harden and separate from the coconut water.
Place the bowl of an electric mixer and the wire attachment in the fridge for 15-20 minutes before whisking.
Remove the chilled coconut cans from fridge and FLIP them upside down, open the cans and discard the liquid, or you can save it in a jar for smoothies.
Scoop the coconut cream into the chilled mixer bowl and add the maple syrup (for vegan version) or honey. Using a hand mixer or an electric one, I used the later fitted with the wire attachment whip the coconut cream until fluffy.
Trifle:
Prepare 3 tall glasses, add a few scoops of the vegan carrot halwa mixture and press it a little down, top with ground pistachios and with coconut cream. Repeat until the glasses are full.
The carrot halwa trifle must be stored in the refrigerator and will stay good for 3-4 days.
Peas and Peonies, LLC. owns the copyright on all images and text and does not allow for its original recipes and pictures to be reproduced anywhere other than at this site unless authorization is given. If you enjoyed the recipe and would like to publish it on your own site, please re-write it in your own words, and link back to my site and recipe page. Copying and/or pasting full recipes to social media or personal blogs is strictly prohibited. Sharing this recipe is very much appreciated and encouraged. Read my disclosure and privacy policy. This post may contain affiliate links.