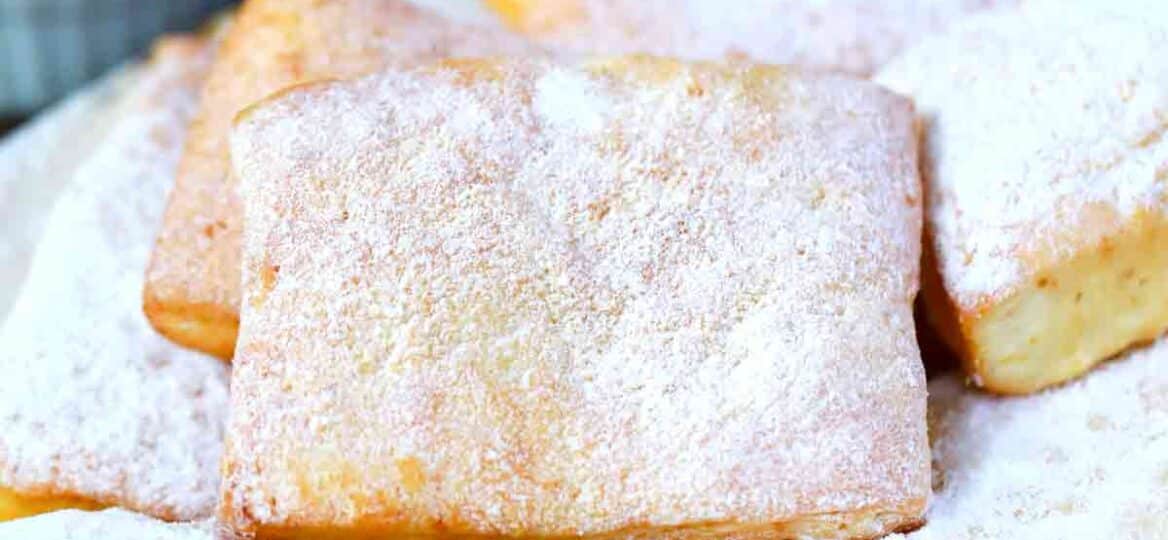 Air Fryer Beignets [Video]
Air Fryer Beignets are puffy, fluffy, and dusted with lots of powdered sugar for a sweet treat! Not only are they extremely delicious, but they're also one of the EASIEST desserts you'll ever make!
For other rustic and homemade pastries, don't miss our Sopapillas, Mexican Bunuelos, and Authentic Churros!
Air Fried Beignets Recipe
Air Fryer Beignets will completely satisfy those sweet cravings! This entire dessert is made from scratch, with an easy dough that only requires pantry ingredients. You can easily make a big batch for sharing. We highly recommend doing so, because it's hard to eat just one!
While they don't taste exactly like traditional deep-fried beignets, they hit the spot perfectly without all the oil that goes into the fried version. Bite into one of these warm, super fluffy, and sugar-dusted beignets and you'll see what we're talking about!
Eat them plain, dip them in caramel or chocolate, and enjoy them with coffee or café au lait— however you prefer to eat them, you need to make these ASAP!
What are beignets?
They're square pieces of sweetened dough, deep-fried, then loaded with icing sugar on top. They have French roots, and one of the most popular treats in New Orleans!
Ingredients needed to make this recipe:
Flour: Use self-rising flour, not all-purpose because it will not give the dough the necessary lift.
Yogurt: This makes our dessert tender.
Flavorings: Prepare some sugar and a dash of vanilla.
Butter: Melt some for brushing on top.
Powdered sugar: We need lots for the perfect beignets!
How to make homemade air fryer beignets from scratch
Combine. Begin by mixing the yogurt with vanilla and sugar. Add your flour. Keep stirring all of it until you have a dough.
Fold. Flour your surface, then tip the dough onto it. Fold into itself several times. Carefully shape into a rectangular shape about 1-inch thick.
Cut. Slice into squares, then leave them for about 15 mins. to rest.
Cook. Before cooking, brush with butter. After that, air-fry at 350F for about 6-7 minutes, then flip and continue air-frying for another 6-7 mins.

Serve. Dust with lots of powdered sugar and enjoy immediately!
Recipe variations and substitutions:
Greek yogurt substitute: Use plain yogurt or sour cream.
Vegan: Use vegan butter substitute and plant-based yogurt.
Cinnamon sugar: Dust them with cinnamon sugar on top while hot before the icing sugar for a wonderful spice flavor!
Frequently Asked Questions:
How to differentiate between a donut and an air-fried beignet?
First, the shape. Donuts are circular, often with holes cut in the middle. On the other hand, beignets are rectangular with a bigger air pocket in the center. Both are typically deep-fried.
Taste-wise, they're very similar, too! Properly done, both donuts and beignets should be light, fluffy, and with a light sweetness to them.
What goes with homemade air Fryer Beignets?
Serve it with hot chocolate or coffee! We also love whipping up a batch of homemade caramel, dulce de leche, or melted chocolate for dipping. If you want, you can also dip them in jam or fruit sauce.
Can you make them in advance?
Sure! You can freeze the dough after making it, or chill it in the fridge for a while before you're ready to cook. For easy air-frying, cut up into square shapes, a flash freeze, and store frozen. Then, air fry directly and simply adds a few minutes to the original cook time.
More air fryer recipes to try:
Storing instructions:
These are not really made for fridge storage since they taste best when they're fresh out of the air-fryer. If you do have leftovers, just let them sit on the counter. We suggest keeping it no longer than a day.
To warm them up, you can air-fry them quickly at 400F for a couple of minutes (note that the powdered sugar will melt). However, they also taste great even when they've cooled down already.
Recipe tips:
Make sure to leave gaps between each piece of dough! Otherwise, they may stick together and not be cooked fully.
Don't skip the butter. Aside from adding flavor, it also helps the surface brown up.
If you're making a big batch, you can keep the cooked beignets in a 200F oven while you finish the rest.
Deliciousness to your inbox
Enjoy weekly hand picked recipes and recommendations