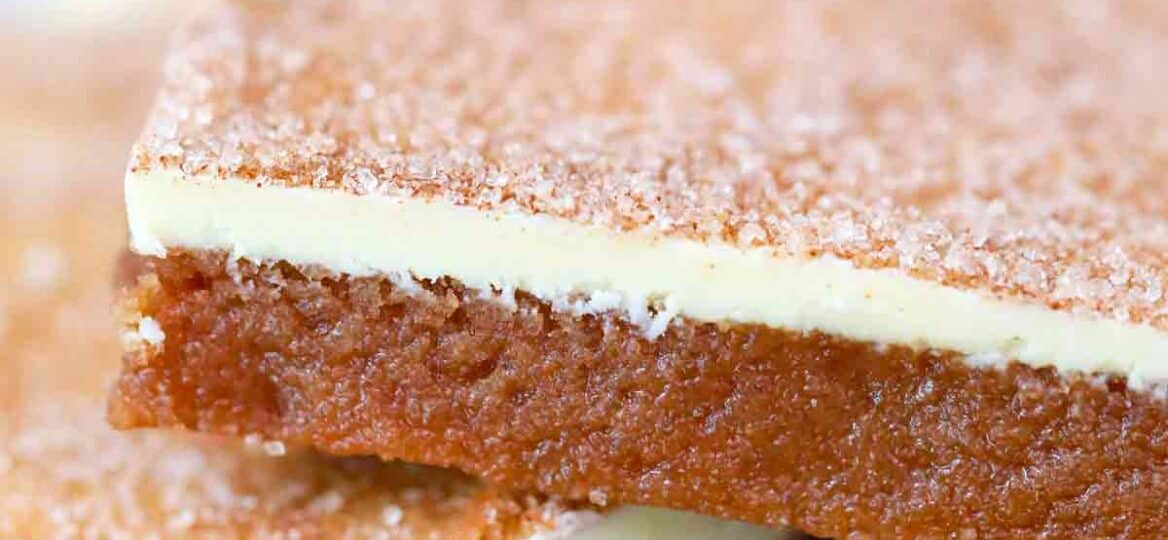 Disneyland Churro Toffee Copycat
Disneyland Churro Toffee Copycat is buttery sweet, with the most delicious crunchy cinnamon-sugar topping. The official recipe may still be a mystery, but we have one of the best copycat Disney recipes. In fact, these might even be better than the original.
If you and your family love the churro flavor, why not make your own from our easy Churro recipe. For another favorite treat you can get at theme parks and carnivals, our scrumptious Funnel Cake is fluffy on the inside and crunchy outside.
At Disneyland, you can find Disneyland churros toffee at one of the churro carts. There are over a dozen in the park. Try the Magic Kingdom, Willie's Churros on Buena Vista Street, or any of the Disneyland bakeries.
Or just bring the Disney magic home and make your own with this easy recipe. While may look difficult to make but you will be surprised how much fun you and the kids can have making these at home.
Another delicious sweet from the carnival or park is these Air Fried Oreos covered with crispy light dough and icing.
Ingredients needed:
To get our specific measurements and detailed instructions, scroll down to our recipe card below. But here are the basic ingredients for this sweet treat:
Butter: For best results use unsalted butter.
Sugar: White granulated sugar.
Salt: Just a teaspoon of salt.
White chocolate melting wafers: We used Ghirardelli, but you can use your favorite.
Cinnamon: Freshly ground cinnamon would be perfect.
For the churro topping:
Half-cup sugar
Ground cinnamon
How do you make Disneyland churro toffee copycat recipe?
Prepare: To start, line your baking sheet with parchment paper.

Stir: Then, over medium heat in a large saucepan, stir the butter, sugar, and salt until the butter is melted.
Cook: Once it is boiling, let it cook until it reaches a temperature of 285 degrees F with a candy thermometer. Stir occasionally with a rubber spatula.
Chill: After it is at the right temperature, pour it onto the baking sheet and let it chill in the fridge for about 20 minutes to set.
Chocolate: Next, melt wafers using the instructions on the package and pour it onto the toffee.
Serve: Sprinkle with churro topping on each side and let set for about 40 minutes before serving.
Recipe variations:
Chips: Feel free to use white chocolate chips instead of wafers.

Other chocolate: In fact, you can use semi-sweet chocolate melts or chips as well.

Less sugar: Alternatively, use sugar-free chips or melts if you want less sugar.
Add nuts: Another way to make these is with toasted almonds. After making the toffee mixture, pour it on top of your ground almonds and then chill it, frost it, and add the topping.

Other nuts: Similarly, feel free to add other toppings after the melted chocolate like ground pistachios, walnuts, pecans, or peanuts.

Make it bubbly: To make your toffee a little easier to eat, add baking soda. This adds tiny air bubbles to make it easier to bite into.
How to serve:
Serve these buttery toffee squares after they have completely chilled. You can just grab one with a paper towel and go for a snack or serve for dessert with a nice dinner. Or try one of our serving suggestions.
Add a little bit of our rich caramel sauce on top for extra sweetness.
Use rainbow sprinkles or some other kind of colored topping for a festive look.

Strawberry sauce would also be a delicious topping or dip.
These would also be amazing with a smear of peanut butter.
You can also crunch up the leftovers and use them for topping on ice cream, pudding, cakes, or cupcakes like these colorful unicorn cupcakes.
Frequently Asked Questions
What is churro toffee at Disneyland?
Believe it or not, some people go to this huge theme park just for the Disney treats. But that is an awfully expensive way to get those delicious bites from Disneyland resort. The churro toffee is one of the favorites of many and it is made from coating Disney's yummy toffee with cinnamon sugar.
You can only find these in certain spots like Marceline's Confectionary in the Downtown Disney District or the Trolley Treats at Disney California Adventure. You cannot find them at Walt Disney World in Florida either. These are only in California so far.
However, this is one of the easiest Disneyland copycat recipes there is. You will just be taking a piece of toffee and dipping it in melted chocolate before coating it with the cinnamon-sugar mixture.
What is English toffee?
The only difference between homemade English toffee and regular toffee is that the English version does not use nuts while the others are made with a variety of different nuts. But they are all made from the mixture of caramelized sugar and butter.
What is the most popular food at Disneyland?
Surprisingly, the most popular food is not Disneyland's churro toffee but that may be because it has not been around as long as the others. The number one most popular food served there is the Dole whip. It is a soft frozen pineapple drink that is tart and sweet as well as being dairy- and gluten-free.
From there, the list of favorite treats is kind of hard to say because everyone has a different answer for that. Some say the churros, pretzels, and Mickey bars are the next in line while others like the pickled corn dogs and Grey Stuff.
How to store leftovers:
Store: This sweet treat can be stored in an airtight container at room temperature for up to two weeks. Do not refrigerate or the humidity will soften the toffee pieces.
Freeze: It is not recommended to freeze your churro toffee.
More candy recipes:
Recipe tips:
You will need a candy thermometer for this recipe for best results.

Spritz the bottom of the pan with cooking spray or olive oil before putting the parchment paper on to keep it from moving around.

To make your toffee look just like the ones at Disney, let it sit for 2 minutes on a cookie sheet before using a plastic knife to cut it into squares. It is easier to do when it is soft. Then put it into the fridge for 20 minutes.
Instead of dipping them, sprinkle the top of the toffee with the topping while holding it over the bowl. This will prevent the topping from getting all gummy.
Put a piece of parchment paper between each piece when storing so they do not stick to each other.

You may be able to find toffee already made at one of your local grocery stores to help you skip a step.
Disneyland Churro Toffee Copycat
Ingredients
4

cups

unsalted butter

2

cups

white sugar

1

teaspoon

salt

3

bags

white melting wafers

1 1/2

tablespoons

cinnamon
Cinnamon Sugar Churro Topping:
1/2

cup

granulated sugar

1 1/2

tablespoons

cinnamon
Instructions
Place parchment in a half sheet size pan.

Add the butter, sugar, and salt to a large saucepan over medium heat, stir until the butter is melted

Bring to a boil, and cook until the mixture becomes a dark golden color, stir continuously. Boil until the temperature has reached 285 degrees F.

Pour the mixture into the prepared baking sheet. Let it set up for 20 minutes in the refrigerator.

Melt the wafers according to package directions and pour on top of the settled toffee.

Mix sugar and cinnamon and sprinkle on top.

Let set in the fridge for one hour. When set, break toffee into pieces and enjoy!
Deliciousness to your inbox
Enjoy weekly hand picked recipes and recommendations