Milk Chocolate Mousse Shots – Gluten Free
This post may contain affiliate links. Please read my disclosure policy.
The perfect party pick me up, milk chocolate mousse shots are creamy, delicious and extremely good looking, also perfectly portion in single servings.
Happy Mousse Monday my friends! We haven't had a dessert on Peas & Peonies in almost a week. WOW that is a long time, so to keep it fairly tame for a Monday, and not induce you in a sugar coma I am bringing to you Milk Chocolate Mousse Shots that are small enough to pass as a snack! Yeeees!

I have always been obsessed with creamy desserts, but since I made my own mousse, I became even more obsessed. I love the irresistible creamy texture and the mild chocolate flavor from the chocolate milk. This dessert is so smooth and it's perfect for a party. I just pumped the mousse into shot glasses, topped with fresh homemade whipped cream and some unsweetened cocoa to enhance the chocolate flavor and here you go – you have milk chocolate mousse shots – the perfect little dessert. Call it sweet finger food!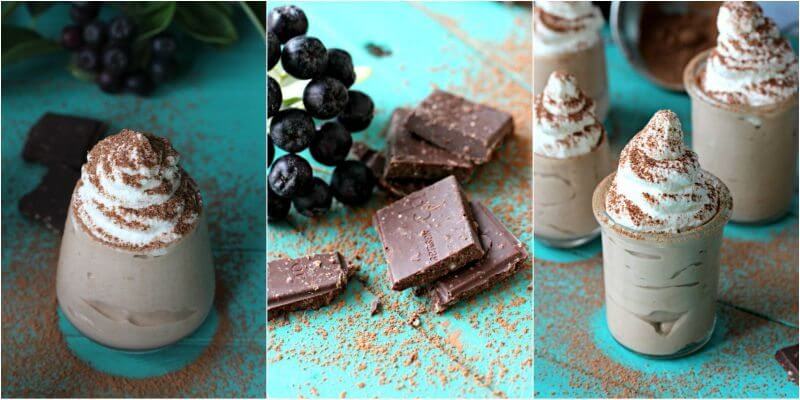 With football season around the corner this is these milk chocolate mousse shots are the perfect pick me up dessert to serve, it can be made days in advance, all you have to do is top it with whipped cream before serving. Also if you want to go all fancy, you can add some cognac to the milk chocolate mousse shots and shave a little chocolate on top, perfect for the men and ladies attending to enjoy a few shots 🙂

MY LATEST VIDEOS
I made my own whipped cream, but you can totally use store bought to save you some time and effort! You see, with these milk chocolate mousse shots you can entertain with ease and in style!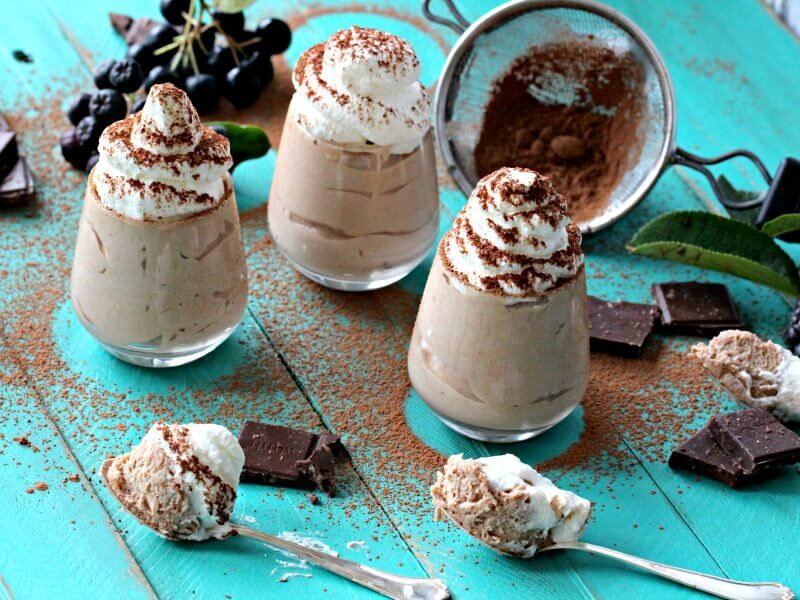 And when the servings are so tiny, you know what they say, its basically calorie free, you can just have a few instead of a cocktail 🙂 and its a perfect idea to make it in a few flavors so people can choose from or if you make a dessert table, these are perfectly portioned, won't get you full so you have room to try other things.
You can spice these milk chocolate mousse shots up with some booze, and if you plan on serving them to children, just divide the batter in half, and leave one half alcohol free. These are particularly good flavored with some Godiva or Baileys liqueur, I like them with the Chocolate Cherry Baileys, it adds such a nice aroma!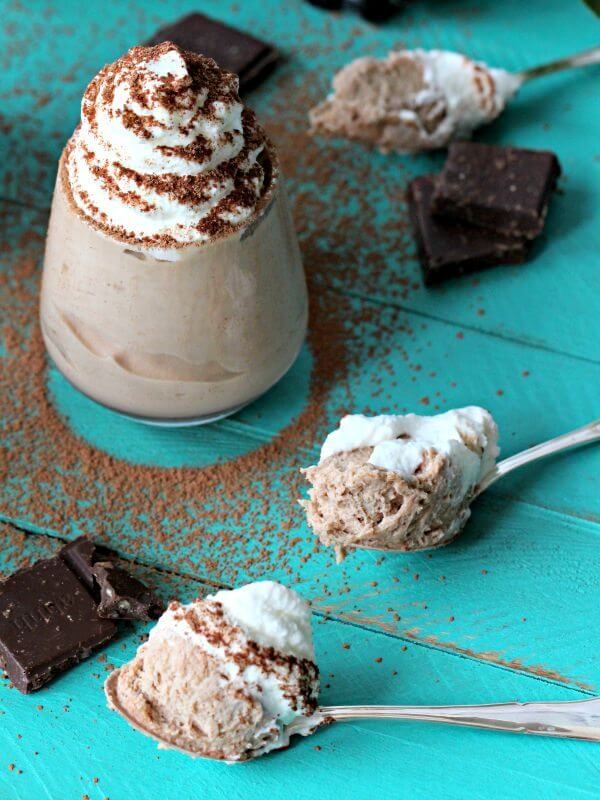 Just look how fluffy and delicious they look, its like a cloud of sweet milk chocolate!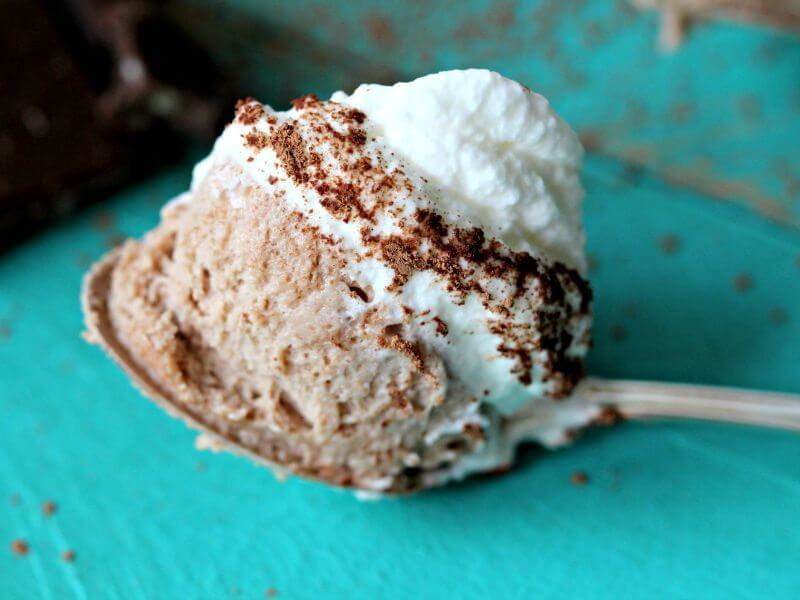 The recipe makes a good serving of mousse, so you can cut it down in half, or you can use shots and small jars, in case someone wants to eat more mousse, and I am sure there would be people who would love a bigger serving! Or you can just go ahead make some brownies and top them with mousse, just like I did here <——- a MUST try!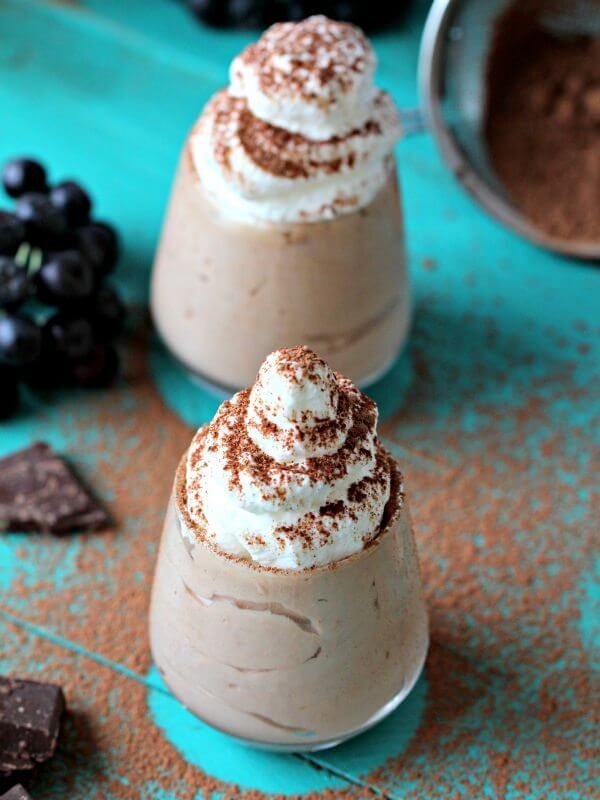 I would take a shot like this anytime, don't even need to ask me twice, these milk chocolate mousse shots are they way we party here 🙂

Milk Chocolate Mousse Shots
The perfect party pick me up, milk chocolate mousse shots are creamy, delicious and extremely good looking, also perfectly portion in single servings.
Author:
Katalina Kastravet
Ingredients
10 ounces milk chocolate, finely chopped
2½ cups whipping cream, chilled
7 grams gelatin
2 tablespoons of water
2 tablespoons liqueur or cognac for a boozy version - optional
whipped cream - to garnish
cocoa powder - to garnish
Instructions
Bring a pot of water to boil, place chocolate in a heatproof bowl and melt over the pot of simmering water. When melted, remove from heat and set aside.
In a small bowl, place gelatin and water, allow the gelatin to bloom, let sit for 10 minuets.
In the meantime, in a sauce pan, bring ½ cup of cream to a boil.
If using alcohol, place in a microwave-safe bowl, heat the liqueur until hot, about 45 seconds. Stir in the softened gelatin until dissolved. Add the gelatin mixture to the cream, stir to fully incorporate the gelatin. Remove from heat.
Pour about half of the cream mixture into the chocolate and whisk quickly, add the rest of the chocolate and whisk until well combined. The mixture will be very smooth and shiny.
In the bowl of a stand mixer fitted with the wire attachment, place the remaining 2 cups of cream and whisk until soft peaks form.
When the chocolate mixture has cooled to room temperature, fold in the whipped cream manually using a spatula.
Fill shot glasses and small jars with the mousse. Place in the fridge overnight, or for at least 6 hours.
Before serving, top with whipped cream and unseated cocoa powder.
Enjoy!
Peas and Peonies, LLC. owns the copyright on all images and text and does not allow for its original recipes and pictures to be reproduced anywhere other than at this site unless authorization is given. If you enjoyed the recipe and would like to publish it on your own site, please re-write it in your own words, and link back to my site and recipe page. Copying and/or pasting full recipes to social media or personal blogs is strictly prohibited. Sharing this recipe is very much appreciated and encouraged. Read my disclosure and privacy policy. This post may contain affiliate links.