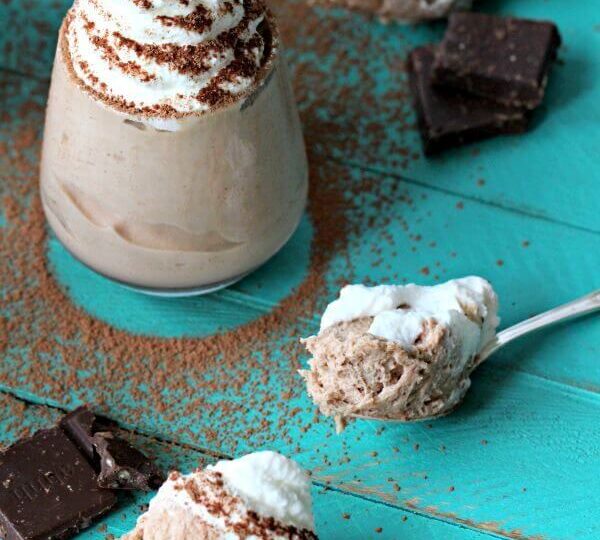 Milk Chocolate Mousse Shots
Milk Chocolate Mousse Shots are the perfect party pick me up shots, that are creamy, delicious and extremely good looking.
Mousse desserts are probably among my favorite. They are pretty, easy to make, and look stunning. I have a collection of them, starting from Easy White Chocolate Mousse to Mousse Brownies.
Milk Chocolate Mousse Shots
Milk Chocolate Mousse Shots have a creamy texture and the mild chocolate flavor from the chocolate milk. This dessert is so smooth and it's perfect for a party. Also, I just pumped the mousse into shot glasses, topped with fresh homemade whipped cream and some unsweetened cocoa to enhance the chocolate flavor. As a result, you have the perfect little dessert. Call it sweet finger food!
With football season around the corner, this is these milk chocolate mousse shots are the perfect pick me up dessert to serve. Also, it can be made days in advance, all you have to do is top it with whipped cream before serving. In addition, if you want to go all fancy, you can add some cognac to the milk chocolate mousse shots and shave a little chocolate on top. It will be perfect for the men and ladies attending to enjoy a few shots.
And when the servings are so tiny, you know what they say, its basically calorie free. So, you can just have a few instead of a cocktail. Also, it's a perfect idea to make it in a few flavors so people can choose from. Similarly, these are perfectly portioned, won't get you full so you have room to try other things.
You can spice these milk chocolate mousse shots up with some booze. However, if you plan on serving them to children, just divide the batter in half, and leave one half alcohol free. These are particularly good flavored with some Godiva or Baileys liqueur. I like them with the Chocolate Cherry Baileys, it adds such a nice aroma!
Why You'll Love These Milk Chocolate Mousse Shots:
Firstly, they are puffy, pretty and delicious, and are a show stopper dessert.
Also, the presentation of the bowl makes them elegant.
Easy to find ingredients and minimum prep work is needed.
Chocolate makes them an elegant and thoughtful dessert.
Lastly, they can be made 1 day in advance, so you don't have to worry about a last-minute dessert.
Deliciousness to your inbox
Enjoy weekly hand picked recipes and recommendations