Clementine Mousse Cake with Peach Jelly
This post may contain affiliate links. Please read my disclosure policy.
A delightfully airy, creamy and aromatic Clementine Mousse Cake over delicious yellow cake and topped with sweet and flavorful peach jelly.
Hello my virtual friends! Oh do I have a treat for you! I made over the weekend a Clementine Mousse Cake topped with Peach Jelly. This cake is out of this world, now with clementines literally invading the grocery store produce isles, I thought turning them into a dessert is the right thing to do. After some Red Velvet Creme Brûlée Brownies, I needed some fruit in my life.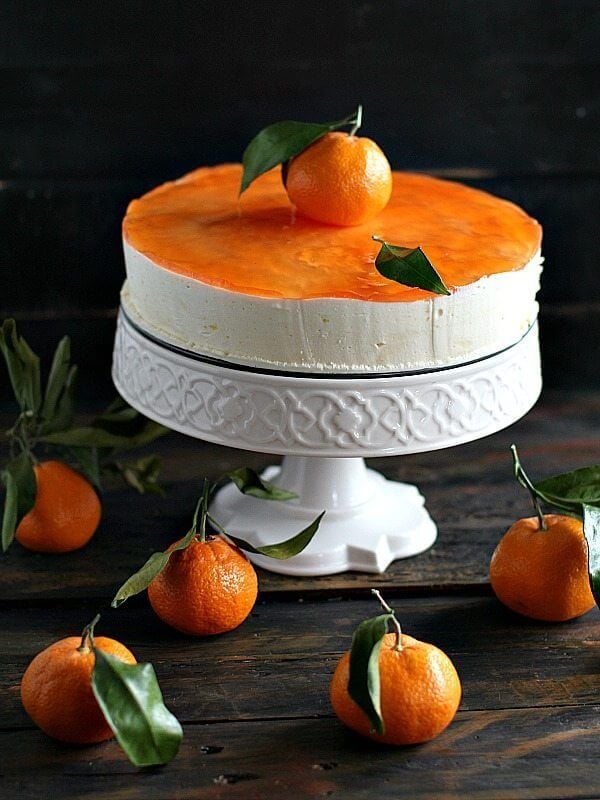 We love clementines, my husband picked a huge box last week, and we kept snacking on them all day long. Our toddler is also obsessed with them, he loves to peel them and eat the juicy and sweet segments. Did you know that clementines are a hybrid between a Mediterranean Citrus Deliciosa and a sweet orange? We always prefer to buy the ones grown in California, they are the sweetest and also seedless.
The clementine juice is so sweet and fragrant that I just wanted to incorporate it into a mousse cake. Combined with the sweet peach jelly, this cake just screams to me that I am ready for warm days and I am so done with winter. The combination between the clementine mousse and the peach jelly is just incredibly delicious.

MY LATEST VIDEOS

Now let me tell you more about it, the clementine mousse sits on top of the most amazing homemade yellow cake, this is my go to recipe all the time, except for this cake I added some fresh clementine zest for a more citrusy flavor.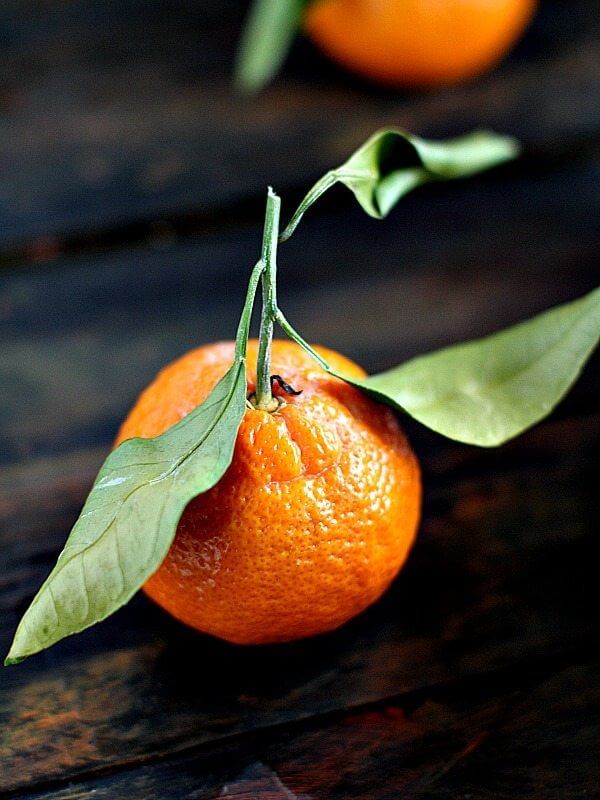 The cake turned bright, fresh, airy, with a delightful creamy texture and not very sweet. You can taste the clementine flavor, but at the same time its subtle and it doesn't over power the cake.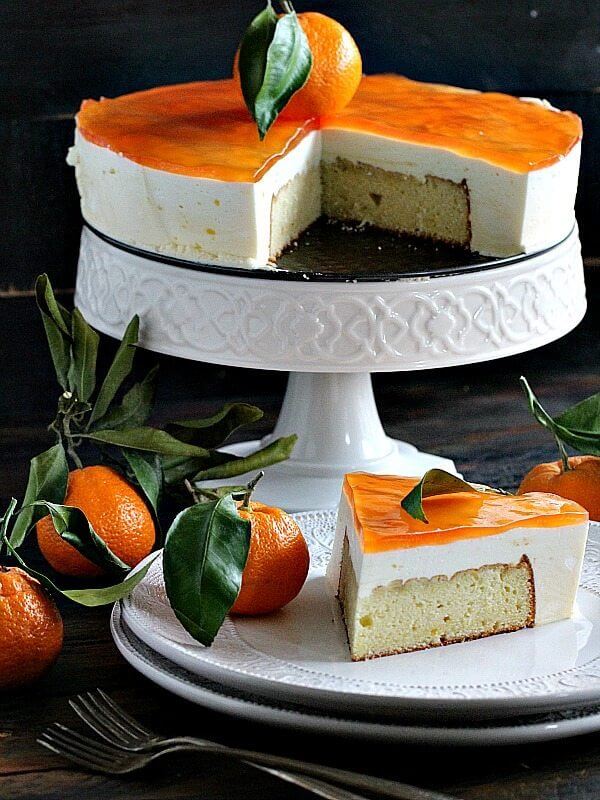 The peach jelly is the perfect finish, it adds a nice glossy surface, a pop of color and a sweet summer flavor that works very well with the clementine mousse that has a milder flavor.
Look at this gorgeous slice!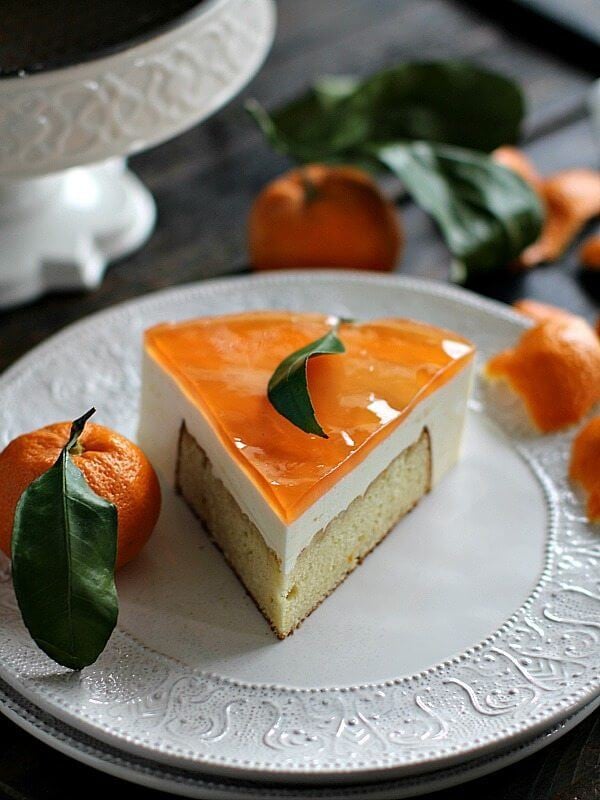 I really loved how light this cake is, and also how easy it is to make. I already plan on making a mango mousse version for a friend at work. The only part you have to bake is the yellow cake, and that one is a fool proof recipe. The clementine mousse comes together with a few ingredients and you just have to watch the refrigeration time, to make sure you fold the whipped cream right when its just settled. After that, you have to prepare the jelly, which only takes seconds to mix and again wait for it to cool down so you can pour it over the cake. For a cake as gorgeous and delicious, these are some very easy steps.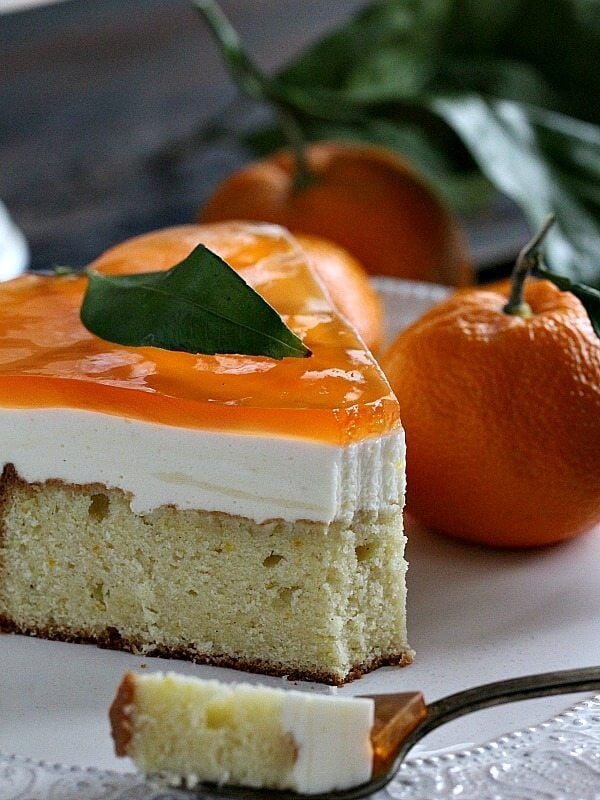 I also like how adaptable it is, there are so many other variations that I would like to make. Everyone in our family loved the cake, and our friends praised it too, so I am sure this delicious Clementine Mousse Cake will make many more appearances.
Clementine Mousse Cake with Peach Jelly
A delightfully airy, creamy and aromatic clementine mousse cake over delicious yellow cake and topped with sweet and flavorful peach jelly.
Author:
Katalina Kastravet
Ingredients
Yellow Cake:
2¼ cups all-purpose flour
1½ cups granulated sugar
3½ teaspoons baking powder
1 teaspoon salt
1 stick butter, softened + more for buttering the pans
1 cup heavy whipping cream
¼ cup vegetable oil
3 large eggs
1 vanilla bean, seeds only
1 tablespoons clementine zest
Clementine Mousse:
2 envelopes unflavored gelatin, 7 grams each
2½ cups clementine juice
½ cup sugar
2 cups heavy whipping cream, cold
Peach Jelly:
1 Peach Jelly box
Instructions
Yellow Cake:
Preheat oven to 350F.
Butter two 8 inch cake pans and set side.
In a medium bowl mix dry ingredients: flour, sugar, baking powder and salt.
In the large bowl of an electric mixer, whisk softened butter on medium speed for 1-2 minutes.
Add dry ingredients and combine with butter for 30-40 seconds.
Add heavy cream, oil, clementine zest, vanilla bean seeds and eggs one at a time, mix on medium-high for one minute.
Pour batter into prepared pans. Bake for 20-25 minutes, a tooth stick inserted into the center of the cake must come clean.
Clementine Mousse:
Add clementine juice to a medium sauce pan and sprinkle the gelatin over it. Let it sit for 1-2 minutes. Turn the stove on, and on low heat stir in the sugar into the juice and gelatin mixture. Cook stirring for 3-5 minutes, just until all the sugar and gelatin has dissolved.
Transfer the mixture to a glass bowl and refrigerate for 30-40 minutes, or just until settled. Its important to check on the mixture every 5 minutes after 30 minutes have passed and give it a few stirs. The mixture is ready when it has a pudding texture.
Whisk the heavy whipping cream on high speed until stiff, when soft peaks have been formed, reduce the mixer speed to low and add the gelatin mixture to it. Whisk on low until combined. Make sure to scrape the walls of the bowl with a spatula, to make sure the mixture is fully combined.
Place the yellow cake into the center of a 9 inch springform pan, there will be space around it. Pour the mousse over the cake letting it fill in around the side. Refrigerate at least for 1 hour before adding the peach jelly layer.
NOTE: if you have a higher springform pan, or a cake ring, pour some of the mousse over the cake, top it with the second layer, and cover with the remaining mousse mixture.
Peach Jelly:
Follow instructions on the box on how to prepare the jelly. Let the jelly cool to almost room temperature, I usually give the bowl an ice bath to speed up the process. Watch the jelly closely, and stir it often, to make sure it doesn't fully settle. After the ice bath, when the jelly temperature has reached almost room temperature, pour it over the mousse.
Refrigerate for at least 4-6 hours before serving the cake. Remove cake from the fridge and run knife around inside rim of pan to loosen cake; remove side of pan, slice and serve.
Notes
Preparation time does not include refrigeration time.
Vanilla bean seeds can be replaced with 1 teaspoon vanilla extract.
If you plan using only one yellow cake layer just like me, you can halve the ingredients for the yellow cake.
Peas and Peonies, LLC. owns the copyright on all images and text and does not allow for its original recipes and pictures to be reproduced anywhere other than at this site unless authorization is given. If you enjoyed the recipe and would like to publish it on your own site, please re-write it in your own words, and link back to my site and recipe page. Copying and/or pasting full recipes to social media or personal blogs is strictly prohibited. Sharing this recipe is very much appreciated and encouraged. Read my disclosure and privacy policy. This post may contain affiliate links.