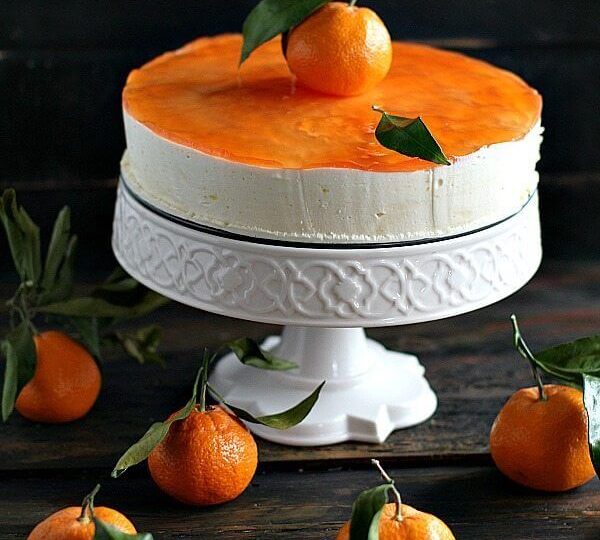 Clementine Mousse Cake with Peach Jelly
Clementine Mousse Cake is a delightfully airy, creamy and aromatic. It is topped with sweet and flavorful peach jelly, which makes this cake unique.
After making the popular Mango Mousse Cake, I decided to mix things up with clementines and provide you with updated version of the same cake, but this time with clementines.
Clementine Mousse Cake
Clementine Mousse Cake is the perfect cake to make during this time of the year. With clementines literally invading the grocery stores, I thought turning them into a well worth dessert is the right thing to do. On top, we love clementines a lot, during season we always have them handy at home. The clementine juice is so sweet and fragrant that I just wanted to incorporate it into a mousse cake. Combined with the sweet peach jelly, this cake is just a perfect reflection of comfort dessert and happines. The combination between the clementine mousse and the peach jelly is just incredibly delicious.
The Clementine Mousse Cake turned bright, fresh, airy, with a delightful creamy texture and not very sweet. You can taste the clementine flavor, but at the same time its subtle and it doesn't over power the cake. The peach jelly is the perfect finish, as it adds a nice glossy surface. I really loved how light this cake is, and also how easy it is to make. The only part you have to bake is the yellow cake, and that one is a fool proof recipe.
The clementine mousse comes together with a few ingredients and you just have to watch the refrigeration time, to make sure you fold the whipped cream right when its just settled. After that, you have to prepare the jelly, which only takes seconds to mix. Then, wait for it to cool down and pour it over the cake. For a cake as gorgeous and delicious, these are some very easy steps.
Pin This Clementine Mousse Cake Recipe to your Favorite Board
Why You'll Love This Clementine Mousse Cake:
Firstly, it is puffy, pretty and delicious, and is a show stopper dessert.
Also, the color combination make this cake stand out.
In addition, it's easy to find ingredients and minimum prep work is needed.
It's fruity and refreshing dessert, and can be topped with various fruits or flavors.
Perfect for special events or occasions, like Valentine's Day or Mother's Day.
Lastly, they can be made 1 day in advance, so you don't have to worry about a last minute dessert.
Do you need gelatin for Mousse?
Traditionally, mousse and mousse cakes are made with gelatin. If you want to substitute the gelatin, you can use agar agar, and it should be handled in the same way.
How to make Clementine Zest?
Rinse the clementine.
Set your tool over a cutting board. A microplane produces a very fine zest, perfect for baking and cooking. If you don't have a microplane, use the smallest holes on an ordinary grater.
Grate the skin of the clementine only. Grate just enough to get through the clementine skin, this way you can avoid the bitter white pith underneath.
Rotate the clementine and repeat. Once the white pith is exposed, rotate the clementine and zest the next strip of peel. Repeat until most of the peel is removed, or until you have enough zest for your recipe.
How Long Will Clementine Mousse Cake Stay Fresh?
The Clementine Mousse cake can be stored wrapped in plastic wrap at room temperature for about 3-4 days.
CAN YOU FREEZE Clementine MOUSSE CAKE?
Freezing is possible for up to 2 months. Since the mousse contains gelatin and some sugar it will not freeze completely solid.
To thaw the mousses cake, overnight in the fridge and consume within 24 hours. You may also be able to serve the mousse almost frozen, as an iced fruit mousse.
Deliciousness to your inbox
Enjoy weekly hand picked recipes and recommendations