Black Forest Cake is made with rich chocolate layers, cherries, cherry liqueur, and whipped cream. It has a rich flavor, and each bite is a decadent one.
The sweet tooth in me loves cakes of all sorts. And, this one pretty much sits on top of the list! Want more dessert ideas? Check out my recipes for Apple Pie Danish, No-Bake Oreo Balls, and Peanut Butter Brownies!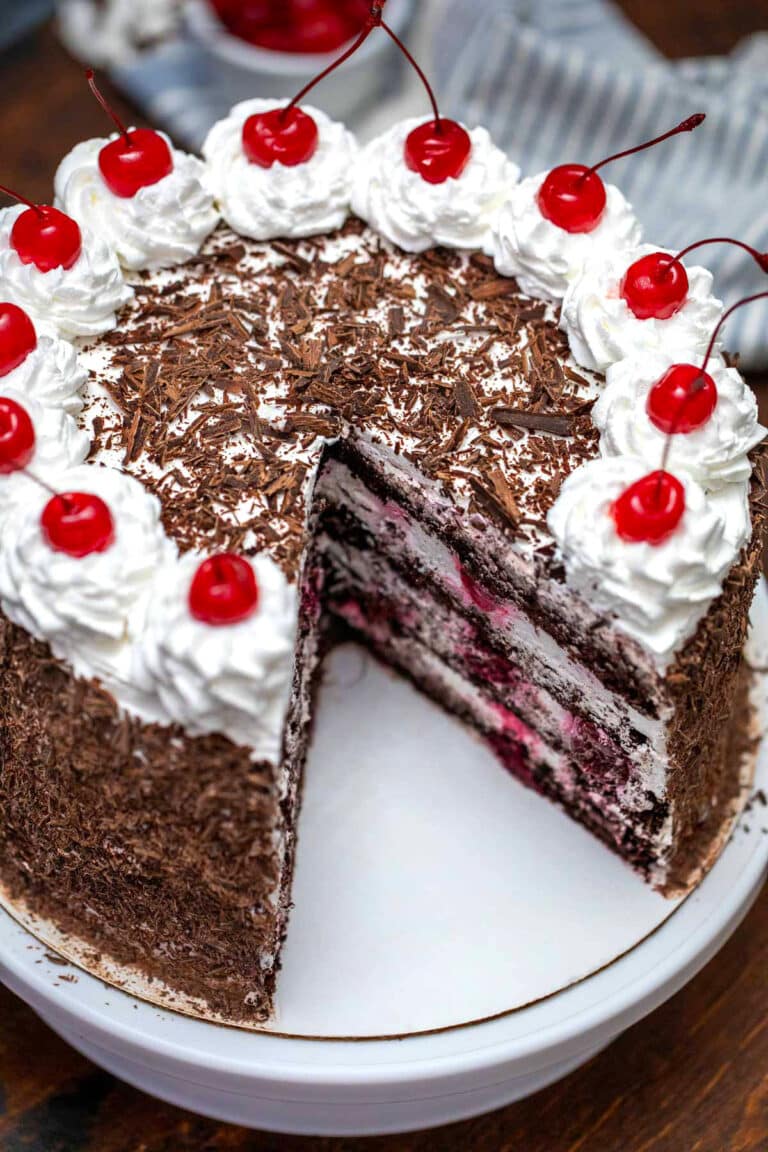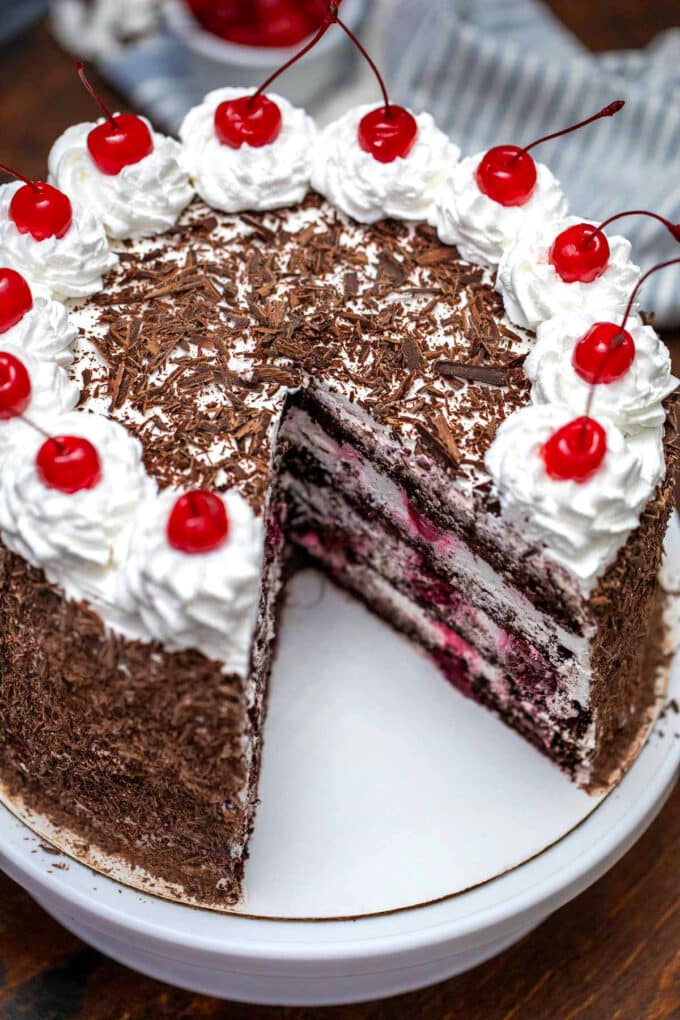 Black Forest Cake Recipe
Black Forest Cake simply looks divine topped with clouds of whipped cream and maraschino cherries and covered in a blanket of chocolate shavings.
The cake layers are rich and decadent, full of chocolaty glory!
Between layers, you will taste the creamy filling infused with the fruit's flavor. Each bite will surprise you with the sweet fruit, too.
I love how each component of this delicious dessert melds well with the others. It is not overly sweet, just right.
I served this once for a Sunday tea party and the whole family devoured it instantly! From then on, I made sure to make at least two, one for immediate serving and the other for later! That's one great reason to make this from scratch, you can simply decide how much to make!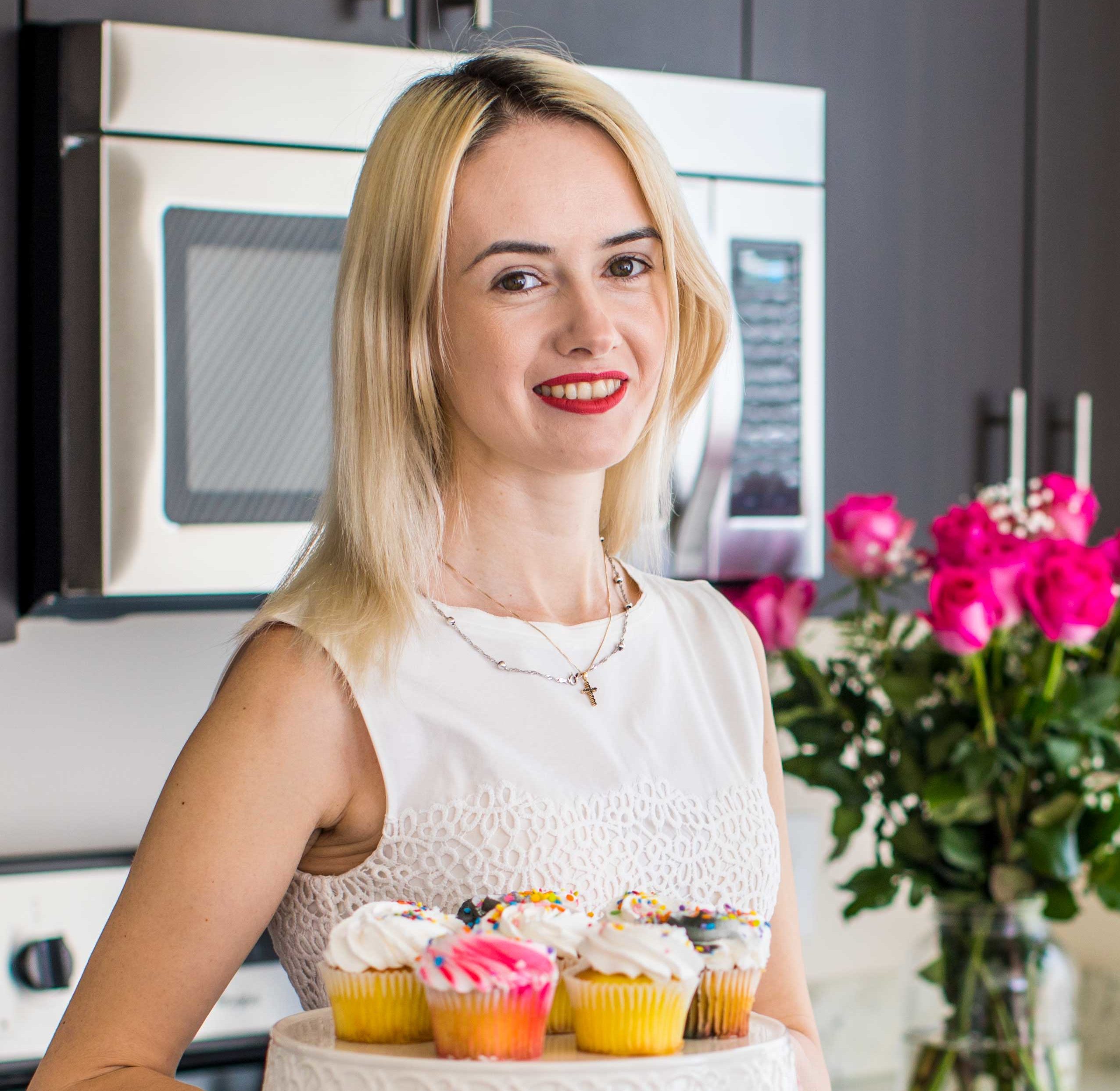 Follow us on Pinterest for more delicious recipes!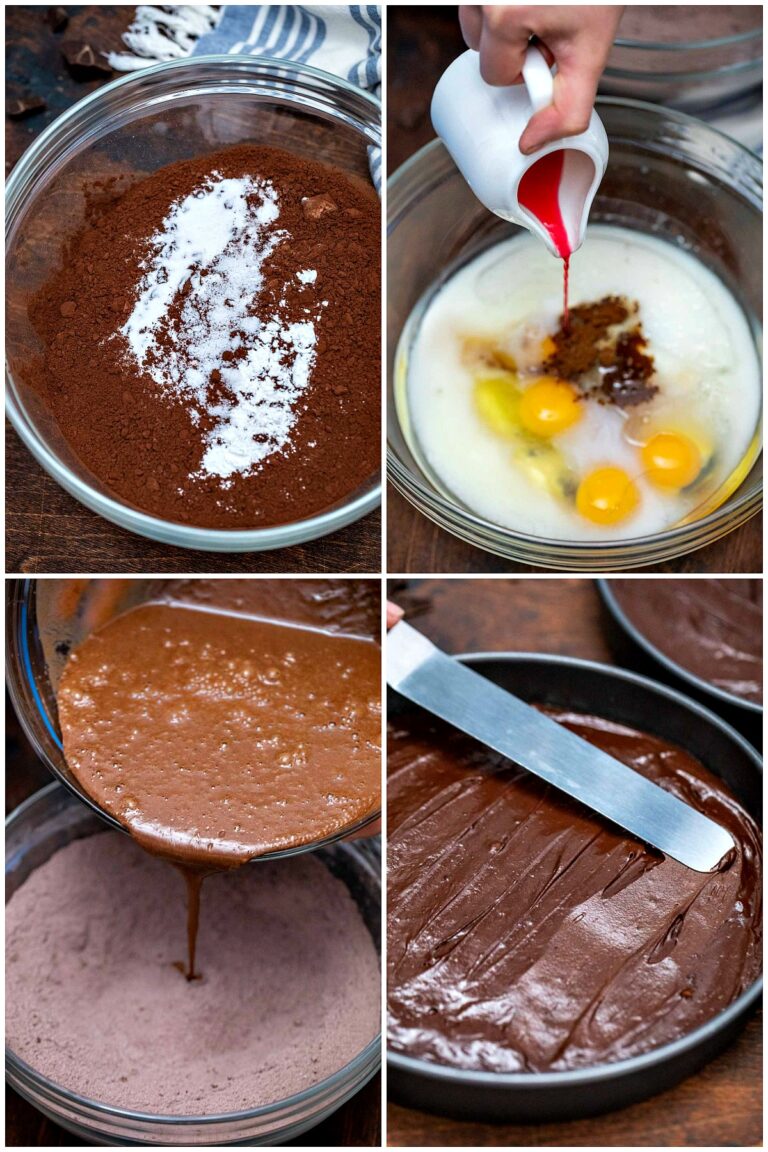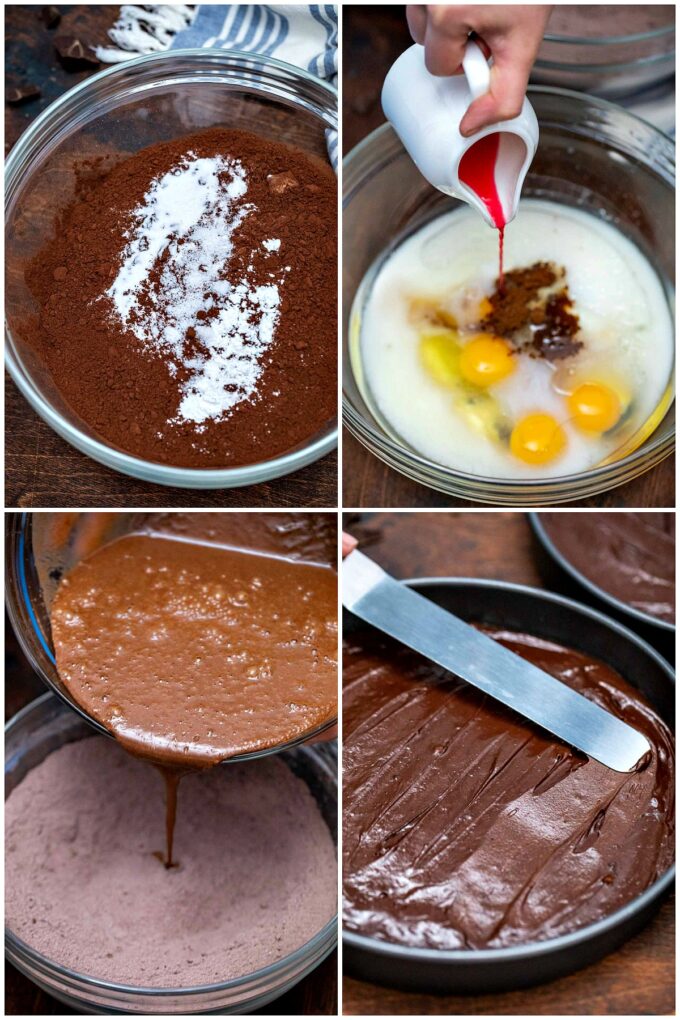 What is the difference between chocolate cake and black forest cake?
The main difference is in the ingredients, though both have similar chocolate bases.
Take our chocolate cake recipe for example. It has pecans, chocolate chips, and is covered in a tasty chocolate ganache. But you can use the same recipe for the layers for this cake, adding the cherries, liqueur, and a generous amount of whipped cream to set it apart from a classic chocolate cake.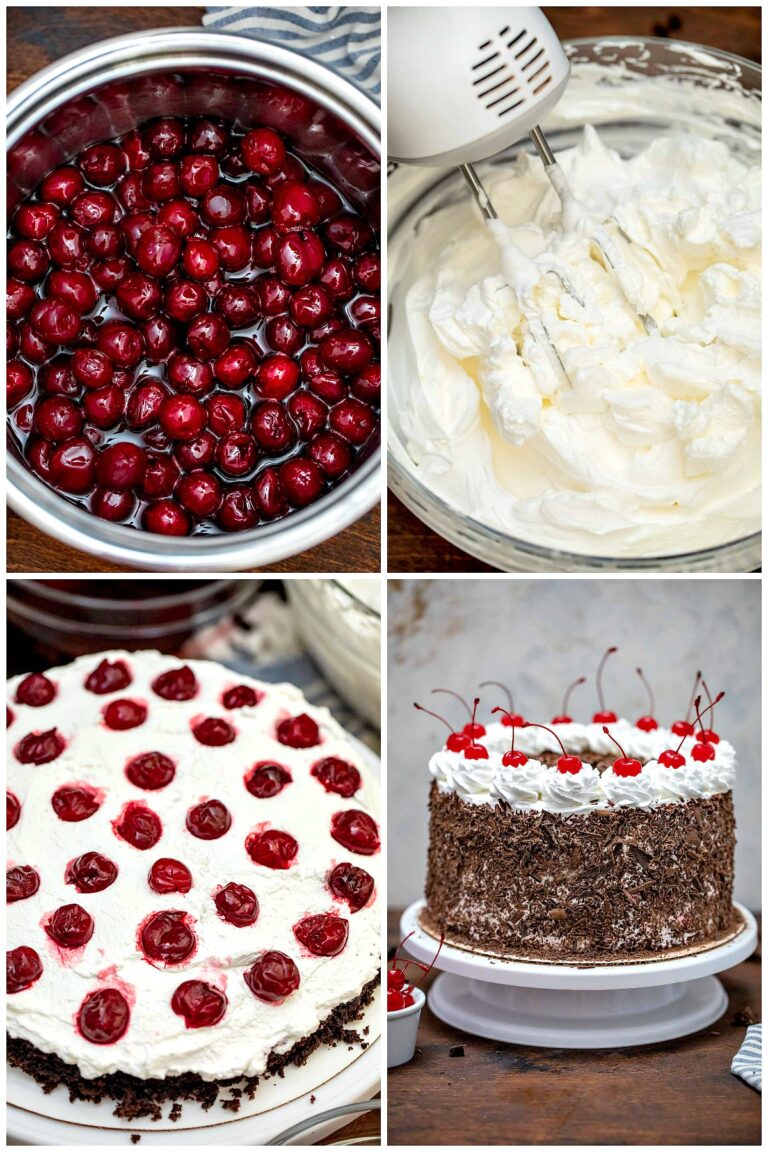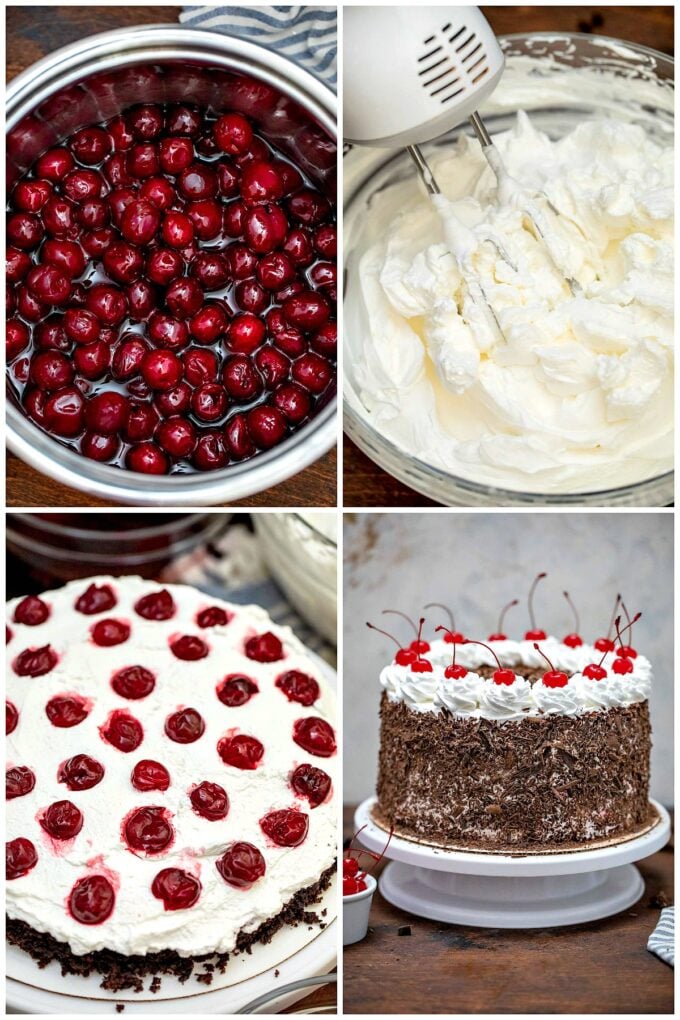 How to Make Black Forest Cake
Prepare for baking: Preheat the oven to 350 degrees Fahrenheit and prepare the cake pans.
Make the batter: Put the dry ingredients in the mixing bowl and combine everything. In another bowl, combine the wet ingredients. Ensure that the eggs will not coagulate by slowly mixing the hot water in. Then, combine both mixtures.
Bake: Pour the batter into the cake pans evenly and bake. Then, cool the layers and transfer them to a cooling rack.
Make the syrup: Boil together sugar and water in a small pot. Stir in the liqueur and fruits, then, cool. Next, remove the fruits from the syrup.
Prepare the frosting: Prepare the whipped cream.
Assemble: Place one layer on the cake stand, brush with the syrup, spread the whipped cream on top, then arrange the cherries. Repeat.
Decorate: Frost the outside and top of the cake, pipe out rosettes, and place cherries on top. Decorate the sides with chocolate shavings.
Serve: Refrigerate, then, serve!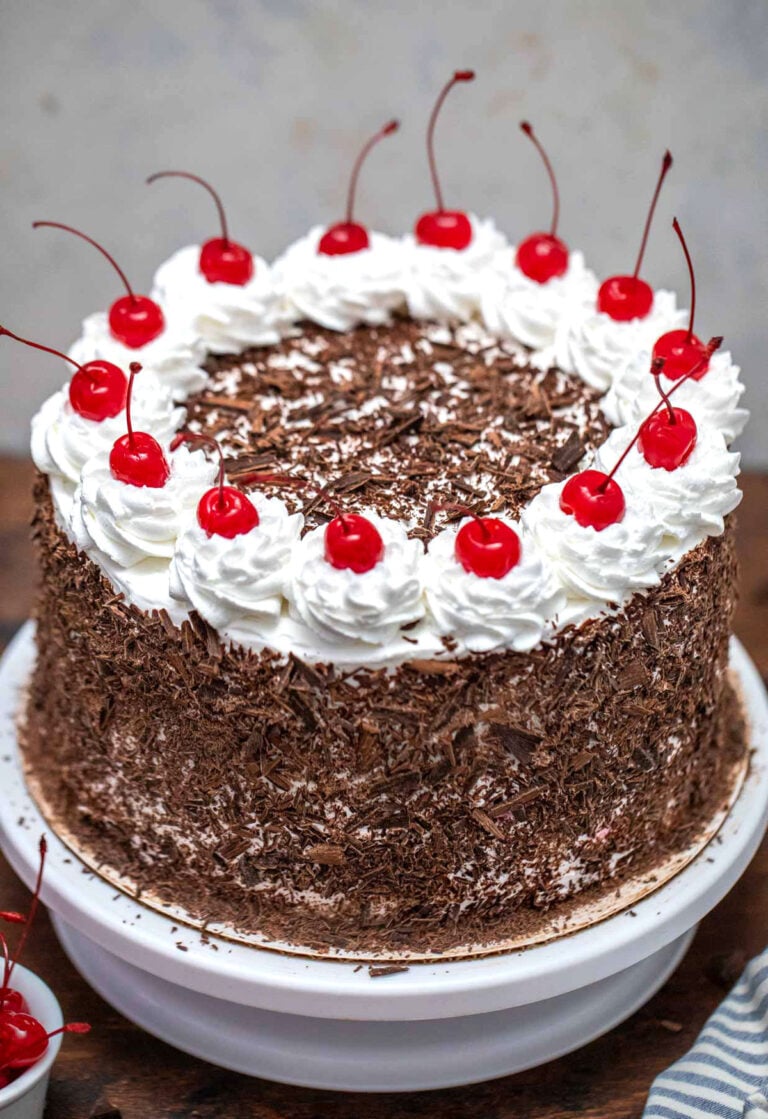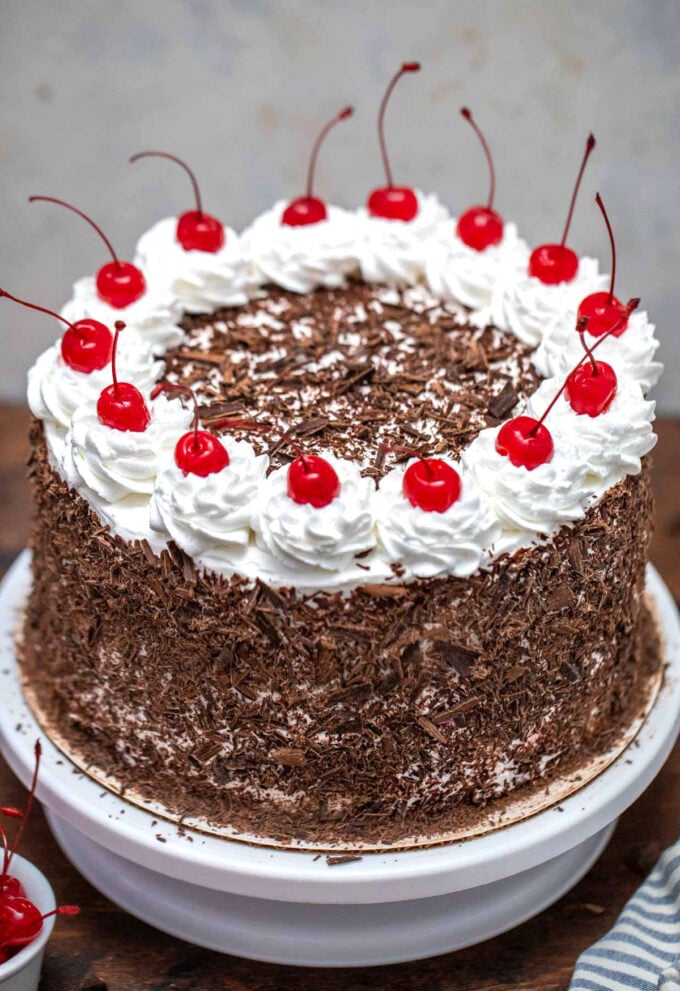 How to make chocolate bark to decorate the cake?
It is easy to do, just follow these steps:
Melt any chocolate of your choice, even chips will do, in the microwave at 30-second intervals and stir in between.
Pour it into a baking sheet and spread it evenly.
Refrigerate for 30 minutes and it will solidify. Break it according to your desired shape and size.
You can use the chocolate bark to decorate the cake, instead of the shavings.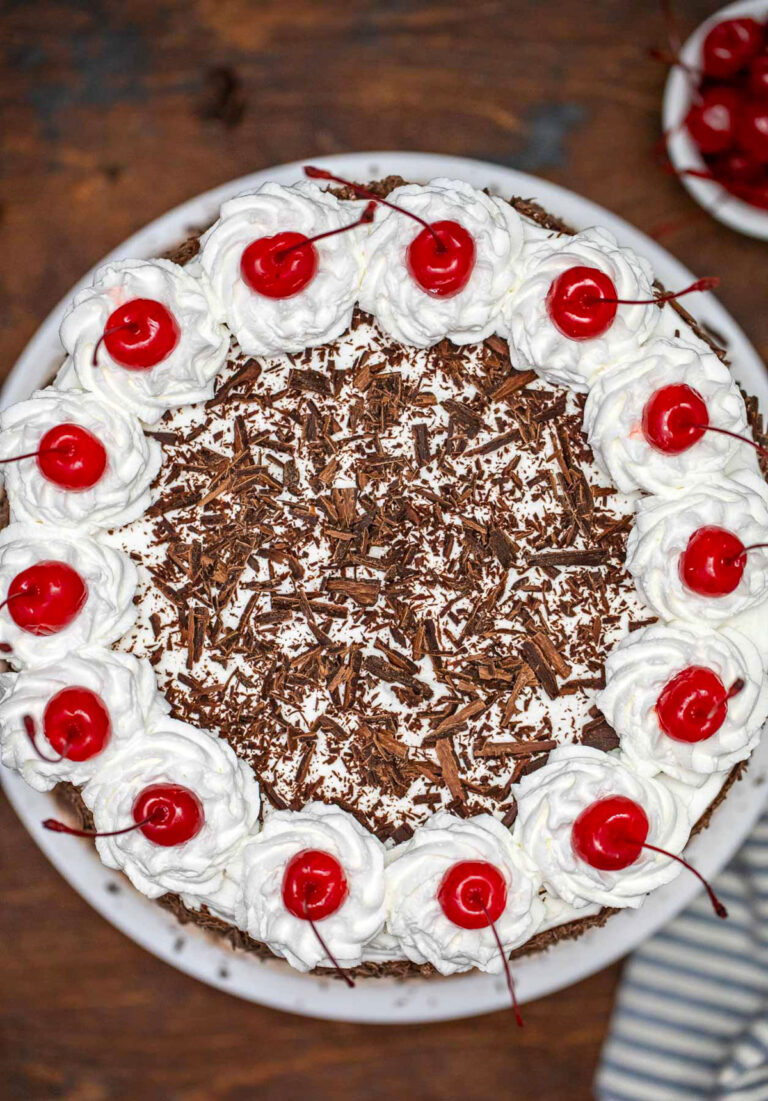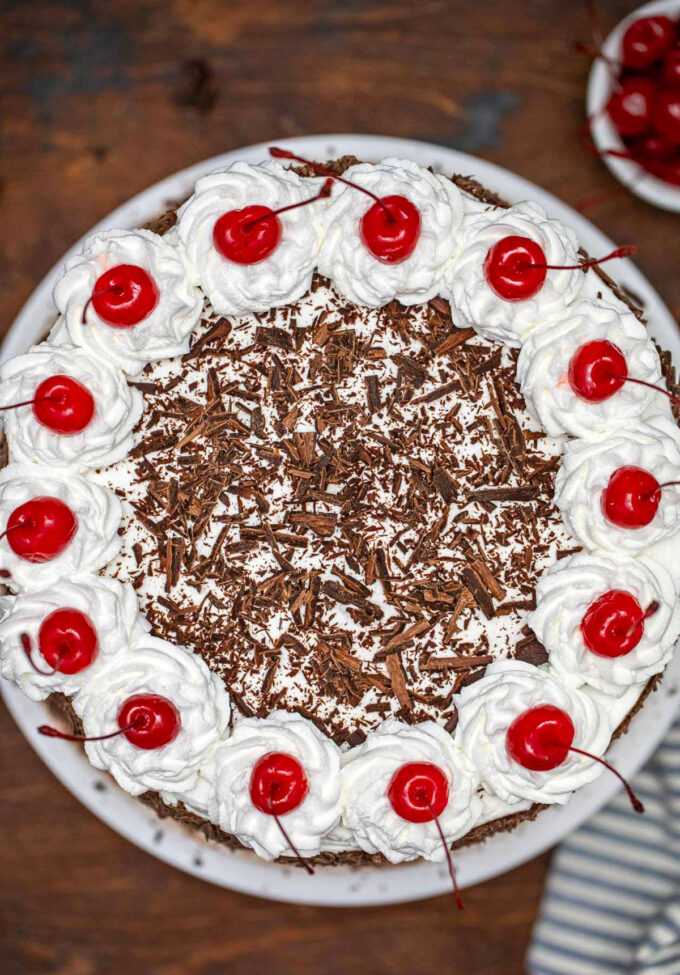 Does Black Forest Cake have alcohol in it?
In the ingredients, yes, but it is minimal.
It is not enough to make you drunk, just enough to add another dimension of flavor. And as the syrup is boiled, it will burn off most of the alcohol.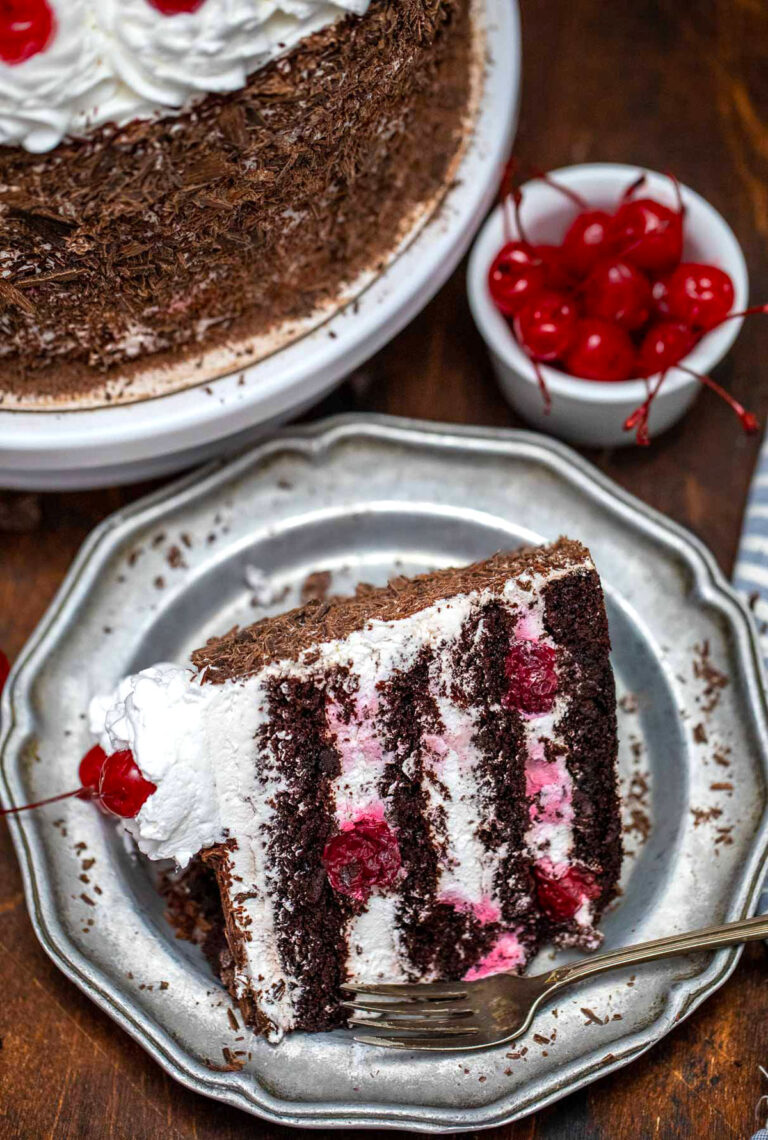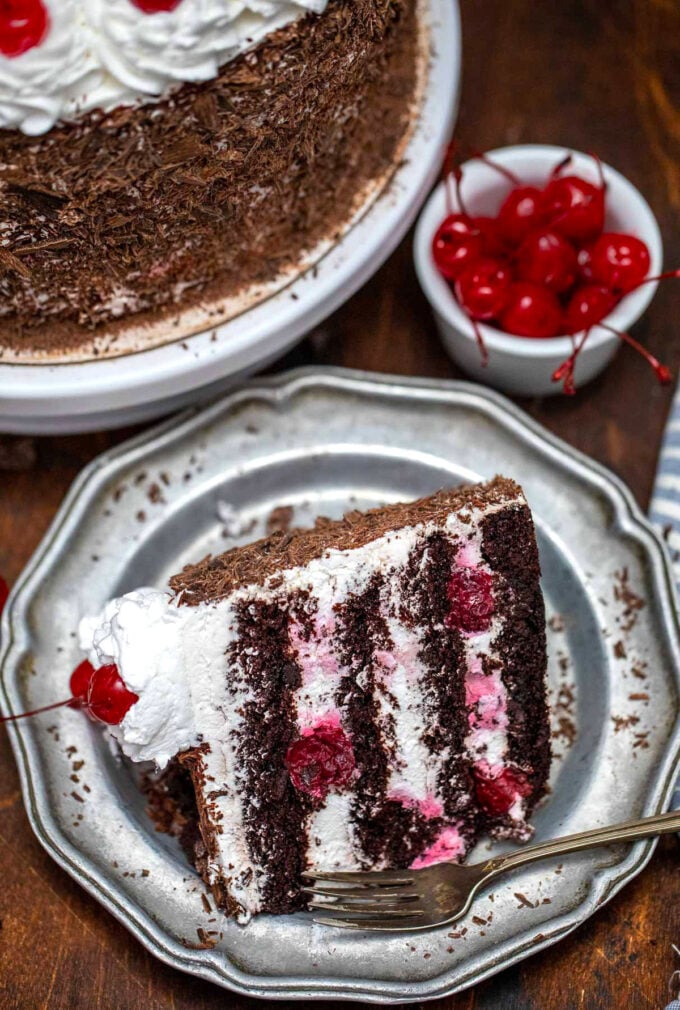 How long will Black Forest Cake last?
Refrigerate it and it will stay okay for up to a week in an airtight container.
You can also wrap the cake in plastic wrap, then in foil and freeze for 2-3 months.
More delicious chocolate desserts: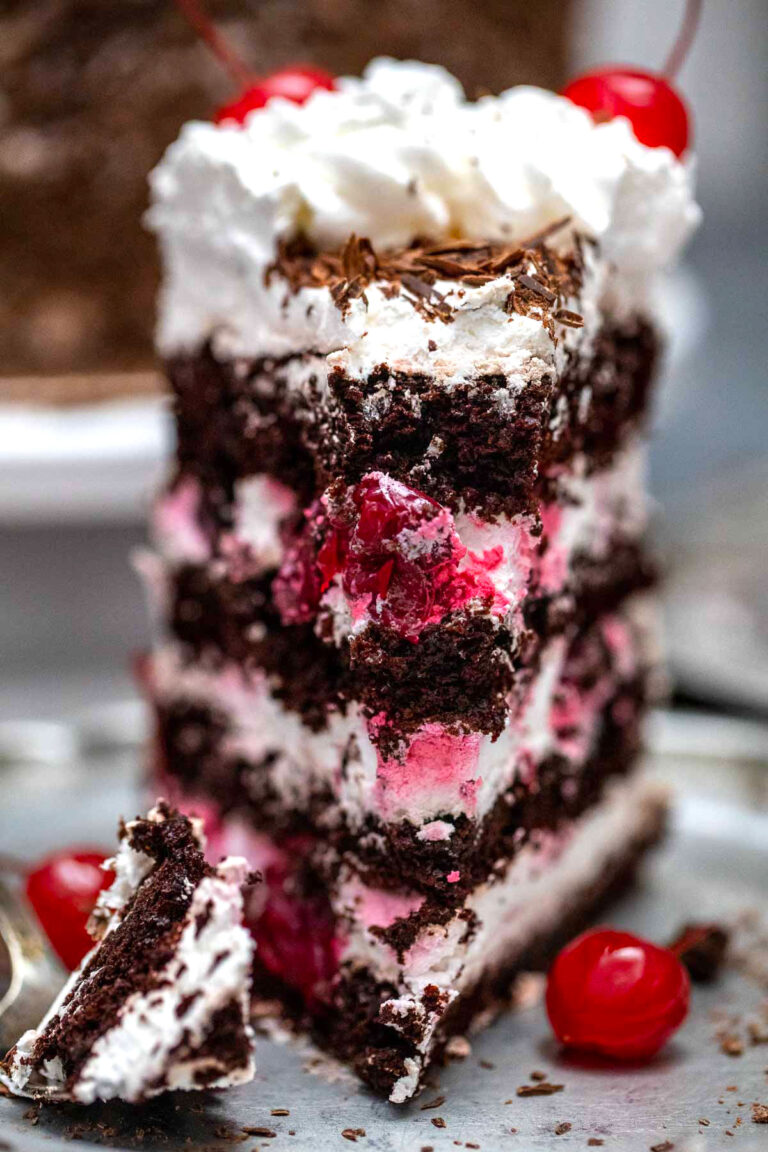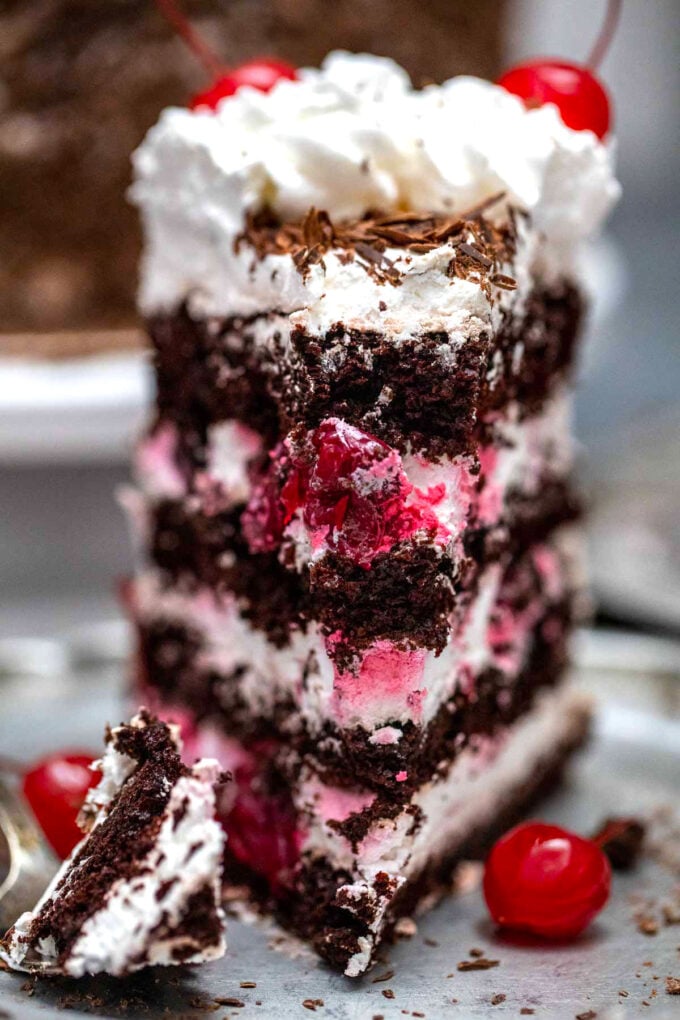 Recipe Tips
Use the recipe for the chocolate layers in other desserts, they are very versatile.
Do not leave out the espresso as it enhances the chocolate flavor.
You can also decorate using ganache.
Save Recipe
Black Forest Cake Recipe
Black Forest Cake is made with rich chocolate layers, cherries, cherry liqueur, and whipped cream. It has a rich flavor, and each bite is a decadent one.
Author: Catalina Castravet
Serves: 12 slices
Prep time:

2

hours
Cook time:

30

minutes
Total time:

2

hrs

30

mins
Ingredients
Chocolate Cake:
Cherry Liqueur Syrup:
Whipped Cream Frosting:
Garnish:
Instructions
Chocolate Cake:
Cherry Liqueur Syrup:
Whipped Cream Frosting:
Assemble the Cake:
Nutrition information
Carbohydrates: 121 Protein: 12 Fat: 49 Saturated Fat: 31 Cholesterol: 139 Sodium: 457 Potassium: 451 Fiber: 10 Sugar: 87 Vitamin A: 2472 Vitamin C: 1 Calcium: 175 Iron: 5 Calories: 836
Save Recipe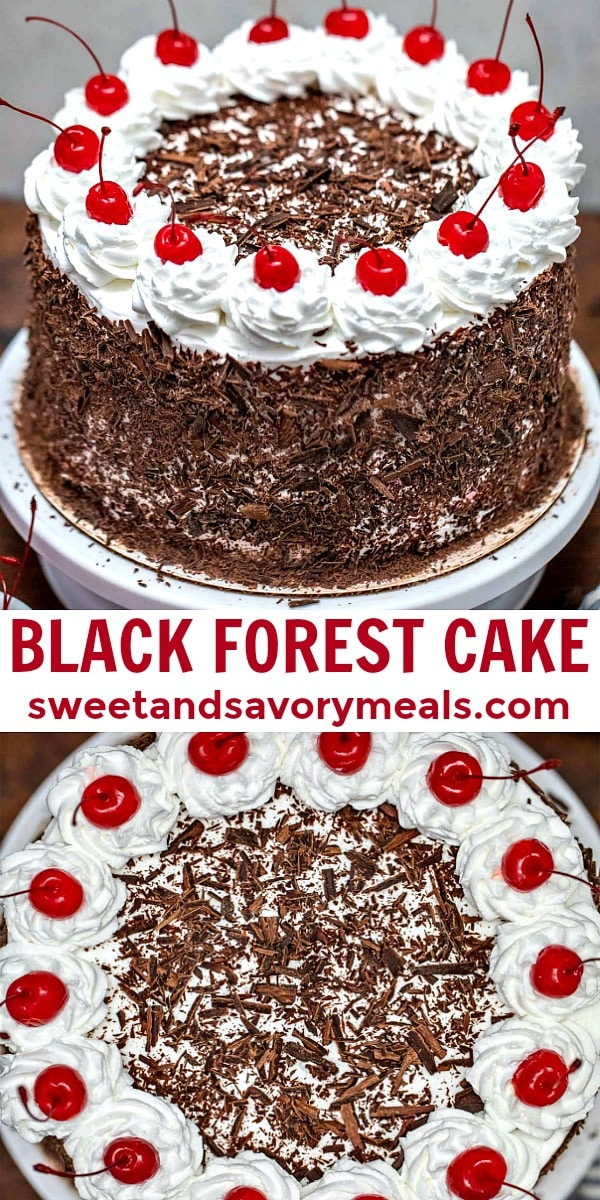 More recipes you might love