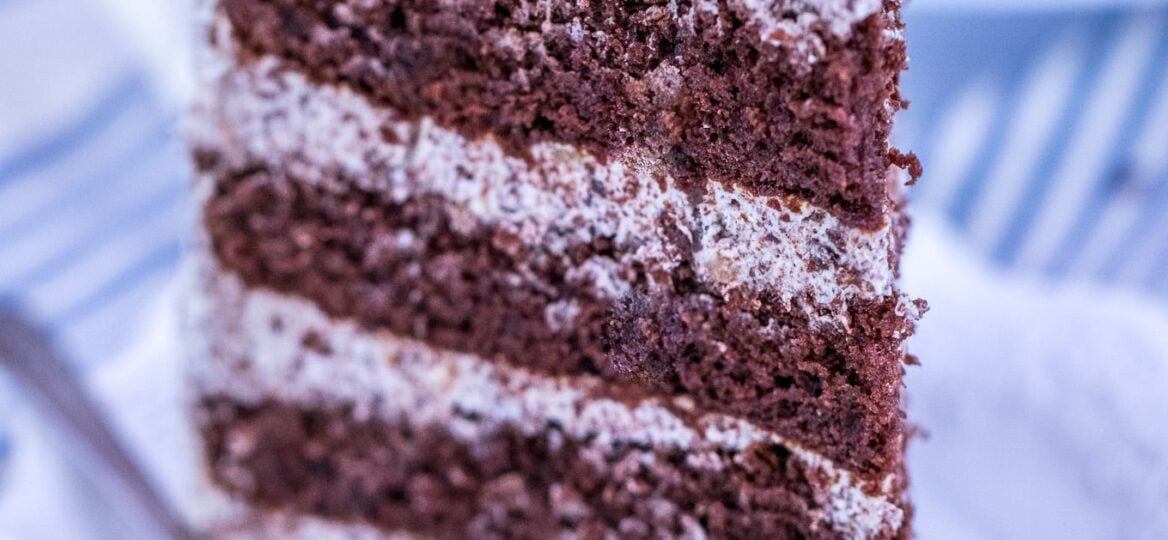 Chocolate Cake Recipe
This Chocolate Cake is moist, chocolaty, and a crowd-pleaser that anyone can make. With this easy recipe, you will be able to give in to your sweet tooth in no time!
If you are craving sweets like me, try our other dessert recipes like the Blueberry Crisp, Ambrosia Salad, and Keto Brownies!
The Best Chocolate Cake Recipe
Chocolate Cakes are a common showstopper at any party. At home, we don't even have to celebrate an occasion just to enjoy this luscious treat! And now, we will share with you how we can prepare this ultimate chocolate lovers' dream right at the comfort of your home.
And yes, it is not so difficult to make. It may seem daunting at first seeing how beautiful they are so often decorated. But with this easy recipe, we will guide you on how you can make your own version of this amazing cake. It is very flavorful, moist, with perfect crumbs.
What is a chocolate cake?
Basically, it is made with cocoa or chocolate in various forms as the main flavor it. In this recipe, we will be utilizing this ingredient in the frosting, ganache, and layers.
What is a layered cake?
It is made of several sheets of cake placed on top of each other, held by a layer of frosting in between. It is an easy technique and a great way to arrange this dessert together.
How do you make a chocolate cake?
Make the layers – Mix together the cake mix, eggs, oil, and water using an electric mixer (preferably a standing one). Transfer the mixture to a springform pan lined with parchment paper and sprayed with cooking spray. Make two sets and bake in the preheated oven at 350 degrees F. Then, bake until done for about 35 to 45 minutes. After cooking, let it rest for a while in a wire rack and then, divide the layers further into two even layers by using the cake slicer.
Prepare the frosting – Grate any chocolate bar of your choice and this is what we will add to the frosting. Using the mixer, combine evenly the cream cheese and sugar. Next, add in the powdered sugar slowly and beat until you get a smooth mixture. Then, incorporate the other ingredients such as the pecans, cool whip, and the grated chocolate.
Cook the ganache – Heat up heavy whipping cream in a saucepan then, pour this on a bowl of chocolate chips. Mix them together and transfer them into a squeeze bottle to be used for later.
Make the chocolate frosting – Beat together the ingredients until smooth. Then, put the resulting frosting in a piping bag.
Assemble the cake – Stack the layers on top of each other while placing about two cups of the frosting in between. Once all four layers have been stacked, spread the remaining frosting on top. Then, drizzle with the ganache on the top and let it drop on the sides. Allow it to rest and pipe dollops of chocolate frosting on top, too.
Can I make the chocolate cake dairy-free?
Absolutely! To make it dairy-free, simply add 2 tablespoons of white vinegar to almond or soy milk. Then, let it stand for about 5 minutes and use it in place of the buttermilk. Also, use dairy-free frosting when assembling it.
What makes cake moist and fluffy?
To make it moist, one definite answer is to avoid overbaking which dries out the layers. Generally, for similar recipes, you can use buttermilk instead of milk, oil instead of butter, and butter instead of margarine even if the recipe tells you otherwise.
To make them fluffy, beat the butter and sugar very well, incorporating enough air before putting in the other ingredients.
WHAT IS BUTTERMILK? IS THERE A SUBSTITUTE FOR BUTTERMILK?
Buttermilk is basically the leftover liquid after churning butter out of cultured cream. Nowadays, buttermilk is mainly cultured.
Luckily, there are a few substitutes for buttermilk in cooking. For example, you can substitute one cup of it with 1 tablespoon of white vinegar or lemon juice plus enough milk to measure 1 cup. Then, simply stir together, and let it stand for about 5 minutes.
In addition, you could use 1 cup of plain yogurt.
Can you make a chocolate cake in advance?
Yes! You can make the layers and the frosting separately and store them separately, too. The cake lasts for up to a month in the fridge. Just make sure to wrap it tightly with plastic wrap and then, put it in freezer bags.
The frosting, on the other hand, can be stored in airtight containers in the fridge for up to two weeks.
More homemade cake recipes:
Recipe Tips
You can follow this recipe and turn it into cupcakes! Simply fill half of the liners with the batter and bake. Decorate with the same ganache and chocolate frosting.
Check for doneness by inserting a toothpick before 35 minutes. To prevent overbaking, you can take the cake out of the oven when there are still a few crumbs left on the toothpick. During the resting period, the residual heat will continue to cook it anyway.
All ingredients must be at room temperature for the batter to be incorporated well. Yes, this tip pertains to eggs as well. If you have eggs stored in the fridge, you can increase the temperature to room temperature by soaking them in hot water for a few minutes.
To make it gluten-free, use a gluten-free flour blend instead of the regular all-purpose flour.
Also, we like using Hershey's Unsweetened Cocoa Powder as is affordable and has a pretty nice dark color, and good quality.
If you do not want to make this into a layered cake, you could also make it in a 9 by 13 pan.