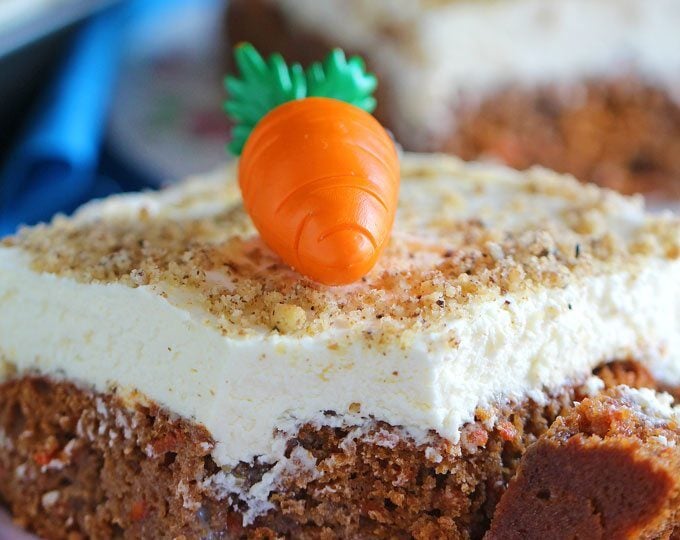 Carrot Cake Poke Cake Recipe
Carrot Cake Poke Cake is an incredibly easy and delicious cake, made using a cake mix, and topped with a thick layer of mascarpone cream cheese frosting.
If you are looking for an amazing Easter dessert recipe to make than this is the perfect one! You might also love our other popular cakes such as Strawberry Poke Cake, German Chocolate Poke Cake, and Pumpkin Poke Cake.
Best Carrot Cake with Cream Cheese frosting
This Carrot Cake Poke Cake has been declared the cake of the week at my house. It is a delicate, flavorful, and the perfect dessert to enjoy for Easter. Since we started making it a few years ago, it became an instant hit! Also, the cake easy to make and so packed with flavor, so you can easily make it for various occasions.
I used a Carrot Cake Mix, and I will be the first in line to tell you, that taking shortcuts in the kitchen is OK. Using the cake mix makes the whole process so much easier. As you don't have to measure any ingredients, or worry that you are missing some spices. The cake is very tender, as it has been soaked in sweet white chocolate, plus condensed milk mixture. Topped with mascarpone cream cheese frosting and ground walnuts this cake is addicting!
Why You'll Love This Carrot Cake Poke Cake Recipe?
Very easy to make, this is a one layer cake that is basically foolproof made using a cake mix.
It is very tender and packed with flavors,
The cake is topped with a very thin mascarpone cream cheese frosting layer. This gives the cake richness and moisture, which you can't beat.
It can be made 1 or 2 days in advance, so you don't have to worry about a last-minute dessert.
The cake combines different textures: the tender carrot cake poke cake layer, the chewy raisins, the crunchy walnuts, and the creamy frosting.
What is poke cake?
As the name implies, it is a simple technique where you basically poke holes in the cake after baking. Then, it is usually filled with a liquid or filling. This makes this dessert super moist, and it also infuses extra flavor into every bite
How to make Carrot Cake Poke Cake?
Even though the name might sound sophisticated and complex, this is quite an easy and quick dessert to make. For exact ingredients measures and steps, please see the recipe card below. But the general steps are as follows:
Bake the cake mix
Follow the package instruction, and bake the cake mix according to the instructions. Once baked, using the wooden end of a spatula, make some holes in it (poke it).
Prepare the chocolate mixture
Using a microwave-safe dish, melt the white chocolate together with the condensed milk. Then, pour it evenly over the baked cake.
Make the frosting
Using an electric mixer, make the frosting. Also, check out this quick video tutorial, on how to do cream cheese frosting. When ready, simply top the frosting over the cake, and refrigerate.
How long can I refrigerate the Carrot Cake Poke Cake?
After you assembled the carrot poke cake with sweetened condensed milk recipe, it is very important to refrigerate it. Because it is filled with chocolate and topped with frosting, you want to refrigerate it for at least 6 hours. Therefore, plan ahead, so you allow some time for this.
Other Easter Dishes you might love
How to freeze the carrot poke cake?
If freezing the cake without adding the frosting, then first wait for the cake layer to cool completely. Then, fully wrap in plastic wrap tightly. Next, wrap in aluminum foil or place it in freezer bags.
If freezing a frosted cake, first place cake in the fridge, so the frosting isn't too soft. Then, fully wrap it in plastic wrap tightly. Next, wrap in aluminum foil or place it in freezer bags. Freeze for up to 3 months. Defrost before slicing.
Carrot poke cake recipe tips:
Using a cake mix will reduce the prep time, feel free to use your favorite Carrot Cake Mix and follow the instructions on the box. However, my all-time favorite Carrot Cake Mix is this one.
It's very, VERY important that the cream cheese is COMPLETELY softened to room temperature before you whisk it. Otherwise, you might end up with chunks in your whipped topping.
You can either pipe the frosting on top of the cake, or just spread it evenly with a spatula. I choose to just spread it in one layer, so it looks thicker and rich and also that saved me some time.
In addition, mascarpone can be replaced with cream cheese.
Also, clean the knife after each cut. Otherwise, the slices will be messier, since the frosting may stick to the knife.
Let the cake absorb the white chocolate mixture for at least 8 hours before serving. This will make the cake extra tender, soft and flavorful.
The walnuts add a nice crunch, you can also top the cake with whole walnuts, I prefer ground texture-wise.
Keep the cake refrigerated as the frosting will soften if kept at room temperature for too long.
Also, if you are looking for less frosting, skip the mascarpone and just add one extra brick of cream cheese.
Tools/Ingredients I used to make this Carrot Cake Poke Cake Recipe:
Check out my Blueberry Zucchini Poke Cake too