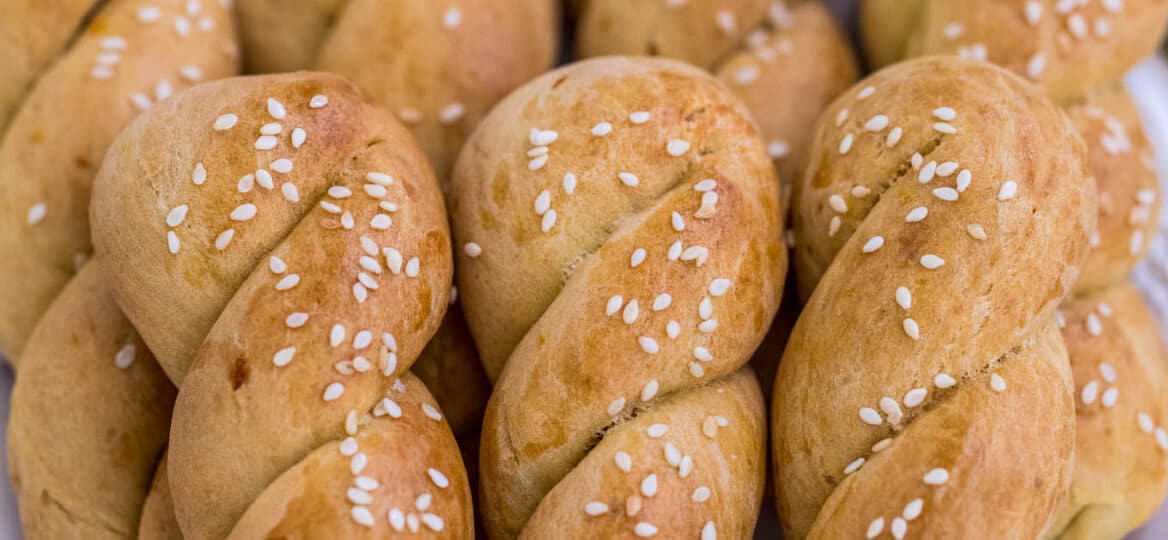 Easter Greek Cookies (Koulourakia) [video]
Easter Greek Cookies also known as Koulourakia are crispy on the outside and tender on the inside. They are traditionally made around Easter but also perfect for a church day and festival.
With Easter around the corner, these beautiful and delicious cookies are a must-try! You can find them on the Easter table next to deviled eggs, stuffed lamb, and paska bread.
Easy Koulourakia Cookies
These delicious cookies are a traditional treat in Greece but later became popular all over the world. They are quite easy to make and can be enjoyed for breakfast with a cup of tea or coffee, or as a snack. It is one of our favorite cookies because they are filling but not overly sweet.
When we lived in Europe, we would make these quite often. My mom is an expert at making them, so I quickly picked the recipe from her. It is quite an easy recipe with a few simple ingredients required. Once you try them, you will crave for more, they are that good!
The classic Koulourakia Cookies include baking ammonia. However, since this ingredient is limited in the state and has a specific flavor that is not liked by everyone, we decided to skip this ingredient. Instead, we added some orange juice and some zest to give them some nice color and a citrusy flavor.
This trick works perfectly in this recipe, and you simply rub the zest into the sugar. We do this step all the time when we bake them and can tell you that the flavor and the orange aroma taste and smells amazingly well.
What are the Greek Koulourakia cookies?
Koulourakia cookies originated from Greece and are traditionally made on Holy Saturday to be served the next morning for Easter. They later gained popularity all over Europe and the United States, and now are enjoyed at all major Greek holidays, or various festivals or celebrations.
Also, the cookies are butter-based and can be shaped in various forms. They are sometimes egg-washed and sprinkled with sesame seed.
9 Ingredients for Koulourakia recipe
As stated above, we have made this recipe over many years and have twisted it a bit. We totally skip ammonia since and instead infuse them dough with orange zest. Below is the list of what you will need to make them:
Unsalted butter
White sugar
Eggs
Orange juice
Orange zest
All-purpose flour
Baking soda
Baking powder or ammonia
Salt
For the egg brush
Can you substitute baking ammonia?
Yes! If you are really a fan of ammonia and want to incorporate it in this recipe but cannot find it, then you can substitute it with baking powder, or use it instead of the baking powder.
Can you make Easter Greek Cookies in advance?
Absolutely! Whether you want to serve them for Easter or as a regular morning treat, they can be definitely be made ahead. The best way to store them would be in a dry, sealed container on the counter. This way, they will be good for about a week.
How to Braid Koulourakia?
There are many ways to braid these cookies, and all of them look great based on your own preference. However, the most important thing to consider when baking them is the dough. The dough for Greek Easter Cookies should be soft and pliable, but not sticky. Also, try to limit the flour when you roll the dough on the board. We try to use very little flour if any when rolling it.
Another important aspect is to chill the dough. Although this is not mandatory, we came to the conclusion that chilling the dough for about 30 minutes after mixing it, will result in better cookies and also make it easier to roll them.
Braiding the Greek Easter Cookies
Start by rolling the dough into about 1-1½-inch balls.
Then, roll the balls into about 7-inch log shapes and form the letter "T".
Starting at the top left, pick up the left portion of the letter "T" and cross it over the middle section.
Pick up the top right section of the letter "T" and cross it over and place it parallel to the long middle section.
Next, pick up the middle section and place it between the other two sections that way creating a braid.
Once the braid is complete, cut off the end and gently tuck underneath.
Koulourakia Recipe tips:
Not everyone is egg washing the Koulourakia. Therefore, feel free to skip this step and do them without the egg wash. However, in our recipe, we do this step and believe it gives them a nicer taste and texture.
Use unsalted butter to control the salt level and adjust as needed.
Try not to use flour on your board, as you want your dough to adjust to it as you are rolling and shaping the dough.
You can substitute the orange zest with orange oil.