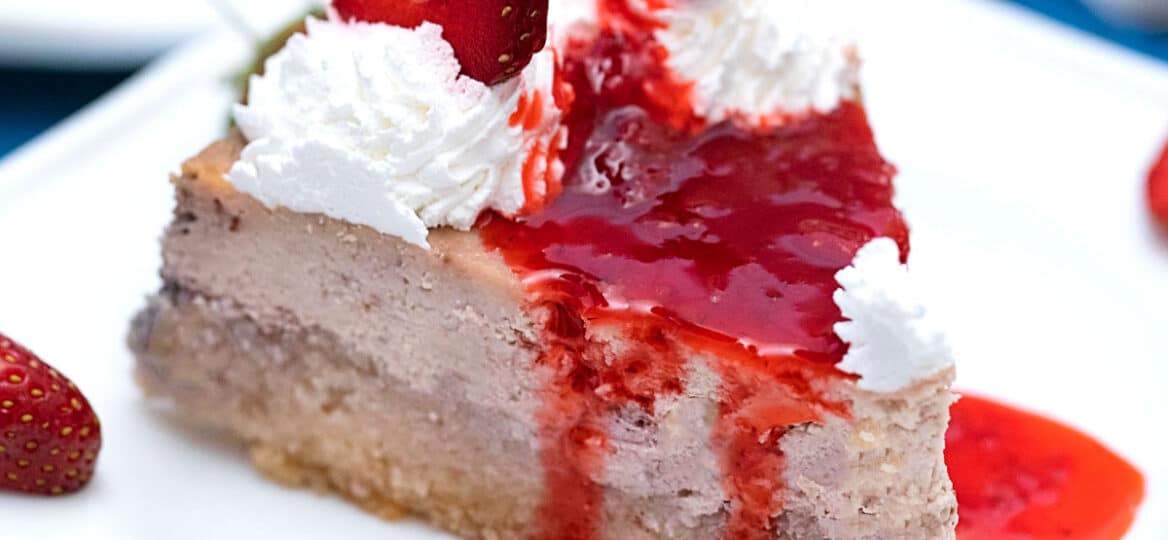 Keto Strawberry Cheesecake [Video]
Keto Strawberry Cheesecake is the ultimate guilt-free, low-carb dessert! It's, creamy, sweet, and full of strawberry flavor, making it the perfect comfort food!
If you are looking for healthier recipes for sweet desserts, check out my recipes for Coconut Cream Tiramisu Individual Trifles, Instant Pot Baked Apples, and Paleo Coconut Crack Bars.
Low Carb Strawberry Cheesecake
Keto Strawberry Cheesecake is an absolute favorite of mine, especially during the spring and summer. It's kind of become a staple in most of my summer events such as pool parties and backyard BBQ sessions since I always get a lot of requests to make it.
Keto diet has become extremely popular nowadays as more people are becoming health conscious. Because of that, I try to make more low carb recipes to share with you.
Making desserts can be quite tricky as you always have to balance sweetness and nutrition. Thankfully, this recipe has become a surefire way to please every guest.
The Keto Strawberry Cheesecake is a surefire way to indulge in delightful sweetness in a healthy way. I am extremely excited to be sharing the recipe for this exceptionally appetizing delicacy.
How to make Keto Strawberry Cheesecake
Prep the oven. Preheat to 300 degrees Fahrenheit and make sure that the oven rack is in the middle.

Make the crust. Add almond flour, shredded coconut, granulated sugar, melted butter, cinnamon, and nutmeg in a bowl. Stir until fully combined.

Prep the pan. Outside the pan, wrap the bottom and sides with foil. Spray the insides with baking spray. Get the crust mixture and lay it evenly in the pan for about an inch. Then, refrigerate for 20 minutes.
Make the filling. Beat cream cheese until fluffy then and sour cream and mix again. While still beating, add granulated sugar until it turns creamy. Add eggs and two teaspoons of vanilla one at a time. Carefully, add strawberry puree until combined.

Bake. Fill the pan with the filling. Pour hot water into another larger pan. Place the filled pan inside the bigger pan with water. Bake for an hour.
Cool down. Turn the oven off when it becomes jiggly in the center. Let it cool down for an hour.
Add toppings. Remove the foil and run a knife on the pan's edges. Let it cool for two more hours in a cooling rack. You can also let it sit overnight for better results.

Serve. Afterward, serve it.
Toppings and Variations:
Cheesecakes are known for being very versatile. You can simply alternate with toppings and some even do a roulette recipe, where each slice has different topping flavors.
Check out some of these recipes that I made for other toppings and variations:
How to store it?
The shelf life of a cheesecake mostly depends on whether it is still fresh or already eaten. Leftovers can last only for up to a week while an unconsumed one can carry on for a month.
If you are storing the leftovers, the problem lies in how to maintain its freshness and moisture. To do so, place the cake in a pan and wrap it with a tight plastic seal or foil, then refrigerate.
For fresh-baked ones, make sure that it is completely cool before transferring them to a fridge or freezer. Make sure to wrap it in aluminum foil or plastic wrap before freezing.
More delicious Low Carb recipes
The keto diet helps everyone satiate their cravings while still maintaining a healthy balance. Take a look at some of my healthiest low-carb recipes to keep your nutrition in check:
Recipe tips
Invest in high-quality cream cheese. It has the largest effect on quality and taste.
Avoid over mixing. Try to strive for the balance of just the right fluffy texture without any lumps.

Every time you have to add another ingredient in the batter, scrape always.