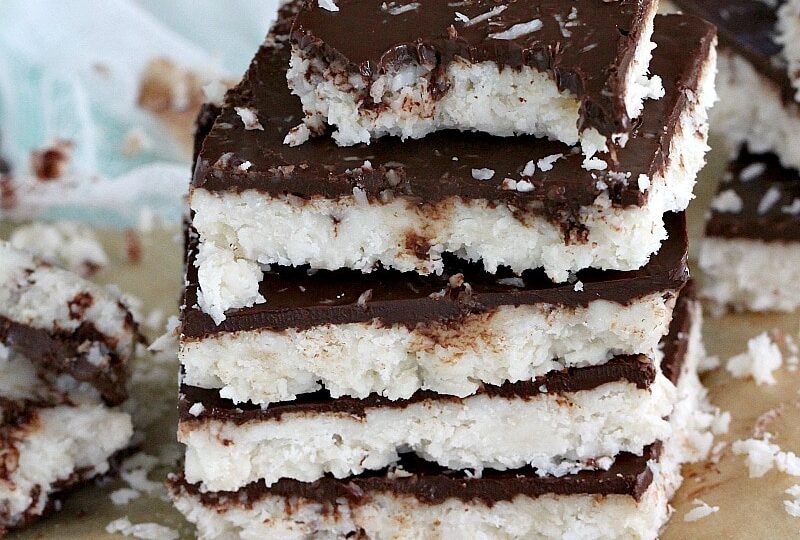 Paleo Coconut Crack Bars – Vegan, No Bake [video]
Paleo Coconut Crack Bars are vegan, gluten-free and no bake. They are easy to make, with only 6 ingredients and ready in 5 mins! Also, the video below shows the easy steps on how to perfectly make them!
Coconut desserts are among the best. We love them because they are super tasty and easy to make like No-Bake Almond Joy Roll, Cheesecake Coconut Cookies and Coconut Avocado Lime Bars.
Paleo Coconut Crack Bars
These Paleo Coconut Crack Bars are not only good looking and delicious, but they are also actually healthy, with not a gram of added refined sugar! The bars are also gluten-free, no-bake, vegan and pack a boatload of amazing coconut flavor. The bars are made with only six ingredients and it will literally take you 5 minutes to throw these together.
Paleo Coconut Crack Bars are truly the best, as they are packed with coconut flakes, oil and also butter! The coconut butter takes them to another level, adding extra creaminess and satiety! They are indulgent, yet healthy. The bars must be stored in the fridge, as the oil and butter will melt at room temperature.
Pin This Paleo Coconut Crack Bars Recipe to your Favorite Board
Why you'll love these No Bake Paleo Coconut Crack Bars:
Firstly, they are very easy to make and requires no-bake.
In addition, they are gluten-free and vegan.
Also, no equipment of any sorts needed, because they can entirely be made by hand.
Flavorful and healthy, they can be a perfect snack.
They are rich in coconut and chocolate flavor.
Perfect cookies for the holiday season or special occasion.
Lastly, they can be made 1 or 2 days in advance so you don't have to worry about a last-minute dessert.
Paleo Coconut Crack Bars Recipe Tips:
Use high-quality chocolate, because quality chocolate will make a huge difference in taste.
Use high-quality coconut flakes as they taste best, make sure they are sugar-free.
Choose coconut butter in your favorite flavor – birthday cake or even chocolate coconut butter, work great in this recipe.
Keep refrigerated or in a cool place, as the coconut butter tends to melt.
Can you freeze Paleo Coconut Crack Bars?
Absolutely! Fully wrap it in plastic wrap, tightly. After that wrap in aluminum foil. Freeze for up to 2-3 months. The bars will thaw quickly at room temperature.
Tools/Ingredients that I used to make this recipe:
Deliciousness to your inbox
Enjoy weekly hand picked recipes and recommendations