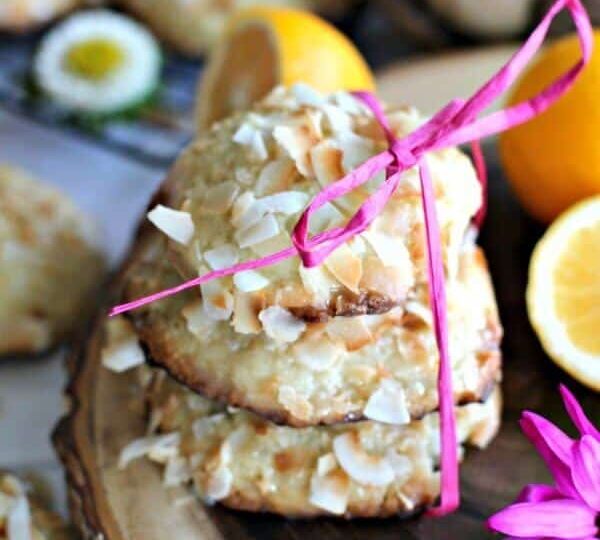 Meyer Lemon Cheesecake Coconut Cookies
Meyer Lemon Cheesecake Coconut Cookies are decadent and elegant, taste delicious and are loaded with white chocolate chunks.
We love coconut deserts that are tasty and easy to make like No Bake Almond Joy Roll and Coconut Avocado Lime Bars.
Cheesecake Coconut Cookies
Cheesecake Coconut Cookies are loaded with white chocolate chucks and glaze, and topped with toasted coconut. These cookies are soft and dense, while the toasted coconut adds some subtle elegance that makes them a perfect Mother's Day gift.
They totally scream spring to me, the lemon flavor is fresh and bright but not overpowering. The white chocolate chunks are a nice surprise and the glaze on top is the perfect addition to keep all that sweet tropical coconut on top. If you are a cheesecake and coconut fan, this combo is the perfect flavor to experience in one bite.
Pin This Cheesecake Coconut Cookies Recipe to your Favorite Board
Why You'll Love These Cheesecake Coconut Cookies:
Firstly, they are rich and chocolaty and are a show stopper dessert.
Also, they are easy to find ingredients and minimum prep work and dishes to clean.
Perfect for brunch parties and for bigger crowds.
Easy for special events like Mother's Day.
Perfect desert for coconut lovers.
In addition, they can be made 1 or 2 days in advance so you don't have to worry about a last minute dessert.
How to make lemon zest?
Follow the easy steps below:
First, rinse the lemon.
Next, set your tool over a cutting board. A microplane produces a very fine zest, perfect for baking and cooking. If you don't have a microplane, use the smallest holes on an ordinary grater.
Then, grate the yellow skin of the lemon only. Grate just enough to get through the yellow skin, so you can avoid the bitter white pith underneath.
Rotate the lemon and repeat. Once the white pith is exposed, rotate the lemon and zest the next strip of peel. Repeat until most of the peel is removed, or until you have enough zest for your recipe.
Can you freeze the Cheesecake Coconut Cookies?
Cool the Cheesecake Coconut Cookies completely. Fully wrap the bars in plastic wrap, tightly. After that wrap in aluminum foil or place in freezer bags. Freeze for up to 3 months. Defrost before serving.
Deliciousness to your inbox
Enjoy weekly hand picked recipes and recommendations