Meyer Lemon Cheesecake Coconut Cookies
This post may contain affiliate links. Please read my disclosure policy.
Decadent and elegant, these bright and fresh Meyer lemon cheesecake coconut cookies taste delicious and are loaded with white chocolate chunks.
How much I love this time of the year, well, minus rainy and windy days in New York City. But all things aside, I love how the produce aisles at the grocery store start bursting with seasonal fresh produce. On my last shopping trip I spotted some beautiful, golden Meyer lemons. So perfect, so fragrant that I just wanted to start baking any possible lemon dessert. You are in for a real treat with these meyer lemon cheesecake coconut cookies that are loaded with white chocolate and topped with extra coconut.

After much hard work, my tired brain cells finally acknowledged that probably is not wise having 10 different desserts around the house, especially when in one week someone has to go on a tropical vacation, and that someone didn't fit into their bikinis.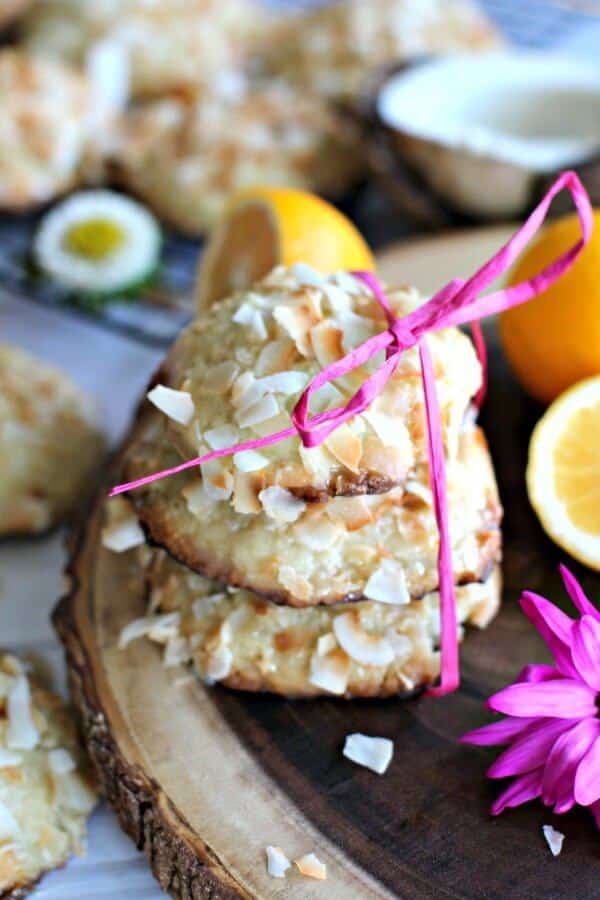 While I gave up on the number of the desserts I want to make, I didn't give up on flavor and decadence. I settled on making some unbelievably good Meyer lemon cheesecake coconut cookies with white chocolate chucks covered in a white chocolate glaze, and all that delicious toasted coconut on top. That will make you house smell like a holiday. Neighbors will probably knock on your door and ask for what are you baking, they will find many reasons to come back, but be strong hoard these meyer lemon cheesecake coconut cookies – don't share. I know this is bad advice, but they are that good.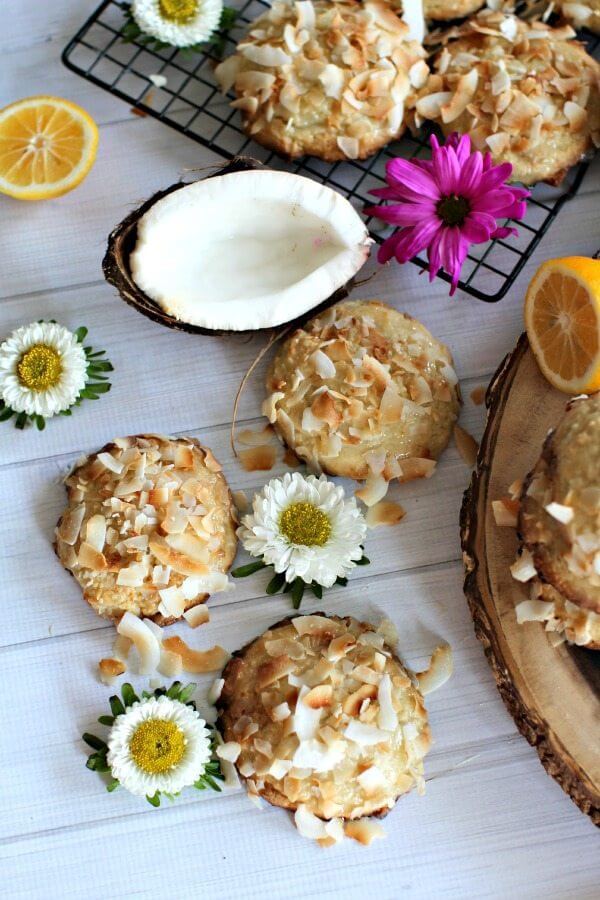 These beauties are amazing, the cheesecake gives them a cake like texture, soft and dense, the toasted coconut adds some subtle elegance that will make these cookies a perfect Mother's Day gift. They totally scream spring to me, the lemon flavor is fresh and bright but not overpowering. The white chocolate chunks are a nice surprise and the glaze on top is the perfect addition to keep all that sweet tropical coconut on top.

MY LATEST VIDEOS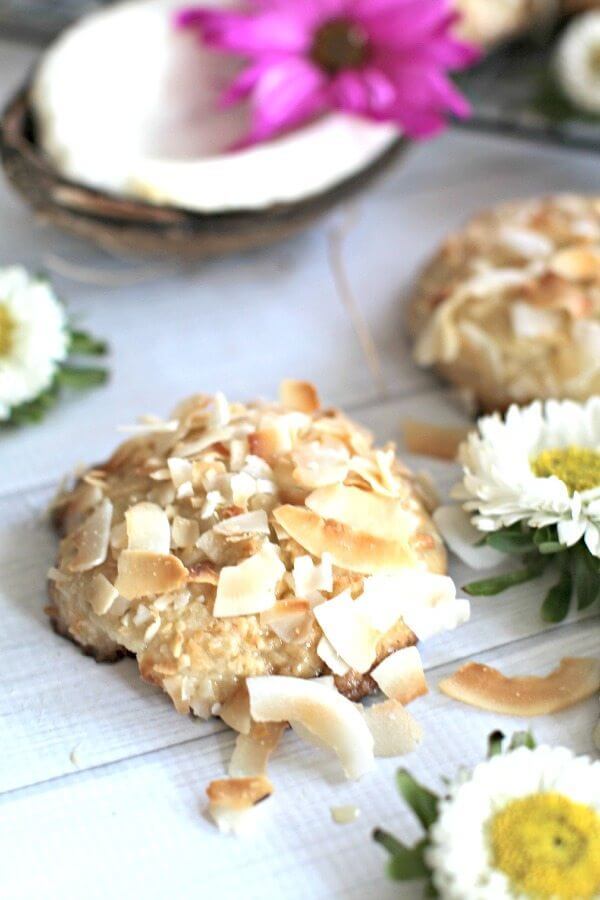 Every bite is a bite of happiness, and worth every single calorie. If you have to choose one thing to bake this season with Meyer lemons, go for these cheesecake like cookies, that look elegant and taste scrumptious.

Meyer Lemon Cheesecake Coconut Cookies with White Chocolate Chunks
Decadent and elegant, these bright and fresh Meyer lemon cheesecake coconut cookies taste delicious and are loaded with white chocolate chunks.
Author:
Katalina Kastravet
Ingredients
2 cup all-purpose flour
½ teaspoon baking soda
¼ teaspoon salt
8 tablespoons unsalted butter, softened
1¼ cups granulated sugar
8 ounces cream cheese, cold and cut into cubes
1 large egg yolk
juice of one Meyer lemon
zest from one Meyer lemon
1 cup white chocolate chunks
white chocolate glaze[/b]
8 ounces white chocolate chunks
2 cups large coconut flakes, unsweetened
Instructions
Preheat oven to 350 degrees F.
In a small bowl, whisk together flour, baking soda and salt. Set aside.
In the bowl of an electric mixer, beat together butter and sugar until fluffy, about 5 minutes. Add in the cream cheese and beat until combined, beat in the egg yolk, lemon zest and lemon juice. With the mixer on low speed, beat in the dry ingredients until combined. With a spatula to stir in the chocolate chunks.
Refrigerate the dough for 15 minutes, using an ice cream scoop, scoop round equal balls on a non stick baking sheet, 3 inches apart. Approximately 12 balls. Bake for 17 minutes, or until the cookies are set. Let cool completely before covering with glaze.
On a non stick baking sheet distribute the coconut flakes and bake for 3-4 minutes, until edges start to look golden brown. Remove from the oven and set aside.
Let cookies cool completely before drizzling with white chocolate.
Bring a medium saucepan half filled with water to a boil. Place white chocolate in a medium bowl set over the saucepan of simmering water, let it melt, stirring just a few times. Make sure the bowl doesn't touch the boiling water, to avoid overheating. Remove bowl from heat, using a spoon, pour the white chocolate over the cookies and top with a generous amount of toasted coconut flakes.
Peas and Peonies, LLC. owns the copyright on all images and text and does not allow for its original recipes and pictures to be reproduced anywhere other than at this site unless authorization is given. If you enjoyed the recipe and would like to publish it on your own site, please re-write it in your own words, and link back to my site and recipe page. Copying and/or pasting full recipes to social media or personal blogs is strictly prohibited. Sharing this recipe is very much appreciated and encouraged. Read my disclosure and privacy policy. This post may contain affiliate links.