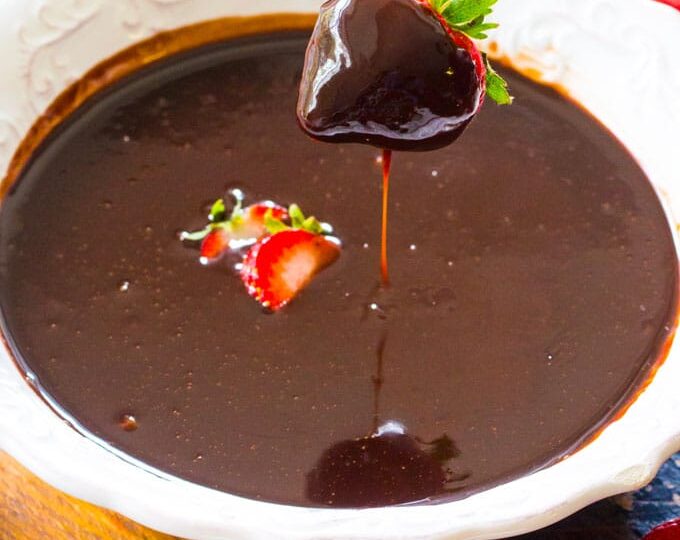 Slow Cooker Chocolate Fondue
Slow Cooker Chocolate Fondue is rich, smooth and luxurious. Easy to make in the slow cooker and serve with your favorite dippers.
Slow Cooker Chocolate Fondue
Slow Cooker Chocolate Fondue is one of the easiest desserts you can make to feed a crowd. Actually, forget about the crowd, just fix some for yourself and indulge in all its glory. But, to keep it real, this is one of my favorite desserts and I love how easy it is to make.
For Slow Cooker Chocolate Fondue, you just add all your ingredients to the slow cooker and serve it when ready. This dessert is perfect for any occasion. Also, it is easy to make preparations and can be enjoyed for birthdays, large gatherings, game day, or Valentine's day. It has no limits, and you can dip in any fruits you want. It is easy to make, requires a few simple ingredients, and is a crowd-pleaser!
Why You'll Love This Slow Cooker Chocolate Fondue:
It is simple to make, just add the ingredients to the slow cooker and enjoy it!
In addition, this is a rich and chocolaty dip and is a show stopper dessert.
It can be enjoyed with a variety of drippings.
Perfect for brunch parties and for bigger crowds.
A hit with both kids and adults.
Slow Cooker Chocolate Fondue Dippers:
I like to serve an assortment of fresh fruit on the side: sliced bananas, strawberries, cantaloupe, mixed berries kiwis and pineapple.
Marshmallows are a must for me. I also like to have a bowl of graham crumbs on the side, so people can roll them into the crumbs after dipping into the chocolate.
Salted pretzels and dried fruits like apricots and prunes are a great addition too.
Cheese!! I love some cheese on the side, just because sometimes you need a break from the chocolate, and what better way to take it, if not by snacking on some cheese!
Pastries: I like to cut cubes of vanilla, lemon and chocolate pound cake on the side. Also, mini cheesecake cubes and some pastries, like croissants and palmiers are great for some chocolate dipping action.
Cookies – add some sandwich cookies, shortbread or biscotti, they are great dippers.
How to Make a Slow Cooker Chocolate Fondue?
Making Fondue using the Slow Cooker is very simple. Follow the below steps:
Ingredients:
20 oz high-quality semisweet chocolate chips or chopped
11/2 cup of heavy cream
3 tablespoon unsalted butter
3 tablespoon light corn syrup
1 teaspoon vanilla extract
1/8 teaspoon sea salt
Instructions:
Lightly grease slow cooker with nonstick cooking spray.
Add all of the ingredients to the slow cooker and gently stir.
Cover and cook on LOW for 1 hour, stirring occasionally.
The fondue is ready when chocolate is fully melted, smooth and shiny after stirring.
Turn slow cooker to warm and serve with favorite dippers.
What chocolate is best for Fondue?
You can use any chocolate you prefer. However, milk or dark chocolate is commonly used for chocolate fondue.
Pin This Slow Cooker Chocolate Fondue Recipe to your Favorite Board