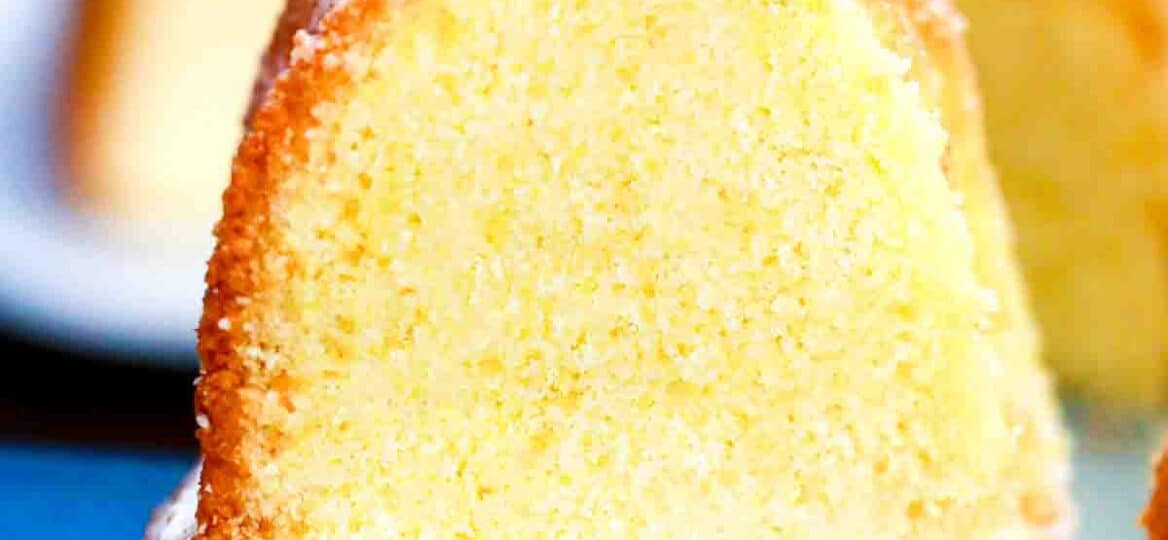 Cream Cheese Pound Cake Recipe [Video]
Cream Cheese Pound Cake is a deliciously moist cake, with a soft and rich texture that melts in your mouth with deliciousness. All you need is a handful of ingredients including butter, sugar, eggs, flour, buttermilk, and, of course, cream cheese. The difference between a good pound cake and a perfect pound cake is cream cheese because it makes it so moist.
If you want chocolate, this Chocolate Pound Cake is an awesome dessert cuisine made with coffee granules for a super chocolatey flavor. Looking for another cream cheese recipe? Our Persimmon Cheesecake Pound Cake Bars are scrumptious with a layer of vanilla pound cake, a layer of cheesecake, and a layer of persimmon jam.
The first pound cake was believed to be made in the 1700s in northern Europe. And the first recipe in an American cookbook was published in American Cookery in 1795. It was written by Amelia Simmons and called for one pound of eggs, one pound of flour, one pound of butter, and one pound of sugar. Other varieties have been made over the years like this deliciously moist cake recipe.
This is the best pound cake recipe I have ever tried and my family will agree that it is the best homemade pound cake I have made. Although a regular pound cake like my mother's pound cake tastes great, this is the most perfect pound cake recipe because it is a moist and lighter cake.
You only need 7 ingredients to make this delicious dessert, and the best part is that you can customize it. Additionally, you can mix in some berries, chocolate chips, or crunchy nuts into the batter!
Ingredients needed:
To make this easy pound cake recipe, first, you need to gather the ingredients listed here. Then, when you are ready to begin, scroll down to our recipe card for the instructions and measurements.
Softened cream cheese: At room temperature.
Buttermilk: Also at room temperature.
Cake flour
Vanilla extract
Large eggs: At room temperature.
Granulated sugar
Salted butter: Softened to room temperature.
Confectioners' sugar: Or powdered sugar, for dusting.
How to make cream cheese pound cake from scratch?
Preheat the oven: First, preheat your oven temperature to 325 degrees F and spray a large bundt pan with non-stick spray.
Mix the butter and cream cheese: In the meantime, mix butter and cream cheese in the mixing bowl of your stand mixer with a paddle attachment. Continue to beat butter and cream cheese for about three minutes, until it is smooth.
Add sugar: Then, add the sugar gradually and continue mixing until it is light and fluffy.
Add eggs and vanilla: One at a time, add eggs, stirring well after each one before adding the vanilla extract.
Pour in flour gradually: Next, slowly pour in the cake flour a little at a time and keep mixing until it is thoroughly combined.
Stir in the buttermilk: After, remove the bowl from the stand and add buttermilk, mixing it by hand with a wooden spoon until it is just mixed in. Make sure you use a rubber spatula to get all the ingredients mixed in.
Bake pound cake: Lastly, pour the pound cake batter into the prepared pan and bake it for 60 to 80 minutes, checking it after one hour.
Cool and serve: Finally, let the cake cool completely on a wire rack before you remove it, and dust it with sugar before serving.
How to make crockpot cream cheese pound cake from scratch?
Mix the wet ingredients: To begin, mix cream cheese and softened butter in a mixing bowl at medium speed for three minutes before adding the sugar. Keep mixing it until it is fluffy and light. Then, add the eggs one at a time and mix each time before you add the vanilla.
Pour in the flour: After, add the flour gradually to the wet ingredients, mixing until it is completely incorporated.
Add buttermilk: Now add your last ingredient, the buttermilk, with a spoon, mixing until it is just combined.
Cook on high: Then, pour the cake batter into your well-oiled crockpot or slow cooker and cook for four hours on high. Place a clean kitchen towel under the lid to keep the condensation from dripping onto the cake as it cooks.
Serve warm: Last, serve warm with a sprinkle of powdered sugar on top.
Recipe variations:
Add some booze: For a boozy cream cheese pound cake, add 1/4 cup of rum or another kind of alcohol that you like.
More flavors: Add your favorite warm spices like cinnamon, ginger, or cloves.
Brown sugar: Make it even richer by substituting half the granulated white sugar for brown sugar.
Lemon juice: For a bit of tanginess in your cream cheese pound cake, add two teaspoons of lemon juice.
Lemon extract: For more lemon flavor, use 1/2 teaspoon of lemon extract or lemon zest instead.
Other extracts: In fact, you could use just about any flavor extract in this recipe like banana, orange, maple, or almond extract.
Sour cream: Add a half cup of sour cream or heavy whipping cream to the batter for an even creamier cream cheese pound cake.
Chocolate lovers: If you love chocolate, add a cup of chocolate chips to the recipe.
Instead of this cream cheese pound cake recipe, try our pumpkin pound cake with pumpkin puree, pumpkin spice, and white chocolate frosting. Or you might like this bundt cake with a cheesecake center made from cream cheese, chocolate, and cherries.
How to serve:
This moist pound cake recipe is easy to make and can be served by itself or with a bit of powdered sugar. Or you can try one of these great ideas.
This mellow cake tastes great alone with a glass of ice-cold milk or a cup of hot cocoa.
Cream cheese pound cake goes great with fresh berries. Serve with fresh fruit on top like fresh strawberries, blueberries, or raspberries.
Instead, why not just add a spoonful of our homemade blueberry sauce or tangy cherry pie filling?
Chocolate lovers would enjoy a sprinkle of chocolate syrup on top of this dense cake.
Another way to top this amazing pound cake is with a dollop of freshly whipped cream like our easy whipped cream recipe.
For a more festive cream cheese pound cake, add some rainbow sprinkles on top.
For a sweeter and richer topping, add a spoonful of caramel sauce.
Frequently asked questions
Why don't pound cakes need baking powder?
Although some pound cake recipes call for baking soda or baking powder, the traditional pound cake recipe does not have any kind of chemical leavening. What is used instead is what we call physical leavening, which just means that you mix the air into the cake to make it rise. This cream cheese pound cake does not need any kind of leavening.
What is the difference between a tube pan and a bundt pan?
A bundt cake pan has fluted sides to make the cake turn out decorative with a sculpted shape. You do not have to decorate these cakes because they are so nice looking on their own. A tube pan is also a round cake with a hole in the middle, but it has straight sides with no decorative embellishments. They are often used for angel food cakes.
Why did my pound cake crack?
Because pound cakes are so dense, they sometimes crack on top. This is because the exterior of the cake cooks before the inside. Using a bundt pan or tube pan can help this by distributing the batter more evenly. Another way to prevent cracks is to start cooking your cake in a cold oven.
What are the nutrition facts in this recipe?
Each serving has 522 calories, 150 mg of cholesterol, and 220 mg of sodium. It also has 65 carbs, 44 grams of sugar, 28 grams of fat, and 17 grams of saturated fat. On the other hand, you also get 8 grams of protein, 33 mg of calcium, 2 mg of iron, and 84 mg of potassium.
How to store leftovers:
Store: Storing leftover cream cheese pound cake is easy. Just put it in an airtight container and store it in the fridge. It will stay fresh for about four or five days.
Freeze: If you cannot eat all your leftovers in a few days, wrap your cake in plastic wrap and then a layer of aluminum foil. Then place it in a freezer bag or freezer-safe container. You can freeze cream cheese pound cake for up to three months.
Thaw: Before serving, place your frozen cake in the fridge overnight.
Baking tips:
Instead of a stand mixer, you can use an electric mixer and a large mixing bowl.
If you do not have cooking spray, make your prepared bundt pan by rubbing it with butter and sprinkling it with all-purpose flour.
Make sure there is at least 1½ inches between the height of the batter and the top edge of the pan.
If you do not have a large enough bundt pan, you can use two loaf pans instead. Just make sure each loaf pan is well-oiled or sprayed with non-stick cooking spray.
If you do not have a bundt pan, feel free to use what you have such as a 9-inch cake pan. Also, a springform pan but shorten the baking time to 50 to 60 minutes.
You could also use a tube pan instead of a bundt pan for the same recipe. But make sure your prepared cake pan is thoroughly greased and floured.
To check for doneness, a toothpick inserted into the center of the cake should come out clean or with just a few crumbs.
Another way to tell if it is done is that the edges will be dark golden brown.
If you use unsalted butter, add another 1/4 teaspoon of salt.
If you use this great recipe for a different kind of pan, start it in a cold oven to prevent cracks.
Cream Cheese Pound Cake
Ingredients
8

ounces

cream cheese

1 package at room temperature

1 1/2

cups

salted butter

room temperature

3

cups

granulated sugar

6

large eggs

room temperature

1 1/2

teaspoon

vanilla extract

3

cups

cake flour

you can use all-purpose flour but the cake will be denser

1/4

cup

buttermilk

room temperature

Powdered sugar

for dusting
Instructions
Spray a large 10-inch bundt pan with non-stick spray.

In the bowl of a stand mixer fitted with the paddle attachment, beat cream cheese and butter until smooth, about 3 minutes.

Gradually add the sugar, one cup at a time, and mix until light and fluffy. Stop to scrape the bottom and sides of the pan.

Add the eggs, one at a time, mixing well after each addition, and finally stir in the vanilla extract.

With the mixer running on low speed, add the cake flour and mix just until combined.

Pour in the buttermilk and mix it by hand until just incorporated. Use a rubber spatula to scrape the sides and bottom of the bowl.

Pour batter into the prepared bundt pan, do NOT fill it to the brim. Bake for 1 hour and check for doneness, insert a toothpick into the center of the cake, if it comes out with a few crumbs, but no wet batter, the cake is done. If needed bake it for 20 minutes more.

Remove the cake and place it on a wire rack to cool to room temperature. Dust with powdered sugar before serving.
Deliciousness to your inbox
Enjoy weekly hand picked recipes and recommendations