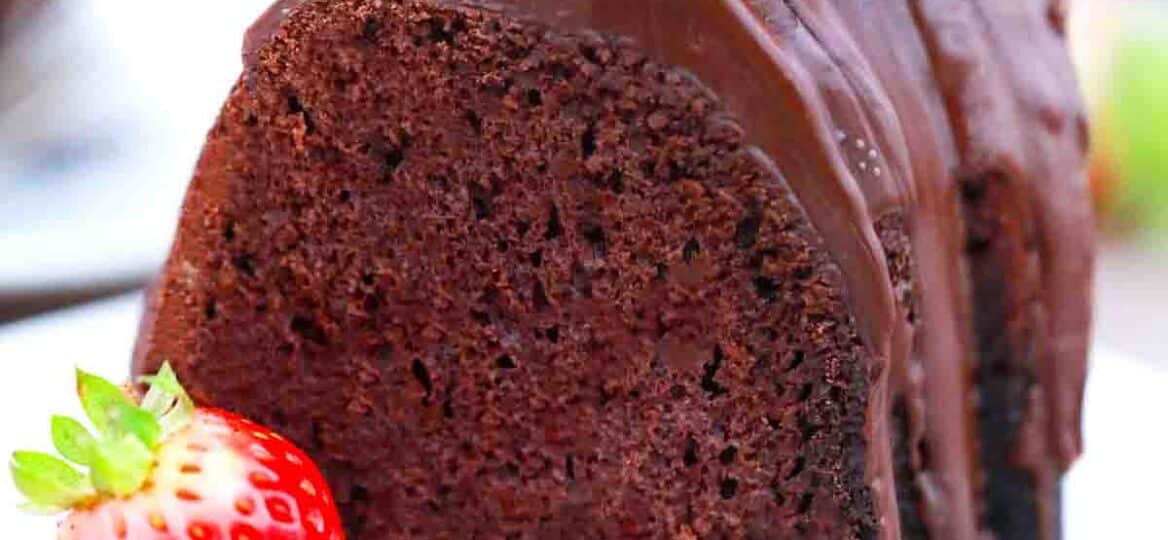 Chocolate Pound Cake Recipe [Video]
Chocolate Pound Cake is a scrumptious and delicious dessert loaded with chocolate and topped with a luxurious ganache. This is the best chocolate pound cake recipe I have found, and you only need a handful of common ingredients to make it. It is the perfect cake for celebrations, holidays, or just any day of the week you crave some chocolate cake.
If you want even more chocolate flavor, try our Triple Chocolate Pound Cake recipe flavored with dark chocolate, heavy cream, and figs. Looking for a cake you do not have to bake? Try this No-Oven Chocolate Cake with just five ingredients.
Pound cakes date back to the 1700s when a recipe was printed in American Cookery in 1796. The ingredients changed over time with the most common being the 1851 recipe for pound cake by Eliza Leslie. She used 10 eggs and a pound of flour with orange or lemon juice. Today, the pound cake comes in many different flavors and versions, but this chocolate pound cake is perfectly scrumptious.
Chocolate pound cake is easy to make and always tastes delicious. This chocolate pound cake recipe is amazing with cocoa powder, melted chocolate, and chocolate chips. In fact, if you use chocolate ganache on top, you will have a quadruple-chocolate pound cake to serve to your favorite chocolate lovers.
If you are looking for more cake recipes, we have them for you. Try this amazing instant pot lemon pound cake made with buttermilk lemon zest, and lemon juice. Our orange pound cake recipe is another delicious way to enjoy cake with a cheesecake swirl and orange glaze.
Follow us on Pinterest for more delicious recipes!
Ingredients needed:
You will need to gather the ingredients below to make this perfect chocolate pound cake recipe. Then, when you are ready to begin, scroll down to our recipe card where you can find the exact measurements and instructions.
Unsweetened cocoa powder
Melted chocolate: Slightly cooled.
Chocolate chips
Instant coffee granules
Unsalted butter: Softened to room temperature.
Large eggs: At room temperature.
Brown sugar: Dark or light brown sugar will both work.
Granulated sugar
Baking powder: Not baking soda.
All-purpose flour
Buttermilk
Vanilla extract
Kosher salt
Hot water
Topping:
Powdered sugar or chocolate ganache: Optional.
How to make chocolate pound cake from scratch?
Preheat the oven: First, preheat your oven to 325 degrees F. Then, spray a bundt pan thoroughly with non-stick baking spray and set it aside.
Stir the chocolate: While you wait for the oven to heat up, dissolve the coffee in the hot water in a medium mixing bowl. Then stir in the melted chocolate and buttermilk with an electric mixer on medium-high speed.
Cream the butter and sugar: Next, in the bowl of a stand mixer or a separate bowl, cream both sugars and butter at medium speed for five minutes until it is light and fluffy with a pale yellow color.
Mix in the eggs: Continue mixing, adding eggs one at a time until it is all combined, scraping down the sides of the bowl as needed.
Add cocoa: Now, add cocoa powder, vanilla, baking powder, and salt, mixing together until smooth.
Slowly add flour and buttermilk: Then, turn the mixer to low and mix in the buttermilk mixture and flour, alternating, starting and ending with the flour mixture. Do not overmix. Only mix until it is just combined.
Add chocolate chips and bake: Stir in the chocolate chips before pouring the cake batter into the prepared pan and baking for 60 to 70 minutes, until it passes the toothpick test.
Let it cool: Last, let the cake cool for 20 minutes. Loosen the cake from the sides of the pan with a butter knife or rubber spatula and then turn over the pan onto a wire rack to cool completely.
Top and serve: Finally, when it is completely cool, dust it with powdered sugar or frost it with chocolate ganache before serving.
How to make crock pot chocolate pound cake from scratch?
Prep the pot: To begin, lightly grease your crock pot and set it aside while you work
Dissolve coffee: Then, melt the coffee granules in hot water in a medium bowl before adding the melted chocolate and buttermilk. Stir well with a mixer or by hand.
Cream it: Next, cream the butter and sugar for five minutes on medium speed using a hand mixer or by hand.
Add eggs: Then, add eggs, one at a time, scraping the sides of the bowl as needed before adding the cocoa powder, baking powder, salt, and vanilla. Mix until combined.
Mix in flour: After, mix in the flour and buttermilk mixture alternating between the two, starting with the flour.
Pour and cook: Now, stir in the chocolate chips before you pour the batter into your lightly greased crockpot or slow cooker. Cook on high for three to four hours or until a toothpick inserted in the middle comes out clean. If it has wet batter on it, cook for another 15 to 20 minutes.
Add topping, slice, and serve: Last, let the cake cool in the pot for at least one hour before adding topping if you are using any. Then, slice and serve.
Recipe variations:
Espresso: For an even more rich chocolate flavor, use espresso powder instead of coffee granules.
Make it creamier: Add a 1/2 cup of sour cream to make this pound cake creamier.
Add nuts: Give your chocolate pound cake some crunch by adding chopped walnuts or pecans to the cake batter.
Less chocolate: For those who do not love chocolate as much as you do, feel free to leave out the cocoa powder and melted chocolate.
Overly sweet: Similarly, if you find this recipe overly sweet, leave out the chocolate chips.
Add fruit: You could also add fruit to the cake batter. Try dried fruit like raisins or cranberries.
How to serve:
Chocolate cakes are perfect for any time you want to serve them whether it is a celebration or just dinner. Pound cakes are especially versatile and can be served with just about anything. Try one of these great ideas or share some of your own in the comments section at the bottom of the page.
Add a dollop of fresh whipped cream on top for an extra creamy chocolate pound cake. Try our easy recipe for homemade whipped cream.
This goes great with a large bowl of vanilla ice cream.
You could also try to serve it with a scoop of ice cream, vanilla, strawberry, or butter pecan would work great.
Make a chocolate glaze for the top instead of the other toppings. In a microwave-safe bowl, heat semi-sweet chocolate chips, butter, and vanilla in a microwave until melted.
Pour a bit of caramel sauce on top for extra yumminess.
Another tasty idea is to top your cake with your favorite fresh berries.
Serve a slice of chocolate pound cake with your favorite frosting or try our cream cheese frosting recipe.
Frequently asked questions
What is the difference between regular and dutch process cocoa powder?
Regular cocoa powder comes from cocoa solids without the cocoa butter that adds fat. It has a strong, rich cocoa flavor when, added to sugar, makes a deliciously sweet chocolate taste. Dutch-processed cocoa powder is made from cocoa beans treated in an alkaline solution to make it less acidic. This means it does not react to baking soda.
What is the difference between bundt and pound cake?
Nothing except the pan. The truth is, you can make any cake in a bundt pan and turn it into a bundt cake. But a pound cake is usually made from a pound of each ingredient including sugar, eggs, butter, and flour. It is often made in a bundt pan or a loaf pan and is sometimes dusted with powdered sugar.
Does it matter what speed I use on my mixer?
Let's face it, many of us do not even think about what speed we are using when mixing something we make often. And some mixers only have one or two speeds. But it would help if you always started with the lowest speed and then work up from there. Low is for folding, the medium is for creaming, and high is for beating or whipping.
What are the nutrition facts in this recipe?
The nutrition facts differ depending on the topping you use if any. But the recipe in general has 396 calories, 105 milligrams of cholesterol, and 20 grams of fat with 12 grams of saturated fat per serving. It also has 54 grams of carbs, 40 grams of sugar, and 325 milligrams of sodium. In addition, you get 2 grams of fiber, 5 grams of protein, 44 milligrams of calcium, 3 milligrams of iron, and 135 milligrams of potassium.
How to store leftovers:
Store: Refrigerate leftover chocolate pound cake in an airtight container and it will stay fresh for up to four days.
Freeze: If you cannot finish your chocolate pound cake in a few days, wrap it in plastic wrap and then place it in a freezer-safe container. You can freeze it for up to 90 days.
Thaw: For the best texture and flavor, let your chocolate pound cake thaw overnight before serving.
More chocolate desserts:
Baking tips:
If you use something besides a 10- to the 12-cup bundt pan, you may have to adjust the cooking time.
To pass the toothpick test, a toothpick inserted into the middle of the cake should come out clean or with a few moist crumbs.
The coffee granules are just to make this cake richer. You cannot taste any kind of coffee flavor.
To make sure the cake does not stick, use parchment paper with extra hanging out to remove the cake easier.
You can use a prepared loaf pan instead of a bundt pan but you will need to add a few minutes to the cooking time.
Since the main ingredient is chocolate, buy the best you can afford.
You should also use the highest quality butter.
Chocolate Pound Cake
Ingredients
1

tablespoon

instant coffee granules

1/4

cup

hot water

1 1/3

cup

buttermilk

1 1/2

cups

butter

room temperature

2

cups

granulated sugar

1/2

cup

brown sugar

8

oz

chocolate

melted and lightly cooled

5

large eggs

room temperature

1

tablespoon

vanilla extract

1

teaspoon

kosher salt

1

teaspoon

baking powder

3/4

cup

unsweetened cocoa powder

2

cups

all-purpose flour

1

cup

chocolate chips
Garnish:
Powdered sugar or chocolate ganache
Instructions
Preheat the oven to 325°F.

Coat a 10 or 12-cup bundt pan with baking spray. Set aside.

In a medium bowl, mix the coffee granules into the hot water, and stir to dissolve. Once dissolved, stir in the buttermilk and melted chocolate. Set aside.

In the bowl of a stand mixer fitted with the paddle attachment, mix the butter and sugars on medium speed until light and fluffy, this will take about 4-5 minutes,

Add in the eggs one at a time, mixing just until combined. Stop to scrape the sides and bottom of the bowl a few times. Next, add in the vanilla extract, salt, baking powder, and cocoa powder, and mix just until combined and the batter is smooth.

Turn the mixer to low speed and add in the flour and buttermilk mixture alternating both, start and finish with the flour. Stop to scrape the sides and bottom of the bowl a few times and do not overmix.

Using a rubber spatula stir in the chocolate chips.

Pour the batter into the prepared pan. Bake for 60 – 70 minutes, or until a toothpick inserted into the center comes out clean or with just a few crumbs, not raw batter.

Remove from the oven once done and let the cake cool in the pan for 15-20 minutes, then loosen the cake from the sides of the pan using a butter knife. Invert onto a wire rack and let it cool completely.

Once cooled, dust with powdered sugar or top with chocolate ganache and serve.