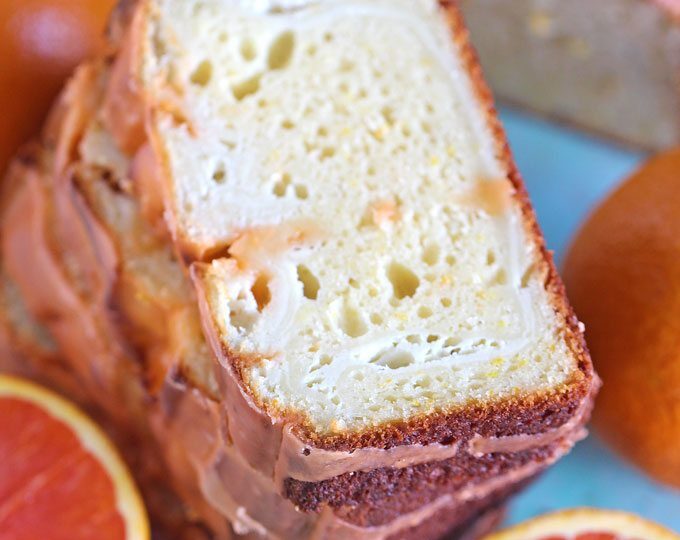 Orange Pound Cake is rich and flavorful, with a beautiful orange scent and a creamy orange flavored cheesecake swirl.
Pound Cakes are common on our blog, as we love making them puffy and delicious. Like our popular Pumpkin Pound Cake, Triple Chocolate Pond Cake and Persimmon Pound Cake, this one will be a easy one to enjoy!
Orange Pound Cake
Orange Pound Cake that tastes like Orange Creamsicles! This dreamy Orange Pound Cake is loaded with orange flavor from the orange extract. In addition, it have tons of fresh orange zest and orange juice! With a delicious orange cheesecake swirl, this cake tastes like tropical heaven! Now, this is a delicious way to get your share of Vitamin C. You can make this pound cake with your favorite citrus, either lemons, oranges or even grapefruit. Moist, rich and not too sweet, a slice of this pound cake is the perfect coffee companion. It tastes refreshing and bright, just like it looks! The cheesecake swirl adds the right amount of creaminess to remind you of the classic orange creamsicle dessert!
Orange Pound Cake Recipe Tips:
The recipe asks for a LOT of orange extract, a few tablespoons to be precise. You need all that extract for the orange flavor to truly shine.
Also, don't skip the orange zest, it adds a fresh and more natural orange flavor. In addition, a bit of texture and visually the tiny orange specs thru the white cake are gorgeous.
Let the cake completely cool before slicing, because the cheesecake swirl needs to settle first.
The cake can be made without the cheesecake swirl. It will result in a traditional Orange Pound Cake or you can use any other citrus fruit.
The glaze is optional, but it is a nice addition to the overall not too sweet cake, and it adds another level of orange flavor.
Make sure you don't over-mix the flour, as it will result in a stiff cake.
Follow Sweet and Savory Meals on Pinterest for more great recipes!
Pin This Orange Pound Cake Recipe to your Favorite Board
How Long Will Orange Pound Cake Stay Fresh?
The cake can be stored wrapped in plastic wrap at room temperature for about 4-5 days.
Can You Store and Freeze This Orange Pound Cake?
Absolutely! This cake freezes well. Cool the cake completely and fully wrap it in plastic wrap, tightly. After that wrap in aluminum foil. Freeze for up to 2-3 month. Defrost before slicing.
How to make Orange Zest?
First, rinse the orange.
Next, set your tool over a cutting board. A microplane produces a very fine zest, perfect for baking and cooking. If you don't have a microplane, use the smallest holes on an ordinary grater.
Then, grate the skin of the orange only. Grate just enough to get through the orange skin, this way you can avoid the bitter white pith underneath.
Rotate the orange and repeat. Once the white pith is exposed, rotate the orange and zest the next strip of peel. Repeat until most of the peel is removed, or until you have enough zest for your recipe.
Tools/Ingredients I used to make this Cheesecake Swirl Orange Pound Cake Recipe:
Gel Food Coloring – this set comes in a variety of colors and it won't add extra water to the batter or glaze, also it will result in a gorgeous, deep color.
Loaf Pan – love this pan, it cleans so well and it's very durable
Orange Extract – this will add an amazing orange flavor to any dessert!
Deliciousness to your inbox
Enjoy weekly hand picked recipes and recommendations