Triple Chocolate Fig Pound Cake
This post may contain affiliate links. Please read my disclosure policy.
A rich and indulgent triple chocolate fig pound cake that is topped with honey roasted figs make for an easy and decadent, stunning dessert.
Happy Thursday to everyone, the week flies by after a long weekend. Are you enjoying the last days of summer to the fullest? I must confess, I already made a pumpkin recipe, but its not too much pumpkin so don't be mad, come back tomorrow to check it out. All pumpkin aside, lets overindulge in chocolate today with this triple chocolate fig pound cake that is as chocolaty as a dessert can be.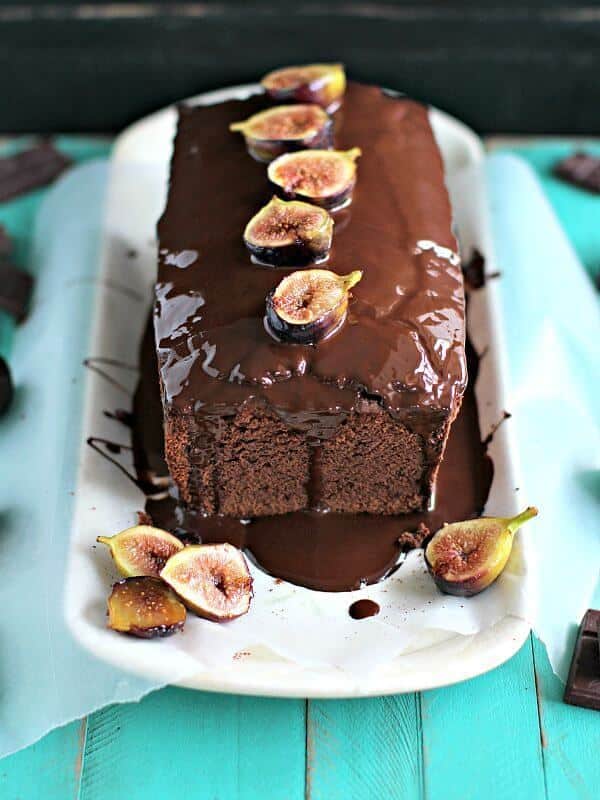 This triple chocolate fig pound cake is pure bliss and delicious calories. Yeah, don't even bother counting the calories in this one, at least they are full of antioxidants <—- that's what I say to myself. In all fairness, this cake is worth every single calorie!

My dear husband was never really into chocolate desserts, he would've rather had an apple pie, or a slice of a tiramisu cake (or the whole cake), flans and mousses where his favorites! How things have changed, now the guy is asking me to bake brownies and he claimed that this triple chocolate fig pound cake is the best he had. I told you that in my family we eat dessert for breakfast sometimes, well, my husband has been enjoying this triple chocolate fig pound cake every morning with tea, and I can assure you his day was so much sweeter after this. Well, I served him a spinach smoothie on the side, just to make sure he has something to balance all that chocolate overload.

MY LATEST VIDEOS
So this triple chocolate fig pound cake, it has so much chocolate (obviously): cacao powder and melted chocolate is added to the batter, also a hefty amount of chocolate chips and the cake is topped with melted dark chocolate. The chocolate makes an appearance four times, but lets keep this as a triple chocolate fig pound cake as the melted chocolate on top is optional, but obviously who would skip it? Extra chocolate is always good!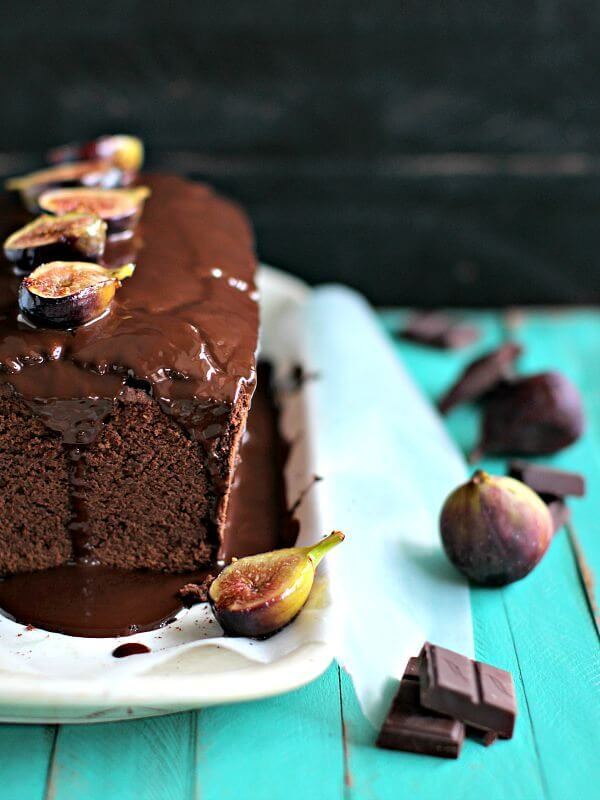 And have you tried honey roasted figs? You have to! They are in season now, delicious, tender and not overly sweet, these little fruits may be a bit blend when served raw, but after you cook them in honey and butter they start to shine. The honey adds just the right amount of sweetness, and we all know that anything cooked in butter is amazingly rich and good. The figs also add a nice pop of color, and balance nicely the whole chocolate scene we have going in this triple chocolate fig pound cake by adding just a little fruit flavor that is not overpowering. Their creaminess and tenderness works so well in this rich and scrumptious dessert.
This triple chocolate fig pound cake is a chocolate lover dream come true, with a dense texture, it packs an amazing amount of chocolate flavor that is experienced in different forms. And this is such an easy dessert, that will impress your guests, it will look stunning when topped with the figs, and I am sure people will ask you for seconds and recipe printouts.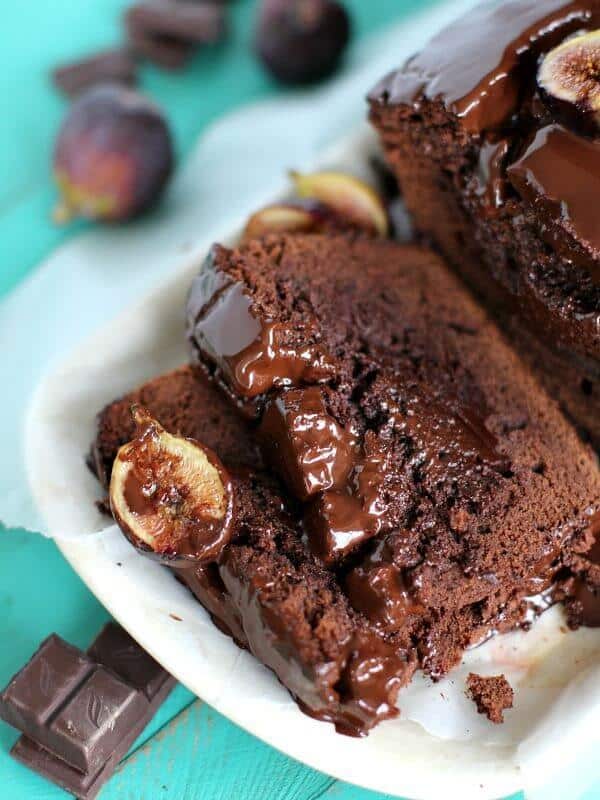 As long as I have chocolate the pumpkin recipes can wait a little longer 🙂

Triple Chocolate Fig Pound Cake
A rich and indulgent triple chocolate fig pound cake that is topped with honey roasted figs, makes for an easy, decadent and stunning dessert.
Author:
Katalina Kastravet
Ingredients
Triple Chocolate Pound Cake
2 sticks butter, room temperature, plus more for greasing the pan
3 cups all-purpose flour
½ teaspoon baking powder
½ teaspoon salt
⅓ cup cocoa
10 oz dark chocolate, chopped
1 cup heavy cream
3 cups sugar
5 large eggs, room temperature
½ cup mini chocolate chips
Honey Roasted Figs:
1 pint fresh figs, halved
3 tablespoons butter, melted
4 tablespoons honey
Instructions
Preheat the oven to 350 degrees F.
Grease a 10-inch loaf pan with butter.
In a medium bowl mix together flour, baking powder, salt and cocoa and set aside.
Pour heavy cream into a microwavable dish and add 5 ounces of chocolate to it. Microwave for 40 seconds, stir and microwave again for 30 seconds and stir until the chocolate is completely melted and combined with the cream. The mixture must be well combined and shiny. Set aside.
In the bowl of an electric mixer, fitted with the wire attachment, cream together butter and sugar on medium speed until fluffy, about 1 minutes. Add the eggs one a time, beating well on medium - low speed, after each addition. With the motor running on low, add the flour mixture followed by the chocolate mixture. Mix on low until combined.
Using a spatula stir in the chocolate chips.
Pour the batter into the prepared pan and bake for 1 hour - 1 hour 10 minutes. Check for doneness by inserting a toothpick into the cake, it should come out clean. Start checking at the 50 minutes mark as every oven is different.
Once baked, cool the pound cake in the pan for 30 minutes before transferring onto a wire rack to cool completely.
Once the pound cake has cooled, fill a small saucepan with water and bring to a boil and let the water simmer, choose a heat safe bowl that would sit nicely over the sauce pan and add the remaining 5 ounces of chopped chocolate to it.
The bowl should not come into contact with the water in the saucepan as this can cause over heating. Remove the bowl from the saucepan while there are still a couple of small lumps of unmelted chocolate, stir until completely melted and smooth. If there are a few lumps that didn't melt just put the bowl back over the saucepan of hot water for a minute or two and stir again.
Pour melted chocolate over the pound cake.
Honey Roasted Figs:
Heat the oven to 350 degrees F.
Wash and stem the figs and slice in half. In a large bowl combined figs with melted butter and honey, gently mix until the figs fully coated into the honey butter mixture.
Arrange the figs side up in a baking dish and drizzle the remaining honey butter mixture from the bowl on top of the figs.
Roast for about 10-15 minutes. The figs should not be too soft or mushy, you must be able to pick them up with your fingers.
Place some of the figs on top of the cake, and set the others aside on a dish to serve with the pound cake.
Serve the pound cake with vanilla ice cream and top with honey roasted figs.
Peas and Peonies, LLC. owns the copyright on all images and text and does not allow for its original recipes and pictures to be reproduced anywhere other than at this site unless authorization is given. If you enjoyed the recipe and would like to publish it on your own site, please re-write it in your own words, and link back to my site and recipe page. Copying and/or pasting full recipes to social media or personal blogs is strictly prohibited. Sharing this recipe is very much appreciated and encouraged. Read my disclosure and privacy policy. This post may contain affiliate links.