Persimmon Cheesecake Pound Cake Bars
Persimmon Cheesecake Pound Cake Bars are creamy and flavorful, made with a layer of buttery pound cake and topped with cheesecake and persimmon jam swirls.
Cheesecake Bars are one of my favorite desserts, they are very easy to make and don't require as much precision and babysitting as an actual classic cheesecake. Here are a few of my favorites: Slutty Cheesecake Brownie Bars and these Hazelnut Cheesecake Bars.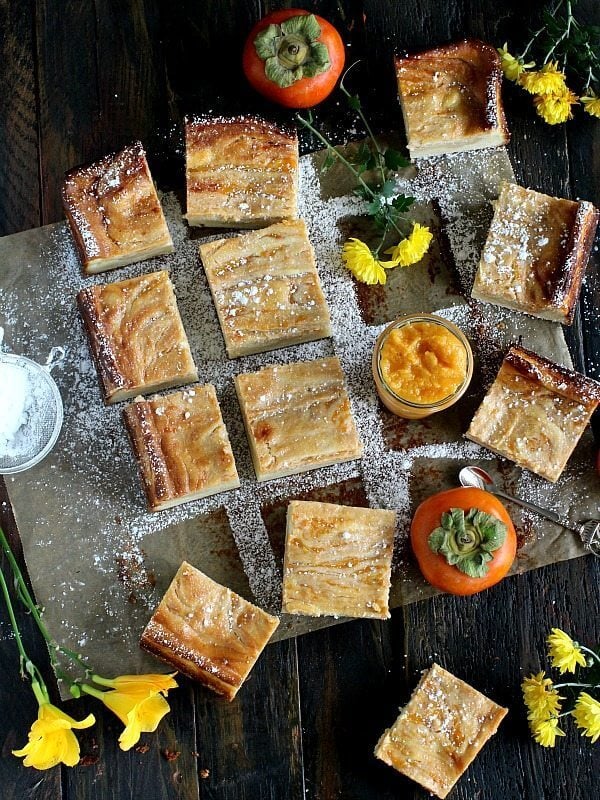 Persimmon Cheesecake Pound Cake Bars Recipe Tips
Persimmon Cheesecake Pound Cake Bars combine two of my all time favorite desserts. See, I am a cheesecake girl at heart, but pound cake is another favorite, I love the unmistaken buttery and rich texture. Combining them both for a more wintery dessert with Persimmon Jam swirls, was a no brainer. This was one good decision, the cheesecake bars are such a tasty treat. They are creamy, flavorful and most important very easy to make.
First, you have a layer of buttery vanilla pound cake, that is dense and rich. The pound cake is topped with a creamy layer of cheesecake, to which I added a hefty amount of persimmon jam. You can make this recipe with any jam you have on hand, or you can just skip it for a more classic dessert.
What do you need to make Persimmon Cheesecake Pound Cake Bars?
Dairy: cream cheese, butter, heavy cream, milk and sour cream – make sure the ingredients are at room temperature.
Dry Ingredients: white sugar, flour, salt, baking powder.
Extra Ingredients: Eggs and vanilla extract – make sure the eggs are at room temperature.
Persimmon Jam Ingredients: ripe persimmons, sugar, cornstarch and water.
Tools: 9×13 baking dish – I have this one and I love it.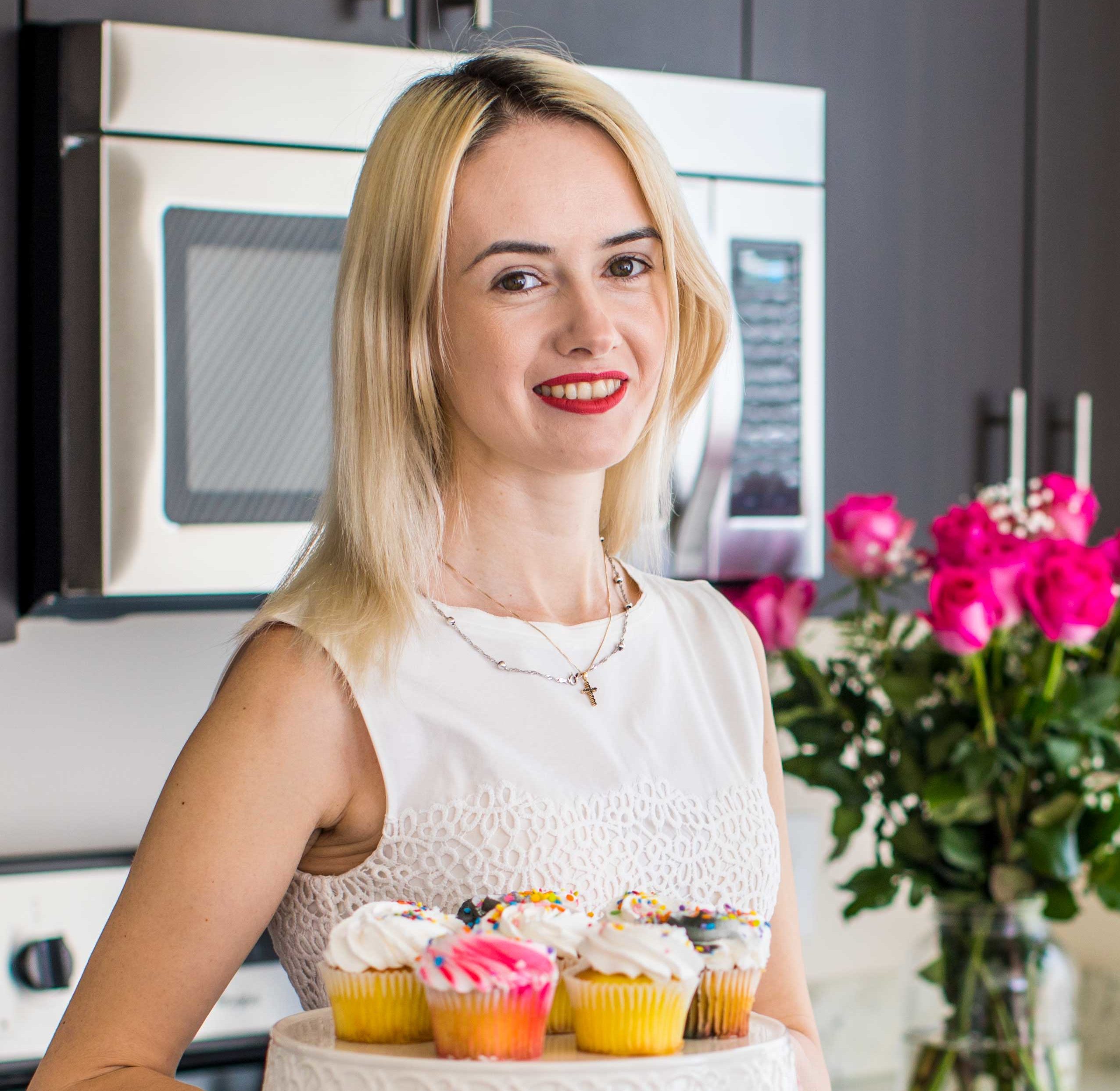 Follow us on Pinterest for more delicious recipes!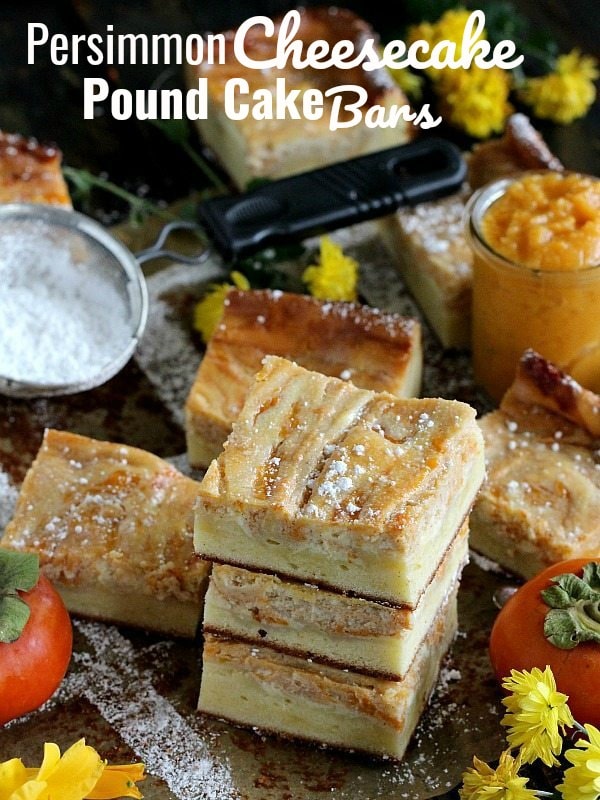 How do you make Persimmon Jam?
Persimmon Jam is very easy to make, and I actually have a very detailed post to help you. Please check this recipe for Easy Persimmon Jam.
LOOKING FOR MORE CHEESECAKE RECIPES? CHECK THESE OUT:
How to freeze Persimmon Cheesecake Pound Cake Bars:
You easily freeze these bars, make sure they have fully cooled and also were refrigerated for at least 6 hours, before you freeze them. Wrap bars tightly in aluminum foil or plastic freezer wrap, or place in a heavy-duty freezer bag. Properly stored, they will maintain best quality for about 2 to 3 months.
Save Recipe
Persimmon Cheesecake Pound Cake Bars
Author: Catalina Castravet
Serves: 12 bars
Prep time:

30

minutes
Cook time:

1

hour

20

minutes
Total time:

1

hr

50

mins
Ingredients
Vanilla Pound Cake:
2 sticks unsalted butter (room temperature (plus more to grease the pan))
2 cups white granulated sugar
3 eggs (room temperature)
2 cups all-purpose flour
1/2 teaspoon fine salt
1/2 teaspoon baking powder
1/2 cup heavy cream (room temperature)
1 teaspoon vanilla extract
Cheesecake Layer:
2 (8 oz each) packages cream cheese (room temperature)
3/4 cup white sugar
1/3 cup whole milk
2 eggs (room temperature)
1/2 cup sour cream (room temperature)
1/2 cup all purpose flour
1 teaspoon vanilla extract
Easy Persimmon Jam Recipe:
6 large persimmons (peeled and pureed)
1 cup sugar
1 lemon (juiced)
2 tablespoons water
1 tablespoon cornstarch
Instructions
Preheat oven to 350 degrees F.
Vanilla Pound Cake:
In a medium bowl mix dry ingredients: flour, salt and baking powder. Set aside.
In the bowl on an electric mixer fitted with the wire attachment cream butter until fluffy, about 1 minute.
Add sugar and vanilla extract and whisk until combined, stopping and scraping the sides of the bowl as needed.
Add the eggs, 1 at a time, beating after each addition.
Add dry ingredients alternating with the heavy cream, starting with the flour and ending with the flour. Scrape the sides and bottom of the bowl.
Cover the bottom of a 9x13 inch baking pan with parchment paper and grease with butter. Sprinkle a little flour on the bottom of the dish and the sides.
Pour the batter into the pan, and level it with a spatula.
New York Cheesecake Layer:
In the bowl of an electric mixer, fitted with the wire attachemnt, mix cream cheese with sugar until smooth.
Add the milk, and then mix in the eggs one at a time, mixing just enough to incorporate. Stop and scrape the sides and the bottom of the bowl, using a rubber spatula.
Whisk in sour cream, vanilla and flour until smooth.
Scoop the cheesecake batter on top of the pound cake layer, and level it with a spatula.
Easy Persimmon Jam Recipe:
Peel the ripe persimmons, chop and place in a food processor. Pulse until you are left with a smooth puree.
Transfer persimmon puree into a medium saucepan over medium-high heat and add the sugar. Boil for 15 minutes on medium heat, stirring occasionally.
In a small bowl, mix water and cornstarch until the cornstarch is dissolved. Add the mixture to the persimmon puree followed by the lemon juice and boil on low - medium heat for another 15 minutes, (stirring occasionally), or until slightly thickened.
Let the jam cool down to room temperature.
Take one cup of persimmon jam, scoop it on top of the cheesecake layer and with a fork create swirls, until the persimmon gets into the cheesecake.
Bake:
Bake for 1 to 1 hour and 20 minutes, until a toothpick inserted in the center of the cake comes out clean. The sides will start to turn brown, and the middle of the cake won't giggle. Start checking after 50 minutes of baking.

Remove from oven and let the cake cool fully in the pan.
Garnish with powdered sugar, cut into bars and serve.
Store bars in and airtight container in the fridge for 3-5 days.
Calories: 431 Carbohydrates: 86 Protein: 11 Fat: 5 Saturated Fat: 2 Cholesterol: 79 Sodium: 404 Potassium: 257 Fiber: 1 Sugar: 65 Vitamin A: 255 Vitamin C: 5.2 Calcium: 214 Iron: 2.3
Save Recipe
More recipes you might love