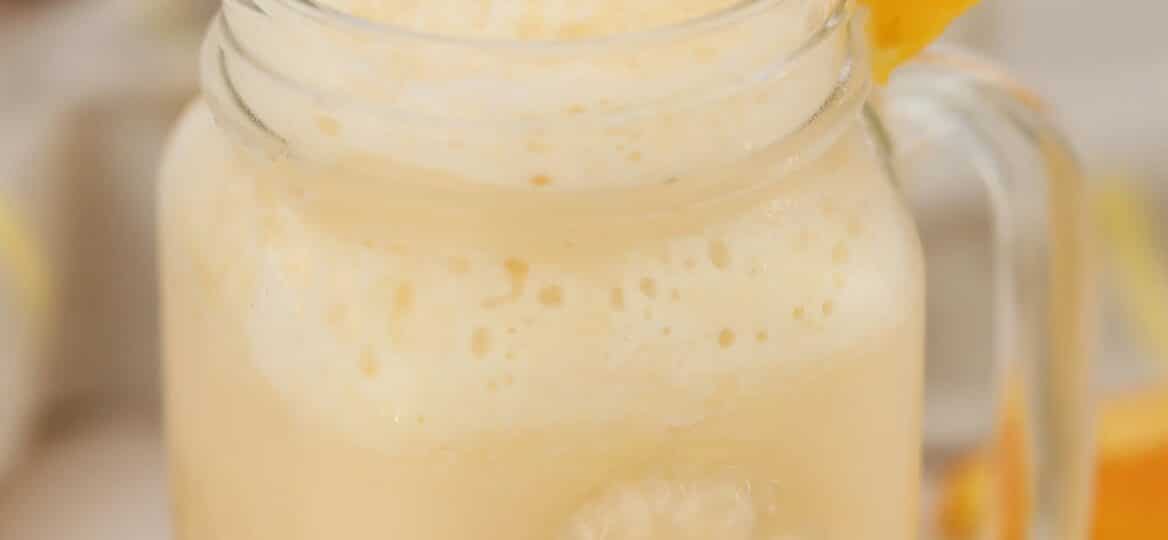 Easy Orange Julius Recipe
Orange Julius Recipe is super easy to make and ready in just a few minutes. All you need is frozen orange juice concentrate, powdered sugar, milk, vanilla extract, and ice cubes!
This simple yet refreshing drink is a huge hit with our family and friends. Also, check out the tropical smoothie, ginger pomegranate mojito, and our famous blackberry mojito.
Easy Orange Julius Recipe
Making Homemade Orange Julius is not only easy, and much cheaper, but it is also way more delicious than anywhere else. We love this refreshing drink and have been enjoying it for quite some time. Especially with hotter days around the corner, this drink is our main go-to recipe.
It is refreshing, healthy, with rich and bold flavors, just perfect to enjoy at the pool, or at a barbecue party. Also, this beverage is so easy and quick to make, that you can literally make it whenever you crave some. If you have tried this delicious drink at the mall, or restaurants, we are quite sure you will love making it on your own.
In addition, you can play a bit with ingredients, and adjust based on your taste. For example, substitute the whole milk with low-fat milk, and make it more or less sweet. Many people wonder if this is a smoothie or a shake, but it is none of them.
This is more like a sweet, yet refreshing dessert, with a frothy texture. Give this recipe a try, and you will understand why we think it is one of the best refreshing beverages out there!
WHAT IS AN ORANGE JULIUS?
It was first introduced in1920s in Los Angeles by Julius Freed, from a juice stand. Since then, it became a very popular cold, frothy, and refreshing drink throughout the USA. This is a simple drink, made of orange juice, milk, vanilla, sweetener, and some ice.
how to make an Orange Julius?
You will need the following ingredients:
frozen orange juice
milk (whole or 2%)
water
sugar
vanilla
ice cubes
In addition, you will need a blender to mix them up. Once you have all the ingredients together, you simply put everything in the blender, and blend until all the ingredients are nicely mixed and smooth. As you can see, it is super easy to make it, and it is ready in less than 5 minutes!
how to make an Orange Julius with orange juice?
The original recipe calls for orange juice concentrate. However, if you do not have it, you can easily freeze some orange juice instead. Simply, pour some OJ in an ice cube tray, and let it freeze. Then, use the frozen cubes in the blender. It works perfectly fine and it tastes equally delicious.
We do not recommend using fresh OJ, because the texture will be different than what you would have with a concentrated or frozen version.
how many calories in an Orange Julius?
On average, one cup or will have about 250 calories.
CAN YOU store it?
If you end up with some leftovers, you could easily store it in the fridge. Just ensure it is well stored, in a sealed glass or jar, then store it for up to 2 days. Because this is such an easy recipe and requires just a few ingredients, we prefer making it fresh every time we crave some.
Recipe Tips
You can use whole, 2%, or skim milk to make this recipe. Also, a great substitute for milk would be to use hone-vanilla kefir. It will give a nice, and rich texture.
Another option would be to use vanilla ice cream instead of milk, sugar, and vanilla! With ice cream, you basically reduce the ingredients to just 3, which is also a great alternative!
For extra flavor, you can add a hint of ginger to the mix.
In addition, for an adults-only version add some liquor to the mix!