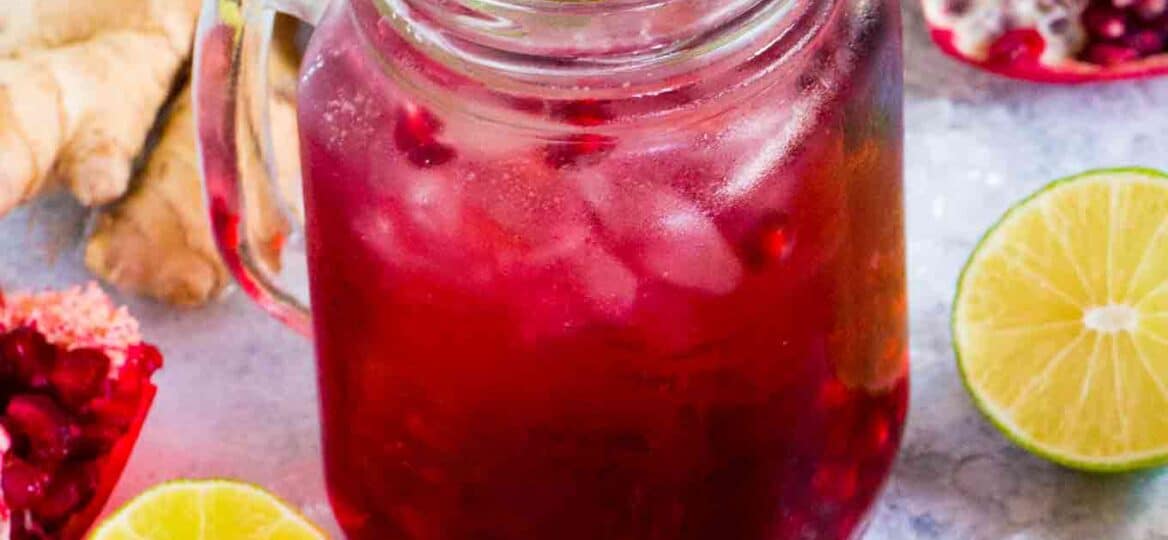 Ginger Pomegranate Mojito
Pomegranate Mojito made with fresh ginger is the perfect fall drink. With gorgeous color and a sweet, refreshing taste, this will become your go-to drink.
For more delicious and easy drinks, please check out my favorite Spinach Smoothie and Strawberry Banana Smoothie.
Pomegranate Mojito recipe
Ginger Pomegranate cocktail is just so pretty! Beautiful, jewel-like pomegranate seeds, bursting with the juice make this the perfect fall-winter drink. I am a happy camper when pomegranates are in season, we usually buy a huge box and it lasts us for over a week.
This Pomegranate Mojito is packed with flavors! Sweet and slightly tart pomegranate simple syrup spiced with fresh ginger, combined with pomegranate juice and club soda. Finished with lime wedges and fresh mint leaves!
This cocktail is so easy to make, once you have the simple syrup you can just store it in the fridge and fix yourself a drink whenever you please. Make a double batch of that amazing simple syrup for a party, or to have on hand. It is delicious in mocktails too or just add a splash to your club soda for a tasty drink.
How To Peel a Pomegranate and Remove the Seeds?
First, roll the fruit first on a hard, fl surface to loosen the seeds.
Then, score around the middle and tear it open into halves. I like to do this in the sink in case some juice will burst.
Hold each half over a bowl, seeds facing down and tap the skin with a wooden spoon, squeezing a little to release the seeds.
Score 4 lines from top to bottom to quarter the pomegranate.
Submerge the pomegranate in a medium bowl filled with cold water and pull apart the quarters, releasing the seeds with your hands.
The pith will float and the seeds will sink. Remove the pith and discard, then using a colander drain the seeds.
Pomegranate Ginger Cocktail Recipe Tips:
You can peel your own pomegranate seeds or just get store-bought pomegranate seeds to save some time and labor.
You can skip the alcohol and serve this cocktail as a mocktail.
The ginger is optional, it adds a nice flavor, but you can skip it if you don't like ginger.
Also, feel free to make it in advance and store it in the fridge for up to 2 days. Simply add the ice prior to serving.
Looking for more seasonal drinks? Make sure you try my Cranberry Mocktail! It is to die for!
Deliciousness to your inbox
Enjoy weekly hand picked recipes and recommendations