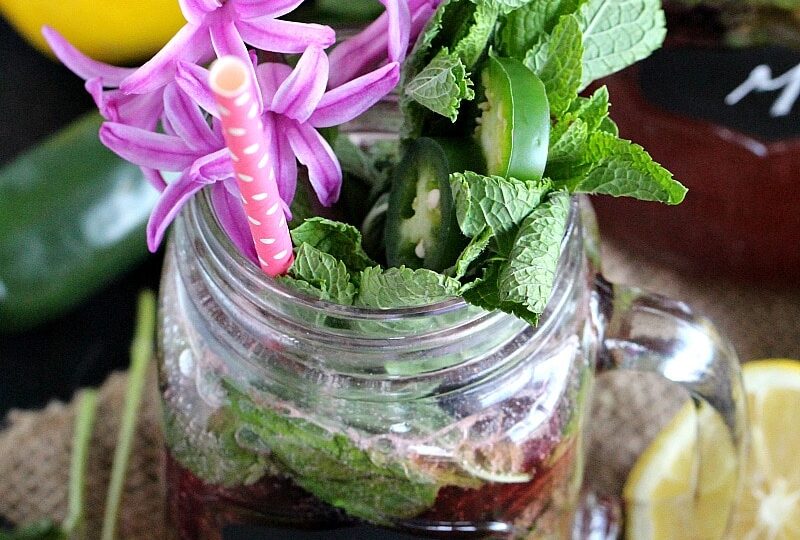 Blackberry Mojito with blackberry ice, lemon mint syrup, fresh mint and a spicy jalapeño is refreshing and stunning.
I am a huge fan of Mojito, and I already have a Ginger Pomegranate Mojito version. With this one, I decided to twist things up, and roast some blackberries into the mojito mix. The results did not disappoint, as this drink is rich, refreshing, and full of flavor.
Blackberry Mojito
All these extra long days, blooming flowers and birds chirping just means that its mojito season! I couldn't kick the season off in a better way than with a Blackberry Mojito. It was made with sweet, roasted blackberries, spicy jalapenos and Blackberry Ginger Ale.
I was very considerate and made 2 versions of this cocktail: alcoholic and non-alcoholic, both taste amazing. Also, I made blackberry ice cubes with fresh blackberries and Blackberry Ginger Ale, so your drink never gets too watery.
The roasted blackberries and the lemon mint syrup add the perfect amount of sweetness. In addition, the Blackberry Ginger Ale adds the perfect amount of bubbles and contributes to the beautiful berry aroma.
Similarly, extra mint leaves are making this Blackberry Mojito even more refreshing. A few slices of jalapenos are optional, but if you love some heat, you should go for it. It totally takes the cocktail to a whole new level. The spiciness is unexpected and works very well with the berry flavor and sweetness of the mojito.
Mojitos are by far my favorite drink. In addition, I love the classic one, but if you dress it up you get a whole new experience! Regardless of whether or not you choose the virgin or alcoholic version, this cocktail is perfect for spring. The hues of this Blackberry Mojito will add a pop of color to a spring bridal shower or even baby showers. The mommy to be, will be glad to enjoy the virgin version.
Similarly, this mojito is very easy to make and tastes just fabulous. I am telling you, once you try making this beautiful mojito flavor you will become very popular! Definitely make a few extra, as the demand will be high.