Blackberry Mojito with blackberry ice, lemon mint syrup, fresh mint and a spicy jalapeño is refreshing and stunning.
I am a huge fan of Mojito, and I already have a Ginger Pomegranate Mojito version. With this one, I decided to twist things up, and roast some blackberries into the mojito mix. The results did not disappoint, as this drink is rich, refreshing, and full of flavor.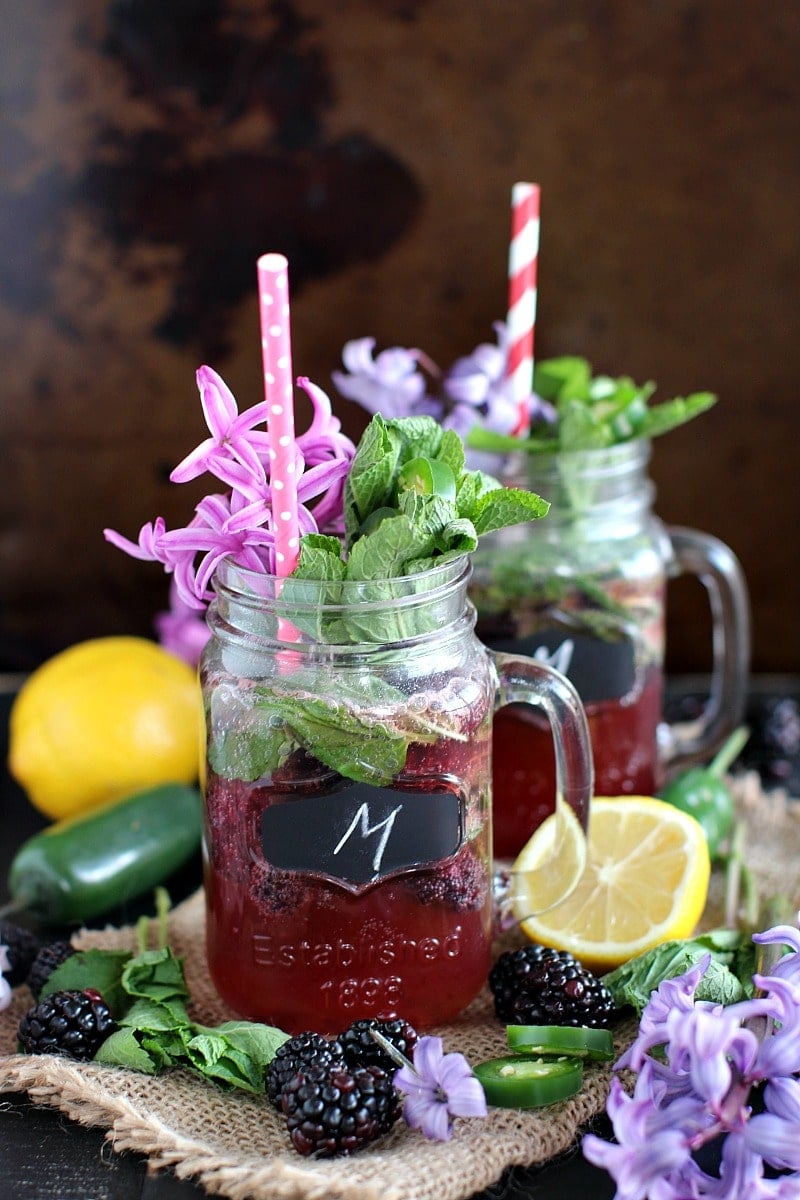 Blackberry Mojito
All these extra long days, blooming flowers and birds chirping just means that its mojito season! I couldn't kick the season off in a better way than with a Blackberry Mojito. It was made with sweet, roasted blackberries, spicy jalapenos and Blackberry Ginger Ale.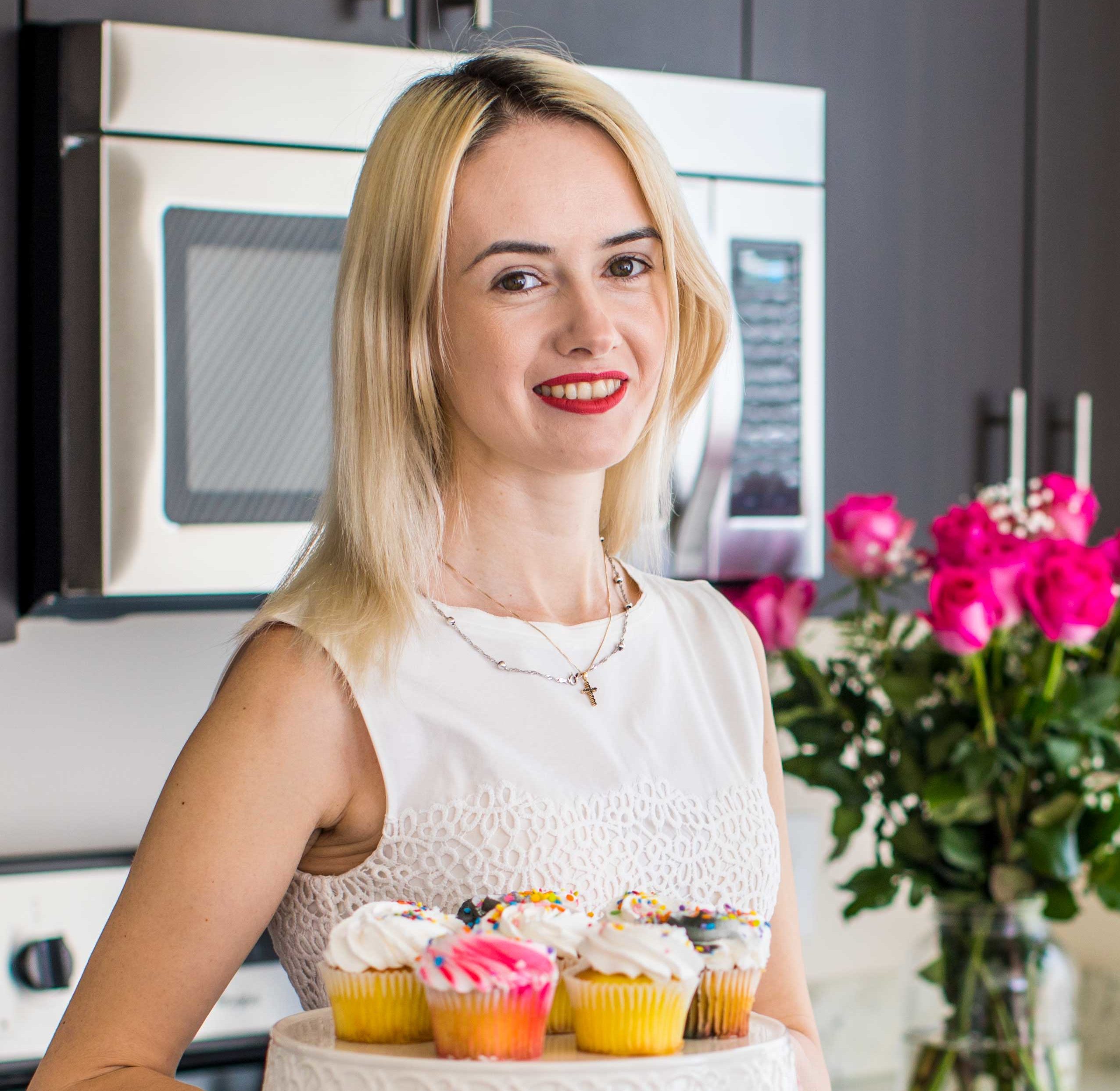 Follow us on Pinterest for more delicious recipes!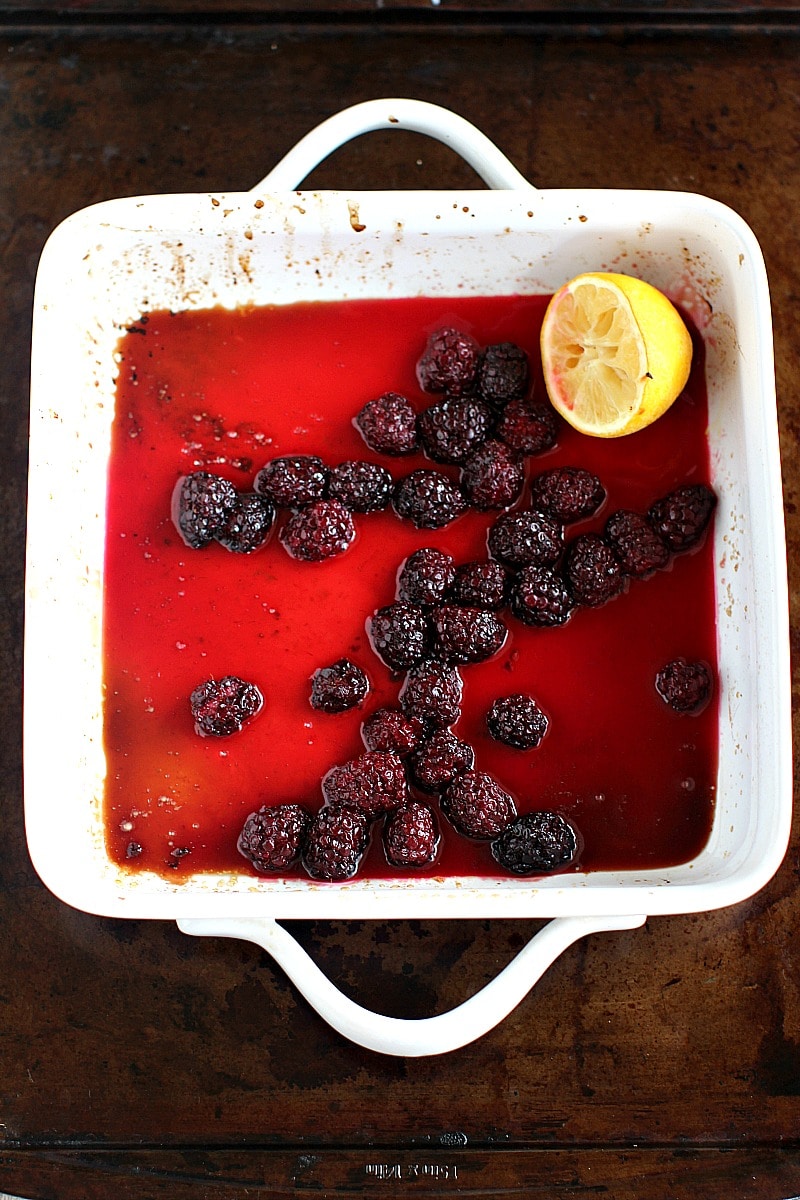 I was very considerate and made 2 versions of this cocktail: alcoholic and non-alcoholic, both taste amazing. Also, I made blackberry ice cubes with fresh blackberries and Blackberry Ginger Ale, so your drink never gets too watery.
The roasted blackberries and the lemon mint syrup add the perfect amount of sweetness. In addition, the Blackberry Ginger Ale adds the perfect amount of bubbles and contributes to the beautiful berry aroma.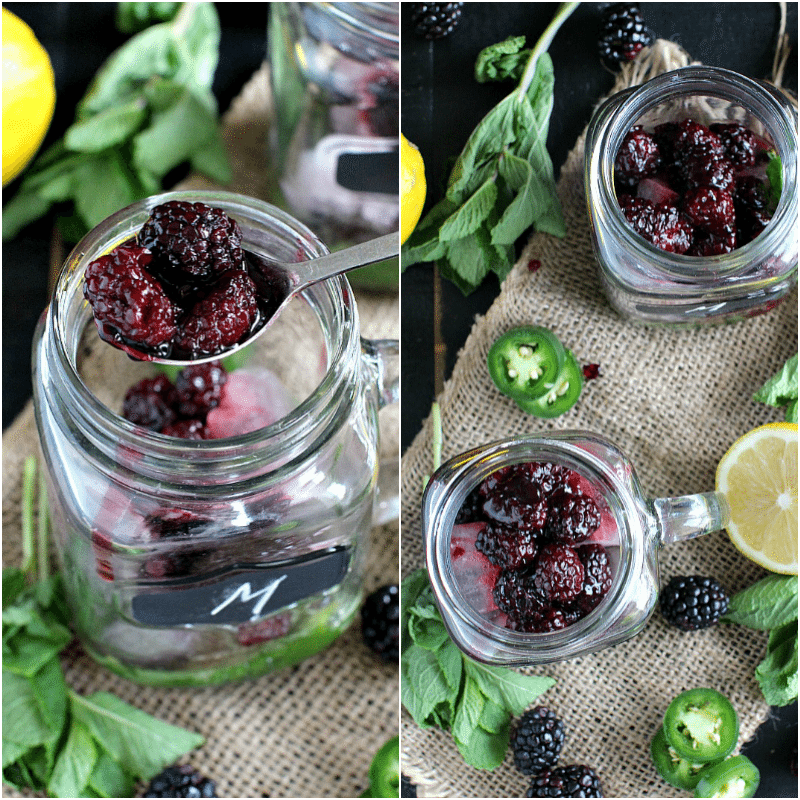 Similarly, extra mint leaves are making this Blackberry Mojito even more refreshing. A few slices of jalapenos are optional, but if you love some heat, you should go for it. It totally takes the cocktail to a whole new level. The spiciness is unexpected and works very well with the berry flavor and sweetness of the mojito.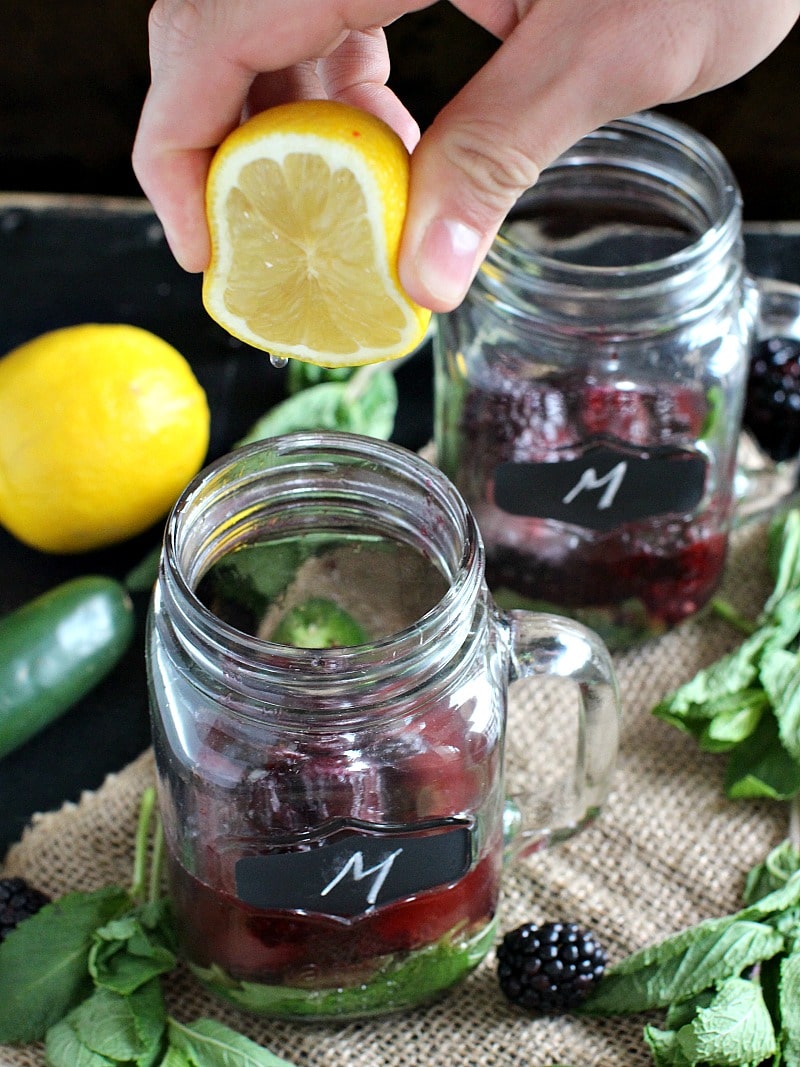 Mojitos are by far my favorite drink. In addition, I love the classic one, but if you dress it up you get a whole new experience! Regardless of whether or not you choose the virgin or alcoholic version, this cocktail is perfect for spring. The hues of this Blackberry Mojito will add a pop of color to a spring bridal shower or even baby showers. The mommy to be, will be glad to enjoy the virgin version.
Similarly, this mojito is very easy to make and tastes just fabulous. I am telling you, once you try making this beautiful mojito flavor you will become very popular! Definitely make a few extra, as the demand will be high.
Save Recipe
Author: Catalina Castravet
Serves: 4 servings
Prep time:

15

minutes
Cook time:

20

minutes
Total time:

35

mins
Ingredients
Lemon Mint Simple Syrup:
1 cup water
1 cup sugar
15 fresh mint leaves
3 tablespoons lemon juice
1 tablespoon lemon zest
Sugar Roasted Blackberries:
6 ounces fresh blackberries
1/4 cup sugar
2 tablespoons lemon juice
baking spray
Blackberry Ice Cubes:
Fresh blackberries
Blackberry Ginger Ale
Mojito:
8 fresh mint leaves
1 1/2 ounces of lemon mint simple syrup
1 - 2 ounces of rum
Juice of half lemon
1 1/2 ounces Blackberry Ginger Ale
Club Soda
Sugar Roasted Blackberries
Blackberry Ice Cubes
1 jalapeno (sliced)
Instructions
Lemon Mint Simple Syrup:
Place a small sauce pan over medium heat, add all ingredients and cook until it bubbles. Turn down the heat to low for 2 minutes, and then remove the sauce pan from heat and let sit for 15-20 minutes.
Sugar Roasted Blackberries:
Preheat the oven to 450 degrees F.
Place the blackberries in a baking dish sprayed with baking spray, toss with the sugar and lemon juice. Roast in the oven for 20 minutes. Cool to room temperature before adding to the cocktail.
Mojito:
Add 1 ounce of lemon mint simple syrup and the mint leaves to the bottom of a tall glass. Muddle with a muddler, add blackberry ice cubes, a few sugar roasted blackberries, pour rum, 1 ½ ounces of lemon mint simple syrup, lemon juice, Blackberry Ginger Ale, Club Soda as needed and a few jalapeño slices. Mix with a long spoon or knife and serve with an additional sprig of mint.

Taste as you go. Add more or less lemon mint simple syrup to achieve the desired level of sweetness. For a virgin version, skip the rum.
Calories: 270 Carbohydrates: 69 Protein: 0 Fat: 0 Saturated Fat: 0 Cholesterol: 0 Sodium: 6 Potassium: 113 Fiber: 2 Sugar: 65 Vitamin A: 375 Vitamin C: 24.1 Calcium: 26 Iron: 0.6
Save Recipe
More recipes you might love