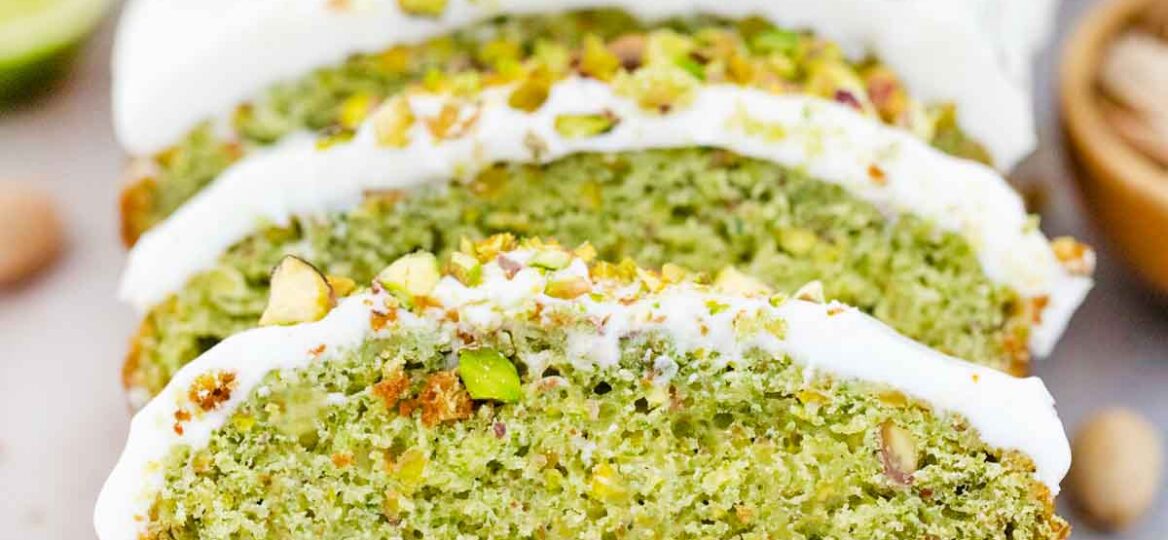 Pistachio Pound Cake Recipe
Pistachio Pound Cake is moist and delicious with a tender crumb and both sweet and salty flavors, made with spinach for a natural green color. This nutty cake is one of the best pound cakes I have ever made according to my family, and they expect me to make it at least once every few months. You will love the unique flavor and the kids will not even know that they are eating spinach!
Some say that this cake was made in the 1970s during the Watergate scandal, giving it the name Watergate Cake. However, a pistachio cake was found in the 1860s during the Victorian Era. It was in a German cookbook in Stuttgart in 1863 when Stuttgart was the capital. Whoever invented it, we think it was a great idea.
In our recipe for pistachio pound cake, all you need are a handful of ingredients including pistachios, sugar, milk, flour, juice, butter, and a little bit of spinach for extra nutrients. Pistachios are healthy but adding spinach makes this cake even more incredible. It contains potassium, iron, vitamin C, A, K, and fiber. And you cannot even tell it is in there!
Ingredients needed:
To make this pistachio pound cake recipe, you only need the simple ingredients listed here. Please scroll down to our handy printable recipe card for the instructions and measurements when you are ready to begin.
Chopped pistachios
Frozen spinach
Milk: At room temperature.
Granulated sugar
All-purpose flour
Baking powder: Not baking soda.
Juice and zest of 1 lime
Melted butter
Salt
For the simple glaze:
Powdered sugar: Confectioners sugar.
Lime juice
How to make pistachio pound cake from scratch?
Preheat and prepare: First, preheat oven to 350 degrees F and line a loaf cake pan with parchment paper.
Blend the wet ingredients: In the meantime, shell all of the pistachios and add them with the spinach and milk into a food processor or high-powered blender. Pulse until the ground pistachios are completely mixed in.
Combine dry ingredients: Next, in a large mixing bowl, combine the sugar, flour, baking powder, and salt.
Mix it all together: Then, add the pistachio mixture to the flour mixture and butter. Add half the lime zest and stir until combined.
Bake in preheated oven: Now, pour batter into the prepared pan and bake for 60 to 70 minutes or until it passes the toothpick test. It should be light golden brown. Let it cool in the loaf pan for 10 minutes before turning it out onto a wire rack to cool completely.
Make the glaze: While letting your cake cool, use a rubber spatula to make your icing with powdered sugar and lime juice.
Glaze and serve: After it is completely cooled, pour on the icing, and sprinkle the rest of the zest on top. Once the glaze dries, you can serve it.
Recipe variations:
Extracts: Add some vanilla extract for even more flavor. Or try using almond extract instead. You could even use both vanilla and almond extracts.
Bundt pan: If you want to use a bundt or tube pan, cut the baking time to 35 to 40 minutes.
Lemon zest: Instead of lime juice and zest, you can use lemon juice and zest.
No butter: Rather than using butter, feel free to use vegetable oil or whatever kind of oil you like to bake with.
Sour cream: Add 1/4 cup of sour cream to your cake for a creamier texture and richer flavor.
Other flour: Also, feel free to use a different kind of flour such as cake flour or almond flour.
Different flavors: For your glaze, you can use any kind of juice you like. Try pineapple, orange, or strawberry.
How to serve:
You can serve this pistachio pound cake for a snack, dessert, or even for breakfast. It can be more savory than sweet without the glaze, or you can make it even sweeter by adding other toppings or ingredients. Here are some great ideas to try. Feel free to share some of your own ideas with us in the comments section at the bottom of the page.
Of course, you can serve this yummy cake with ice cream. Try it with a scoop of vanilla or pistachio ice cream.
This would be really amazing topped with caramel instead of glaze. Try our easy recipe for caramel sauce. You do not even need a candy thermometer.
Serve slices of this cake with pistachio butter on them for a nice quick snack.
For a sweeter cake, use a thick frosting like our cream cheese frosting.
Leave off the glaze and you can use slices of this cake to make a decadent French toast.
Since everything tastes better with chocolate, why not add some chocolate syrup on top?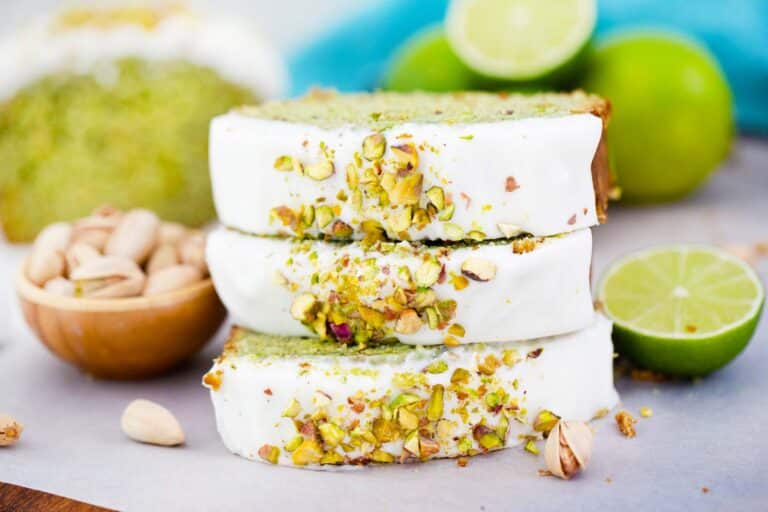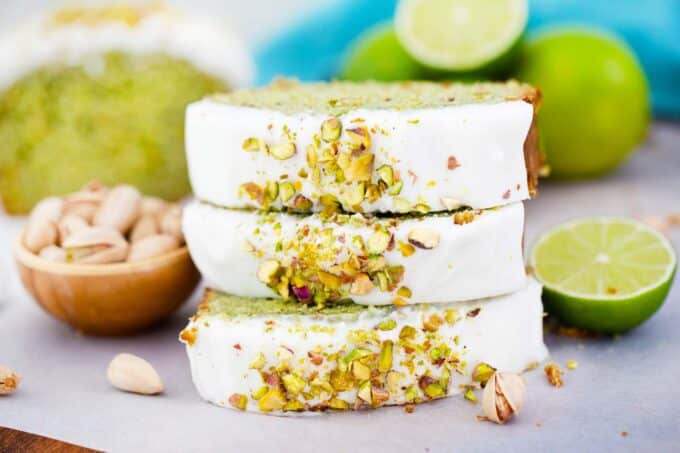 Frequently asked questions
Why are there no eggs in this cake?
We want this pound cake to be dense and moist, so we do not have to worry about eggs. If you want a more light and fluffy cake, you can add a couple of eggs to your batter. You could also use an egg substitute or ground flax seed instead of eggs for the same results.
Why is my cake so dry?
Sometimes, a cake comes out dry if you do not measure your flour correctly. Use the spoon and level way to measure instead of just scooping it out with a measuring cup. You could also use a bit of extra butter for more moisture. Alternatively, try some sour cream or Greek yogurt.
How do I measure my flour right?
Never scoop your flour with a measuring scoop. Instead, use a spoon to fill a measuring cup and then level it off with a butter knife. You could also weigh your flour instead of measuring it. Use a kitchen scale to weigh all of your ingredients for amazing results. You will never go back to measuring!
Why did my cake sink?
There are several reasons why this may happen. It could be that the oven was too hot. If it rises too fast, it will sink as it cools. You may have also taken it out of the oven too soon or may have measured something incorrectly. Also, do not open the oven door while it is cooking.
What are the nutrition facts in this recipe?
Each serving of this scrumptious cake has 498 calories, 60 grams of carbs, 26 grams of fat, 14 grams of fat, 1 gram of trans fat, 30 mg of sodium, 109 mg of cholesterol, and 39 grams of sugar. On the good side, it also has 2 mg of iron, 40 mg of calcium, 43 mg of vitamin C, 765 units of vitamin A, 6 grams of fiber, 200 mg of potassium, 12 grams of unsaturated fats, and 8 grams of protein.
More recipes with pistachios:
How to store leftovers:
Store: To store your leftovers, put them in a zipper baggie or an airtight container in the fridge. It will stay fresh for about four or five days.
Freeze: It is also safe to freeze your pistachio pound cake for up to three months. First, wrap it in plastic wrap, then put it in a freezer bag.
Thaw: For the best flavor and texture, let your cake thaw in the fridge overnight.
Reheat: This cake is delicious and served cold or at room temperature, but you can reheat it before adding some more glaze on top.
Baking tips:
To reduce prep time, you can just use a cake mix and a box of instant pistachio pudding mix. The cake mix can be yellow, or white, or they even have pistachio cake mix.
The cake should pass the toothpick test when it is done. That means that a toothpick inserted into the center of the cake should come out clean or with just a few crumbs.
If you do not have a food processor or blender, you can also use a large bowl and electric mixer or stand mixer fitted with a paddle attachment. But you should pulverize the pistachios by putting them in a baggie and beating them with a rolling pin.
Let the cake cool completely before slicing.
Instead of parchment paper, you can use baking spray to keep your pistachio pound cake from sticking.
You can use salted or unsalted butter. But if you use salted, leave out the pinch of salt from the recipe and it will still be lightly salted.
Make sure your oven is at the right temperature, so your cake does not sink.
Do not open the oven door while your cake is baking.
Look on our food blog for more great recipes. We add new ones every day.
If you do not want the spinach in your cake, you can leave it out. However, you really cannot taste it, and this is a great way to get the kids to eat their spinach.
Pistachio Pound Cake
Ingredients
2/3

cups

shelled pistachios

roasted and not salted

1

cup

frozen spinach

1

cup

milk

or plant-based milk

1

cup

granulated sugar

2

cups

all-purpose flour

2

teaspoons

baking powder

1

lime

zested and juiced

1/2

cup

unsalted butter

melted - or oil coconut oil

1/4

teaspoon

salt
Lime glaze:
1

cup

powdered sugar

2

tablespoons

lime juice

chopped salted pistachios
Instructions
Preheat oven to 350 degrees F.

Add parchment paper to a loaf pan, so in hand on the longer two opposite sides, for easy cake removal. Lightly butter the pan and set it aside.

In a high-speed blender process the pistachios, frozen spinach, and milk, until the mixture is smooth.

Transfer the spinach mixture to a large bowl.

Next, use a spatula to stir in the rest of the ingredients into the spinach mixture just until combined.

After that, transfer the batter into the prepared loaf pan.

Bake in the preheated oven for 60-70min, or until a toothpick comes out with just a few crumbs, NOT raw batter.

Remove from the oven, let the cake cool in the pan for 10 minutes, and after that transfer it to a cooling rack.
Lime glaze:
For the glaze, mix the sugar and lime juice until smooth, and pour on top of the cooled cake cake.

Top with chopped pistachios, let the glaze set for a few minutes, slice, and serve.
Deliciousness to your inbox
Enjoy weekly hand picked recipes and recommendations