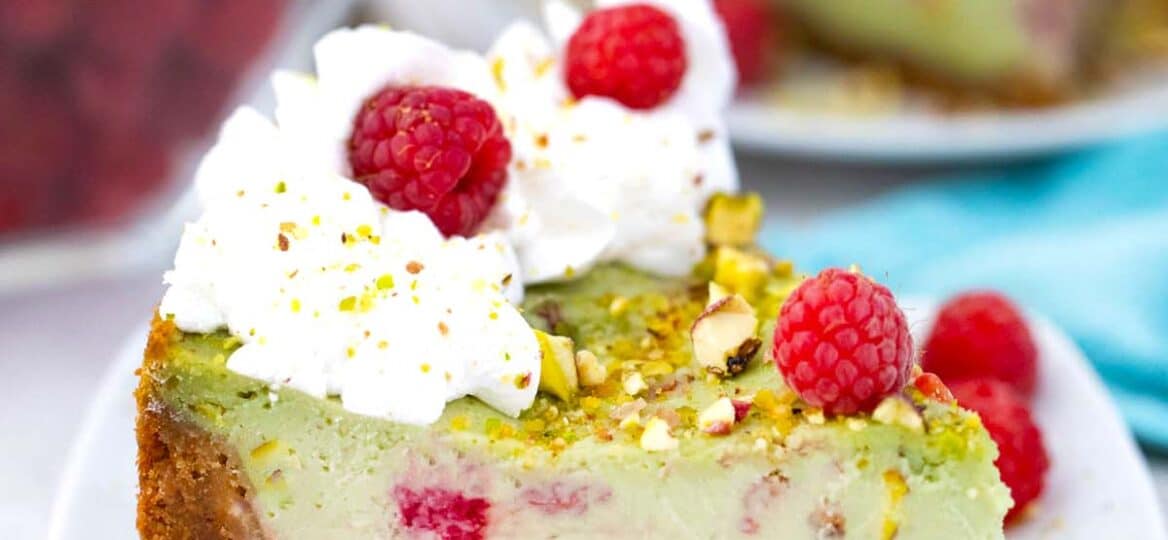 Pistachio Cheesecake Recipe – the BEST you ever had!
Pistachio Cheesecake has a deliciously creamy raspberry pistachio cheesecake filling on a sweet and crunchy pistachio graham cracker crust. You can serve it topped with whipped cream, chopped pistachios, berries, or whatever you like. We make our cheesecake unique by adding crushed pistachios to the crust. Most cheesecake recipes just use regular graham cracker crust.
Cheesecake recipes have been around forever. Actually, they date back to the fifth century when ancient Greeks made what they called plakous. They were made of cheese patties mixed with honey and flour and fried on an earthenware pan. It was adapted and changed over the years to become the tasty treat we all love.
This is a dream dish for all pistachio lovers. The whole thing is made with real pistachio nuts from the crust to the topping. And all you need is the essential cheesecake ingredients like cream cheese, eggs, sugar, and vanilla with some pistachios and raspberries for flavor and texture and sour cream for extra creaminess.
Ingredients needed:
Here is precisely what you will need to make this delicious pistachio cheesecake recipe. Gather these items and then find the recipe card at the bottom of the page for the exact measurements and instructions.
Graham cracker crust ingredients:
Ground pistachios
Graham crackers: Ground into crumbs.
Unsalted butter: Melted.
Cheesecake ingredients:
Raspberries
Pistachio butter
Large eggs
White granulated sugar
Pure vanilla extract
Lemon zest
Sour cream
Cream cheese
Sea salt
Garnish:
How to make pistachio cheesecake from scratch?
Make the crust:
Preheat oven: First, preheat your oven to 350 degrees.
Grind it up: Then, in a food processor, process the cookies, shelled pistachios, sugar, butter, and salt on high until you have fine crumbs.

Add the butter: Next, pour the melted butter into the pistachio mixture and process until it is wet and sticky.
Make the crust: Now, press the crumbs on the bottom and sides of a springform pan or a tall cake pan lined with parchment paper.

Bake: Finally, bake for 10 minutes and let it cool while you prepare the cheesecake filling.
Make the filling:
Turn down the heat: To begin, lower the oven to 325 degrees F.

Beat the ingredients: Next, beat cream cheese, sugar, and salt on high until it is completely smooth. Add vanilla and scrape the sides of the bowl before beating for another minute.

Add pistachio butter: After, add the pistachio butter and process until it is smooth. Scrape the bowl and process again to be sure it is all smooth and combined well.

Fold in the raspberries: Immediately, add sour cream and process until completely mixed before adding the eggs. Mix until just incorporated. Lastly, fold in the raspberries with a rubber spatula.
Prepare the water bath: Pour cheesecake batter into the crust and put it in a large roasting pan filled halfway with water.

Bake cheesecake: Now, bake your cheesecake for about 50 minutes. Use your best judgment when it is done. It should jiggle in the middle, but the sides should be set. You do not want the crust to brown.
Let the cheesecake cool: When the cheesecake is done baking, shut off the oven and put a wooden spoon in the oven door to keep it open a crack. Let it cool for 30 minutes this way. Then, close the oven door and let it sit for another 15 minutes.

Chill and serve: After the time is up, remove your pan and let it cool on the counter for 30 minutes. Chill for eight hours before serving with whipped cream, crushed pistachios, and fresh raspberries on top.
Recipe variations:
Almond extract: Try using almond extract instead of vanilla for a different flavor.
Other extracts: In fact, you could also use pistachio extract for a more intense pistachio flavor or cheesecake extract for a richer cheesecake flavor.
Pistachio cheesecake prep time: For a shorter prep time, feel free to use instant pistachio pudding mix instead of grinding your own pistachio nuts.

Other cookies: You can also use different cookies for your crust mixture. A vanilla wafer crust is a delicious option, or you can even use an Oreo crust.

No sour cream: Instead of sour cream, you could use Greek yogurt or heavy cream.

Cheesecake bars: For cheesecake bars to eat on the go, use a large cake pan and only let it cook for 30 minutes. Then, slice it into bars and you can grab and go.

Peanut butter: For a peanut butter pistachio cheesecake, use peanut butter instead of pistachio butter.
How to serve:
Serve baked cheesecake topped with whatever you like or just serve it plain. No matter how you serve it, you know it will be delicious. Here are some other serving ideas. Feel free to share some of your own ideas in the comments section.
Serve a slice of pistachio cheesecake with a scoop of vanilla ice cream.
Add a dollop of our homemade whipped cream and sprinkle some pistachio flour on top for real pistachio flavor inside and out.
Sprinkle some white chocolate chips on top to make your pistachio cheesecake even sweeter.

Drizzle some caramel sauce onto the cheesecake after it has cooled and set. Then, chill for a few minutes before serving.

Instead of caramel sauce, you could also use our sweet and tangy strawberry curd.

Use leftover cake as a dessert topping. It would be delicious on top of ice cream or pudding.

This also goes great with a glass of ice-cold milk.
Frequently asked questions
Are pistachio paste and pistachio butter the same?
No. Paste has a runnier texture like honey while butter has a thick spreadable body. Also, paste typically has sugars or other additives to make it sweeter. You can switch the two in most recipes but if you want something you can pour, use paste. For a spread, use butter.
You can make your own pistachio paste from raw pistachios. Just blanch them by boiling them and letting the pistachios soak for five minutes. Then, drain, peel off the skins, and mash.
What is a springform pan?
A spring form pan is a certain kind of cheesecake pan that allows you to remove the sides of the pan before the bottom. I used a 9-inch springform pan for this recipe, but you could also use a tall cake pan. Remember to change the time if you change pans. It will need more cooking time in a cake pan and less if you use a 13×9 cake pan.
Why did my cheesecake crack?
There are many reasons why a cheesecake cracks and it has happened to everyone. It could be from overmixing, which causes air bubbles to be trapped in the batter. Overbaking will also make it crack if it dries out. It is also a good idea to make sure your ingredients are not cold. This recipe calls for a water bath, which almost guarantees no cracks.
Why do I have to give it a water bath?
The water in the pan keeps your cheesecake moist as it cooks so it does not dry out and crack. It makes steam for an evenly cooked extra creamy cake every time. This is also a great way to make sure the edges do not brown too fast, and it keeps it from deflating as well.
What are the nutrition facts in this recipe?
Each slice of pistachio cheesecake has 425 calories, 39 grams carbs, 22 grams fat, 9 grams saturated fat, 1 gram trans fat, 142 mg cholesterol, 812 mg sodium, and 33 grams of sugar. But you also get 22 grams protein, 8 grams monounsaturated fat, 4 grams polyunsaturated fat, 499 mg potassium, 3 grams fiber, 598 units of vitamin A, 2 mg vitamin C, 381 mg calcium, and 1 mg of iron.
More cheesecake recipes to try:
How to store leftovers:
Store: After your pistachio cheesecake has cooled to room temperature, wrap it in plastic wrap and put it in an airtight container in the refrigerator. It will stay fresh for two to three days.
Freeze: For freezing, you should wrap each piece individually before putting it in a freezer-safe container. That way, you can just thaw out what you need instead of the whole thing. It can stay frozen for about 60 days.
Thaw: Thaw out your frozen cheesecake in the fridge overnight for the best result.
Recipe tips:
Make sure you use full-fat cream cheese and full-fat sour cream for a thick and creamy texture.
Use room-temperature cream cheese and other room-temperature ingredients like sour cream and eggs for the best results.

To shorten prep time, use a store-bought graham cracker crust and instant pistachio pudding mix. You could even use other pudding mixes like vanilla or chocolate. Although it is best to use natural pistachios, you can use instant pudding mix if you must.
Feel free to use a stand mixer or electric mixer and a large mixing bowl instead of a food processor.

Looking for more cheesecake recipes? We have all sorts of dessert cuisine on our food blog.
Use the best cream cheese you can find. We use Philadelphia cream cheese.

Instead of a graham cracker pistachio crust, you can leave out the pistachios.

This makes a very tall cheesecake. That is why we cook it at a lower temperature for a long time and then let it cool gradually.
Don't overmix once you add the eggs. You want them to be just incorporated or your cake might sink.
Follow the baking and cooling steps carefully for a perfectly creamy cheesecake.

While your cheesecake cools in the fridge, cover it with plastic wrap to keep it from absorbing any fridge odors.
Pistachio Cheesecake
Ingredients
Crust:
1 1/4

cookie crumbs

graham crackers or digestive cookies

1/3

cup

grounded pistachios

1/2

cup

unsalted butter melted

pinch

fine sea salt

2

tablespoons

powdered sugar
Filling:
24

oz

cream cheese

three bricks, softened at room temperature

1

cup

granulated sugar

1/2

teaspoon

fine sea salt

2

teaspoons

pure vanilla extract

1 1/4

cup

pistachio butter

1

cup

sour cream

2

large eggs

1

lemon

finely zested - optional

1

cup

fresh raspberries - optional
Instructions
Crust:
Preheat oven to 350 degrees F.

Combine the ingredients in a bowl, and stir until very well combined.

Press the crumbs up the sides and on the bottom of an 8″ springform pan, lined with parchment paper.

Next, bake the crust in the preheated oven for 10 minutes. Chill on the counter while you make the filling.
Filling:
Lower the oven heat to 325 degrees F.

Next, in a stand mixer, or large bowl using an electric mixer, whisk cream cheese with the sugar and salt on high speed until completely smooth.

Scrape the sides and bottom of the bowl, add the vanilla and the pistachio butter, and whisk until well-blended. Make sure to stop and scrape the sides and bottom of the bowl.

After that, add the sour cream and mix just until combined.

Next, add the eggs, one at a time, and mix until they are JUST incorporated.

Finally using a rubber spatula, stir in the lemon zest and raspberries, if using.

Pour batter into the prepared crust, and place the pan in a larger baking dish. Fill the baking dish halfway with water.

Bake for about 50-70 minutes. The cheesecake is done if the sides are puffy and set, while the center is JUST A BIT jiggly in the center.

Turn off the oven, slightly open it, and place a wooden spoon in the door to crack it open. Let the cheesecake cool in the oven for 30 minutes.

After that, close the oven door and leave the cheesecake for another 15-30 minutes inside.

Remove and cool on the counter, and only after that transfer it to the fridge and let cool for 8 hours or overnight.

Garnish it with whipped cream, fresh raspberries, and chopped pistachios before serving.
Deliciousness to your inbox
Enjoy weekly hand picked recipes and recommendations