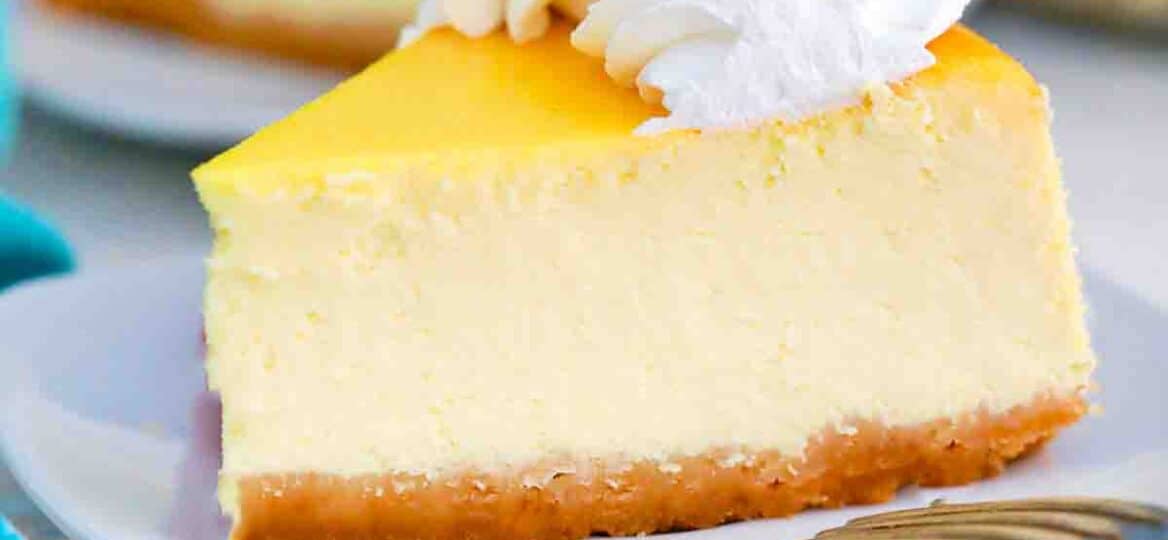 BEST Lemon Ricotta Cheesecake Recipe
Lemon Ricotta Cheesecake is creamy and absolutely delicious with a refreshing flavor of lemon blended with the mild sweetness of ricotta cheese. Your family will absolutely love this recipe and you will not have to worry about spending too much time in the kitchen since it is a fairly easy process with just a handful of ingredients.
If you like the lemon ricotta combination, try our Lemon Ricotta Cookies made with whole milk ricotta cheese, lemon juice, zest, and extract as well as blueberries and a few other basic ingredients. Cheesecake for breakfast may be a bit too much for the kids.
According to historians, it was the ancient Greeks who invented cheesecake back in the 5th century BC. They made it with fresh cheese mixed with flour and honey, then pounded smooth. It was then baked in some type of earthenware over an open fire. They even served it to the athletes for the very first Olympic games in 776 BC!
If you have a cheesecake pan (or cake pan), a few hours to sit and watch TV or read a book, and a few ingredients, you can make this ricotta lemon cheesecake right now. All you need is ricotta cheese, cream cheese, eggs, sugar, lemon, orange flavoring, and a graham cracker crust. You can make the crust from scratch or buy it premade to save time. No water bath is needed!
Are you looking for more cake recipes? Try this unique crepe-stuffed New York-style cheesecake. The ingredients include homemade crepes, ricotta crepe filling with chocolate chips, and New York-style cheesecake filling. For more cheesecake recipes, we have over a dozen different kinds.
Ingredients needed:
To make this deliciously creamy baked ricotta cheesecake, all you need are the ingredients listed here. Then you can scroll down to our recipe card for step-by-step instructions and precise measurements.
Graham cracker crust ingredients:
Graham cracker crumbs

Melted butter: Unsalted if you have it.
Pinch of salt: You can leave this out if you use salted butter.
Cheesecake ingredients:
Fresh ricotta: Strained and warmed to room temperature (70 degrees F is best).
Full-fat cream cheese: Warmed to room temperature.
Large eggs
White granulated sugar
Lemon extract
Freshly grated lemon zest: Not packed.

Freshly squeezed lemon juice
Kosher salt
How to make lemon ricotta cheesecake from scratch?
Prep the pan: First, wrap the bottom piece of your springform pan (or another two-piece pan) in aluminum foil, tearing away any excess before putting it together. Make sure it sits flat.

Make the crust: To make the crust, mix the melted butter, salt, and cookie crumbs in the pan, stirring with a fork until it is completely mixed. Use your fingers to press the crust into a solid layer at the bottom of the pan. Don't worry if it seems dry because it absorbs the moisture from the cheesecake.

Preheat oven: Next, place your oven rack in the middle slot and preheat to 225 degrees F.

Make the cheesecake batter: While you wait for the oven to heat, mix cream cheese, ricotta, sugar, salt, lemon extract, lemon juice, and zest in a food processor or in a bowl using a mixer until it is smooth. Scrape the sides as needed. Then, add eggs and spin until they are just combined.

Pour in the batter: Pour the filling into the prepared pan and place it on a cookie sheet. Then, lightly tap a spoon on the top of the cheesecake to remove any air bubbles until they are gone.

Bake your cheesecake: After, place the sheet in the preheated oven and bake for about 3.5 hours or until the edges are firm and the center is just a bit shaky.

Cool overnight: Last, let the cheesecake cool on a wire rack or cooling rack for at least one hour before putting it into the refrigerator overnight or for 10 to 12 hours to cool completely.

Remove the ring: When ready to remove, loosen the sides of the cake with a spatula or knife. Then place it on a large can or another object that will allow you to pull the ring down. With both hands, carefully pull the ring down and set the cake on a flat surface.

Serve immediately: Finally, loosen the bottom of the pan and put it on a serving plate. Cover with plastic wrap and serve immediately.
Recipe variations:
Lemon extract: You can use lemon extract instead of lemon oil.

Orange extract: Similarly, you can also use orange extract instead of orange flower water.
Orange zest: For a more orangey flavor, add a teaspoon of orange zest.

Another salt: If you use table salt, only use half of what is called for.
Sour cream: Feel free to use sour cream instead of ricotta if you cannot find any.

Different cookies: Instead of graham crackers, you can use any kind of cookies.

Other extracts: You can give your lemon ricotta cheesecake a unique twist by adding one teaspoon of almond or pure vanilla extract.

Chocolate lovers: Add some chocolate chips for the chocolate lovers in your family.
How to serve:
You can serve this delicious lemon cheesecake for dessert at your next dinner party, as a snack, or even for breakfast. Try one of these serving ideas or share some of your own in the comments section below.
You could top this cheesecake with any kind of fruit like fresh berries, mandarin oranges, or lemon slices.

A dollop of fresh whipped cream is the perfect topping for this delicious dessert. Try our easy homemade whipped cream recipe.
Another way to serve this is with a scoop of vanilla ice cream.

Any kind of fruit preserves or sauce would also be amazing on this lemon cheesecake. Try our tangy strawberry sauce recipe.

Add a few spoonfuls of lemon curd on top of your cheesecake for a more lemony flavor.

Make this a rich and decadent dessert by pouring some caramel sauce on top just before serving.

Add some rainbow sprinkles for a festive lemon ricotta cheesecake.
Frequently asked questions
What is the best way to cut clean slices?
First, make sure the cheesecake has had a chance to cool completely, Then, using a sharp knife, run it under hot water before slicing. Then, wipe the knife clean and dip it in hot water again. Continue to clean and dip the knife between every slice.
What is the best way to prevent cracks?
Although using a water bath is one great way to prevent your cheesecake from drying out and cracking, this recipe uses such a low oven temperature, you do not have to worry about that. If you are planning to cook it at a higher temperature for a shorter period of time, using a water bath is recommended for a crack-free cheesecake. Some people have said that turning the oven off and letting the cheesecake cool off inside with the oven door cracked for one hour is also a good crack deterrent.
What kind of lemons are best for this recipe?
You can use any kind of lemons you prefer. We chose Meyer lemons for this recipe because they are more floral than others, but regular lemons will work too. It just depends on the flavor you are going for. Myer lemons are a little bit sweeter than regular lemons.
What are the nutrition facts in this recipe?
Each piece of cheesecake has 515 calories, 32 grams fat, 18 grams saturated fat, and 200 mg cholesterol. It also has 420 mg sodium, 47 grams carbs, and 32 grams sugar. On the other hand, you also get 1 gram fiber, 15 grams protein, 2 mg vitamin C, 244 mg calcium, 230 mg potassium, and 2 mg iron.
How to store leftovers:
Store: After it is cooled to room temperature and wrapped in plastic, the whole cheesecake can be kept in the fridge for 10 days in an airtight container.

Freeze: It is also safe to freeze your lemon ricotta cheesecake. Put the wrapped cheesecake into a freezer-safe container and it will last for several months.
Thaw: It is important to let your cheesecake thaw overnight in the fridge before serving.
More lemon desserts to try:
Cooking tips:
The bake time can vary greatly. Start checking for doneness after two hours.

It is best to use whole milk ricotta cheese and full-fat cream cheese for this recipe. Otherwise, you will not get the creaminess you are looking for.

However, you can cut down on fat and calories by using part-skim ricotta. Or try mixing 1/4 cup of heavy cream with half the ricotta instead.

Baking a cheesecake does not have to be difficult. Some people think it is too much work. But, if you prepare the batter the day before, it cuts down on a lot of work and time.

To shorten prep time, you could use a prepared crust from the store.

If you do not have a food processor, you can use a blender, a large bowl and hand mixer, or a stand mixer instead. Using a food processor can help keep you from getting too much air in your batter.

Similarly, if you do not have a two-piece cheesecake pan, you can use a traditional cake pan instead but you will have to line the bottom with parchment paper.

The jiggle zone in your cake should not be more than three inches across. For a more accurate test, use a digital thermometer in the center. It should read 155 degrees F when it is done.

Using ricotta gives this cheesecake a lighter texture and is less dense cheesecake. However, the texture and flavor can vary depending on the type of ricotta you use. Some brands and styles are different. Stay away from grainy ricotta unless you want a gritty cheesecake.

Although some recipes call for separating egg yolks and egg whites, this one works great without all that trouble.
Lemon Ricotta Cheesecake
Ingredients
Graham cracker crust:
2

cups

graham cracker crumbs

2

tablespoons

unsalted butter

melted

Pinch

of salt
Cheesecake:
24

ounces

full-fat cream cheese

room temperature

24

ounces

fresh ricotta cheese

strained if watery and at room temperature

1 1/2

cups

granulated sugar

2

tablespoons

freshly squeezed lemon juice

1

tablespoon

freshly grated lemon zest

1/2

teaspoon

lemon extract

1/4

teaspoon

kosher salt

8

large eggs

room temperature
To serve:
Whipped cream

Candied lemon slices or peel
Instructions
Wrap the bottom and up the sides of a 9-inch springform pan with foil, and lightly grease the pan.
For the Crust:
In a medium bowl, mix the cookie crumbs, melted butter, and salt until well combined.

Press the mixture into an even layer on the bottom and a bit up the sides of the pan.
For the Cheesecake:
Adjust the oven rack to the middle position and preheat the oven to 225°F (110°C).

Next, to a large bowl, add cream cheese, ricotta, sugar, lemon juice, lemon zest, lemon extract, and salt, and using a hand mixer or stand mixer beat until smooth. Do NOT overbeat.

Stop to scrape the sides and bottom of the bowl and add the eggs, mix until just smooth and combined. You can also use a food processor to combine these ingredients. Also, make sure to NOT overbeat the batter.

Pour batter into the prepared pan, and lightly tap it off the counter to remove air bubbles. Next, place it on a baking sheet.

Bake until the cheesecake feels firm around the edges, though the center will wobble just a bit when shaking the pan. A candy thermometer inserted into the center should registers 155°F. The cheesecake will bake for about 3 - 3 1/2 hours. Once done, cool the cheesecake for at least 1 hour on a wire rack before covering it to refrigerate for at least 12 hours.

To unmold the cheesecake run a thin knife around the sides of the pan. Place the pan on a wide can to form a stable base, and lift the cheesecake a few inches from the counter.

Remove the springform ring, place the cake onto a flat work surface, loosen it from the bottom of the pan with an offset spatula, and transfer it to a large, flat serving plate.

Top the cheesecake with a layer of lemon curd, and whipped cream roses, and decorate with candied or fresh lemon slices.

Slice the cheesecake with a large chef's knife dipped in hot water after each slice. Serve it with some fresh berries on the side.
Deliciousness to your inbox
Enjoy weekly hand picked recipes and recommendations